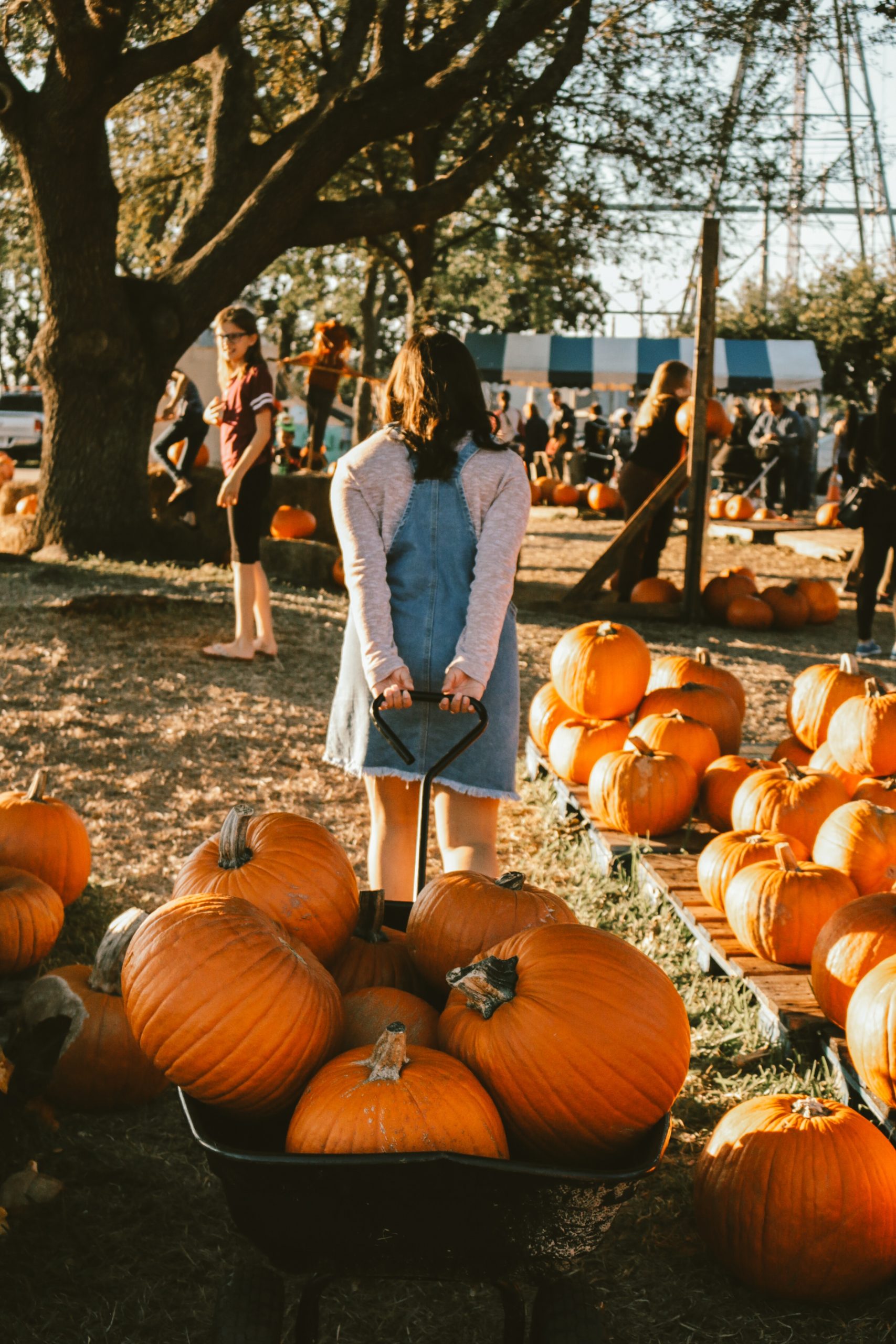 As the leaves begin to change and the air turns crisp, there's no better way to celebrate the arrival of autumn than by visiting a pumpkin patch. Pierce County, Washington, with its picturesque landscapes and vibrant fall foliage, offers the perfect backdrop for a memorable pumpkin-picking adventure. In Fall 2023, Pierce County's pumpkin patches are gearing up to provide families and friends with delightful experiences amidst the golden hues of the season.
1. Spooner Farms: A Timeless Tradition
For decades, Spooner Farms has been a cherished destination for locals and visitors alike. Located in Puyallup, this family-owned farm transforms into a pumpkin paradise each fall. Acres of pumpkins of all shapes and sizes are ripe for the picking, and there are countless photo opportunities throughout the farm's scenic grounds. Don't forget to explore the corn maze and enjoy delectable farm-fresh treats like apple cider and kettle corn.  https://spoonerberries.com/harvest-festival/
2. Maris Farms: Adventure Awaits
Maris Farms, situated in Buckley, has become renowned for its array of fall activities. Beyond pumpkin picking, visitors can navigate the massive corn maze, take a hayride, or even test their courage in the Haunted Woods. It's an ideal spot for families seeking adventure and thrills alongside their pumpkin-hunting quest. https://marisfarms.com/
3. Picha Farms: A Tranquil Escape
For those looking for a more serene pumpkin-picking experience, Picha Farms in Puyallup is the place to be. Nestled against the backdrop of Mt. Rainier, this farm offers breathtaking views and a sense of tranquility. Stroll through the pumpkin patches, enjoy a leisurely hayride, and savor delicious apple cider and homemade pumpkin donuts while taking in the stunning surroundings. http://www.pichafarms.com/
4. Double R Farms: Small Town Charm
Nestled in the quaint town of Buckley, Double R Farms offers an authentic small-town pumpkin-picking experience. The welcoming atmosphere, friendly staff, and picturesque surroundings make it a beloved spot for many locals. Take a leisurely stroll through their pumpkin fields, enjoy fresh cider, and indulge in delectable apple fritters. https://www.double-r-farms.net/
5. Carpinito Brothers: A Local Favorite
Carpinito Brothers, situated in Kent, is a staple of the fall season for Pierce County residents. Their pumpkin patch boasts a wide selection of pumpkins, squash, and seasonal decorations. Beyond pumpkin picking, visitors can explore a hay maze and a corn maze, making it a full day of fall-themed fun. https://www.carpinito.com/pumpkin-patch-and-corn-maze
6. Lattin's Country Cider Mill: Fall Flavors Galore
Lattin's Country Cider Mill in Olympia offers a unique fall experience. While they don't have a traditional pumpkin patch, they excel in providing visitors with delicious apple-themed treats, including cider, apple butter, and apple donuts. It's an excellent complement to a day of pumpkin picking in the region. https://lattinsciderolympia.com/
As Fall 2023 unfolds, Pierce County's pumpkin patches invite you to immerse yourself in the beauty and charm of autumn. Whether you're seeking adventure, tranquility, or a taste of fall flavors, these patches have something for everyone. So, gather your loved ones, put on your coziest sweaters, and head out to create cherished memories in Pierce County's vibrant fall wonderland. Don't forget your camera – the picturesque landscapes and vibrant pumpkins make for Instagram-worthy moments you'll want to share with the world. Happy pumpkin picking!
Charming 1924 Home for Sale in Tacoma, Washington: 1024 S Ferry St
Are you searching for a piece of history combined with modern comfort? Look no further than 1024 S Ferry St in Tacoma, Washington. This charming 1924 home has been meticulously remodeled, boasting a perfect blend of vintage character and contemporary upgrades. Let's take a closer look at this gem that's ready to become your new home sweet home for just $429,000.
History Meets Modernity
Built in 1924, this house exudes the charm of yesteryears. From the moment you step onto the property, you'll be greeted by the timeless appeal of this historic gem. But don't let its vintage exterior fool you; inside, it has been transformed into a modern sanctuary.
A Kitchen to Delight In
The heart of any home is the kitchen, and 1024 S Ferry St offers a brand new one that's sure to please the chef in your family. With state-of-the-art appliances and sleek cabinetry, you'll have all the space and tools you need to whip up culinary delights.  All appliances stay!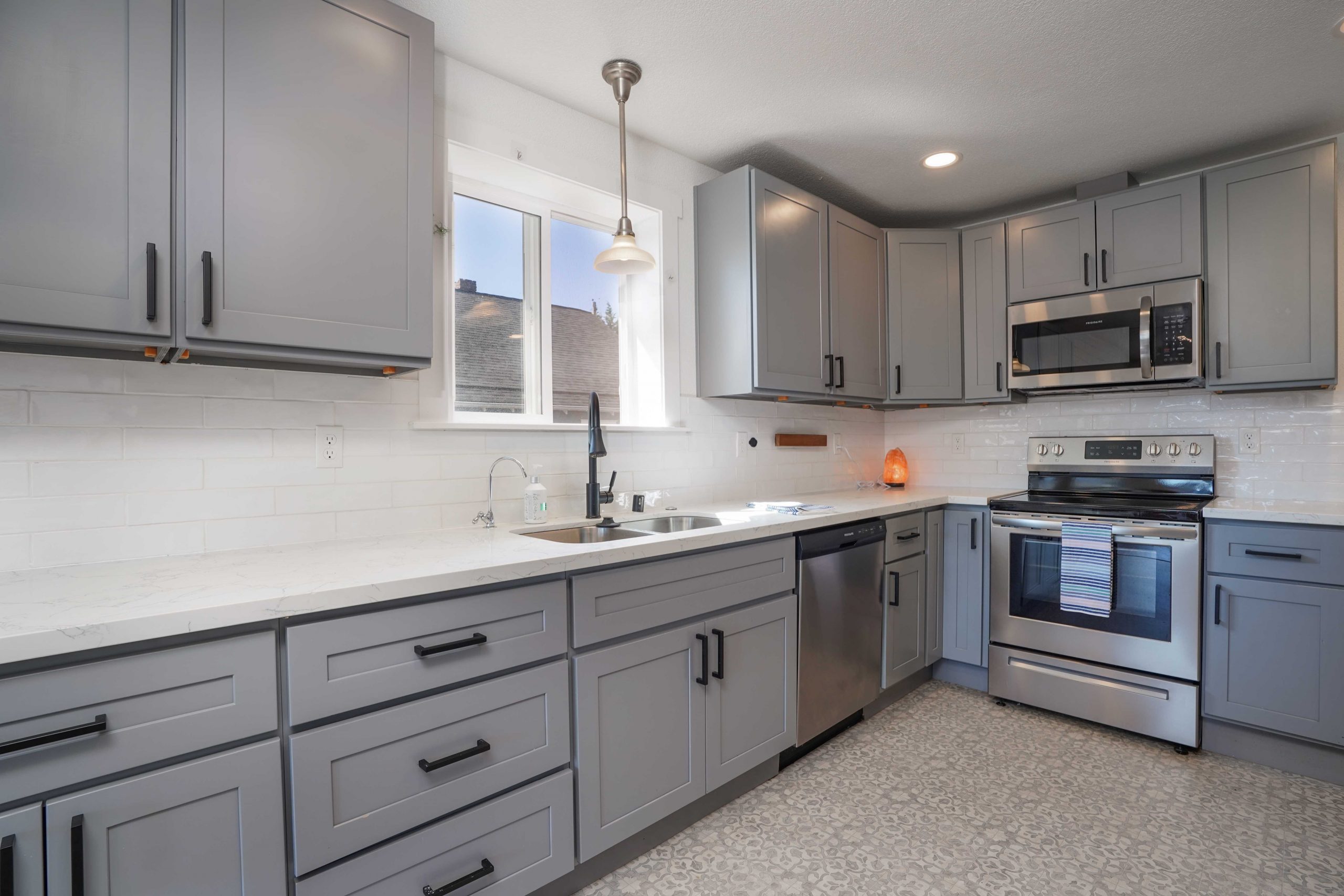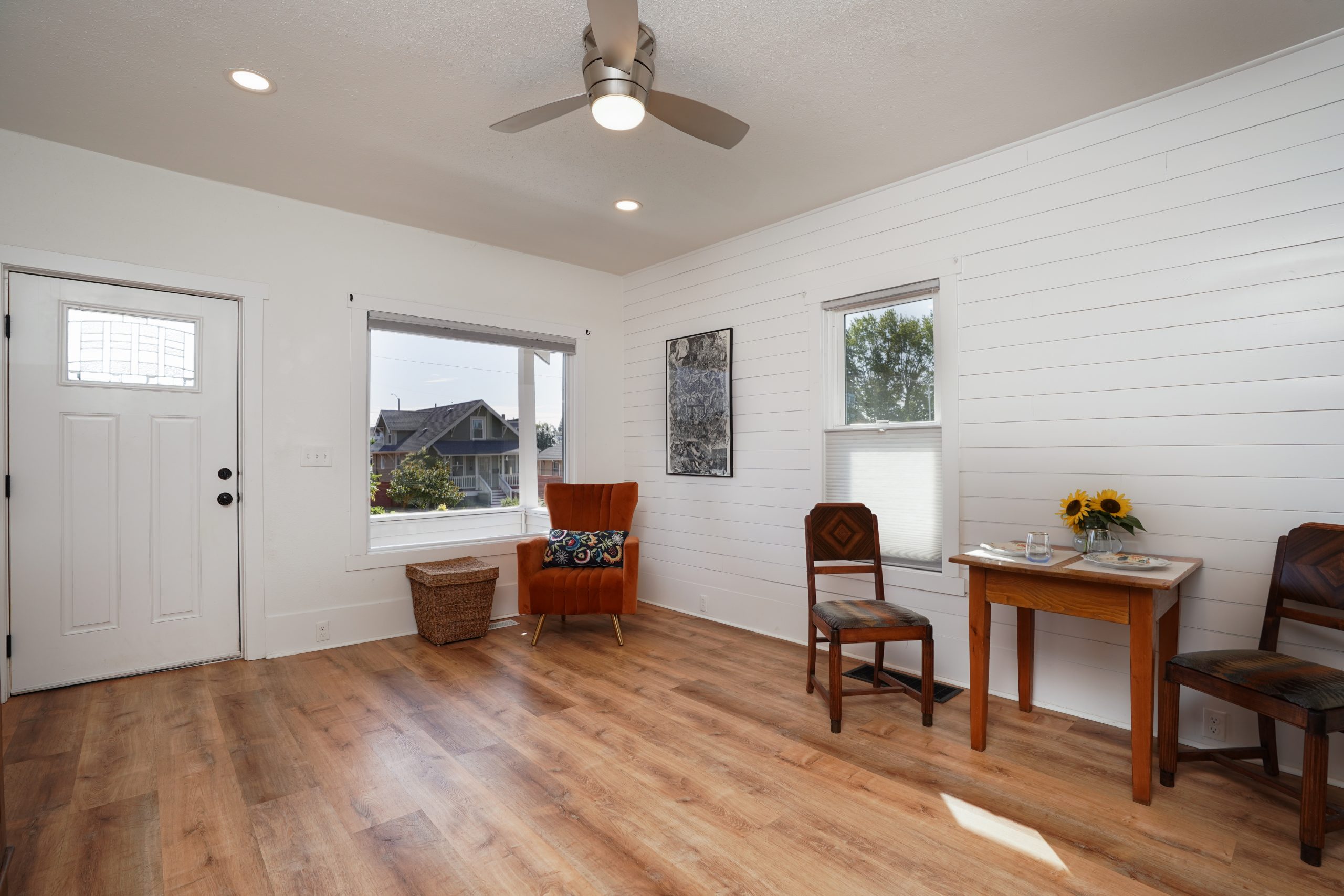 Fresh Flooring and Windows
To add to the modern feel, new flooring and windows have been installed throughout the house. These upgrades not only enhance the aesthetic appeal but also improve energy efficiency, making your home comfortable all year round.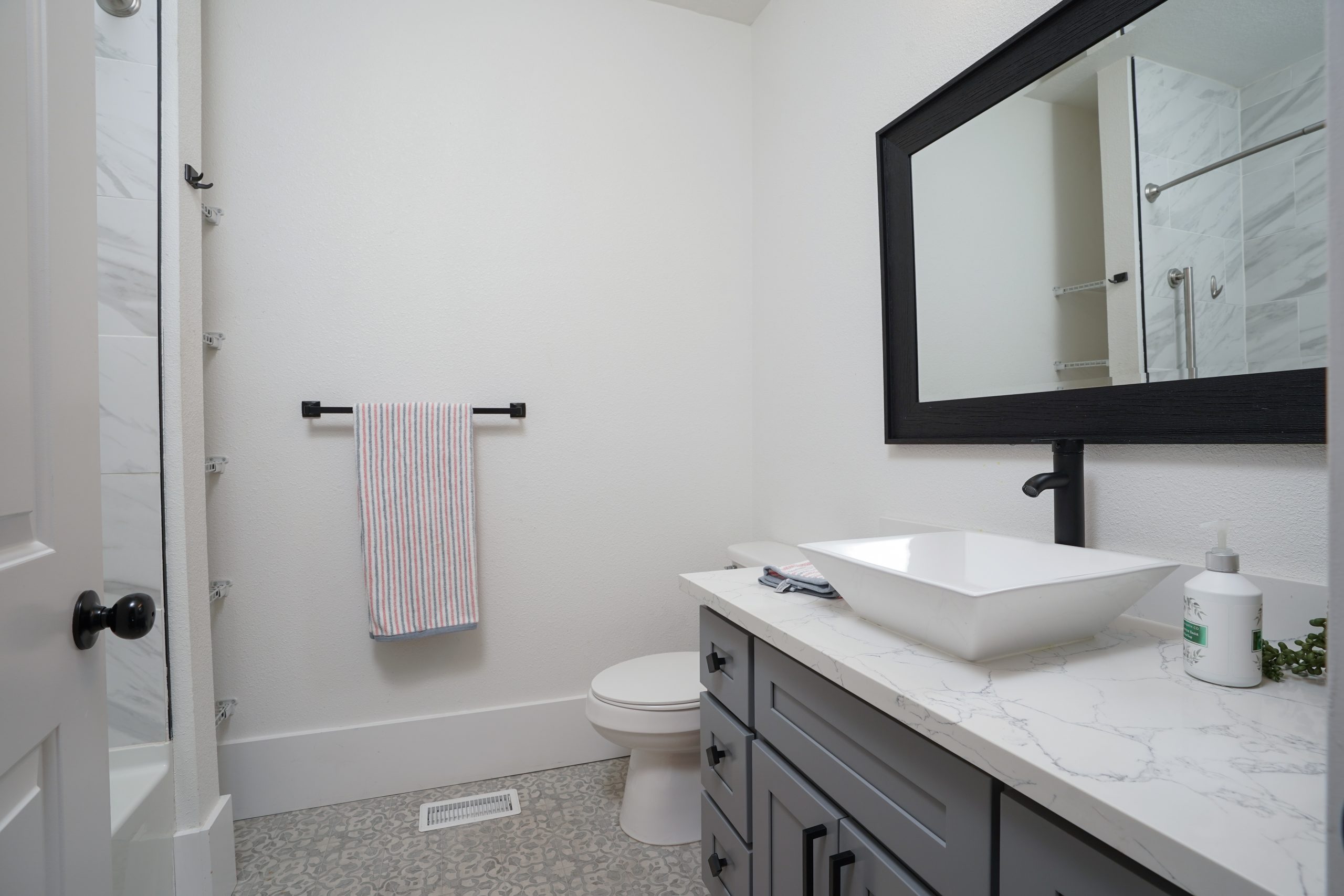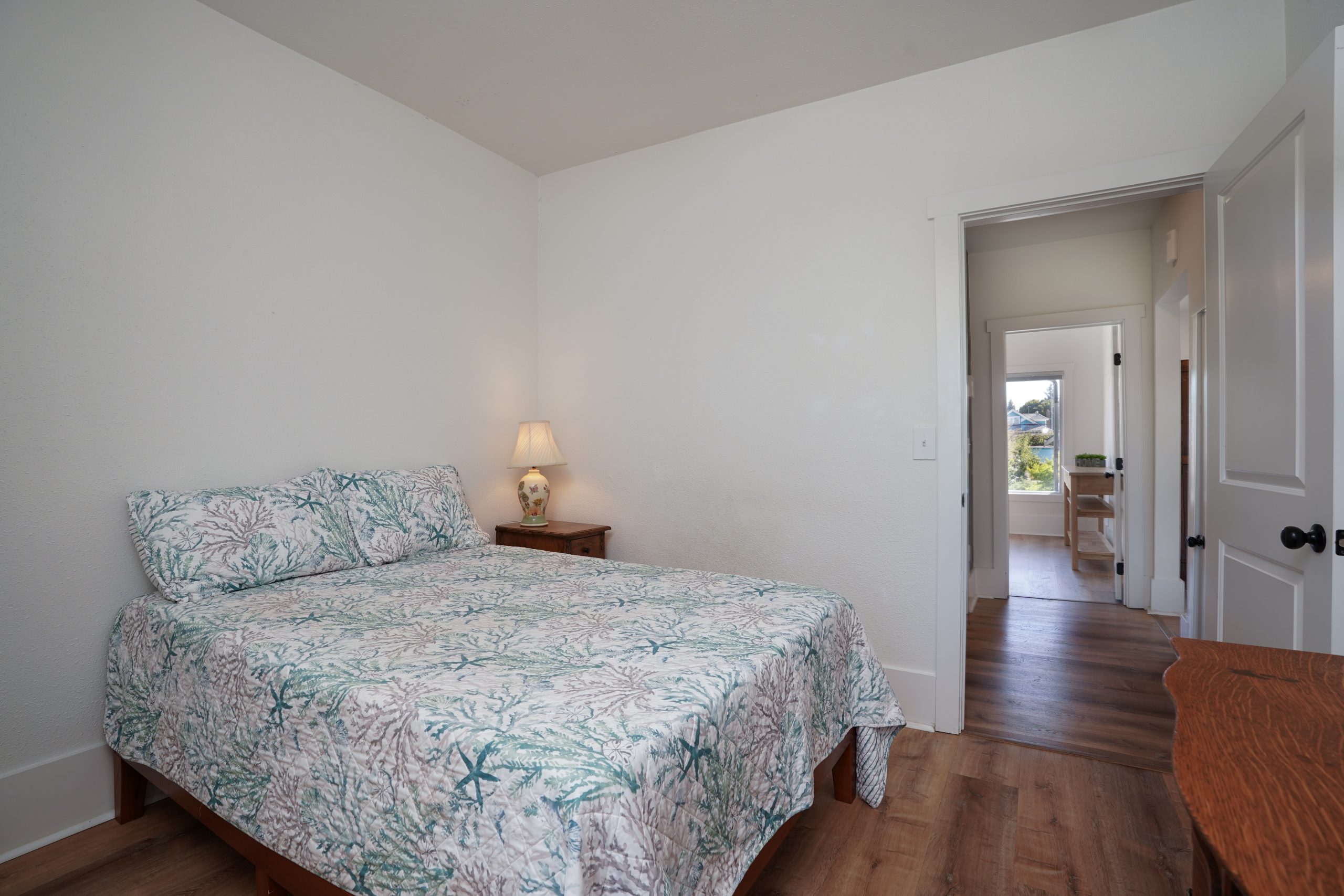 Roof and Sewer Line, All New in 2020
One less thing to worry about: the roof and sewer line were both replaced in 2020. With these significant updates, you can have peace of mind knowing that your new home is built to last.
A Backyard Oasis
Step out into your own private oasis – a large, fenced backyard complete with garden space and even a chicken coop. Whether you have a green thumb or simply enjoy spending time outdoors, this backyard offers endless possibilities for gardening, relaxation, and entertainment. Current owner planted Japanese Maple, Magnolia, Sycamore and Shagbark Maple. Not to mention yummy things like strawberry, blueberry, red currant, black currant, elderberry and asparagus.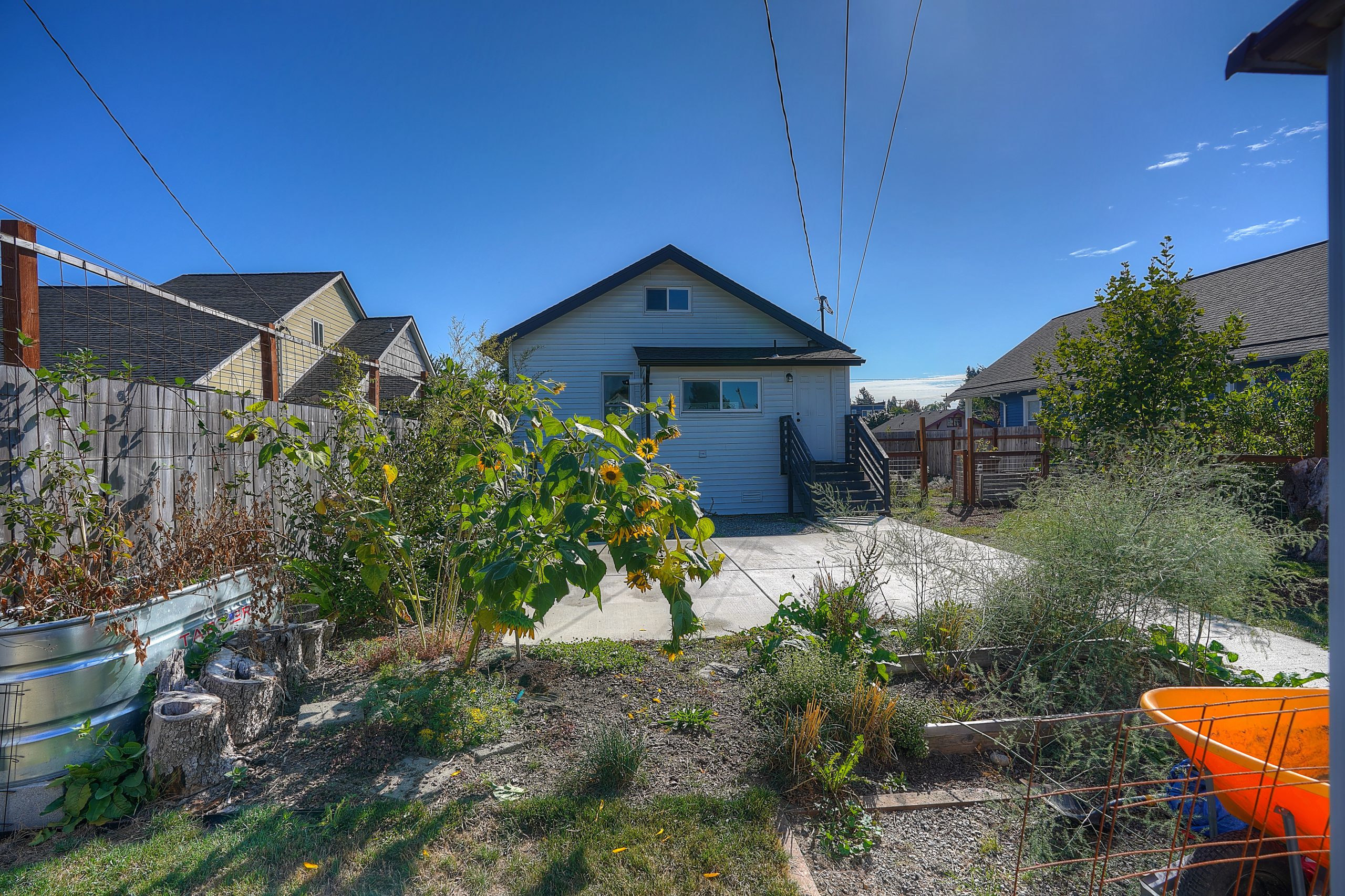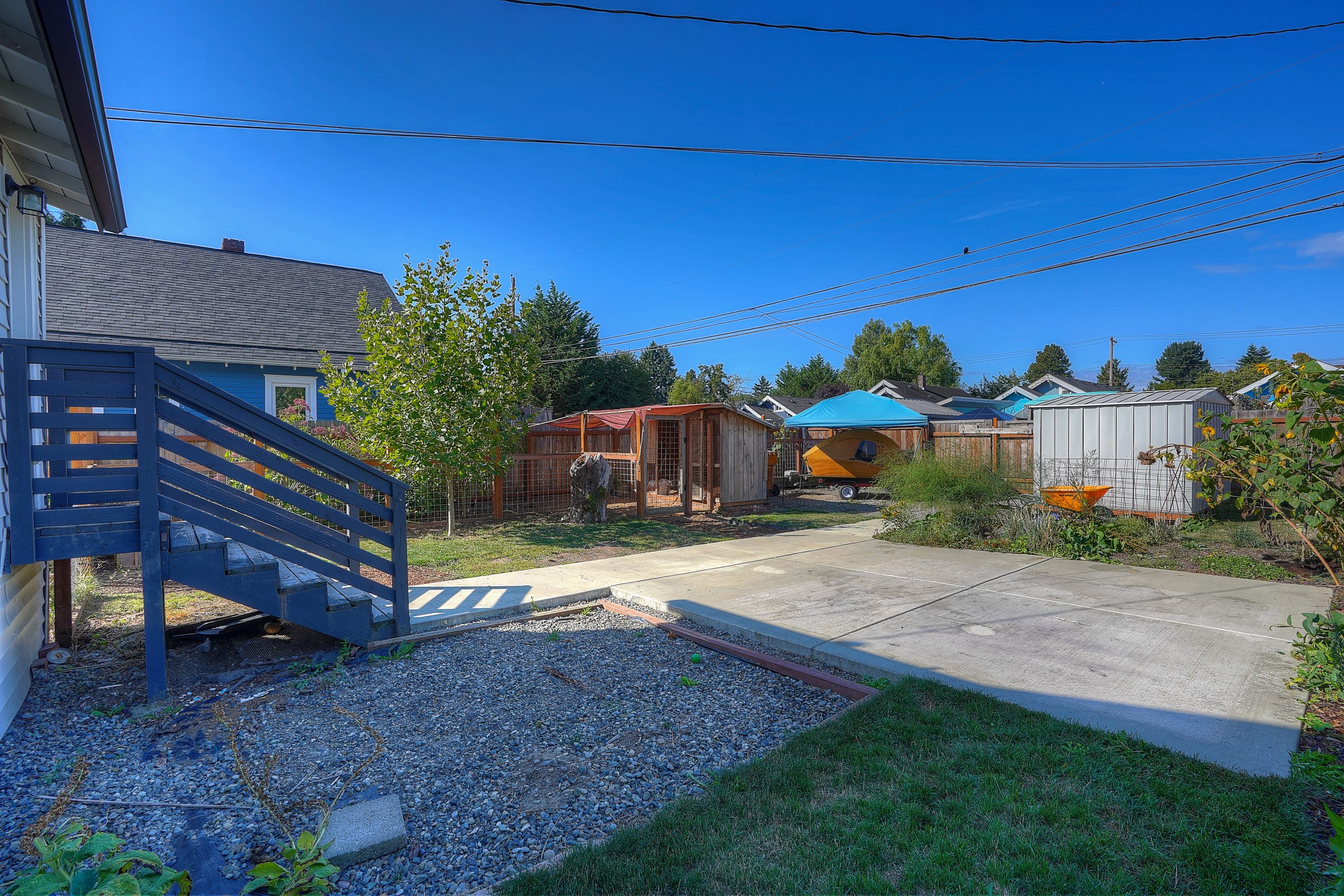 Alley Access and Electric Car Charger
For the modern homeowner, convenience is key. This property features alley access, providing ample parking space for your vehicles, including a small boat or trailer. Plus, there's an electric car charger ready to accommodate your eco-friendly lifestyle.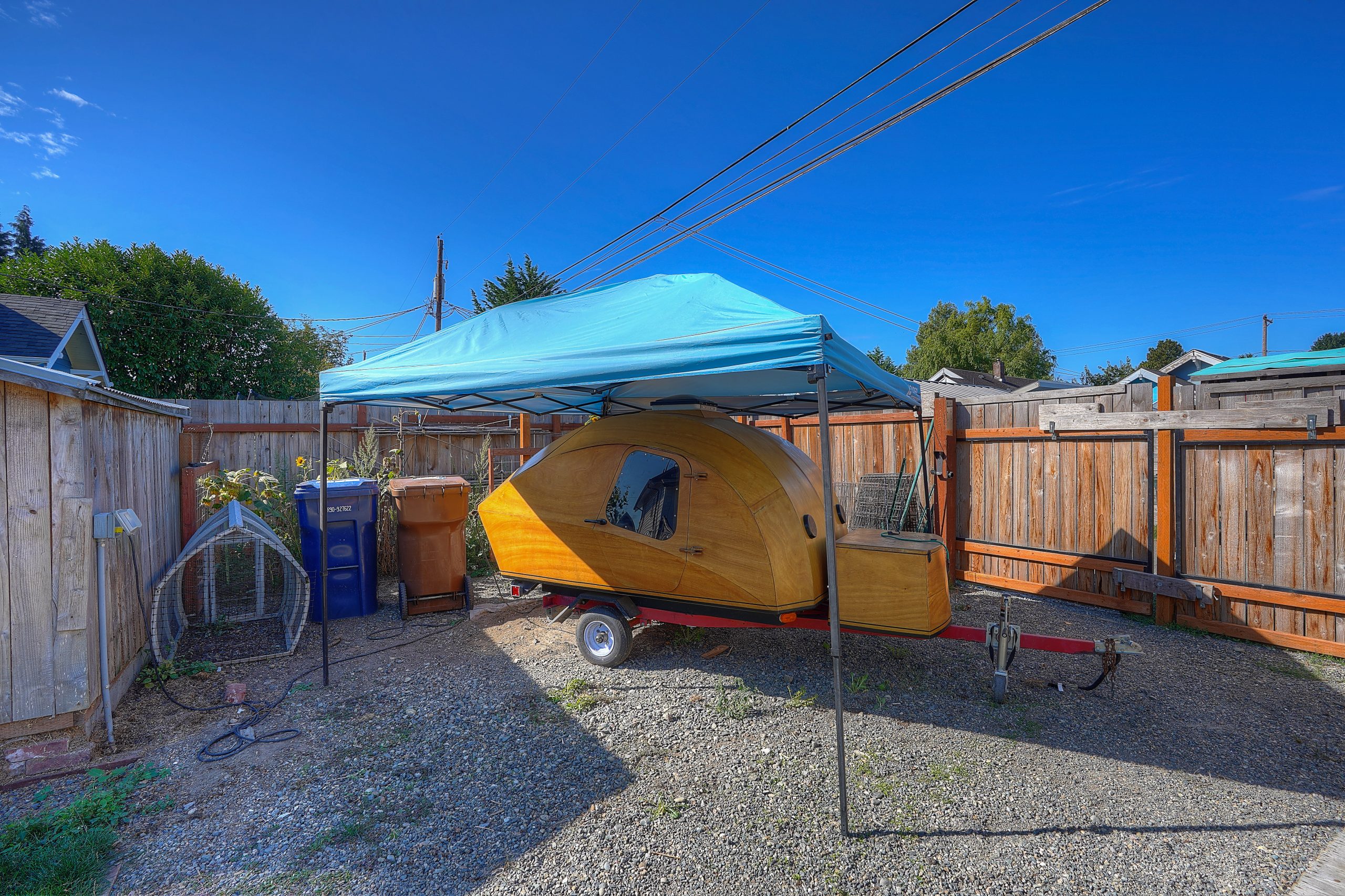 Community Living
If you enjoy community activities, you're in luck. This home is located near the community garden and participates in Porchfest Tacoma, an annual music and arts festival that celebrates neighborhood creativity.  Click this link for more information about PorchFest:  TACOMA PORCHFEST
Final Thoughts
1024 S Ferry St in Tacoma, Washington, is not just a house; it's a piece of history with all the modern amenities you need for comfortable living. With a new kitchen, updated flooring and windows, a fresh roof and sewer line, and a spacious backyard, this property offers a perfect blend of old-world charm and contemporary living.
Don't miss the opportunity to make this charming Tacoma home your own. Contact your real estate agent today to schedule a viewing and experience the unique charm and modern comfort that 1024 S Ferry St has to offer. It's time to move into a home that perfectly balances the past and the present.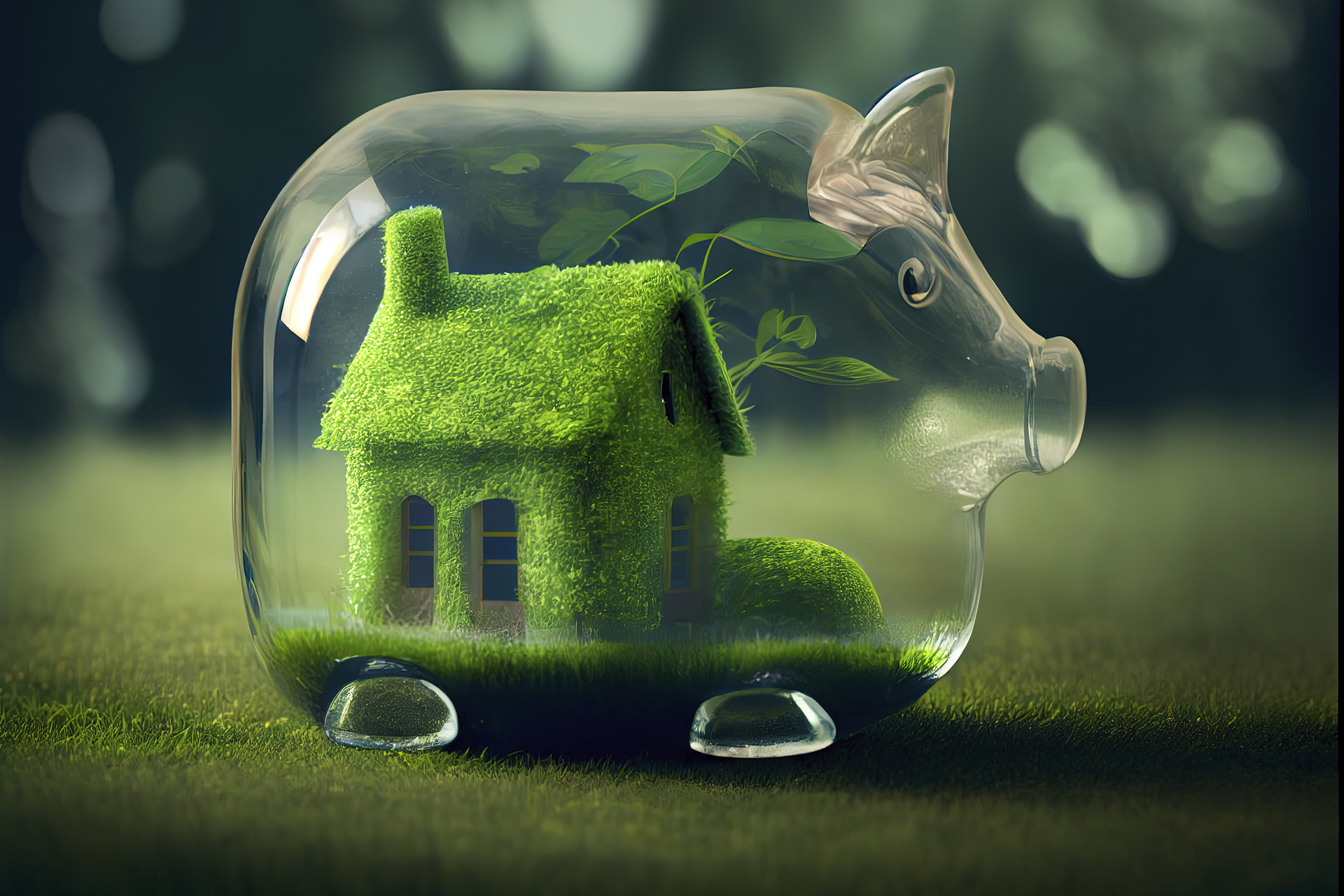 Purchasing a home is one of the most significant financial decisions a person can make. Among the many factors to consider, interest rates play a crucial role in determining the affordability of a home loan. While conventional wisdom might suggest waiting for lower interest rates, there is a strategic approach that can yield significant benefits – buying a home when interest rates are high and refinancing when rates fall. In this blog, we'll explore the reasons why this counterintuitive strategy can be advantageous for savvy homebuyers.
Lock in a Purchase Amidst High Rates: When interest rates are soaring, it's natural to feel hesitant about entering the real estate market. However, high interest rates are often accompanied by lower home prices, as demand decreases. There are fewer multiple offer situations and sellers are more open to contributing towards a buyer's closing costs. By making a purchase during this time, you can take advantage of more negotiable prices and secure a property in a market that might otherwise be out of reach.
Building Equity Faster: By purchasing a home during high interest rate periods, you start building equity right away. As you continue to make mortgage payments, more of your money goes toward reducing the principal amount owed. This can set the stage for a more substantial equity stake in your home by the time you choose to refinance.
Improved Credit and Financial Position: Owning a home provides an opportunity to improve your credit score and overall financial stability. By responsibly managing your mortgage payments and other financial commitments, you can boost your creditworthiness, positioning yourself for better refinancing terms when rates drop.
Keeping a Watchful Eye on Rates: Staying informed about interest rate trends is crucial when implementing this strategy. By monitoring financial news and consulting with a mortgage professional, you can keep track of market conditions and identify the right time to refinance. When rates start to decline, you'll be ready to act swiftly.
What Does the Future Hold?: While there is no crystal ball to tell us, The Joy Team has the benefit of Matthew Gardner, the highly respected Chief Economist for Windermere. Here is his prediction for the next year and a half.
Seizing Lower Rates through Refinancing: Once interest rates start to fall, it's time to consider refinancing your mortgage. Refinancing can lead to substantial savings over time by lowering your monthly mortgage payments or reducing the loan term. This can free up additional funds for other investments or financial goals. Many lenders are offering programs today such as no cost re-fi's when the rates go down.
Choosing the Right Refinancing Option: When refinancing, you have various options, including rate-and-term refinancing and cash-out refinancing. Depending on your goals, you can either secure a lower interest rate or tap into your home's equity for other purposes, such as home improvements or debt consolidation.
The Long-Term Savings Impact: By adopting this strategy, you not only benefit from lower monthly payments but also create the potential for substantial long-term savings. Even a seemingly small reduction in interest rates can translate to significant savings over the life of your mortgage.
Purchasing a home when interest rates are high and then refinancing when rates drop might seem counterintuitive, but it can be a smart financial move for informed homebuyers. By capitalizing on negotiable prices and building equity faster during high rate periods, you set the stage for better refinancing terms later on. With careful planning, diligent monitoring of market conditions, and professional guidance, you can make the most of this strategy, securing your dream home and saving money in the process. Always remember to assess your individual financial situation and consult with experts to ensure this strategy aligns with your long-term goals. The Joy Team is here to help you with all of this! Let's find your new home!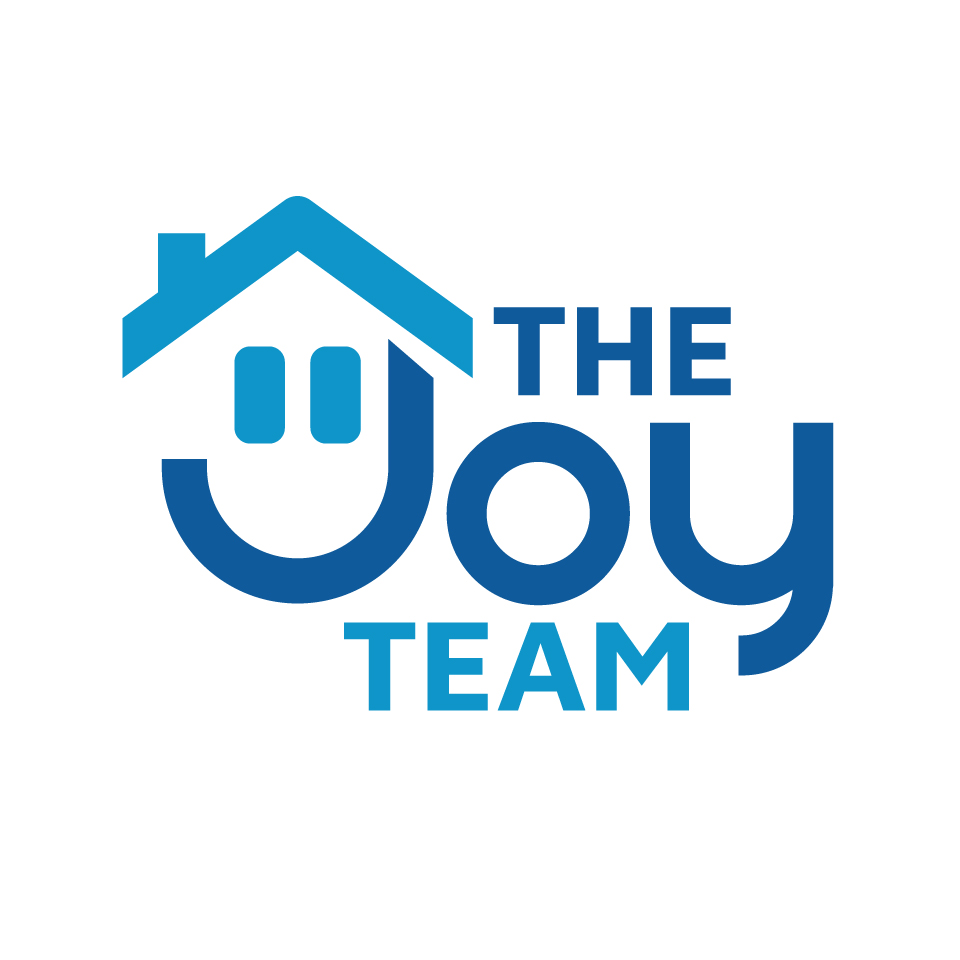 <a href="https://www.vecteezy.com/free-photos">Free Stock photos by Vecteezy</a>
Especially if your parents are downsizing or moving to assisted living. Perhaps one or both of them have passed away, and you are now tasked with selling the home. This can feel overwhelming, but with the right plan and approach, the process can be much more manageable. In this blog post, we will provide tips on how to get the home ready, have an estate sale, and decide what to keep and what to part with. The Joy Team has experience and contacts for you.
Get the Home Ready: First, it is crucial to declutter the home. This can be an emotional process, so take your time. Start with the areas your parents used the most, such as their bedroom, living room, and kitchen. Make sure to pack up items that you will be keeping and label them clearly. Clean the home, paying special attention to the bathrooms and kitchen. Consider hiring a professional cleaning service, so the home is ready for open houses.
Have an Estate Sale: Estate sales are an excellent way to sell items that you or your family will not be keeping. Estate sale companies can help price the items and organize the sale. Make sure to research and hire a reputable estate sale company. You can also sell items on online marketplaces such as eBay or Facebook Marketplace. Keep in mind that selling items takes time, so start early.
Decide What to Keep and What to Part With: Downsizing can be challenging, and it is essential to make sure you are keeping what you truly need and will use. Start by making a list of sentimental items that you want to keep, such as family photos and mementos. Then, consider how much space you have in your new home. Will certain furniture or appliances fit? It can be helpful to measure your new space before deciding what to keep. Donate or sell items that you don't need or won't fit in your new home.
Sell the House: Now that you have decluttered and organized the house, it is time to sell it. Consider hiring The Joy Team who specializes in your market. They will be able to guide you through the process and help sell the house for a fair price.  Consider factors such as their experience, reputation, and marketing strategies.
Embrace the Change: Selling Mom and Dad's house is not an easy task, but it can be a positive experience. Downsizing or moving to assisted living often means simplifying your life, reducing expenses, and embracing new opportunities. Moving can also be an opportunity to create new memories and start fresh. Remember to take things one step at a time and prioritize self-care during this process.
Conclusion: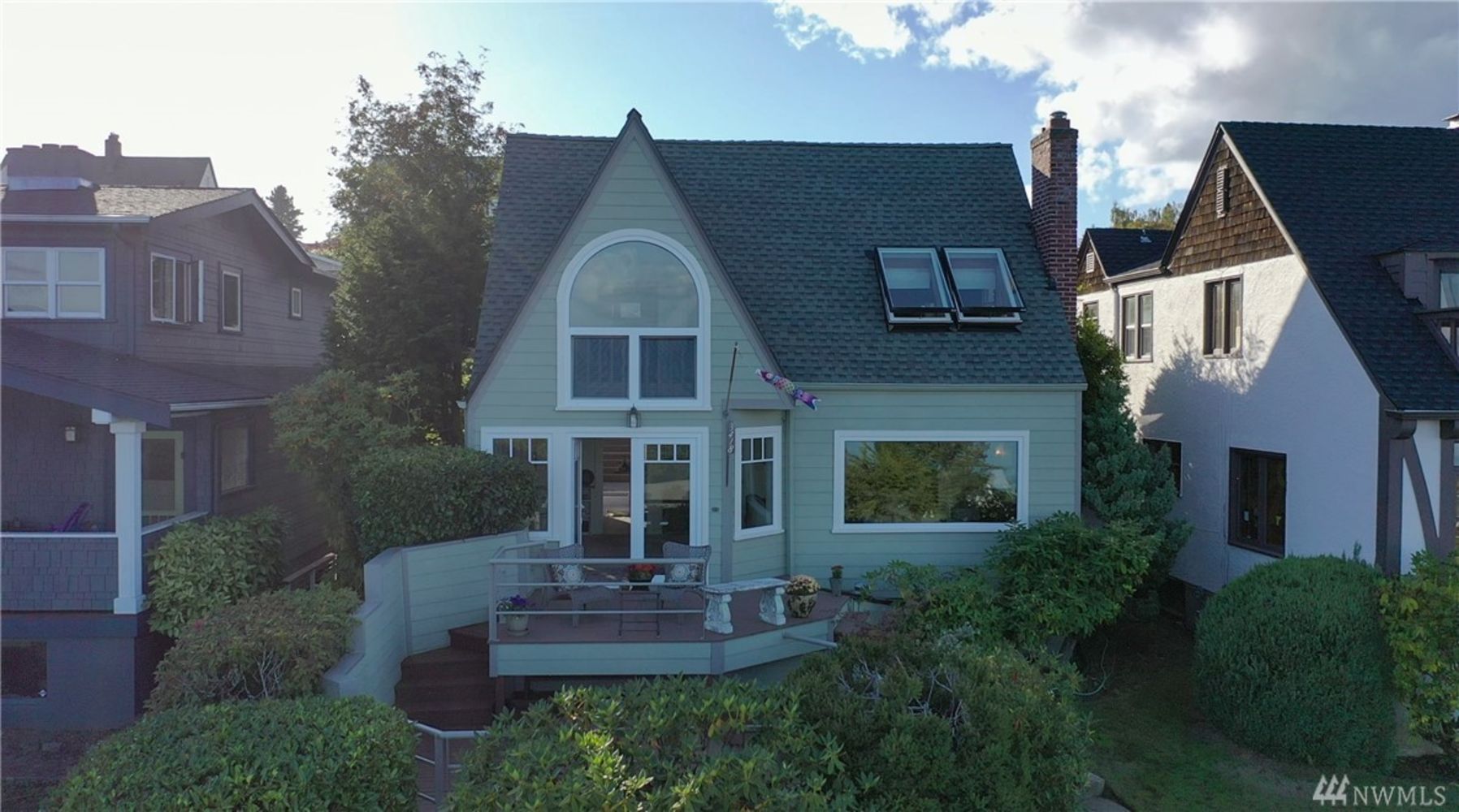 Selling your childhood home can be a challenging and emotional experience. However, with the right plan and approach, it can be much more manageable. Start by getting the home ready and having an estate sale to sell items you won't be keeping. Then, decide what to keep and what to part with and sell the house with the help of a reputable real estate agent. Finally, remember to embrace the change and focus on self-care during this process.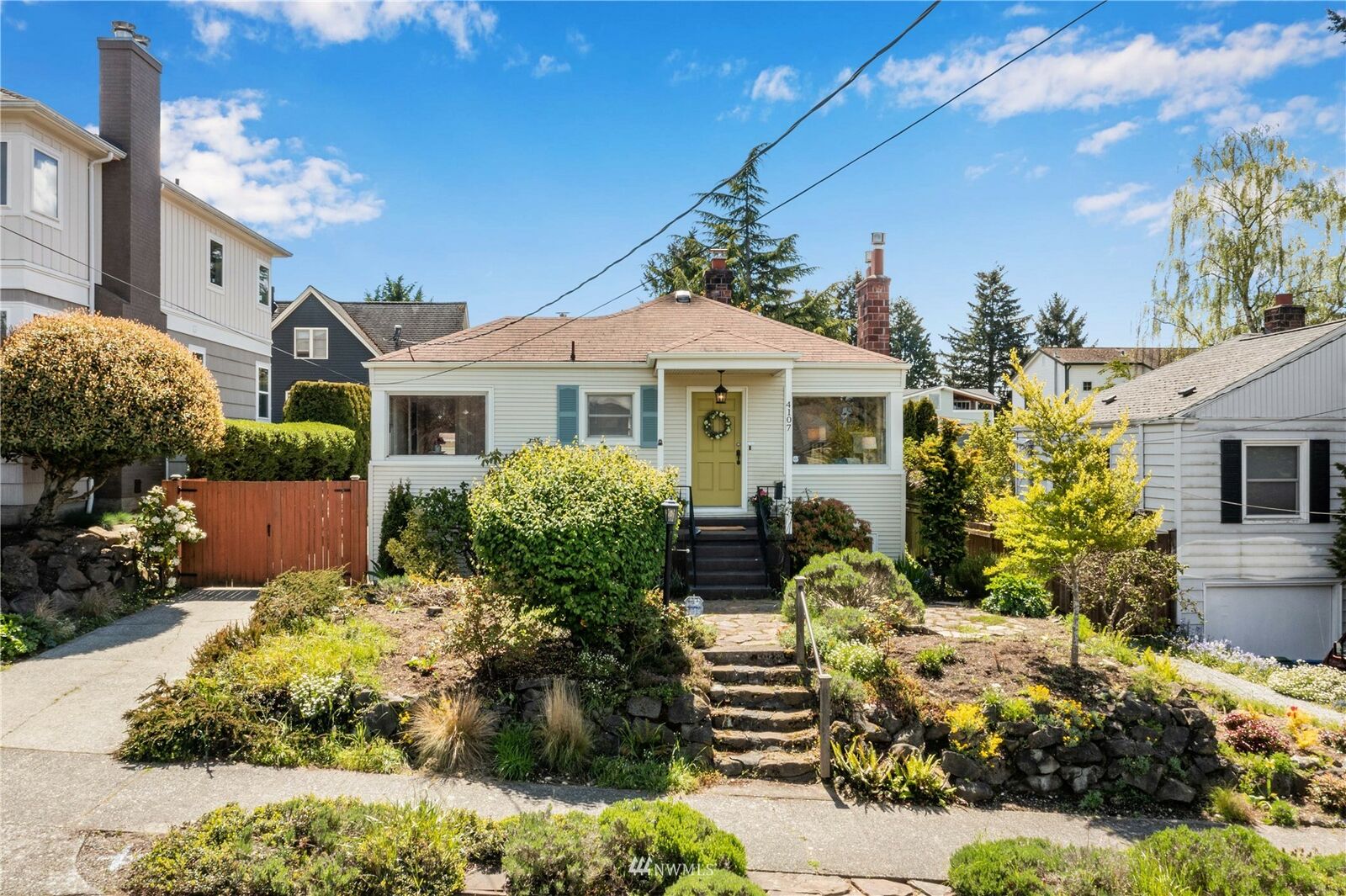 Captivating vintage character meets modern upgrades in this 1941-built treasure! Beautifully appointed living spaces offer an elegant setting you're sure to love spending time in, and there are also 4 bedrooms, 1 full bath, one ¾ bath, and one half bath all in the mix as well. A coveted 2-car detached garage out back rests alongside a storybook oasis, offering even more flexibility and space to enjoy. Located at 4107 SW Holden Street Seattle, WA 98136 and merely minutes to destination parks, shopping, transit, the Fauntleroy Ferry and more, this 1,700-square-foot West Seattle home is listed for $895,000.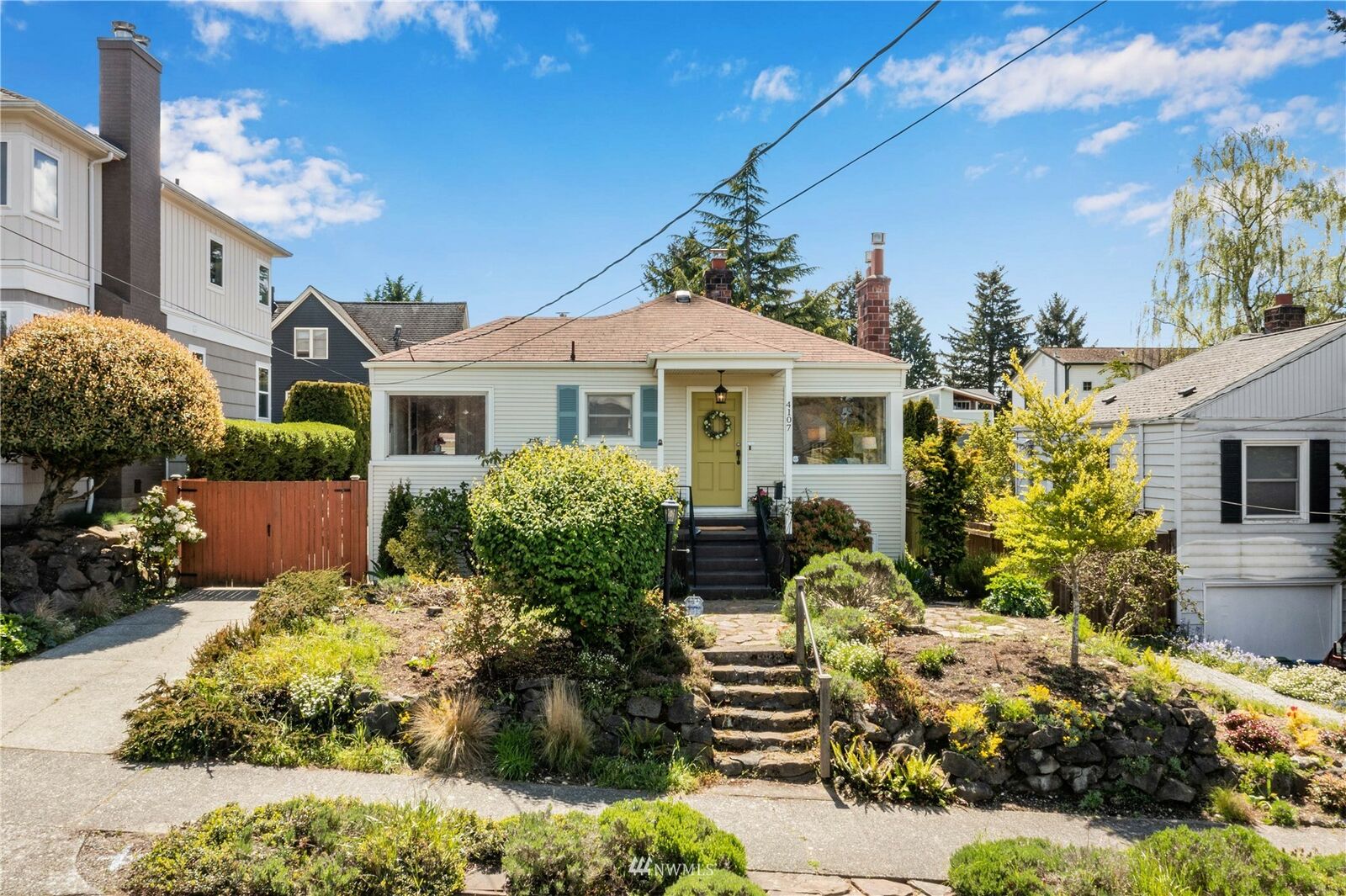 Showing off a charming exterior with lush greenery out front, this home-sweet-home is an absolute delight to spend time in, and you'll find an abundance of space where you can make this residence truly your own. The front door opens up to reveal the living room, a light-filled haven characterized by elegant comfort. A stately fireplace elevates the overall aesthetic while adding cozy vibes, and along with the fireplace mantel, a cute built-in shelf right next to it offers the perfect spot to show off decor, framed photos, your book collection, and more. Relax by the windows to bask in the natural light while you admire peek-a-boo views of the water!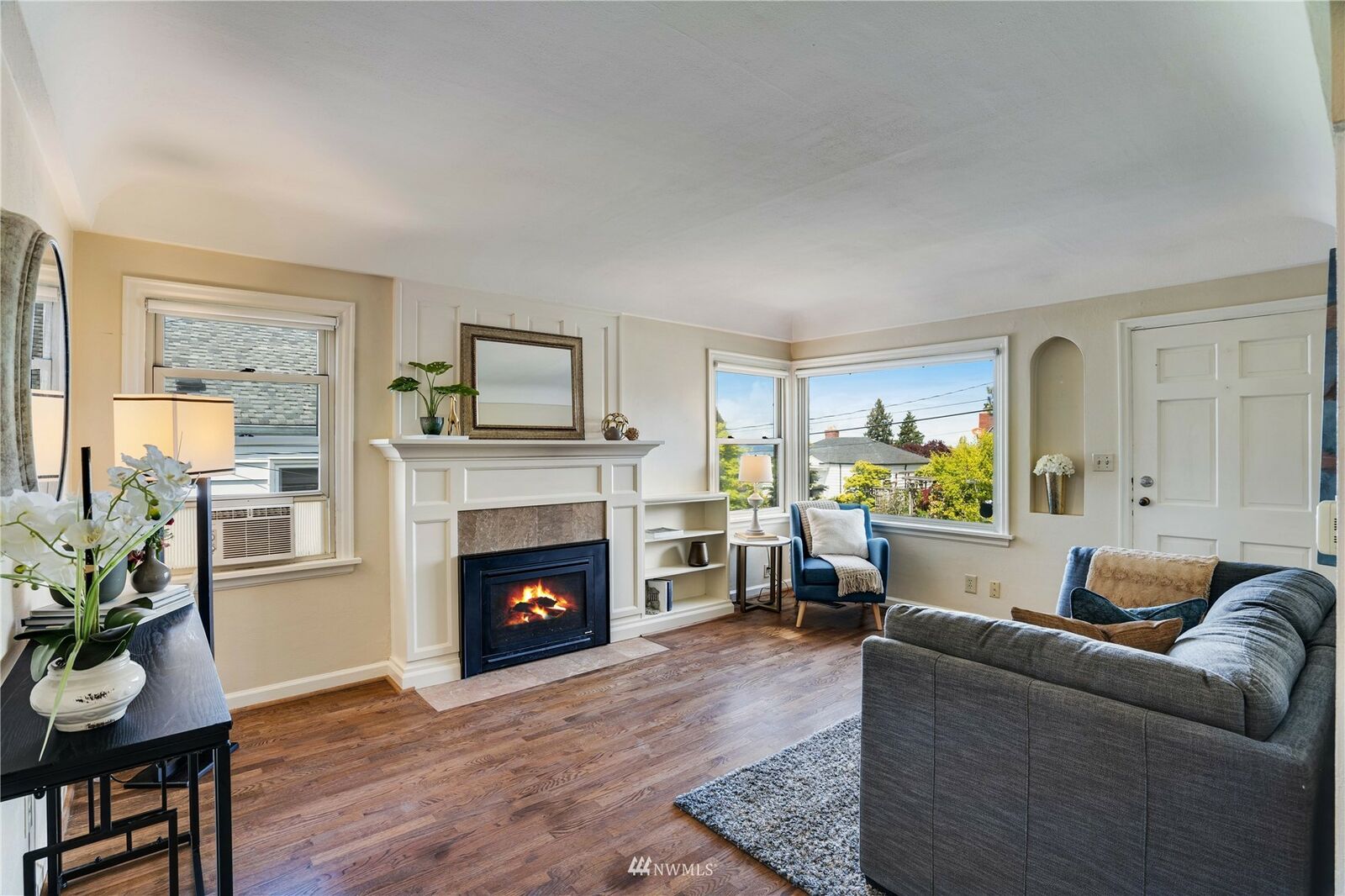 An eye-catching archway guides you into the kitchen and dining area. The kitchen features modern elements while still embracing this home's 1940s origins; sleek appliances rest alongside generous cabinetry, and a shimmering subway tile backsplash adds instant style! In the sunny corner, you can gather for lazy weekend brunches or dinner any day of the week—this sweet nook is a lovely spot to catch up with loved ones!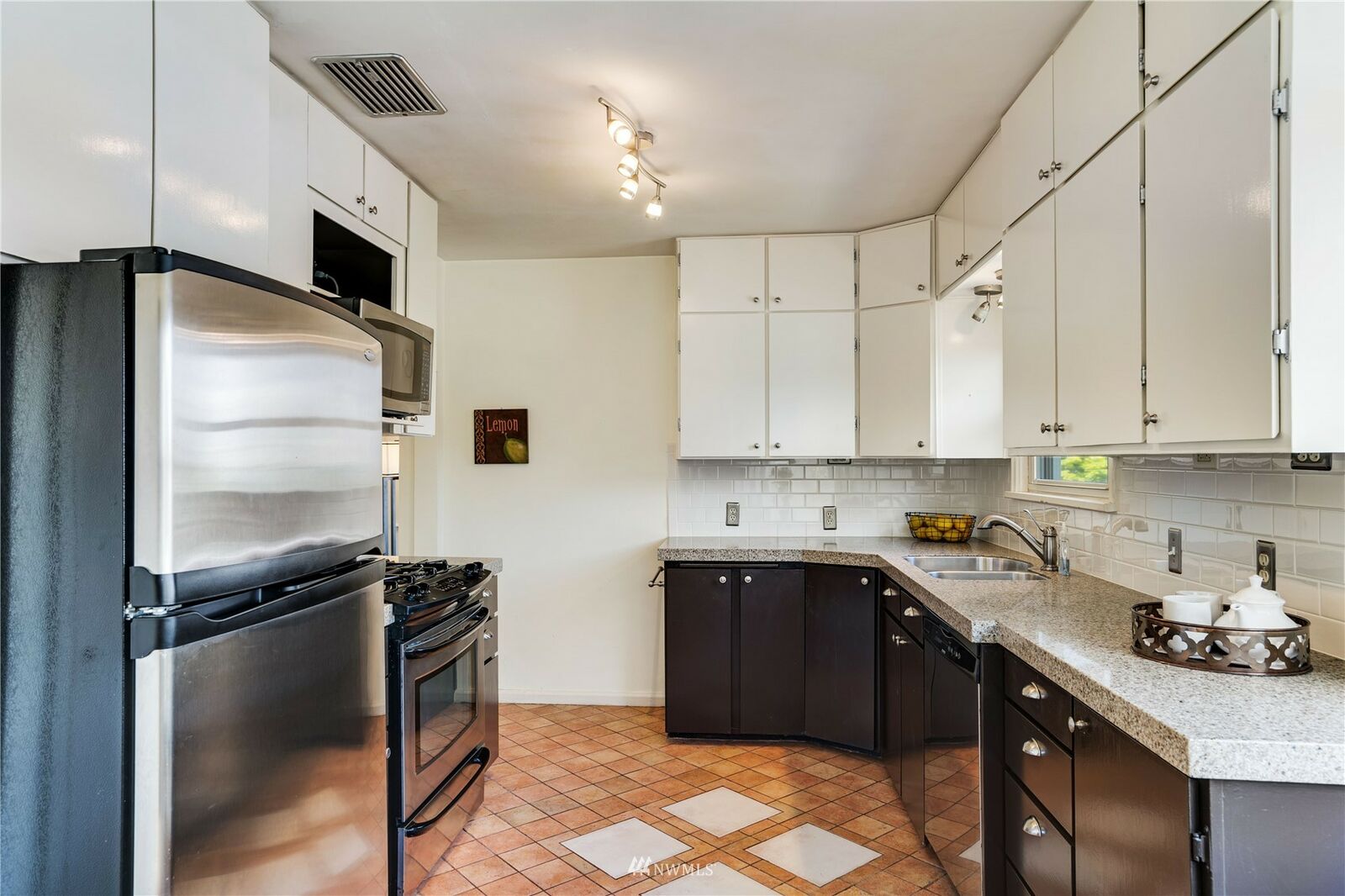 This West Seattle home also includes a fully finished basement, and a total of 4 bedrooms offers generous square footage to transform. Each bedroom is spacious, and the primary suite is especially expansive. In the primary suite you'll find more than enough room for a king-sized bed, and a fireplace is ideal for chilly winter nights when you want to really snuggle up. The ensuite bath offers a large layout as well; double sinks and a soaking tub are both standout amenities here, and the calm, neutral color palette lets time spent on wellness routines feel even more rejuvenating and peaceful!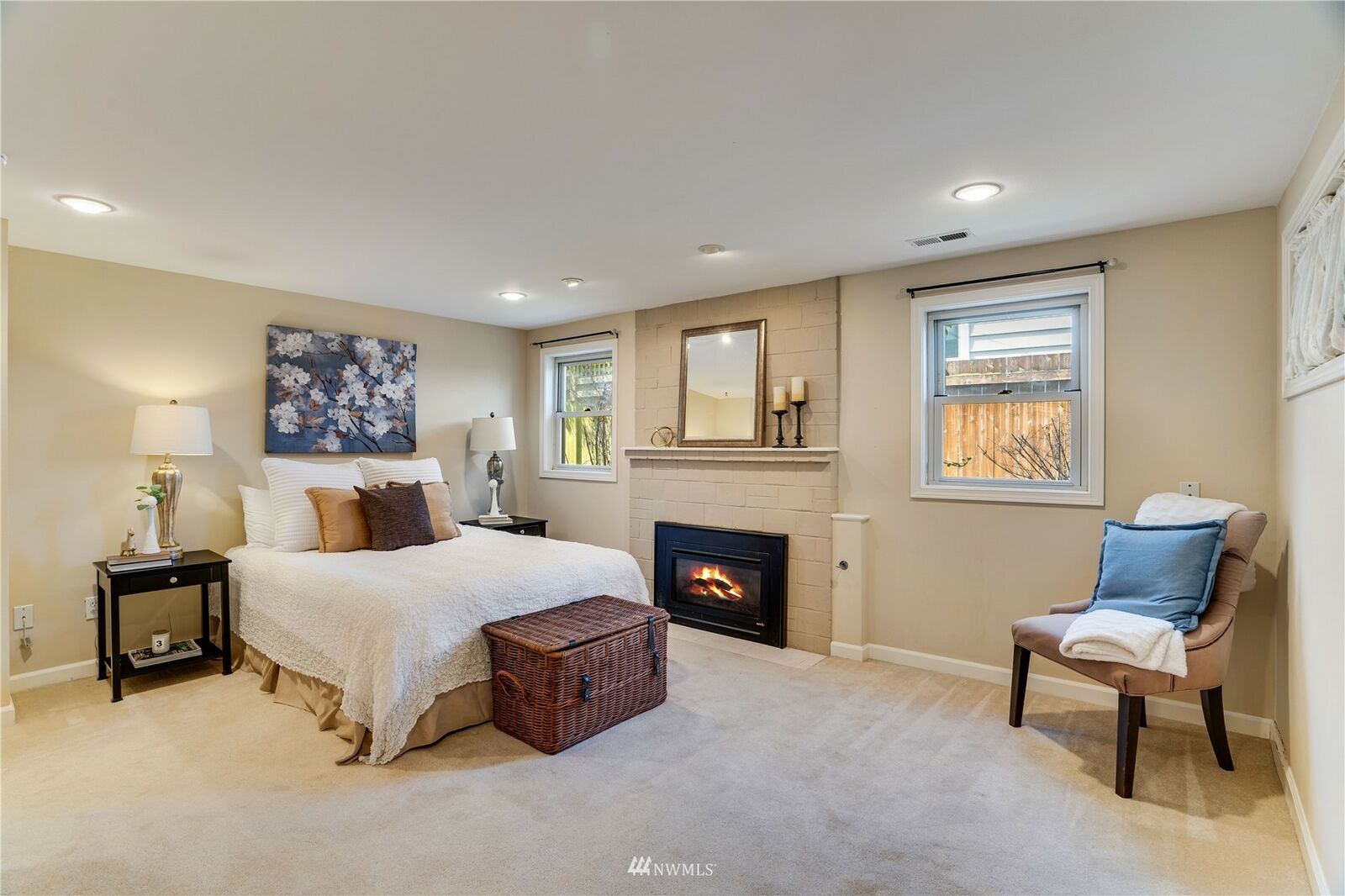 The driveway at the front of the home leads back to the 2-car detached garage, an enviable amenity in Seattle.  Incredible possibilities await here; of course you can use the garage for parking, but you can also use it for storage and working on projects. The outdoor retreat rests right alongside the garage; flagstone walkways, mature shrubs and trees, and a sense of seclusion all contribute to the picturesque storybook atmosphere. Those who love to garden are especially sure to appreciate this space—have fun tending to the existing greenery on warm afternoons this summer, and plant your own favorite blossoms!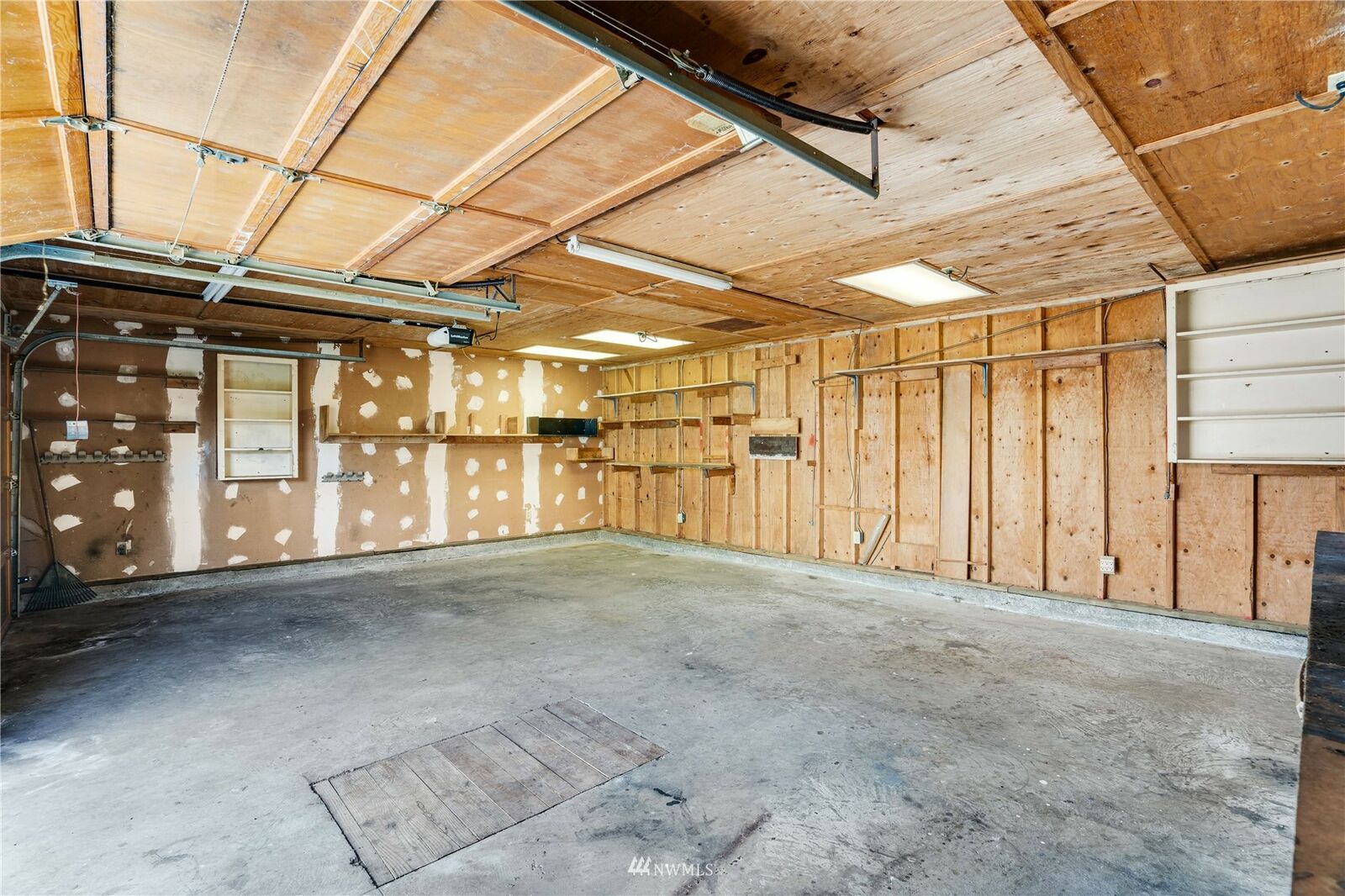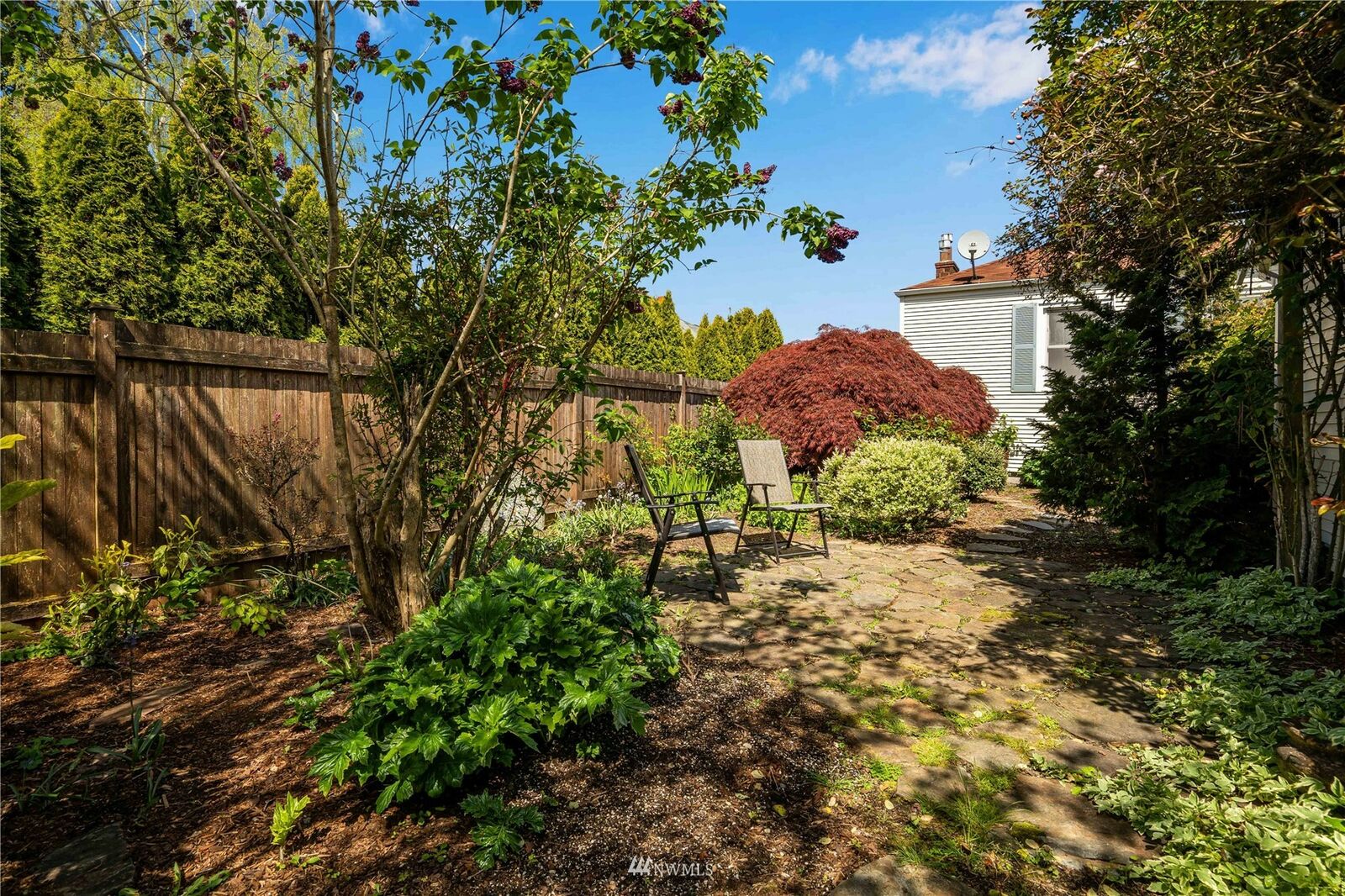 Living in West Seattle 
At 4107 SW Holden Street Seattle, WA 98136, you're in a residential area where top West Seattle conveniences and attractions are no more than 5 minutes away. For starters, the 135-acre Lincoln Park is less than one mile from home, and here you can explore trails, enjoy athletic fields, go swimming at Colman Pool, and meander along the beachfront. The Fauntleroy Ferry Terminal is just south of Lincoln Park, and here you can hop on a ferry to Vashon Island or Southworth (close to Port Orchard). When you need to run errands, places like Target, QFC, the post office, Rite Aid, and many other shops and eateries are all no more than 5 minutes away. Other top West Seattle attractions are close by as well; for example, you're only a 7-minute drive to the California Junction and the West Seattle Farmers Market! Those who travel frequently for work are also sure to appreciate being just about ~17 minutes from SeaTac International Airport. 
Interested in learning more about this home? Click here to view the full listing! 
You can contact REALTOR® Joyce Shipley online here or give her a call/text at (253) 380-2808. You can also contact REALTOR® Jason Helton online here or give him a call/text at (253) 861-2673!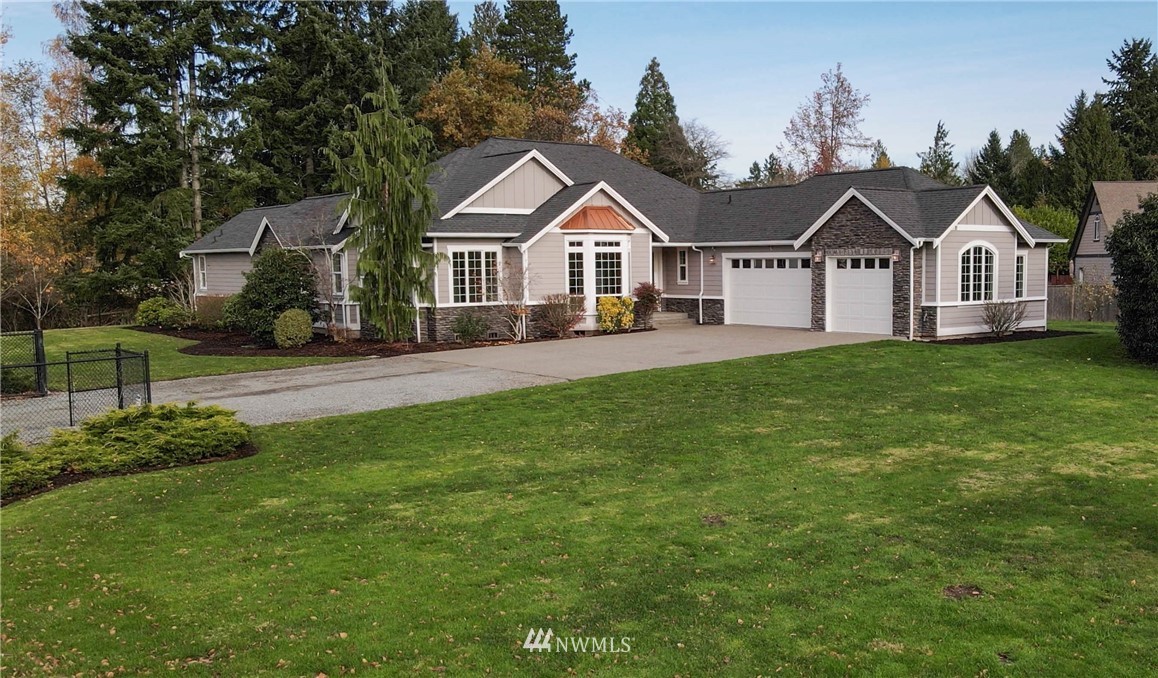 Elegant comfort and premium amenities are all yours with this impeccably curated 2,951-square-foot masterpiece! Built in 2008 and shining like new, this one-level home is brimming with thoughtful, high-end customizations both inside and out. Discover sophisticated formal spaces, a stunning great room, an extraordinary kitchen, 3 luxurious bedrooms and 3.5 sumptuous baths, expertly designed conveniences and more, all nestled on 1 gorgeous acre. Located at 2017 90th Street E Tacoma, WA 98445 in the Midland area and just minutes to Highway 512, Downtown Tacoma and more, this residence is listed for $895,000.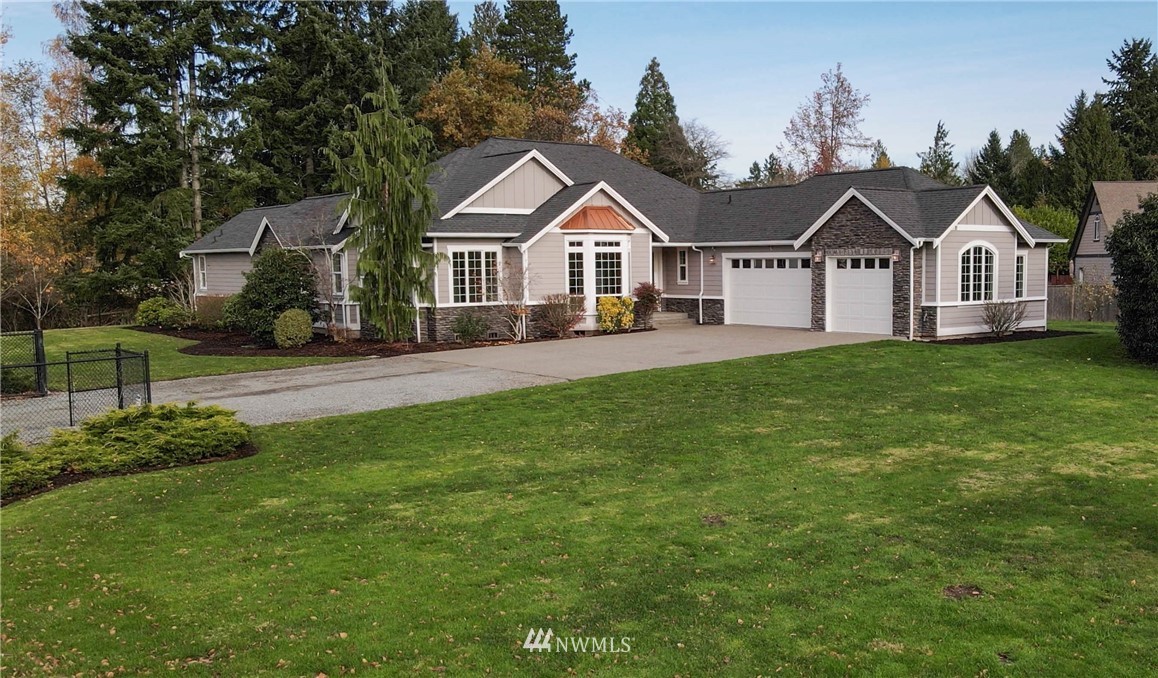 From the moment you step inside through the front door, it's immediately apparent that love and care went into each and every detail of this home. Lead glass mosaic front doors open up to reveal an entryway featuring a granite floor inlay, sculpted ceiling details, and an extra large entry coat closet, for example. The layout unfolds from here into the great room, where a stately gas fireplace features granite accents, and is flanked by neat built-ins. Natural light pours in overhead thanks to 2 large skylights.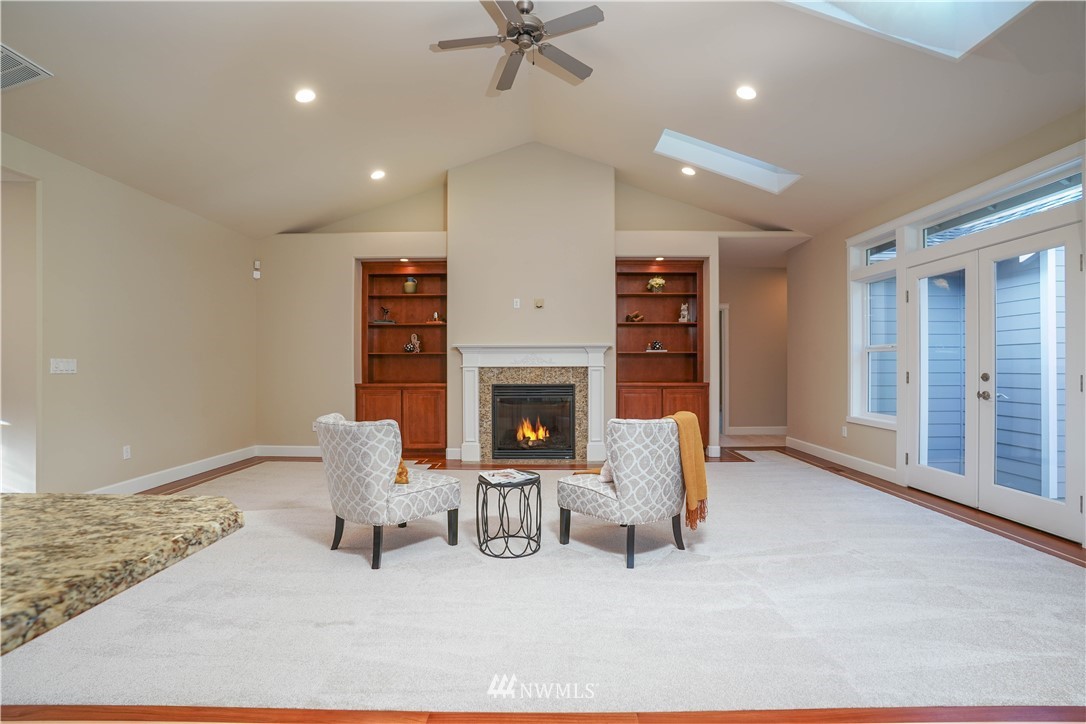 In the massive kitchen, highlights include the 10-foot serving island, the spacious granite counters, and the abundance of storage in handsome cabinetry and the walk-in pantry. Whether you're enjoying laid-back meals in the adjacent dining area or hosting special occasions in the formal dining space, the kitchen allows you to do it all with ease! Refinished Brazilian cherry wood floors lead you into the formal dining space where a built-in buffet with eye-catching display lighting and exquisite details like sculpted ceiling borders elevate the aesthetic.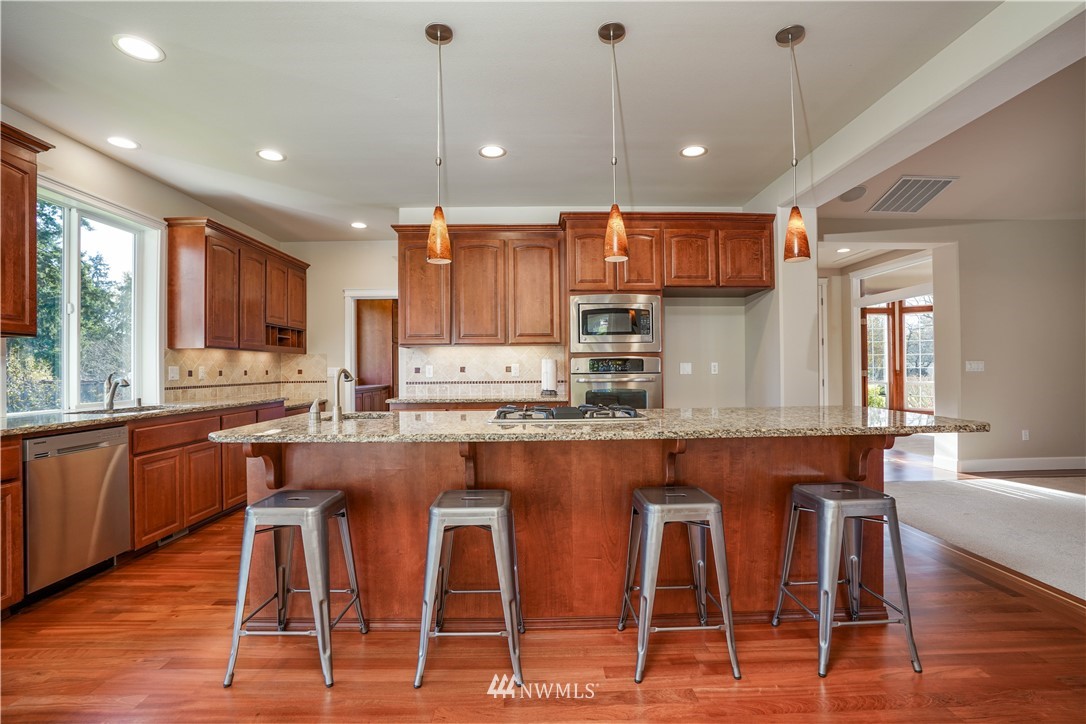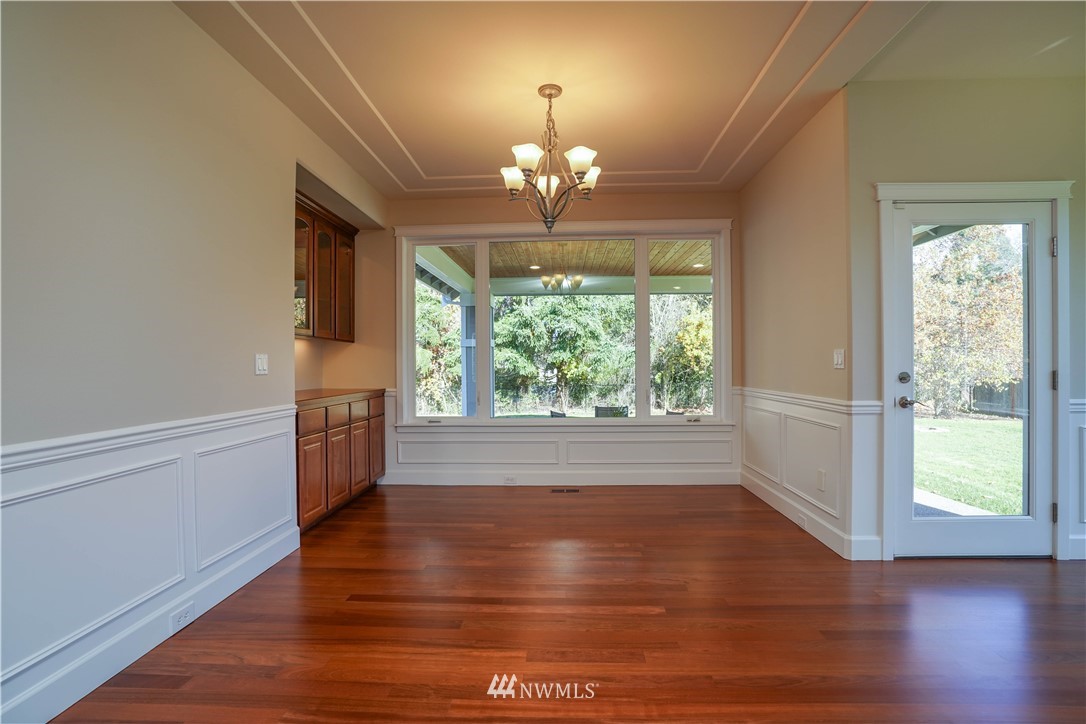 An impressive home office/library is also in the mix, and this grand space features vaulted ceilings, built-ins, and excellent natural light. Discover even more quiet space with this home's 3 bedrooms. 2 junior suites each include their own full private bath and walk-in closet, and the real showstopper is, of course, the master suite. This resort-worthy retreat showcases a sumptuous atmosphere—plush carpets, drop ceilings, crown lighting, left and right built-in reading lights, and French doors all characterize the bedroom—and a giant walk-in closet and a spa-ready 5-piece bath await as well. The ensuite bath features highlights such as 2 private vanity stations, a party-sized walk-in shower, and more.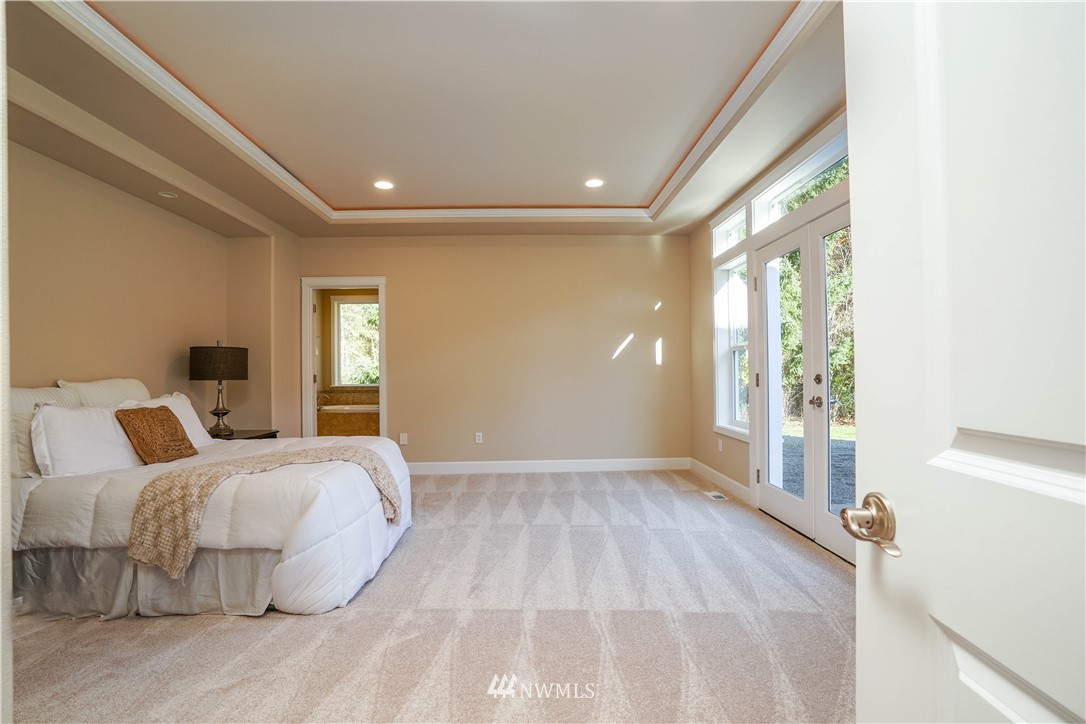 This property's outdoor spaces are brimming with opportunity, and this acre is fully fenced with a gate (and it's already wired for a remote auto gate). A partially covered patio lets you enjoy the fresh air no matter rain or shine, and those who love gardening are in for a treat! Flower beds and exotic, ornamental landscaping await at every turn, and a nine zone sprinkler system for both garden beds and lawn helps to keep everything looking lush. There are even 16 mature and producing fruit trees to enjoy for years to come!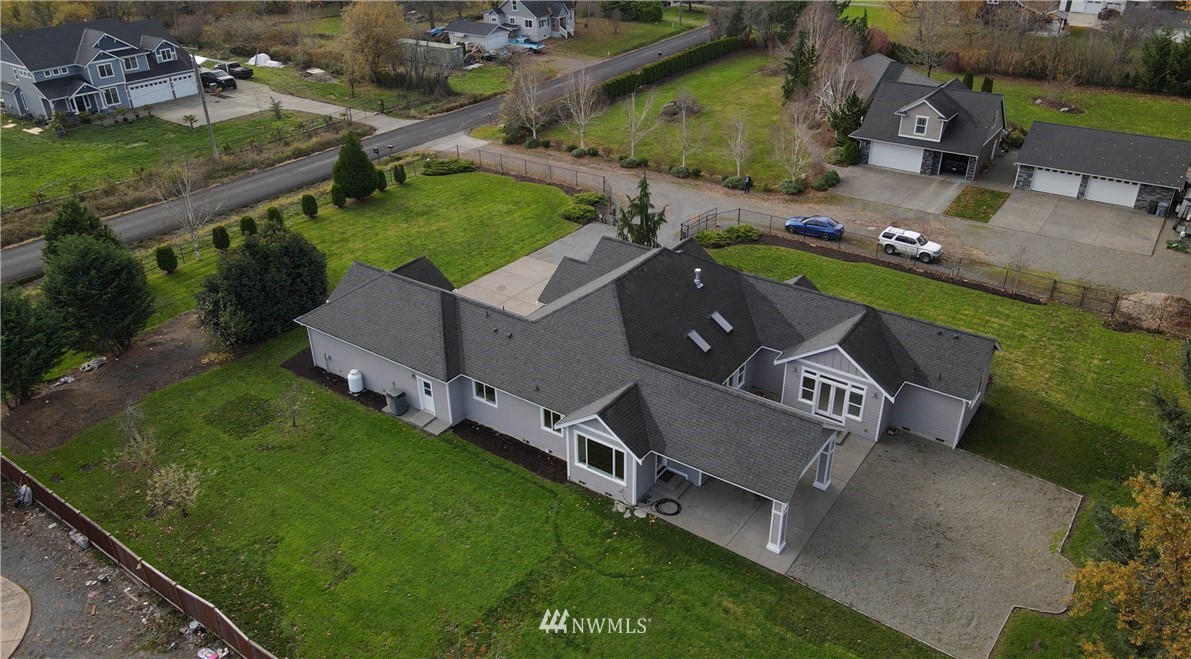 This home is also equipped with systems and well-designed spaces that make life easier, including a central vac system, an exterior camera system and alarm, and it's also conveniently wired for a home entertainment system. An extra-large utility room features built-ins for storage, plus a utility sink, and a mud room connects the house to the garage. You'll also find a 3-car showroom garage with abundant natural light, and an extra-deep third bay with tremendous versatility! 
Living in the Midland Area of Tacoma 
At 2017 90th Street E Tacoma, WA 98445, you're close to a new elementary school and new park, plus you can enjoy being close to top conveniences in both Tacoma and Puyallup! First of all, when you need to run to the grocery store, Safeway is just a 3-minute drive away, and when you need more variety, you can head to Pacific Ave or Canyon Road, both of which are just a 5-minute drive away in either direction. Commuters are sure to appreciate being just 4 minutes to Highway 512, 13 minutes to Downtown Tacoma, and 9 minutes to South Hill in Puyallup. 
Interested in learning more about this home? Click here to view the full listing! 
You can contact REALTOR® Joyce Shipley online here or give her a call/text at (253) 380-2808. You can also contact REALTOR® Jason Helton online here or give him a call/text at (253) 861-2673!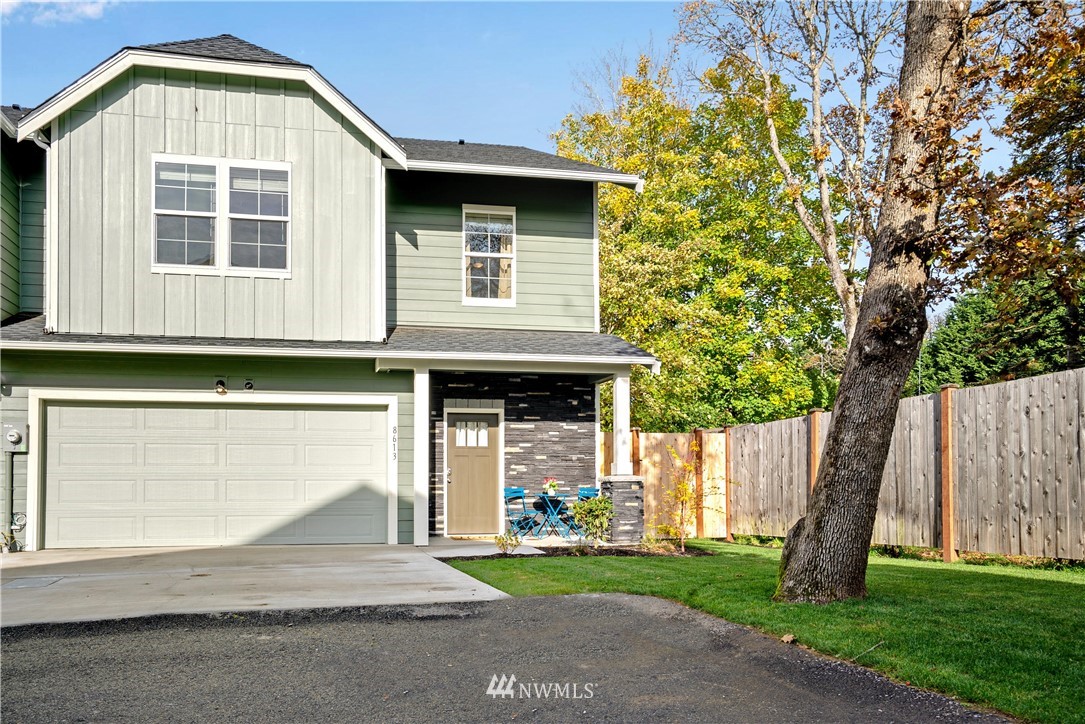 Built in 2021 and only 6 months old, this pristine corner unit townhome offers low-maintenance living in a prime Lakewood location! Not only is this move-in ready gem practically brand new, but it also already features $30,000 in upgrades including a heat pump and A/C, window blinds, an electric car charger, upgraded floors, and ceiling fans in all bedrooms and living room. In addition to 3 bedrooms and 2.5 baths, this townhome also features immaculate living spaces that are a joy to spend time in whether you're entertaining or just relaxing in the wonderful comfort of home-sweet-home. Located at 8613 62nd Avenue Ct SW #7, Unit 7 Lakewood, WA 98499 and just minutes from shopping, dining, community options and more, this 1,972-square-foot residence built by Sager Home is listed for $510,000.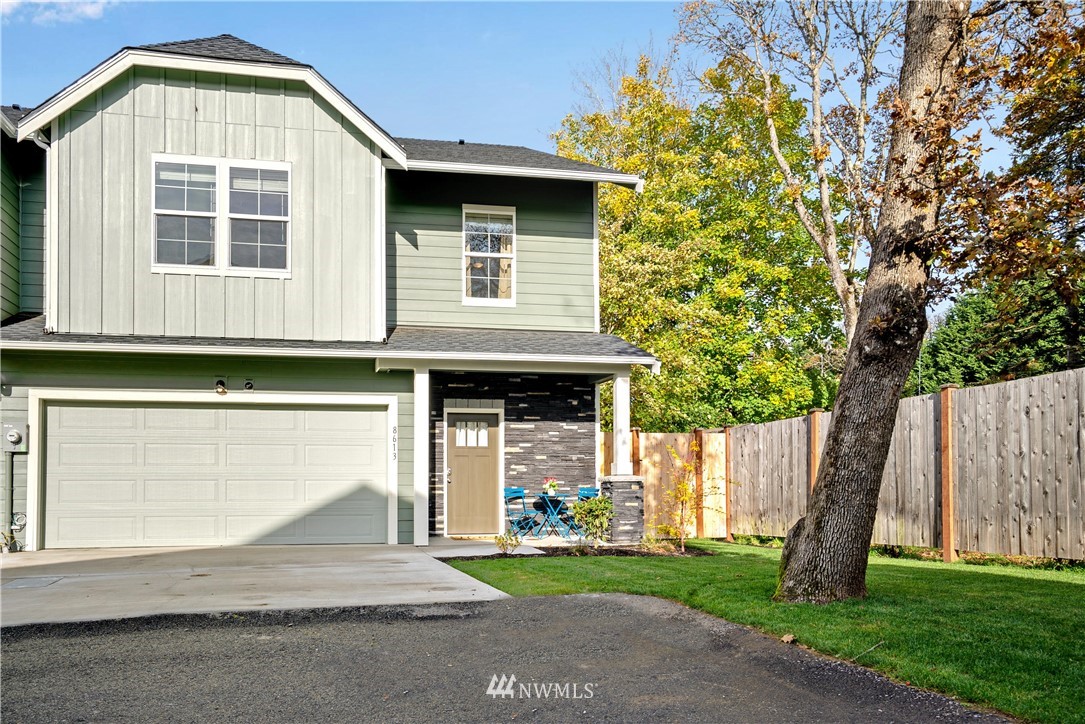 It's not every day you'll find a townhome with a 2-car garage, and this home makes it easy to come and go as you please. A cute front porch welcomes you, and from the entryway, this home's open-concept living spaces effortlessly unfold into the inviting great room. Contemporary design makes it easy to move right in and begin infusing each space with your own unique style, whether you lean towards a more traditional or trendy aesthetic. The living room flows into the kitchen and dining area, and the spaciousness of this light and bright scene helps to create a lovely and laid-back atmosphere. Gather in the dining area for meals with loved ones, and enjoy the ease and efficiency that the kitchen promises.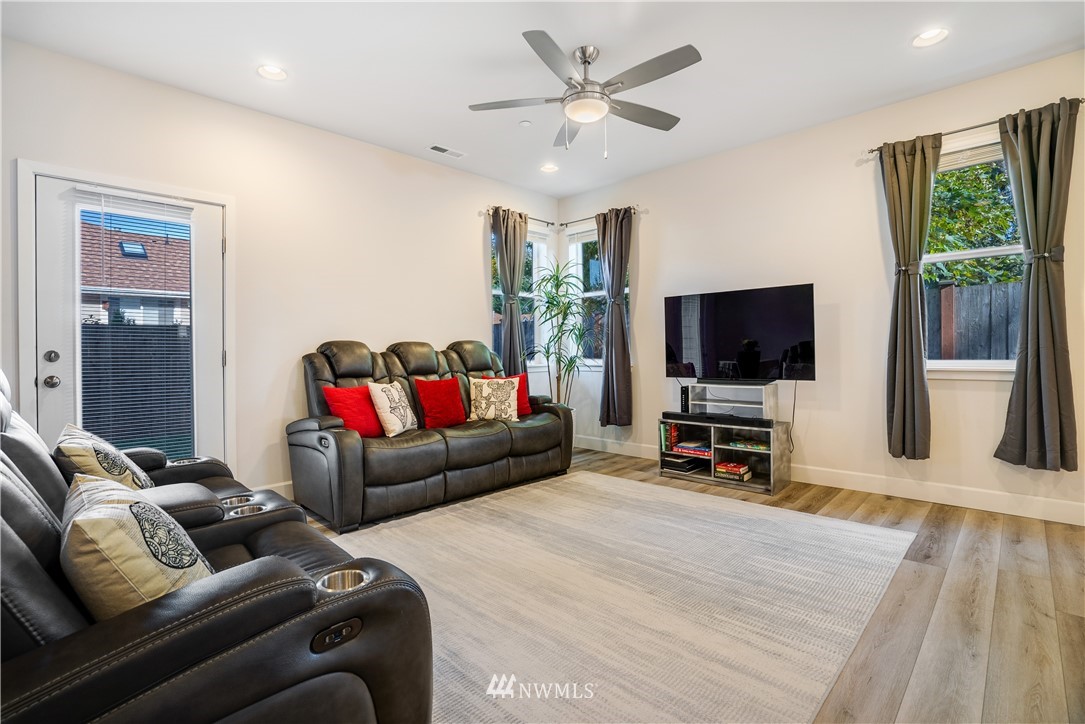 The kitchen boasts new appliances, shimmering granite counters, and an abundance of storage, all while showcasing modern design that's sure to stand the test of time. Serve up appetizers and drinks or a buffet on the kitchen island at your next get-together—the kitchen is especially delightful for those who love to entertain!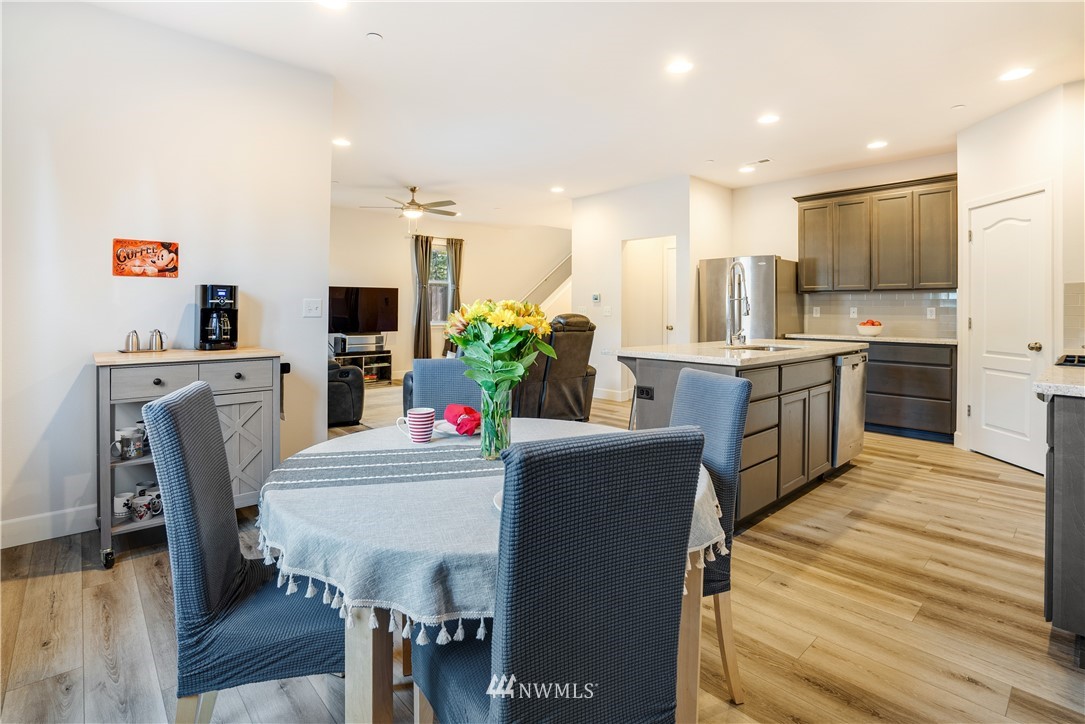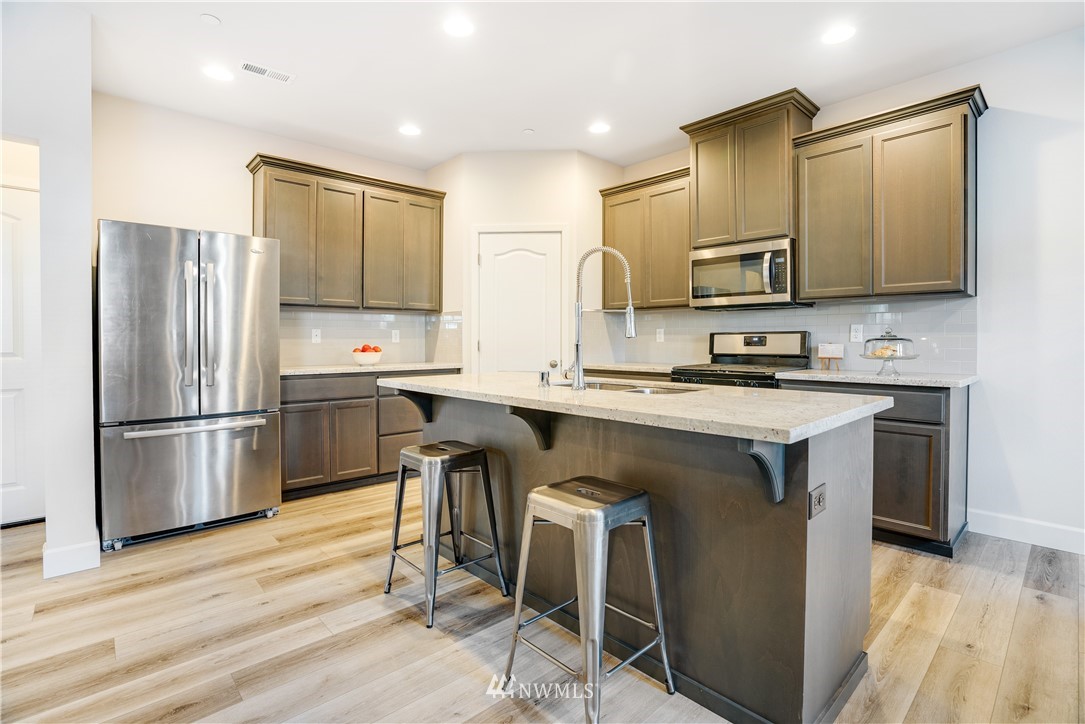 Incredible versatility is yours with this home's expansive 1,972-square-foot layout, and in addition to 3 bedrooms and 2.5 baths, a large landing at the top of the stairs provides even more flexibility. Create a play area, a den, a library, or a study space here. And don't miss the master suite—this light-filled getaway is completely dreamy! The bedroom itself is massive, and has more than enough room for a king-sized bedroom, a sitting area, a desk, workout equipment, or maybe even a sunny meditation corner. Dual walk-in closets are included as well, and just wait until you see the stunning ensuite bath. Here, highlights include an overhead showerhead and soaking tub, and spa-inspired finishes add to the luxe feel of it all.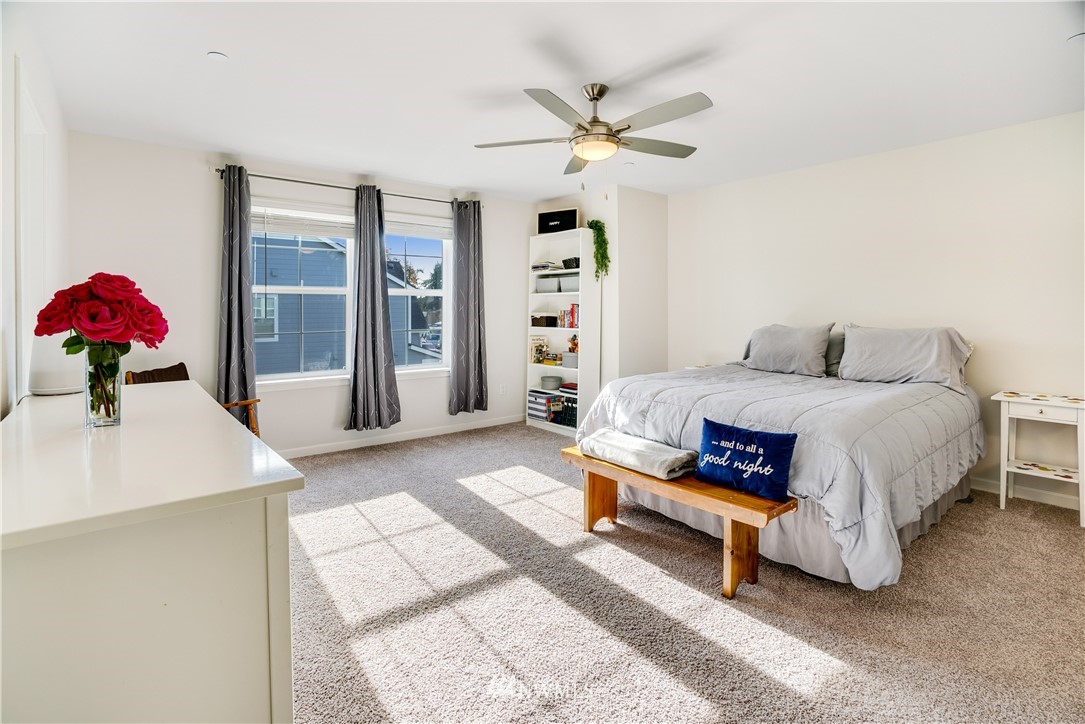 One of the major perks of townhouse living is the low-maintenance factor, and with this townhome you get easy living and a charming fully fenced backyard! A sweet covered patio and lawn are perfect for getting outside and enjoying the fresh air without having to spend your whole weekend on yard work. Perfection!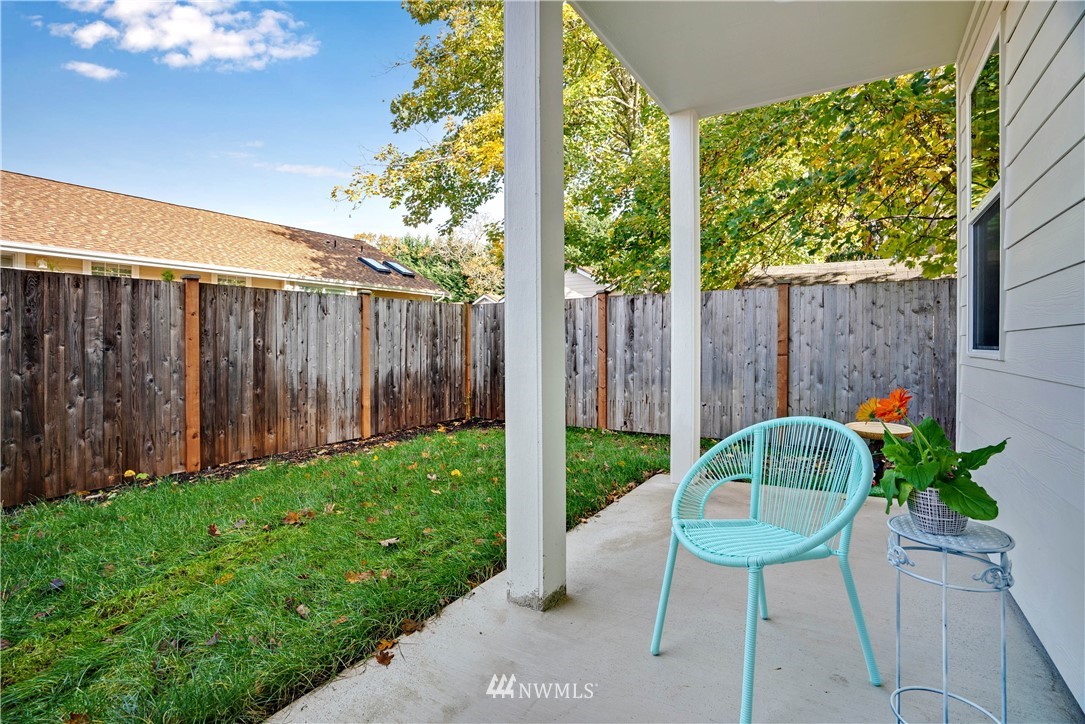 Living in Lakewood 
At 8613 62nd Avenue Ct SW #7, Unit 7 Lakewood, WA 98499, you're nestled in a cul-de-sac and wonderfully close to Lakewood conveniences. When you need to run errands, Lakewood Towne Center is only about 6 minutes away, and here you'll find places like Target, Safeway, AMC Lakewood Mall 12 cinemas, Michaels, Bed Bath & Beyond, PetSmart, and dozens of restaurants, additional shops, and local services. You're also only 11 minutes to the Lakewood Station where you can park and hop on the Sounder Train all the way to Downtown Seattle, and you're also just 10 minutes to Interstate-5. 
Interested in learning more about this home? Click here to view the full listing! 
You can contact REALTOR® Joyce Shipley online here or give her a call/text at (253) 380-2808. You can also contact REALTOR® Jason Helton online here or give him a call/text at (253) 861-2673!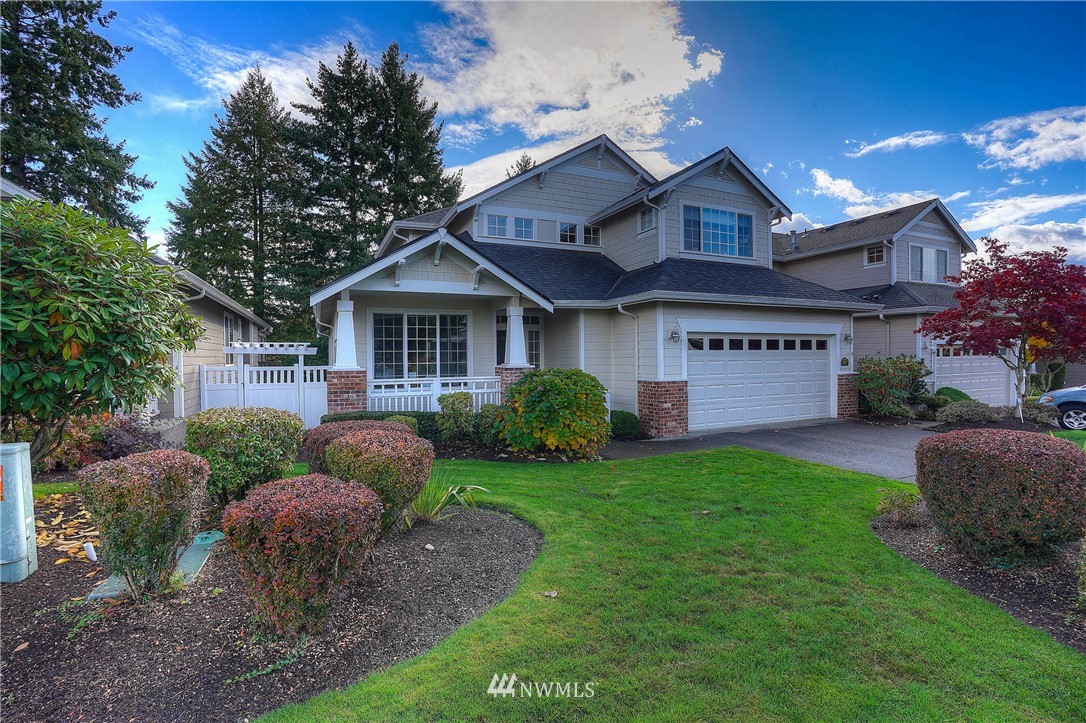 Nestled right along the 15th green of the Northshore Golf Course in Northeast Tacoma, this impeccably maintained and updated 2,471-square-foot home is ready to take on the future! Not only does this 3-bedroom, 2.5-bath beauty come with several upgrades (like a new roof in 2018) that promise peace of mind for new owners, but HOA dues cover tons of ongoing maintenance to-dos so you have more time for the things you love. Additional highlights include the main level master suite, comfortable living spaces, a gorgeous reimagined kitchen, and a picturesque outdoor getaway. Located at 4217 Fairwood Boulevard NE Tacoma, WA 98422 and less than 5 minutes to grocery shopping, schools, parks and more, this stunning Windance residence is listed for $599,000.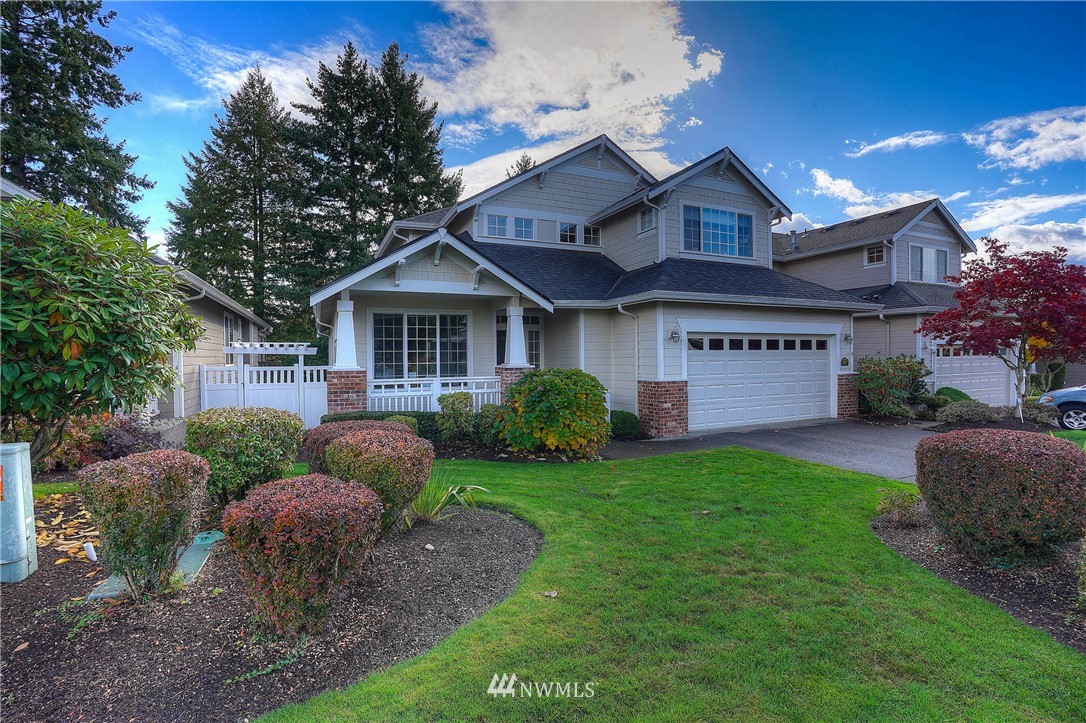 Easy living awaits with this move-in ready gem, and the HOA helps to keep things looking pristine! The HOA maintains your yard, which includes mowing your front and backyard, and they also trim your bushes in the front yard. Annual gutter cleaning, annual exterior window cleaning, deck painting, and exterior painting of homes is also included.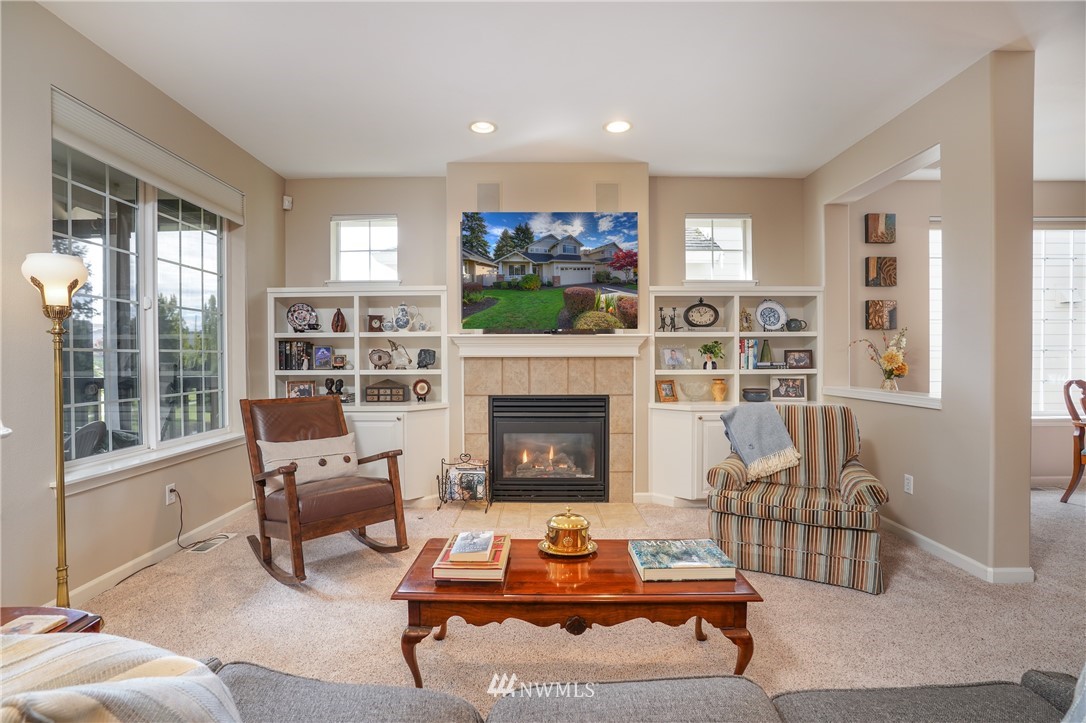 Each time you arrive home, the immaculate exterior is sure to inspire pride in ownership, and carefully maintained curb appeal offers just a hint of the elegance that awaits inside. In the living room, a fireplace serves as the focal point and is flanked by eye-catching built-in cabinetry, and a convenient flatscreen TV mount over the fireplace is ready to go. One of this home's thoughtful customizations include thermal blinds throughout, so you can adjust for lighting and privacy as you please. Additionally, central AC keeps things cool all summer long, while a new furnace from 2018 keeps things cozy in the winter.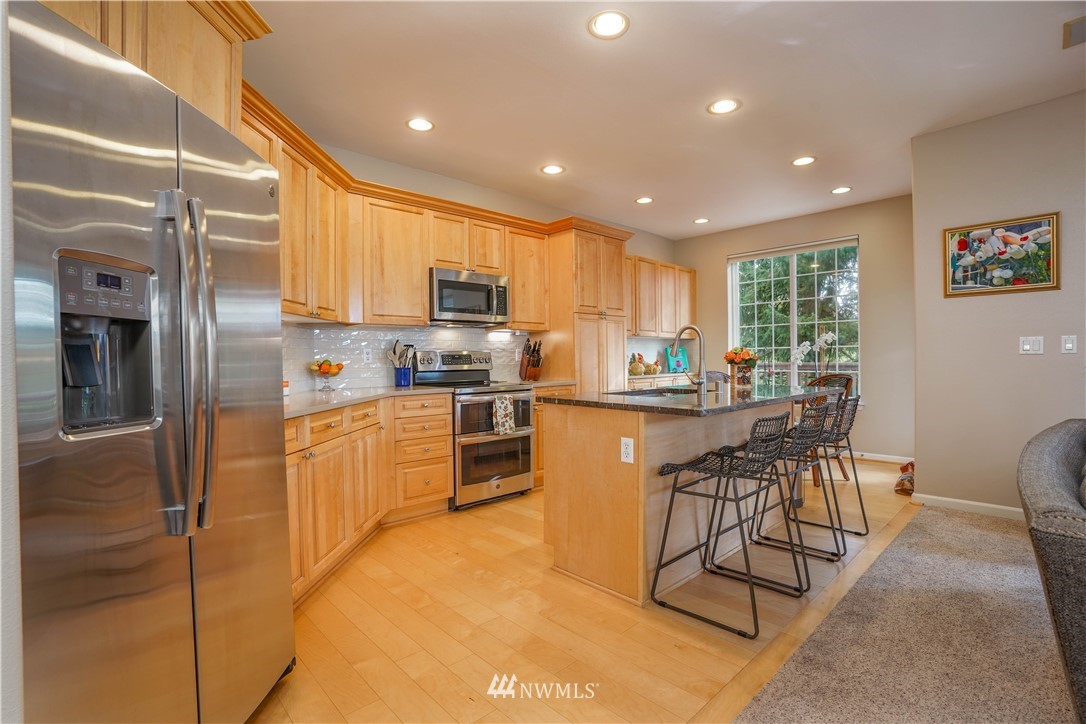 The kitchen shines with style and is sure to become the heart of the home! In 2019, this haven was updated with new kitchen counters, a new sink, new appliances, and a new tile backsplash. A seamlessly flowing design has room for everyone and is ideal for entertaining; gather around the kitchen island and enjoy having bar-style seating, relax in the adjacent dining nook at a charming bistro table, or host get-togethers in the formal dining room. Plus, there is a fridge in the garage (which stays with the home) for even more handy storage space. 
This Windance home features a very popular floor plan that includes the master suite on the main level, as well as a flexible den. Both the master suite and den were updated with new carpet in 2021. In the master suite retreat, enjoy direct access to the expansive deck (which was rebuilt in 2021) through beautiful French doors. The master suite also includes a wonderfully spacious ensuite bath, and here, highlights include double sinks and a soaking tub that's ready for indulgent bubble baths! 
Upstairs, discover 2 more bedrooms and a versatile loft space. And don't miss the big walk-in linen closet, and the large laundry room with a sink—this home has plenty of room for organization, so you can keep your daily life running as smoothly as possible. Plus, a large crawl space under the home (that's large enough to stand in) has more than enough room for keeping outdoor toys and seasonal items stored.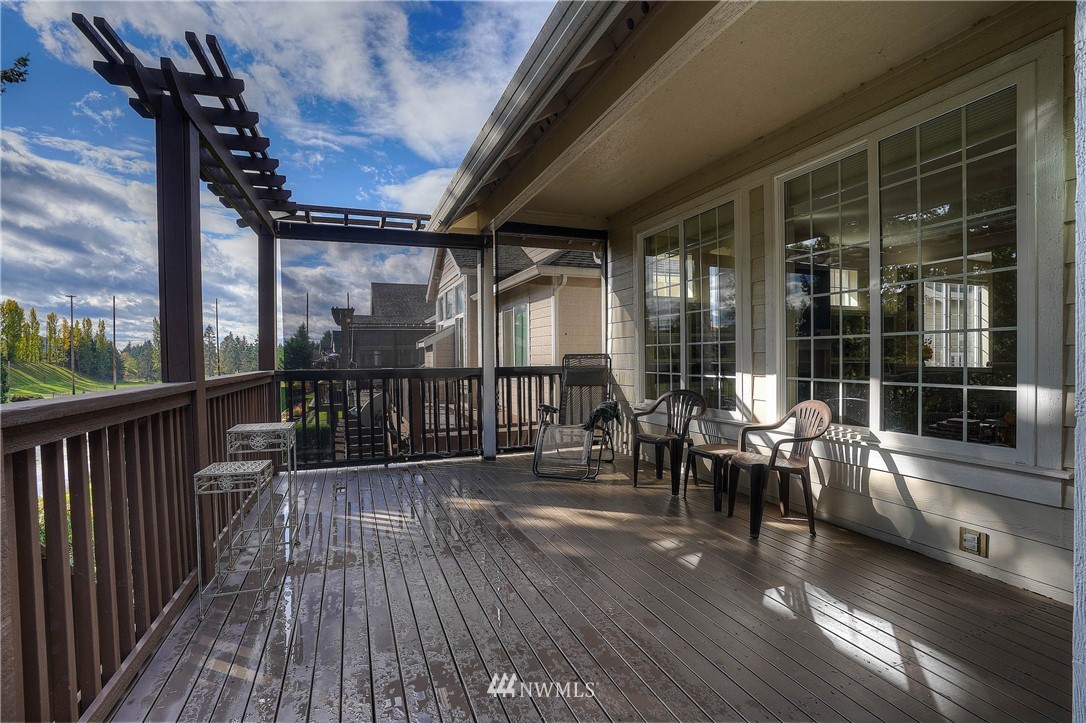 A lovely, private outdoor getaway is all yours with this property's picturesque setup! This home backs up to the 15th green of the Northshore Golf Course, offering a wonderful sense of seclusion. In 2021, the deck was replaced (including the stairs), and a gas BBQ outlet makes it easy to grill up dinner wherever the mood strikes. When the weather warms up, you can enjoy al fresco dining, host sunny parties, and spend relaxing weekends lounging on the sprawling deck. Plus, the sprinkler system in the front and backyard (which features a new Rainbird sprinkler system control installed in 2021) makes it easy to keep things green and lush no matter how hot it gets.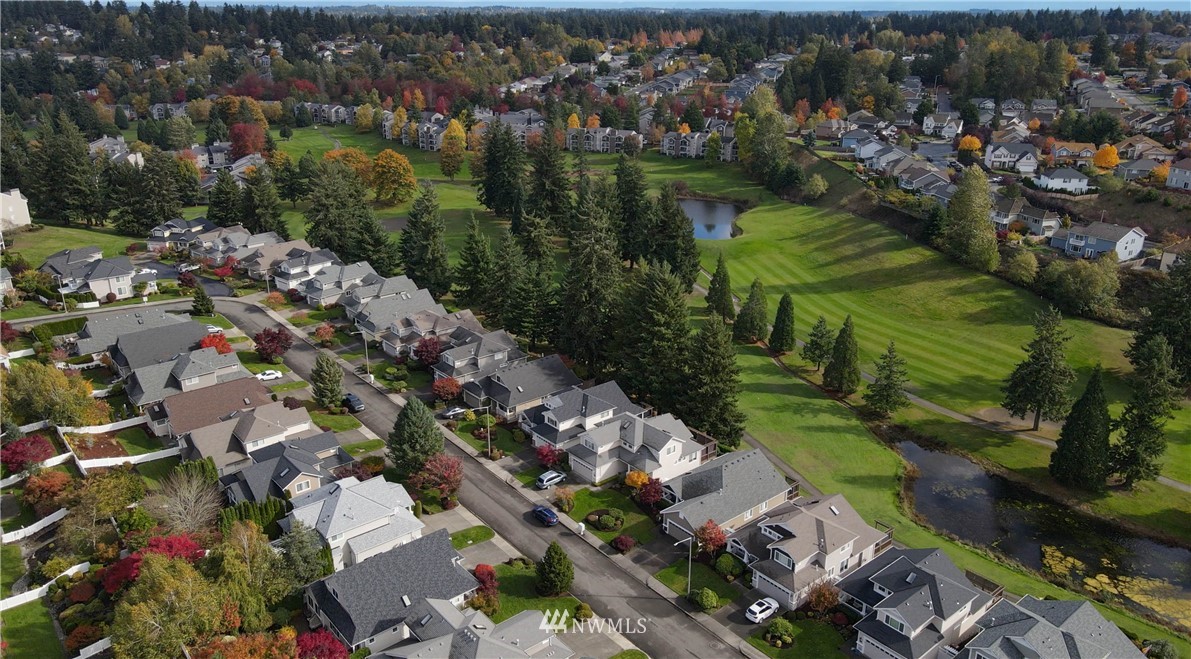 Living in Northeast Tacoma 
At 4217 Fairwood Boulevard NE Tacoma, WA 98422, you're merely minutes from top local amenities like grocery stores, shopping, dining, parks, schools, and more. Of course, Northshore Golf Course is literally in your backyard, but you're also just minutes to other top outdoor attractions like Center at Norpoint and Norpoint Park, and the 461-acre Dash Point State Park. When you need to run errands, places like QFC, Safeway, Fred Meyer, and more are just 5 minutes from home, and you'll find a huge variety of options in nearby Federal Way as well. From this location you're just 15-20 minutes to reach the Port of Tacoma, Fife, Downtown Tacoma, Interstate-5, and more. 
Interested in learning more about this home? Click here to view the full listing! 
You can contact REALTOR® Joyce Shipley online here or give her a call/text at (253) 380-2808. You can also contact REALTOR® Jason Helton online here or give him a call/text at (253) 861-2673!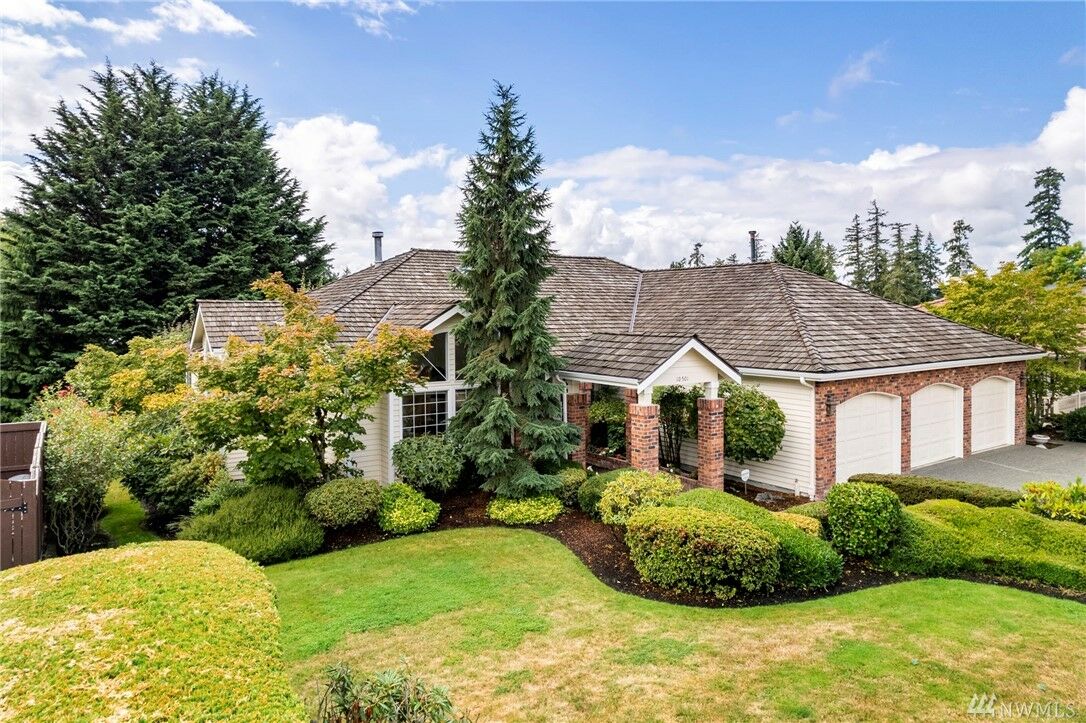 Showcasing timeless design and elegant style throughout, this 2,470-square-foot home has been lovingly maintained by original owners! A one-level floor plan provides the potential for multi-generational living, and incredible versatility ensures that this residence is ready to evolve with your changing wants and needs. Just a few of this home's top highlights include the well-appointed kitchen, stunning formal spaces, the sumptuous master suite, and the oversized 3-car garage. And just wait until you see this home's outdoor setting—not only is it on the largest parcel in the community with 2 combined lots, but it's been professionally landscaped as well. Located at 10501 SE 302nd St Auburn, WA 98092 in the warm and friendly community of Cobble Creek in Auburn and surrounded by conveniences, this 4-bedroom, 2-bath home is listed for $795,000.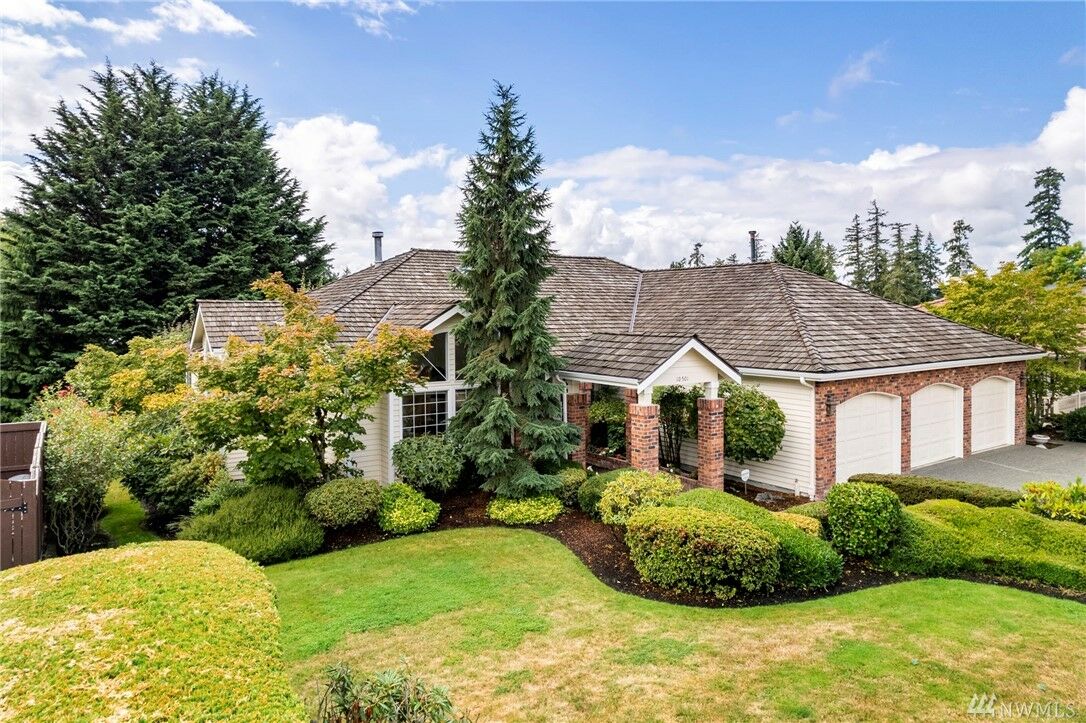 Take a moment to learn more about a few of this home's top highlights: 
1. Carefully maintained and thoughtfully updated; move right in without worrying about a thing! 
From the moment you pull in the driveway, this home makes a lasting first impression, and the grand exterior hints at the love and care that has been put into maintaining and updating this beauty. For example, the furnace and heat pump were serviced in August 2021 (records available upon request). The roof was replaced 10 years ago, and the walkways and stairs have been re-leveled with a transferable  "forever warranty" from Matvey foundations.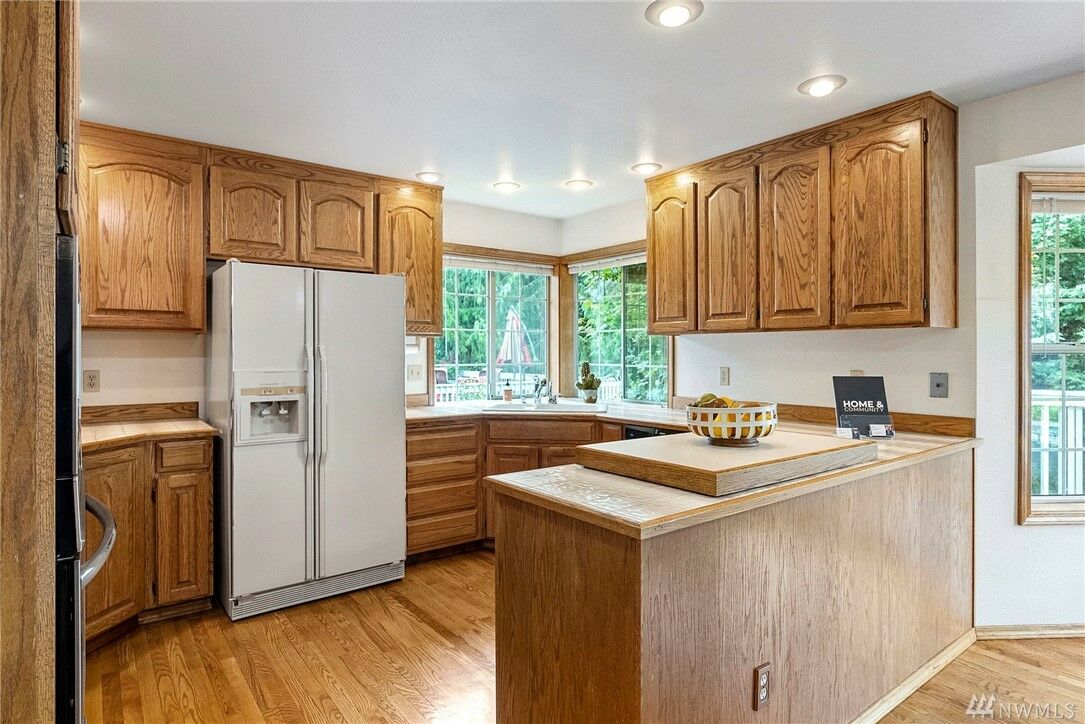 2. The well-appointed kitchen is ready to help you tackle meal prep, baking marathons, and daily tasks with ease. 
In the large entertainer's kitchen, you'll find ample storage in handsome cabinetry, built-in Lazy Susan corner cabinets, large pull-out shelves, a custom-made stove cover, a natural gas downdraft stove and griddle, and more. Plus, all appliances stay! The kitchen seamlessly opens up into a dining area and a large living room, and this inviting great room is sure to become the heart of the home.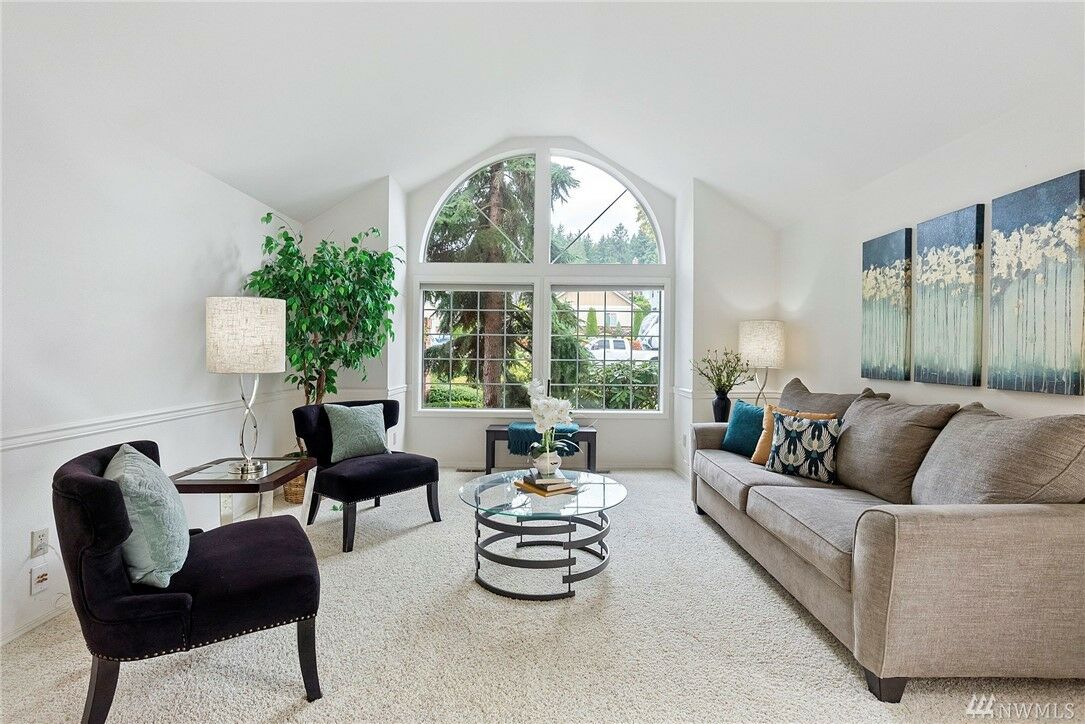 3. Impeccable formal spaces are a host's dream. 
This home was designed with entertaining in mind, and both a formal living room and formal dining room show off simple sophistication. In the formal living room, stunning vaulted ceilings and impressive shimmering windows let the space feel large and airy, and you'll find the same captivating window design in the formal dining room. In the dining room, stylish wainscoting delights the eye, and you can have fun curating your own aesthetic here once you move in!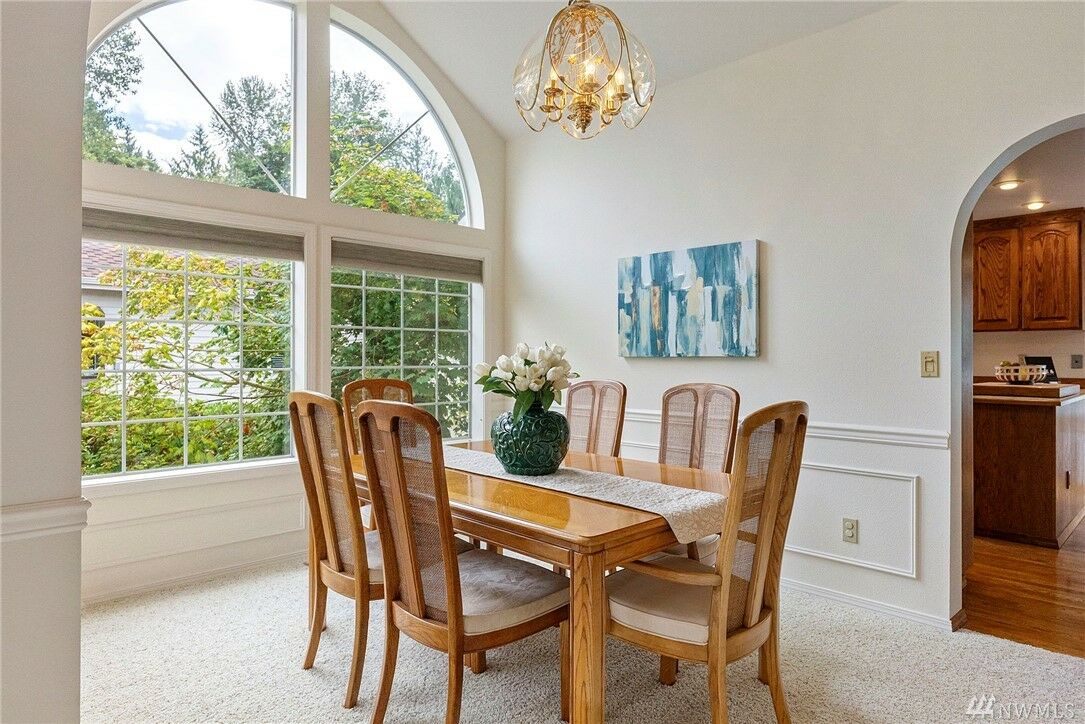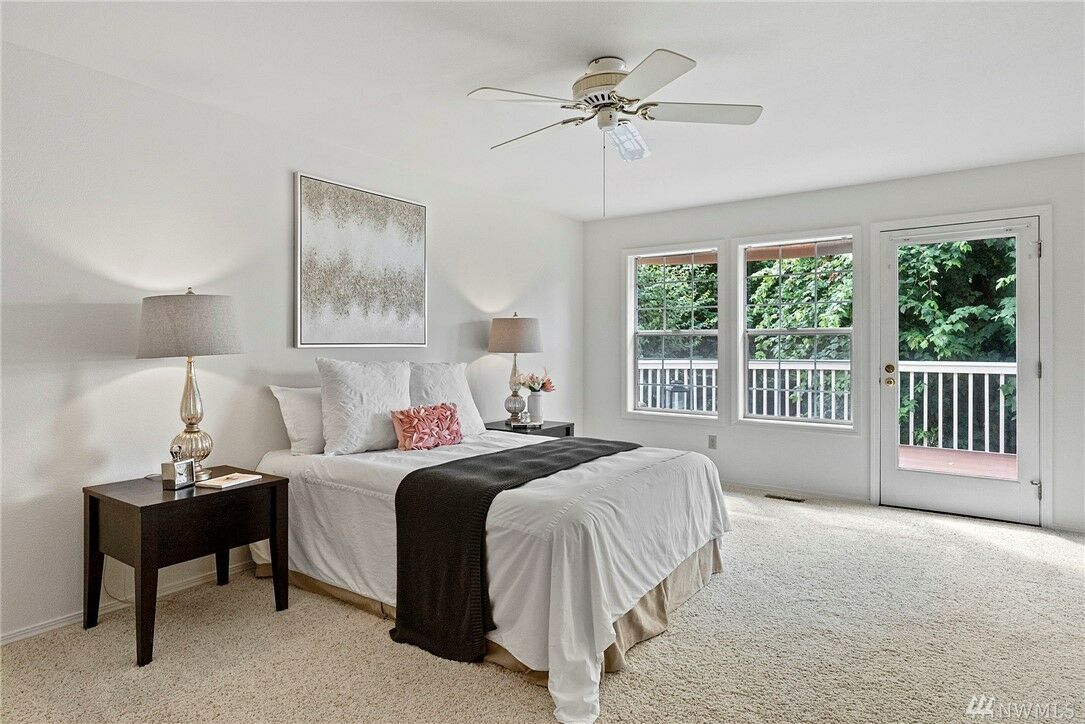 4. Sumptuous master suite offers the ideal setting for rest and relaxation. 
The master suite shows off an extra-large bedroom layout, and your living space here expands even more thanks to private deck access; pop outside just before bed to take in the fresh air, or enjoy your coffee on the deck before starting your day. A huge walk-in closet features cubbies, drawers, and shelving, and the 5-piece ensuite bath boasts a spa-like setting with its dual sinks, separate shower, and jetted tub. The master bath is also drenched in sunlight—a skylight and porthole-style windows above the tub are all in the mix! 
5. Lots of versatile space for you to transform as your needs change over time.
One of this home's major perks awaits with its flexible square footage. Of course, you'll find endless possibilities if you have an extra bedroom (or 2 or 3!), and the 4th bedroom has a custom built-in executive desk with a bookshelf, tons of storage, and file drawers. It's ready to become the ultimate home office! 
Even more space can be found in the oversized 3-car garage, which is deep and wide enough for 3 full-sized King Cab trucks and includes a large workbench. In addition to using the garage for storage, you'll also find plenty of storage throughout the house and in the lighted and fully waterproofed walk-in/stand-up crawlspace under the house. Never worry about where to store your outdoor furniture, holiday decor, bikes, or kayaks again!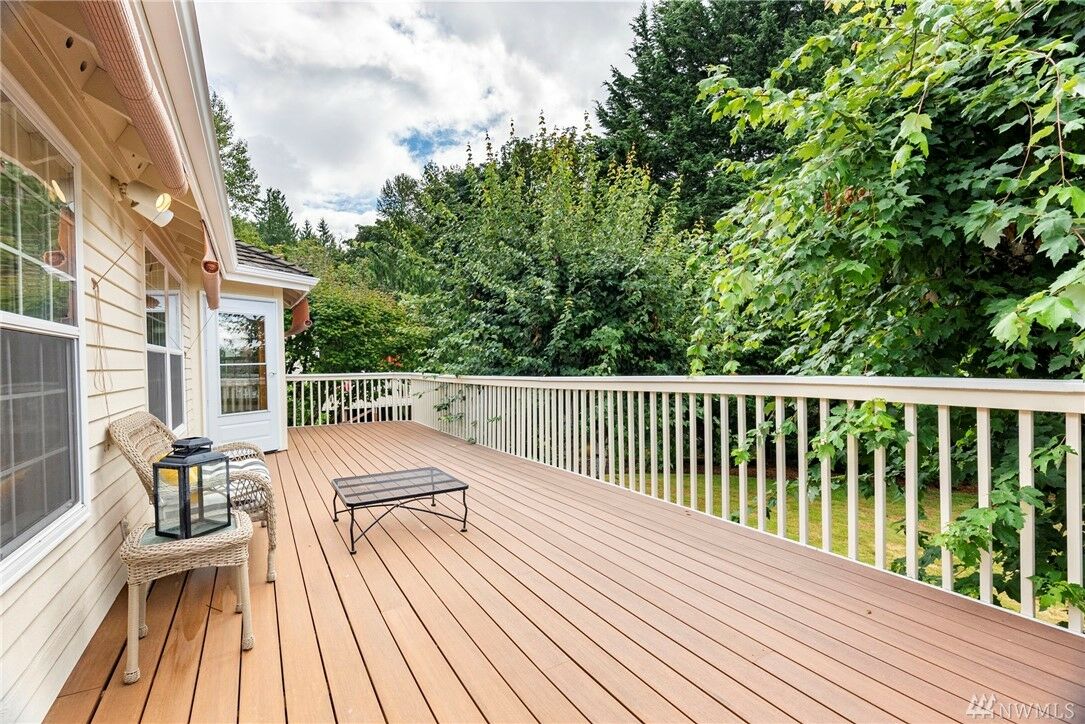 6. Park-like, landscaped outdoor spaces let you enjoy nature without having to leave the comfort of home. 
Situated on 0.42 acres, this parcel is the largest in the neighborhood. The property was originally 2 lots which were combined for tax purposes; the current parcel could be subdivided (buyer to verify). Established landscaping throughout is professionally maintained (landscaper referral available on request!), and the mature greenery offers both privacy and an idyllic view. Kick back and relax on the expansive composite deck, and grill up dinner whenever the mood strikes (there's even natural gas hookups for a grill). Your very own Pacific Northwest oasis awaits! 
7. Location, location, location! This home is surrounded by top local amenities. 
At 10501 SE 302nd St Auburn, WA 98092, you have a long list of excellent conveniences merely minutes from home. For starters, you're just 3 minutes to the Auburn Golf Course. And when you need to run errands, you don't have to go far—Fred Meyer is 5 minutes from home, and you're less than 10 minutes to places like Target and Trader Joe's.
Those who commute for work are also sure to appreciate this location; you're just 7 minutes to Auburn Station and 10 minutes to Kent Station. Park at either station and enjoy a car-free commute on the Sounder Train straight to Tacoma or Seattle; it's only 35 min from Kent Station to Tacoma Dome Amtrak and Light Rail, and it's only 27 minutes from Kent Station to Downtown Seattle on the Sounder Train. Need to get to the airport or JBLM? SeaTac International Airport is only a 25-minute drive away, and Joint Base Lewis-McChord is just 36 minutes via I-5 South. 
Interested in learning more about this home? Click here to view the full listing! 
You can contact REALTOR® Joyce Shipley online here or give her a call/text at (253) 380-2808. You can also contact REALTOR® Jason Helton online here or give him a call/text at (253) 861-2673!
As I walked out of our offices on 19th St in Tacoma on Wednesday, I knew it would never be the same and I was overwhelmed with Sadness.  15 year ago, I arrived on Jan 6, 2005, fresh from Real Estate School, embracing change in a place I had lived 6 mos. And believing in my abilities to adapt and grow.  I walked into these offices and LOVED the space and the uniqueness of our offices. Our clients loved them and commented on them a lot.  I found a place to call my own by the window and surrounded by successful agents…Brent Tornquist on my right.  Jim Tutton in front of me and Matt and Tom Hume on my left.  Jeff Jensen had the corner office and his door was open.   So I listened and learned the lingo and had great mentors to ask questions of.  I kept a list of phone numbers…Kevin Mullin, Michael Robinson, Tom Hume and when I was writing an offer at 10pm at night, I knew where to get my questions answered and I wasn't afraid to ask any ol' dumb question.  I knew I had a home and a great support team.  Over the years, Jeff moved on to another company, Tom and Matt joined with David Gala and moved downstairs, Jim Tutton went on to a moving company which we all refer business to and Me and Brent held down the fort through all the many changes…but they left me in my space with the sun on my back and overhead light that was always on even when all the lights were out.  I could quietly work at night.
2020 has been full of change for me.  My son Scott, my right hand, passed on in February. He loved to go with me and did open houses with me and put out my signs, turned on and off lights and generally was my partner without his license.  And my loved MIL Jean passed on in December. I will miss her quiet and constant support.  I will go to CA occasionally but am looking forward to a vacation that doesn't include driving to CA.    My friends and my son Brian and his spouse Charline have kept me going and I love them so much.  They have held my hand and grieved with me and allowed me to talk about it.   Very important.
2021 brought more change for the positive in my new partnership with Jason Helton from my office.  He has been working with me for almost 3 years and now we have made it official.  Jason is so warm and cuddly, but sharp as a tack.  And together we are off to a great start for 2021.
Change can be scary, and it can be invigorating.  We all must embrace it.  Writing my gratitude's helps me greatly to realize all I must be grateful for even through the losses.  So when we come back to the new office in a few weeks, I will be sharing a desk.  And that means I have to keep it all tidy.  Hmmm.  I always know where everything is but it will be a challenge.  And I will be working from home in a space I have created that is all my own.  I will embrace the changes and the growth and look forward to a great year.