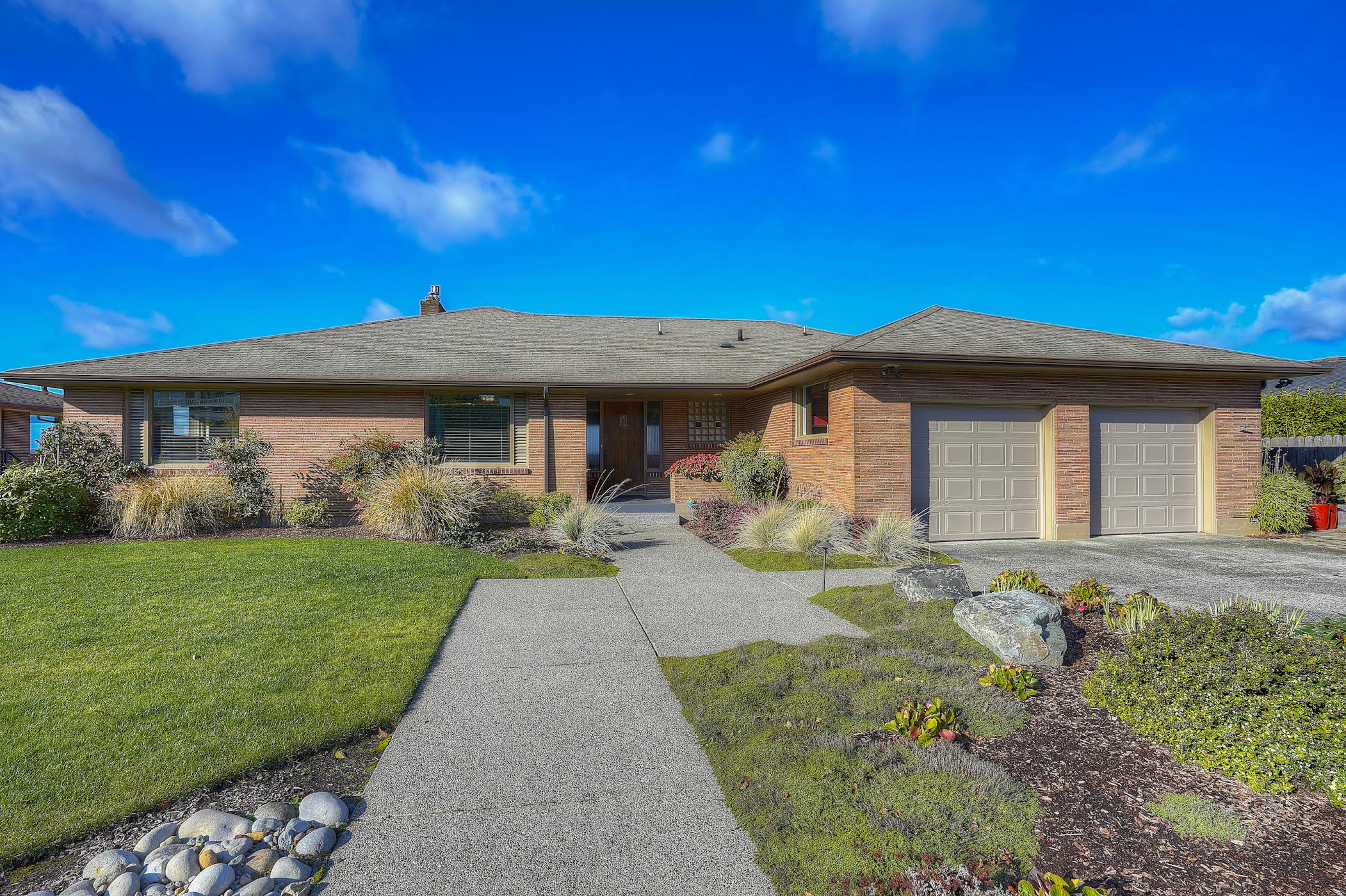 Natural beauty, city convenience, and fabulous mid-century modern style are all wrapped up into one incredible package with this 3,288-square-foot home! Boasting big views of the Puget Sound and the Olympic Mountains, this sprawling 1953-built masterpiece on 0.34 acres presents a rare opportunity. In addition to the 4 bedrooms and 2.5 baths, you also have expansive living spaces that include a sprawling downstairs living area that's perfect for entertaining! Located at 1730 S Fairview Dr Tacoma, WA 98465 and close to Titlow Park and the waterfront, shopping, restaurants, Highway 16 and more, this treasure is listed for $750,000.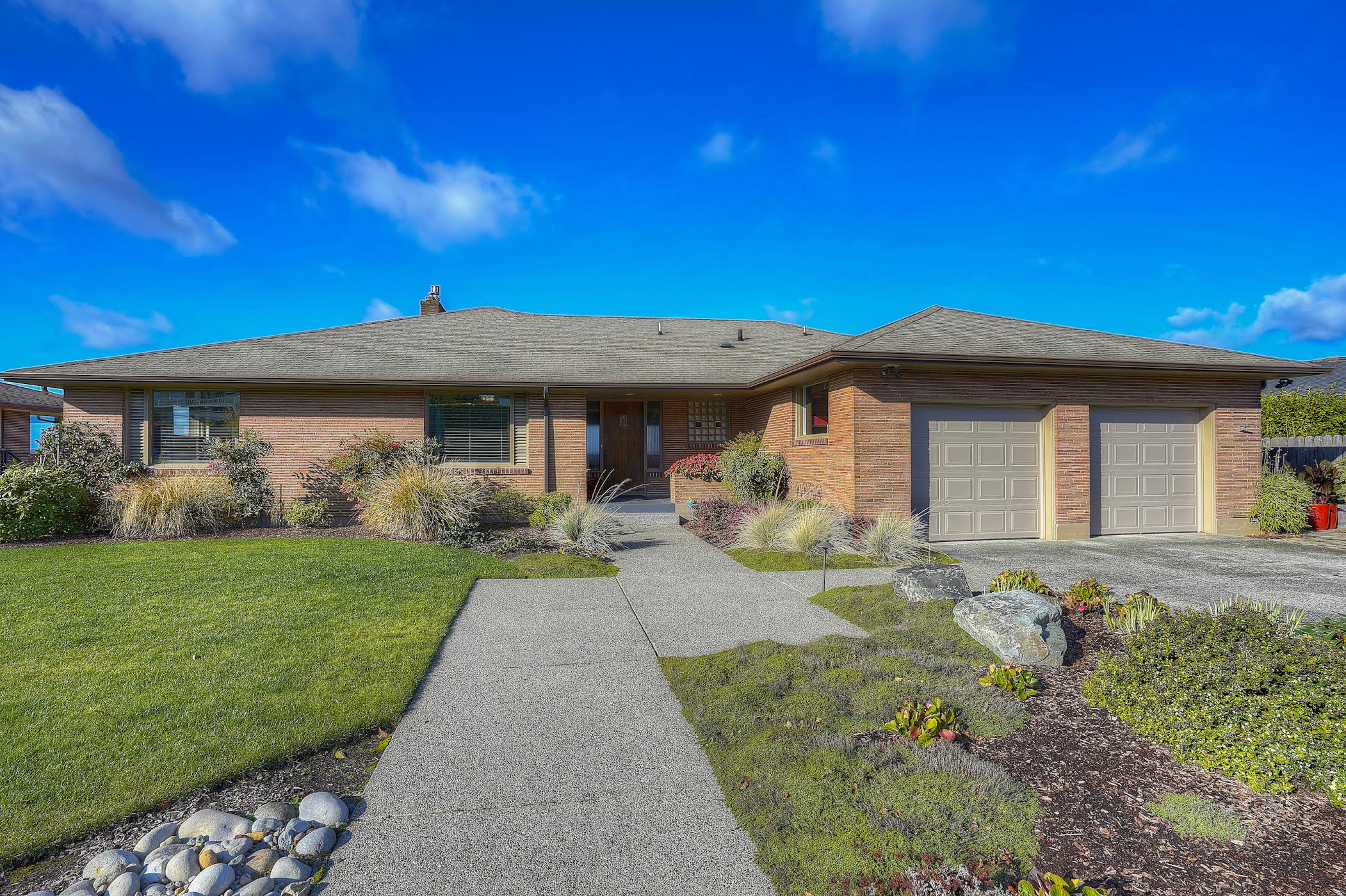 When you arrive home, eye-catching curb appeal offers a preview of the impeccable style that awaits inside. A charming pathway leads you by pristine, artistic landscaping to the front door, and as soon as you step inside, this home's light-filled layout beckons! Gorgeous oak hardwoods invite you into the main living area, and huge windows frame breathtaking views of the Puget Sound and Olympics. A stone-accented fireplace adds a splash of cozy style to the scene, and whether you're hosting guests for pre-dinner cocktails or simply snuggled up on the couch reading a book in peace and quiet, this warm and welcoming space is a delight to spend time in!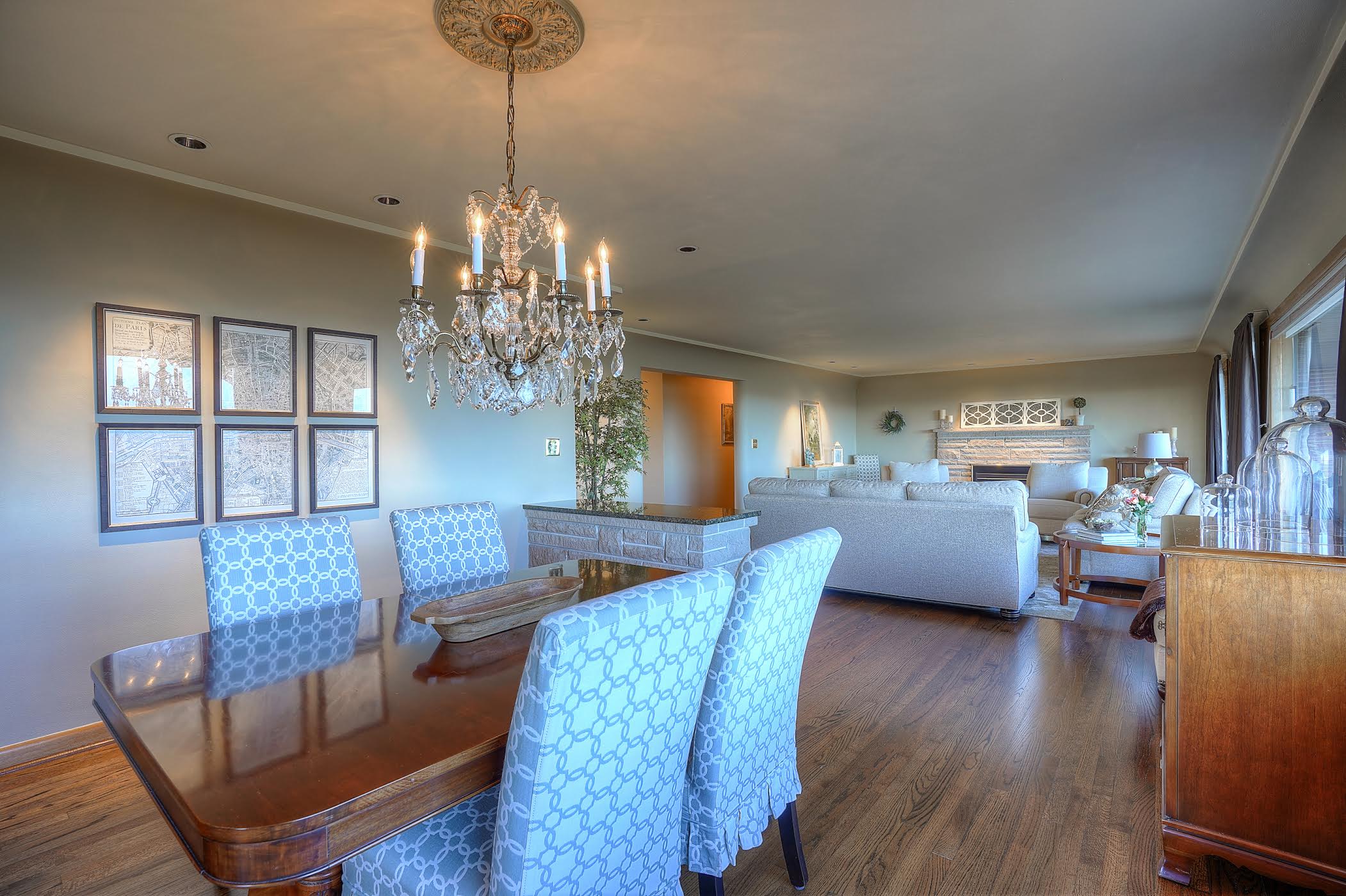 The layout flows right into the dining room, where the jaw-dropping views and rich vintage style just continue. The generous layout makes it easy to serve meals to a crowd, and the space can easily accommodate a full-sized dining table if you need it. Imagine hosting festive holiday get-togethers or special occasions—years and years of good memories are sure to be made right here! The kitchen and dining nook await right around the corner, and this haven of efficiency is a dream for those who love to whip up homemade feasts. Newly updated with quartz counters, this well-appointed space boasts chef-ready amenities in addition to chic style straight from the pages of a home decor magazine.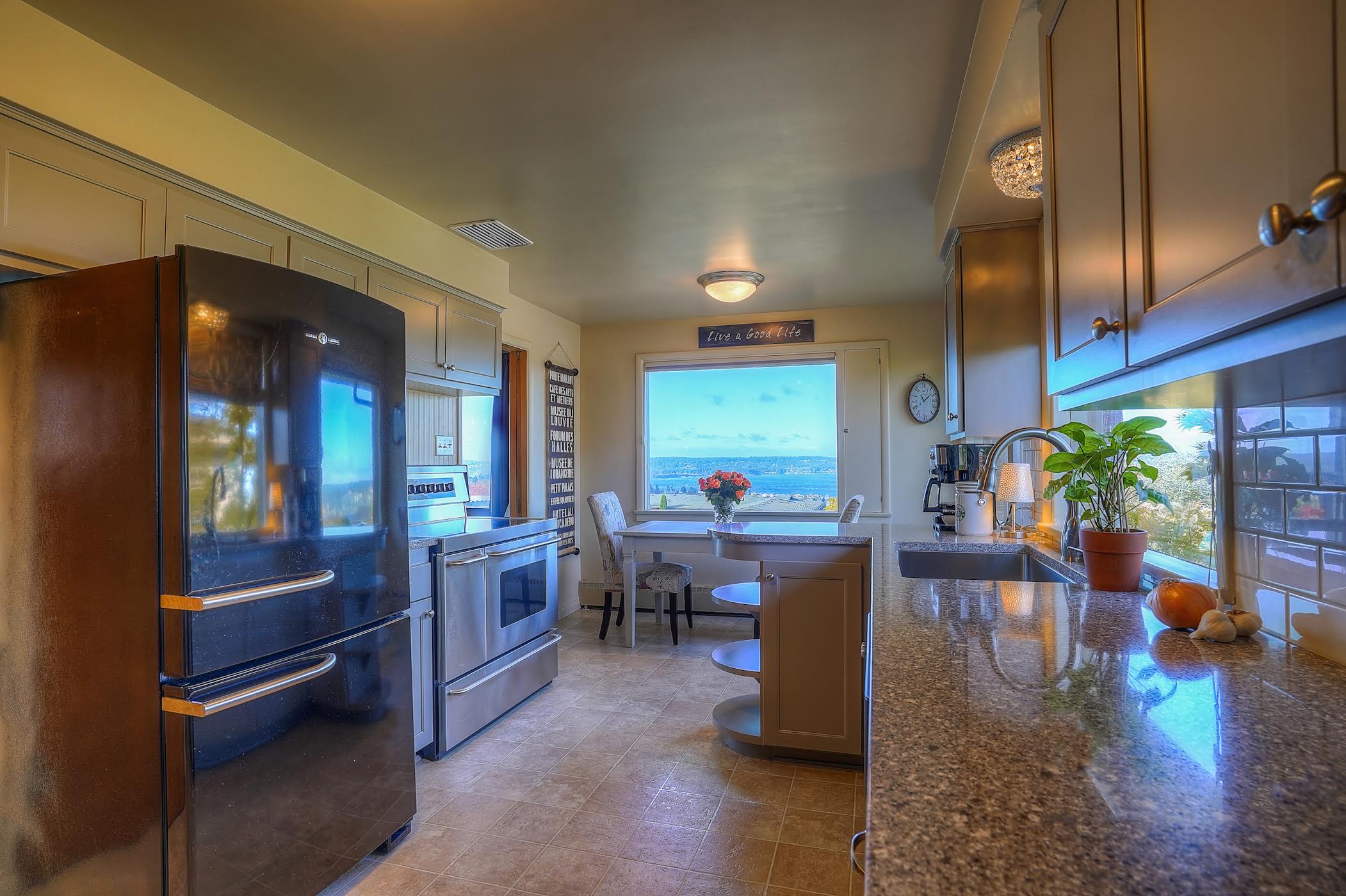 Even more dynamic space for entertaining awaits downstairs. Perfect for hosting game days, movie marathons, parties, and laid-back hangouts alike, here you'll find bar-style seating, a spacious layout, and views outside. Plus, a new pellet stove adds a cozy cabin-inspired element to the scene. In addition to the additional flexible space in the downstairs area (perfect for a hobby space or office!), you'll find tons of potential with this home's comfortable 4 bedrooms. Each private space offers something a little different, and you can rest assured that loved ones will treasure having their own retreat to unwind in each day!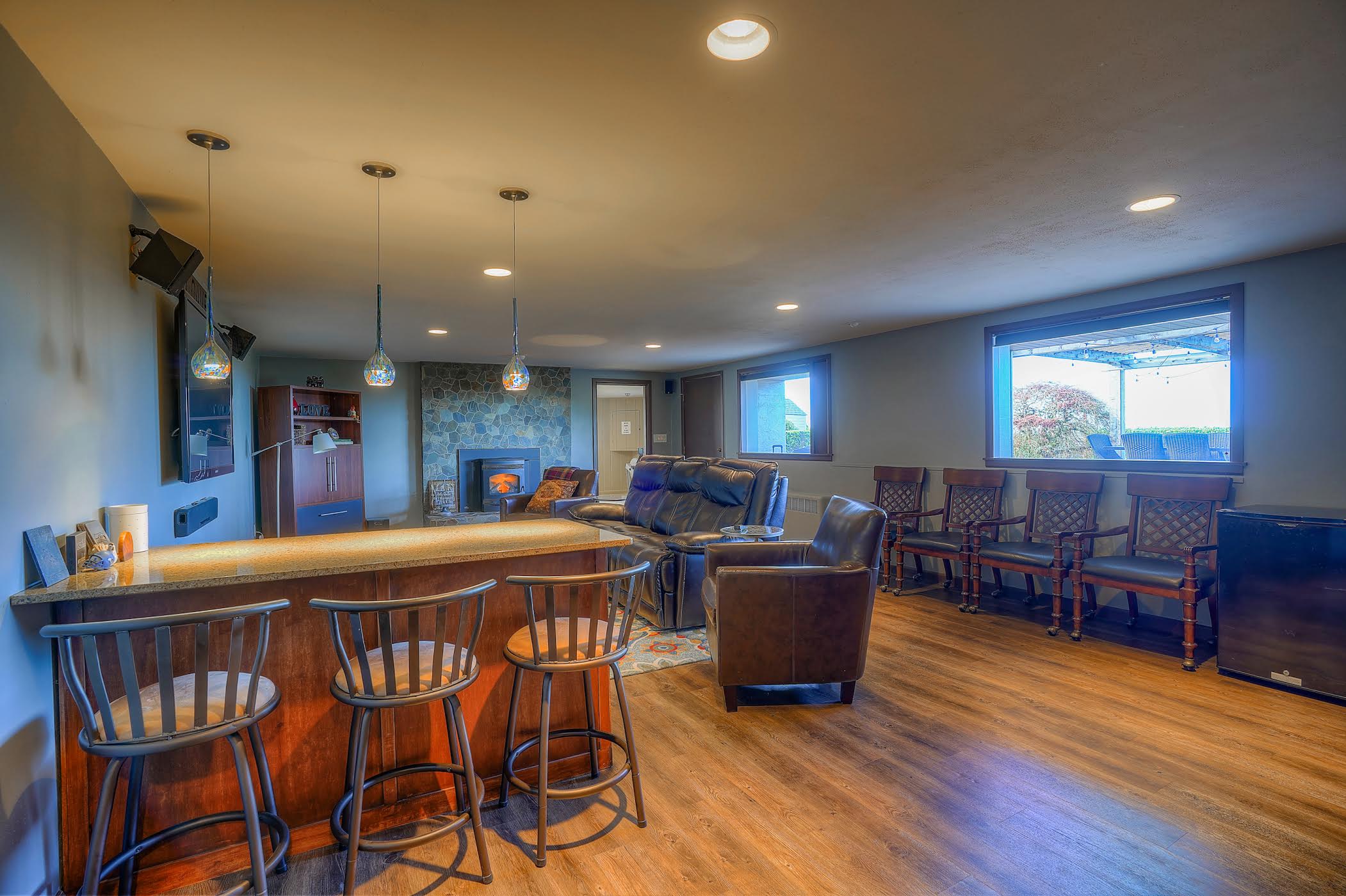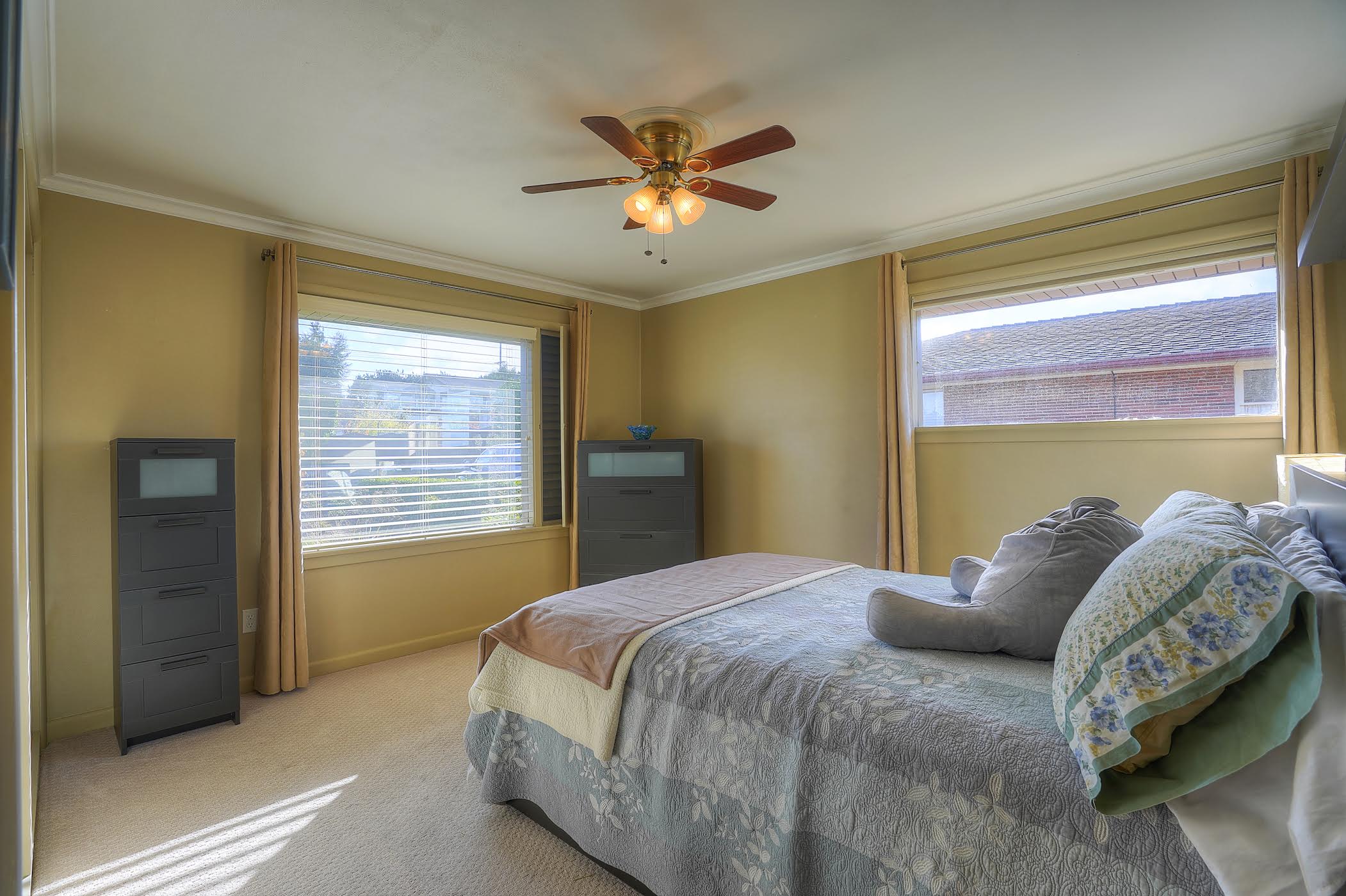 This property's photo-worthy views get even better when you step outside to bask in the beautifully maintained outdoor sanctuary. Take in a view of it all from the covered deck—from the pergola and patio to the lovingly maintained gardens, this backyard oasis is ready for al fresco dining, weekend barbecues, and relaxation!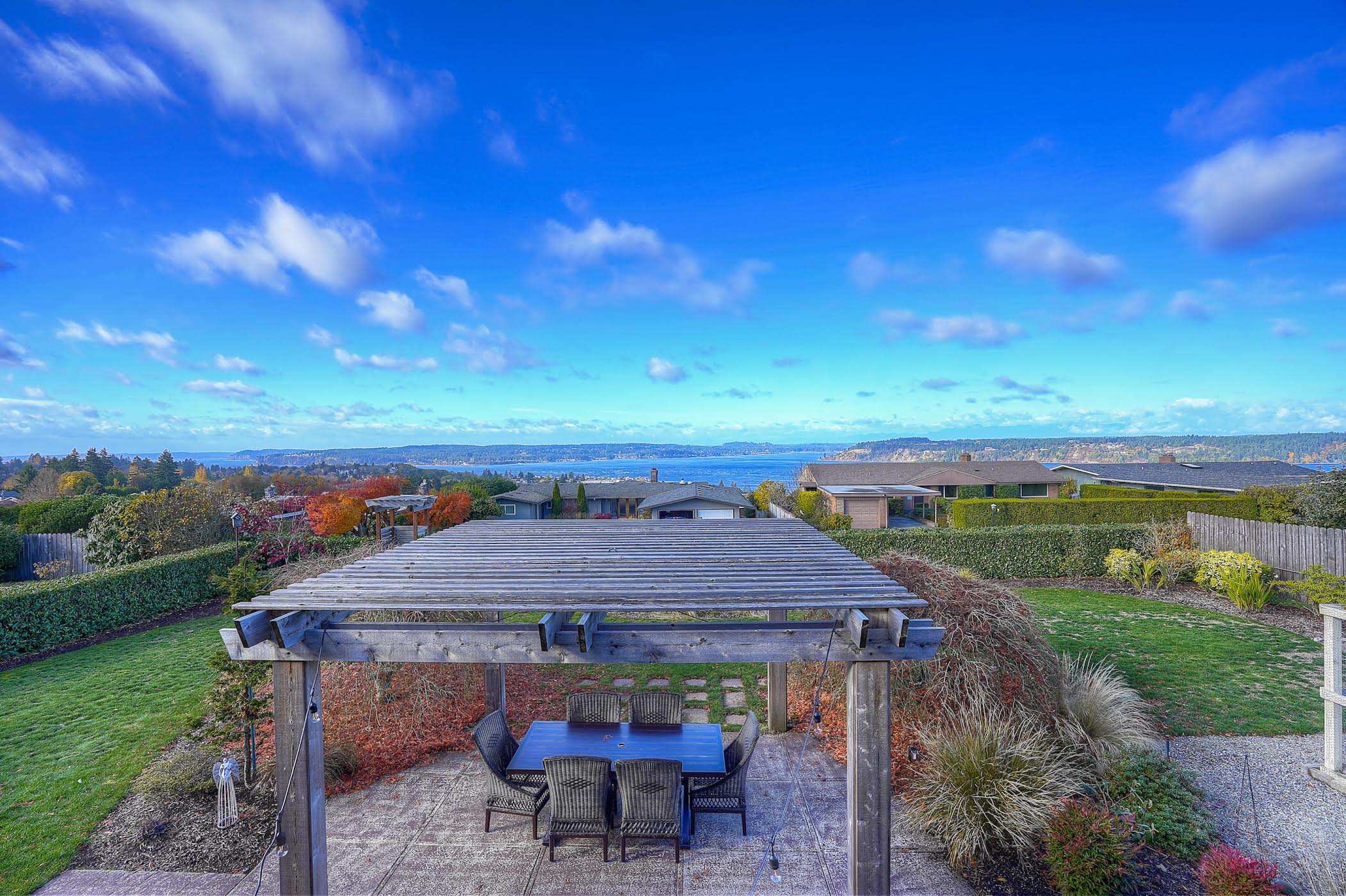 Living in Tacoma
At 1730 S Fairview Dr Tacoma, WA 98465, you're in a prime location that's merely minutes from excellent conveniences. Titlow Park is only a 4-minute drive away, and here you can enjoy the beach, the sprayground, and more, all in addition to the nearby waterfront dining that includes places like Steamer's, Beach Tavern, Boathouse 19, and Narrows Brewing Company. The James Center is only half a mile from home, and here you'll find places like Fred Meyer, Rite Aid, MultiCare, a yoga studio, IHOP, Starbucks, Subway, Ivar's, and too many other shops, eateries, and services to name! You're also only 0.1 mile from bus lines and Highway 16 is only a 3-minute drive away.
Interested in learning more? Click here to view the full listing! You can also contact REALTOR® Joyce Shipley online here or give her a call/text at (253) 380-2808.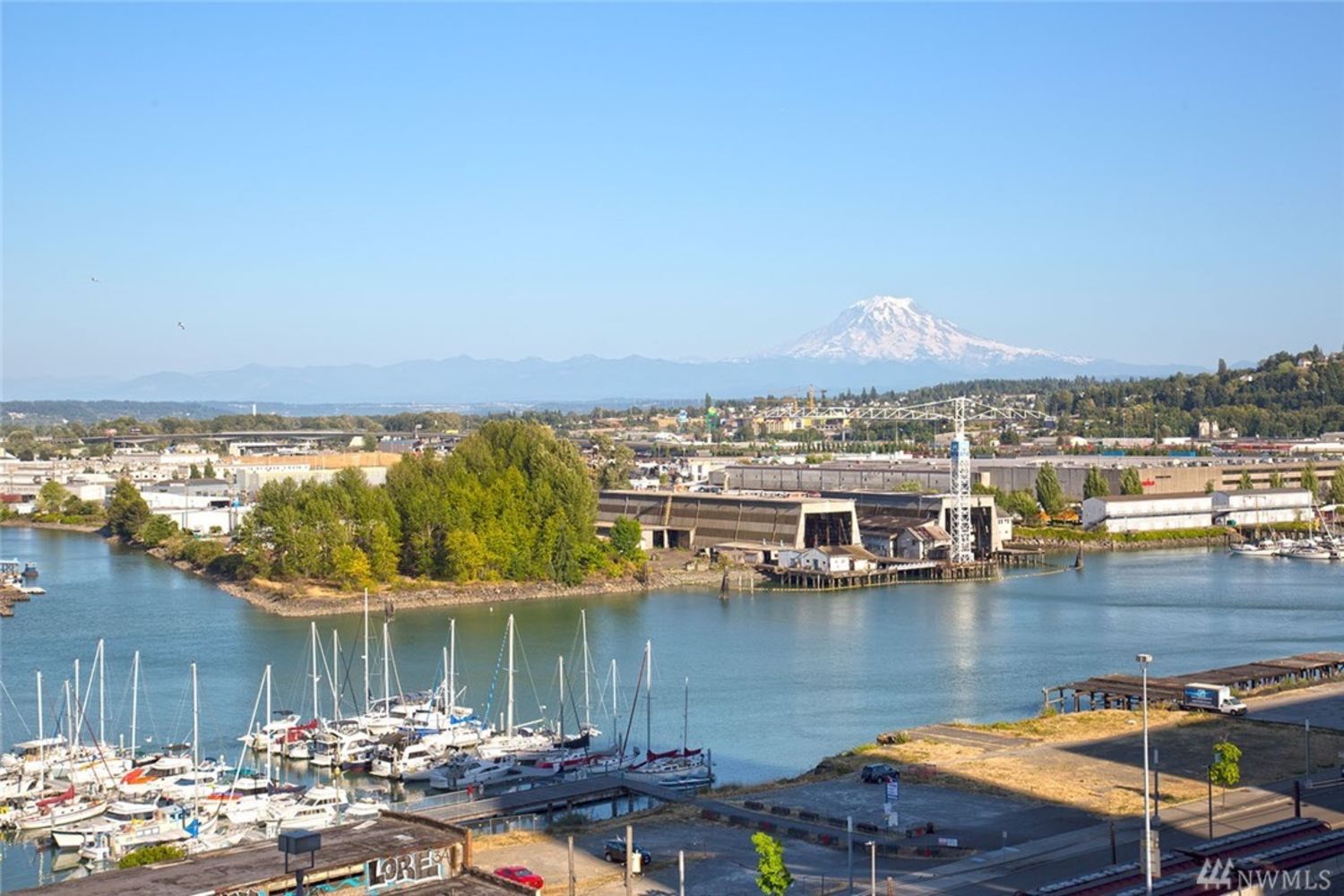 Downtown living doesn't get much better than this! Nestled in the historic district of Downtown Tacoma, this 980-square-foot loft boasts a dreamy blend of vintage and modern style. Built in 1907 and converted into modern lofts, you'll find 12-foot ceilings with open beams and large windows to enjoy, plus sweeping views of the Thea Foss Waterway, the tide flats, the marina, and Mt. Rainier. Located at 1120 Cliff Ave #406 Tacoma WA, 98402, this incredible 1-bedroom, 1-bath unit is listed for $325,000.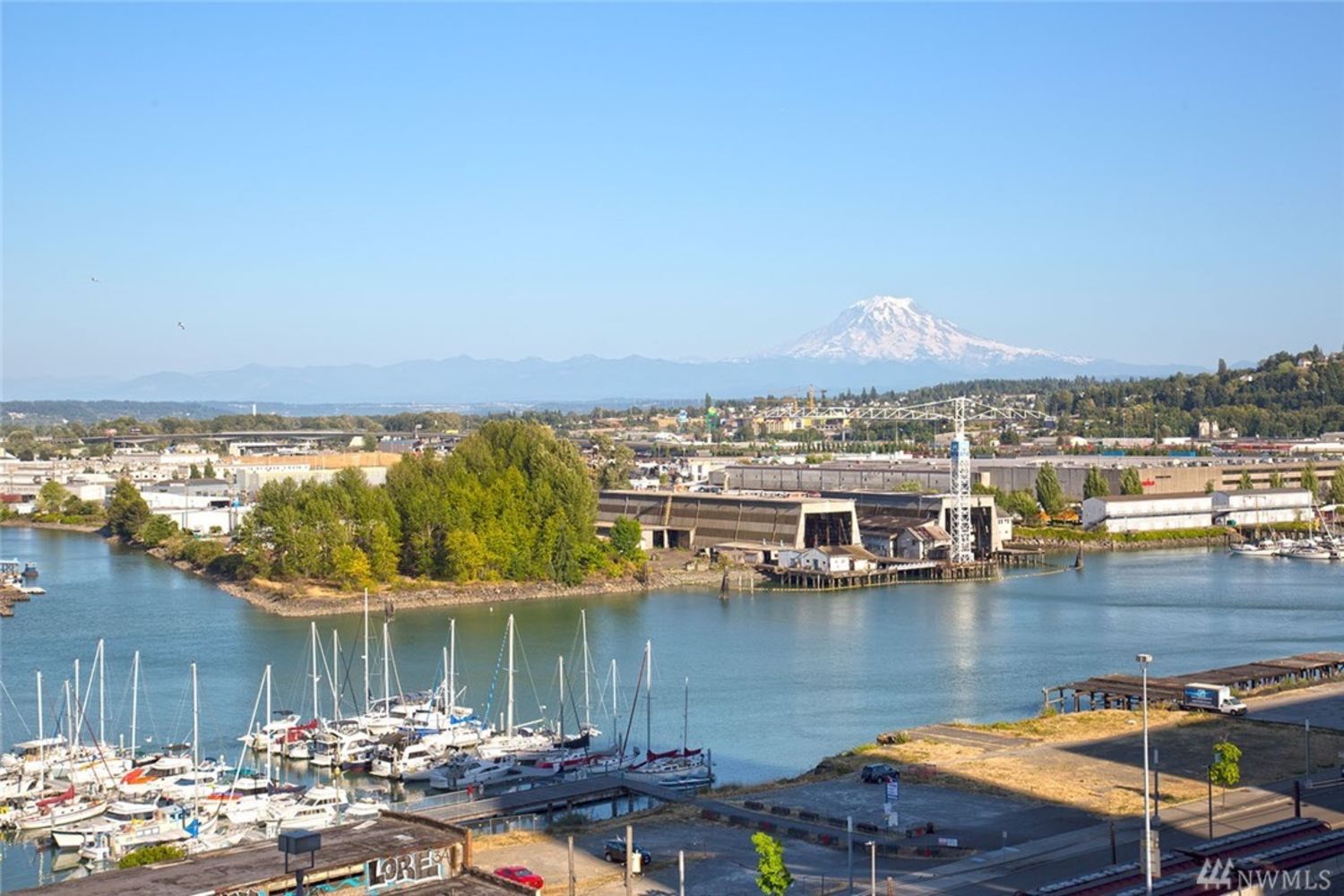 In The Cliff Lofts, not only are you wonderfully surrounded by some of Downtown Tacoma's best offerings, but you also get to take advantage of some fantastic amenities in the building. A rooftop deck, 2 tandem parking spaces in the garage, and secure front and rear entrances sweeten the deal, and you can even purchase this unit furnished or unfurnished!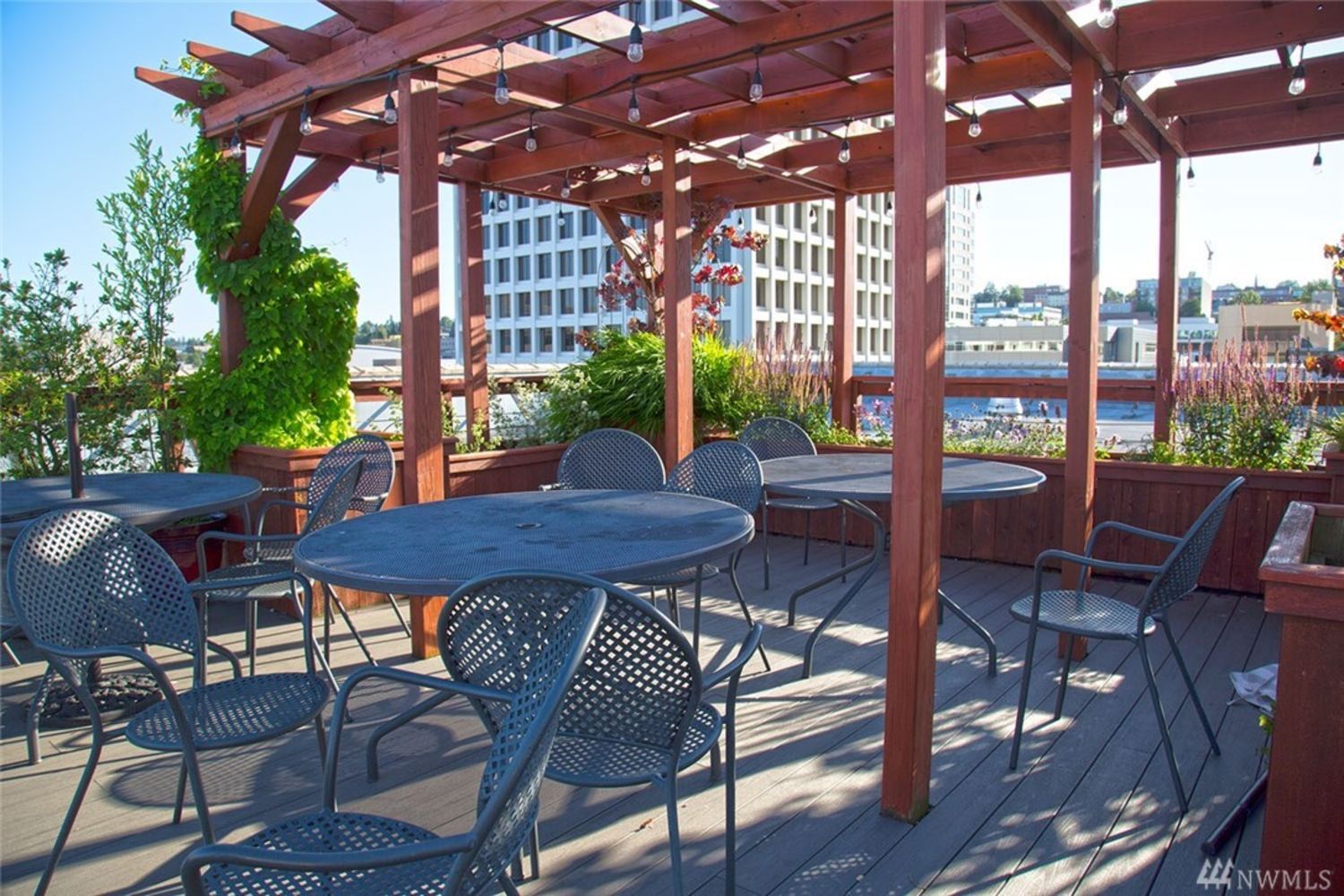 When you step inside your unit, travertine flooring welcomes you in, and the entryway ushers you into the main living space. Here, natural sunlight pours in through large windows, shining the spotlight on exposed brick walls and the eye-catching exposed wood beams that stretch on overhead. No matter how you envision decorating this living space, this residence is ready for you to move right on in and infuse each space with your own unique style!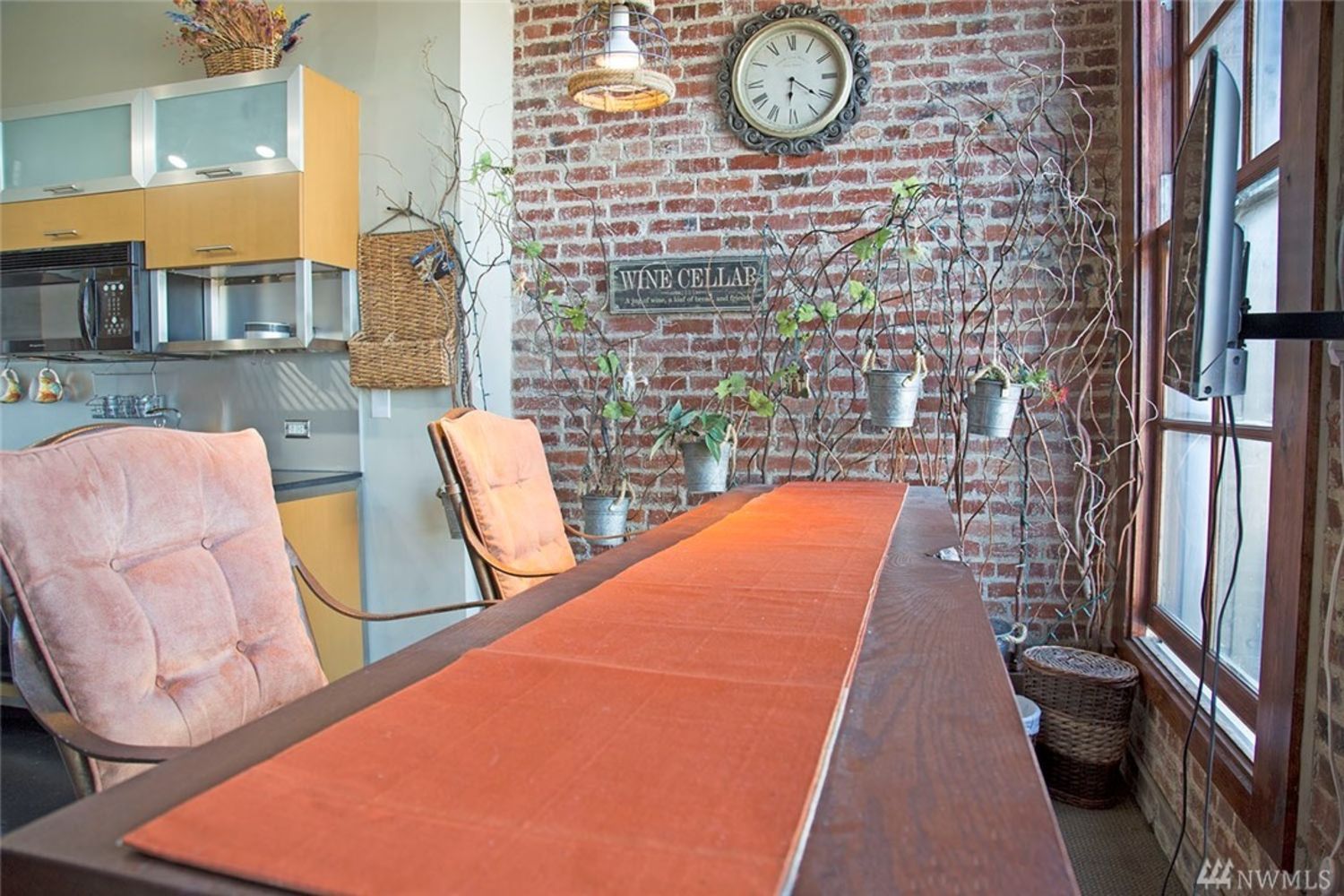 The kitchen is truly a sight to behold, and its smart design does an excellent job of taking advantages of the space. An attractive blend of earthy wood elements and shimmering modern finishes are sure to delight home buyers, but this dynamic kitchen isn't all for show—you'll find this space packed with efficiency, too! Ample space for kitchen essentials are all in the mix, making it as easy as possible to whip up homemade meals.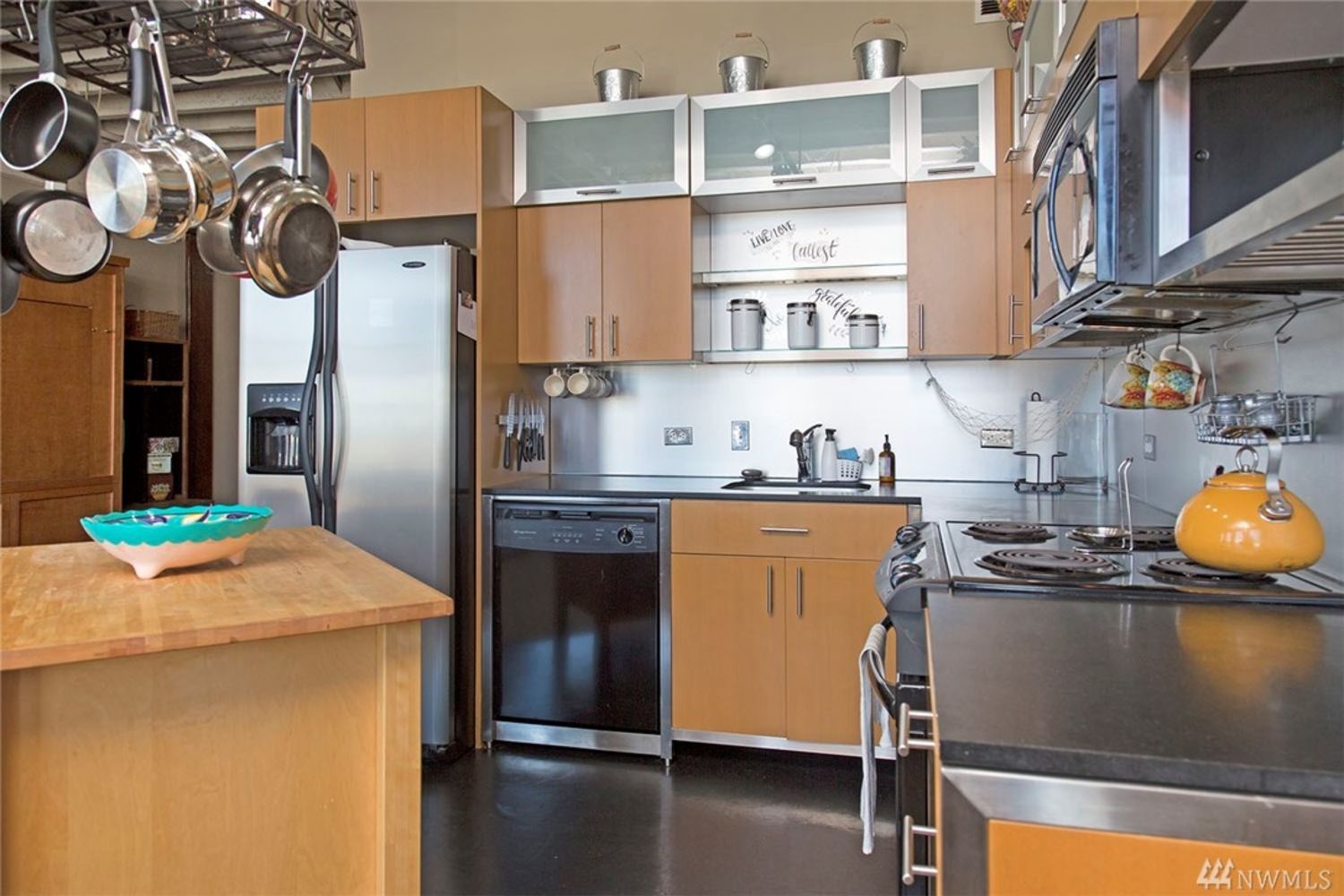 Whether you're entertaining guests in the living area or enjoying a laid-back meal, stunning Tacoma views offer an impressive backdrop. As the sun sets and the lights of the marina and tide flats begin to glow, the view transforms into something truly special. Get your camera ready—years of breathtaking scenes are in your future!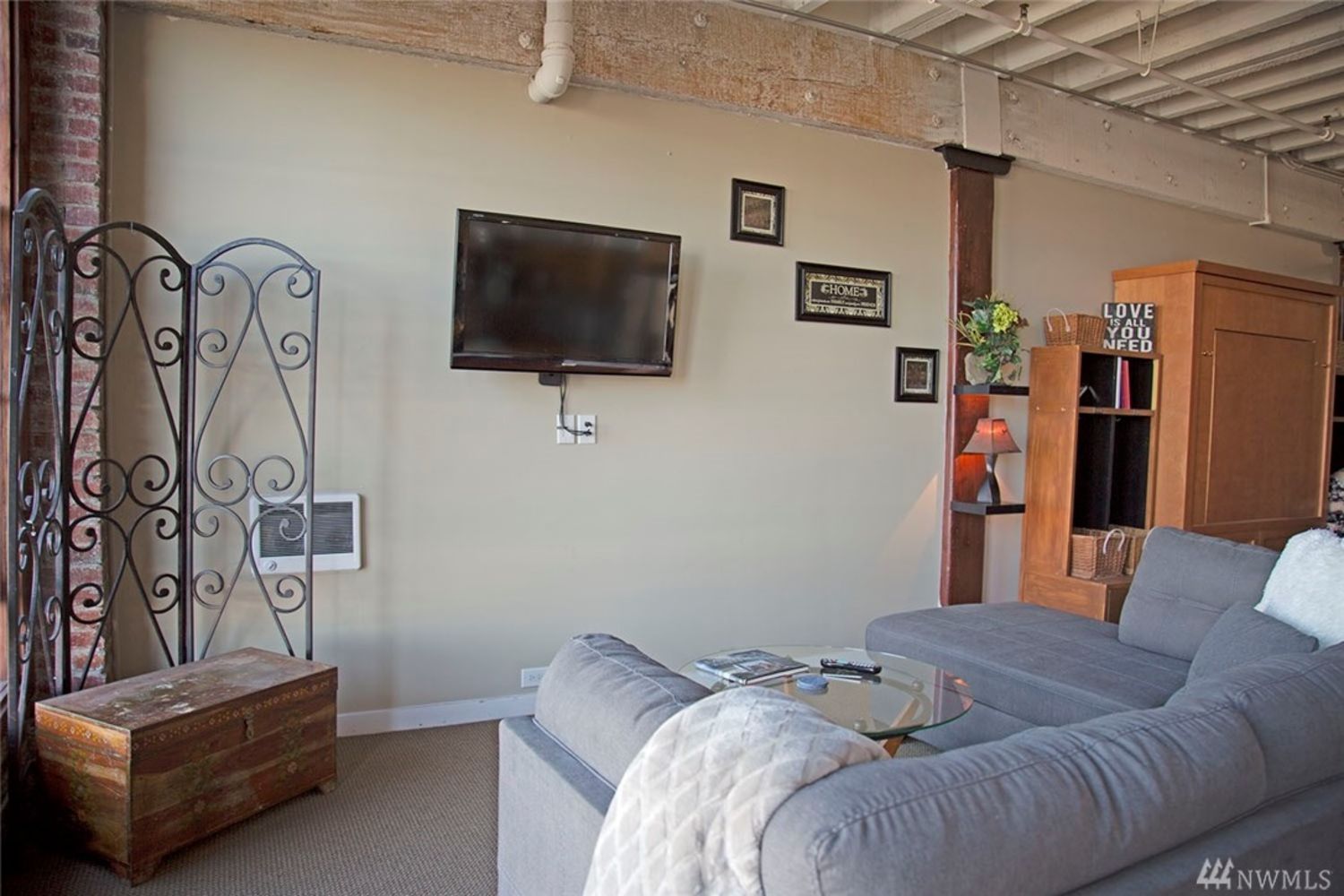 In the bedroom, you'll find a gorgeous wall of exposed brick to build your decor around. In the bath, you'll find modern finishes and travertine flooring. Plus, a separate closet has room for a washer/dryer setup, and tons of built-in shelving makes it easy to stay organized!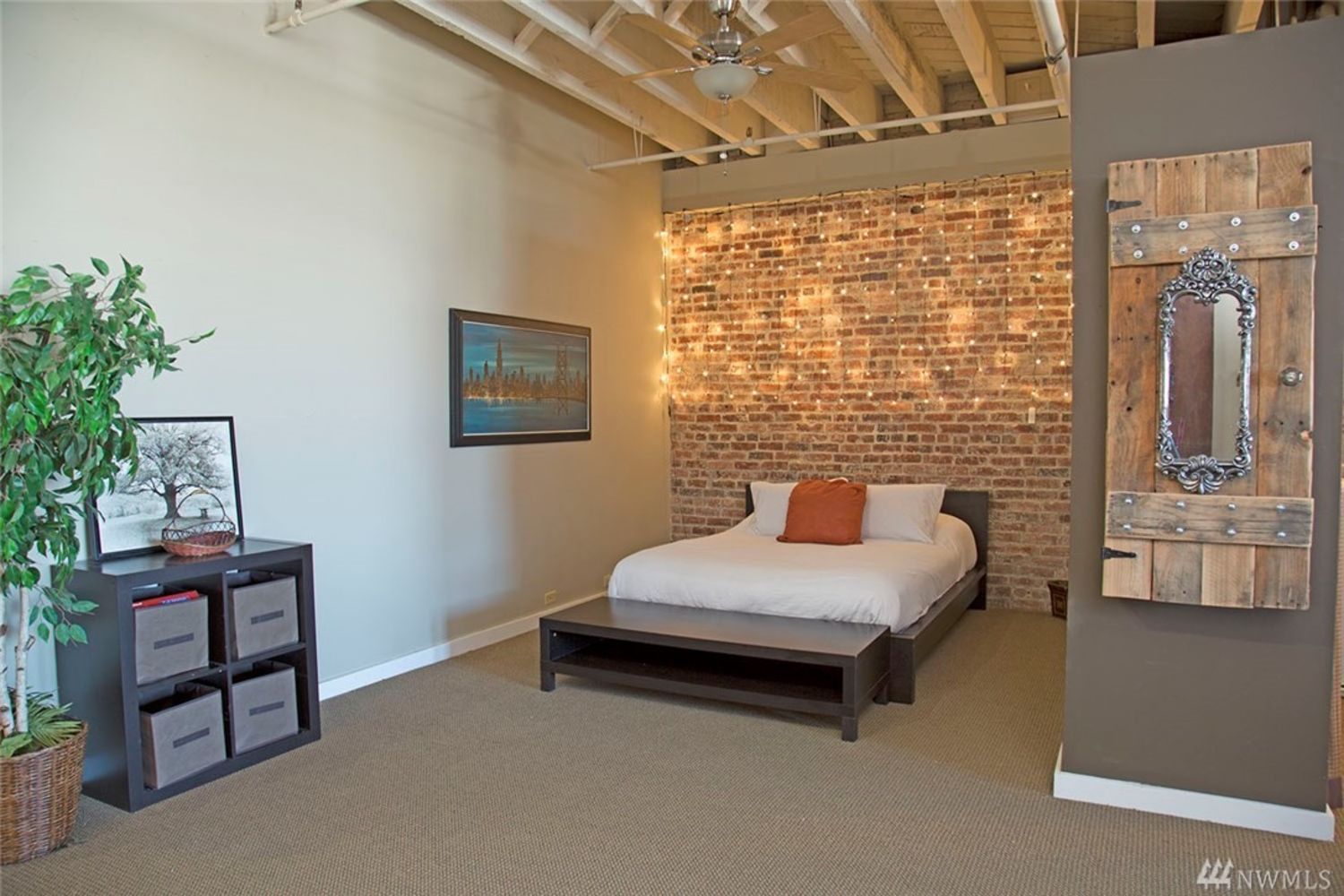 Living in Downtown Tacoma
At 1120 Cliff Ave #406 Tacoma WA, 98402, you're absolutely surrounded by restaurants, nightlife, entertainment, shopping, museums, schools, transit option and more! This historic district of Downtown Tacoma is brimming with character, and each block offers something new to discover, right at your fingertips. You're also wonderfully close to the Thea Foss Waterway where you can grab a bite to eat on the waterfront, or go kayaking or paddle boarding. You're also just minutes from University of Washington-Tacoma, as well as several museums (including the Tacoma Art Museum, the Washington State History Museum, the Museum of Glass, etc.).
Interested in learning more? Click here to view the full listing! You can also contact REALTOR® Joyce Shipley online here or give her a call/text at (253) 380-2808.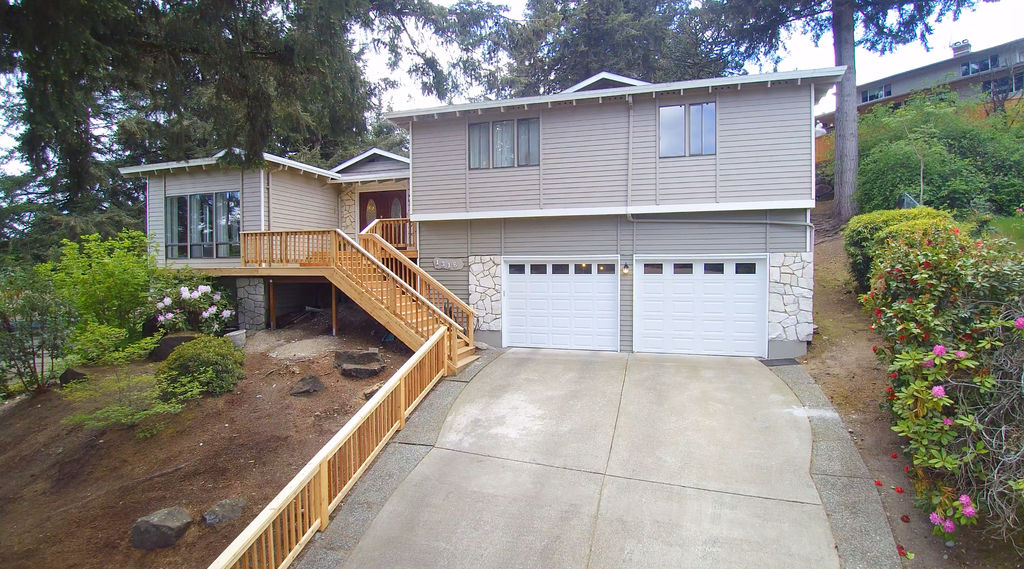 Refined elegance awaits at every turn in this immaculately maintained 5,203-square-foot Fircrest home! Boasting an expansive layout that includes 6 bedrooms, 3.25 baths, an updated kitchen, updated bathrooms, a huge laundry facility with a chute, and so much more, this move-in ready residence is truly a dream to spend time in. Located at 1316 Palm Dr Fircrest WA 98466 and just blocks away from grocery stores, restaurants, shopping, transit options, parks and more, this Fircrest treasure is listed for $635,000.
Nestled on a 0.27-acre lot with easy to maintain landscaping and mature trees, this 1970-built home has been beautifully upgraded over the years. A stunning entrance offers a fabulous first impression, and immediately to the left, the formal living room awaits. Walls replete with huge windows fill the space with natural light, and vaulted ceilings just add to the grand feel of it all.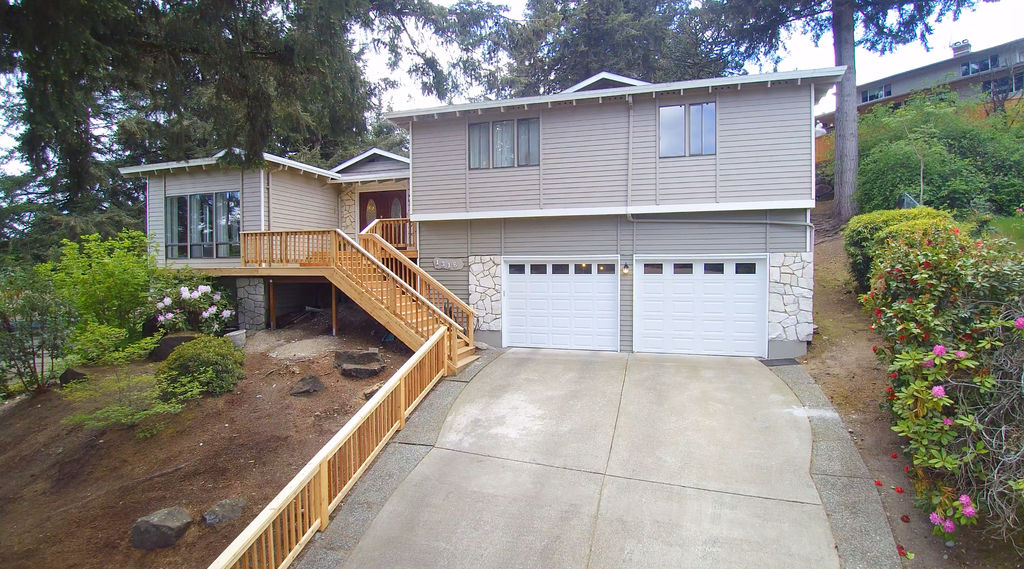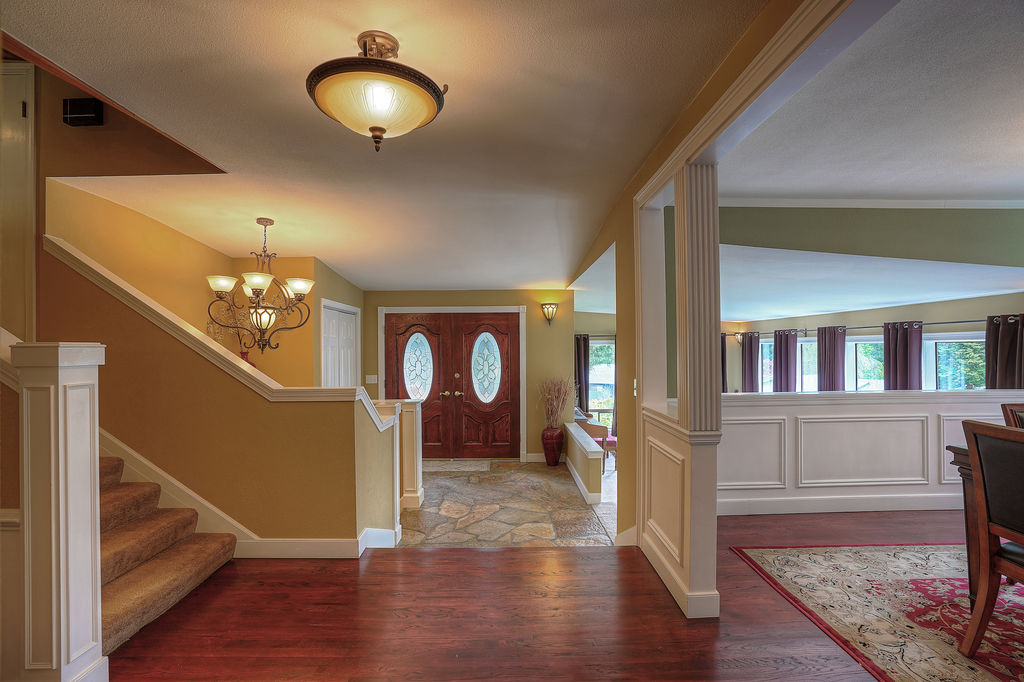 The formal dining room rests alongside the living room, and eye-catching wainscotting and stately columns elevate the atmosphere. Perfect for hosting dinner parties, special occasions, and holiday get-togethers, this large space has room for everyone! The layout seamlessly flows into the kitchen, an expertly designed space straight from the glossy pages of a home decor magazine. Sunlight pours in through skylights, illuminating the sleek appliances, shimmering counters, and ample cabinetry. No expense has been spared in this updated haven of efficiency, and whether you're enjoying a laid-back glass of wine with a friend at the counter or whipping up elaborate homemade meals, you'll find a place for it all!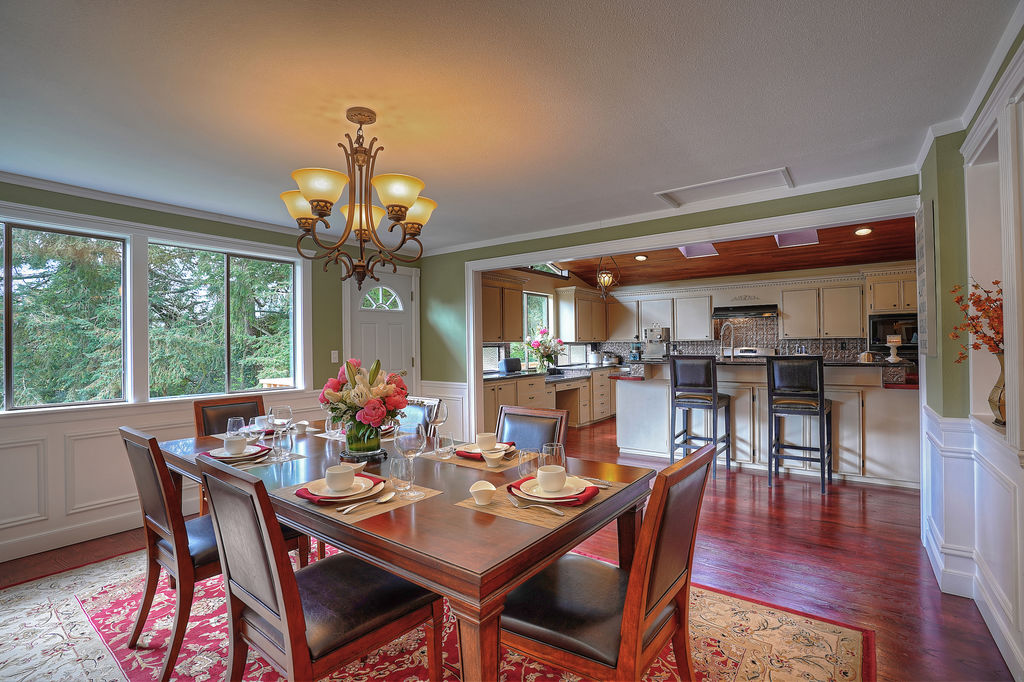 Even more inviting living space awaits just beyond, where you'll find the perfect hangout. Anchored by a fireplace framed by floor-to-ceiling stone accents and the same impeccable wainscoting, trim, and column elements found throughout the rest of the home, this living space takes relaxation to a whole new level of elegance!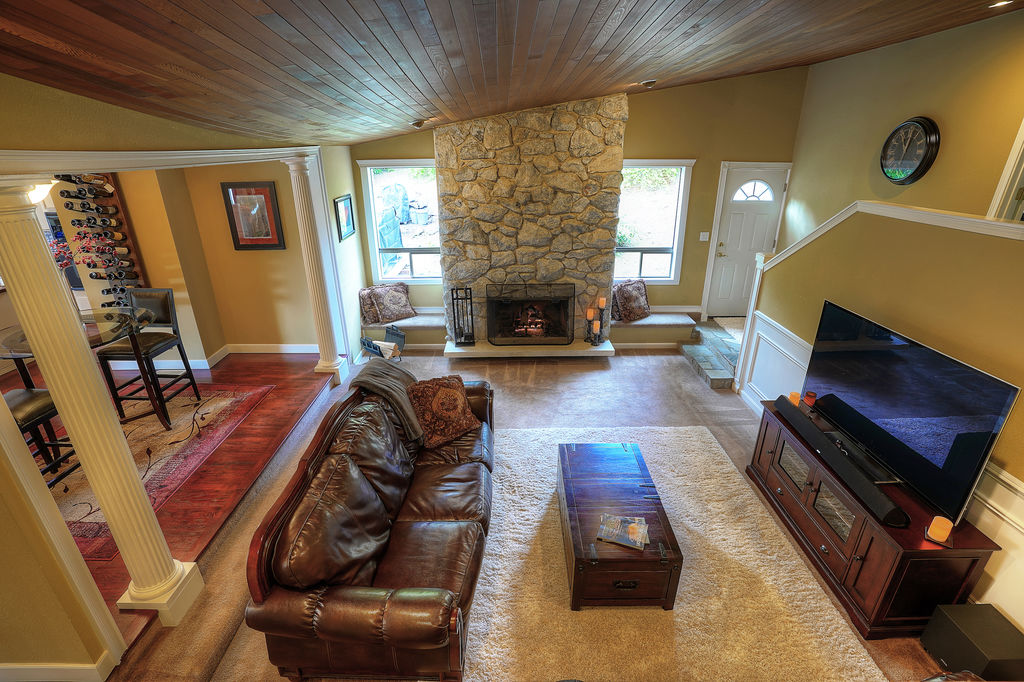 This home's generous 5,203-square-foot layout also features 6 bedrooms, and the master bedroom is especially noteworthy. Not only does this retreat feature a large layout, but its walk-in closet and spa-inspired ensuite bath make for a thoroughly sumptuous experience. The rest of the bedrooms offer versatility, and you'll also find several other custom rooms, plus a laundry room complete with a convenient laundry chute. The tandem garage promises ample storage as well—the garage holds 3 cars and even includes a shop area with a 24 KWP sub panel with dual 220 panels.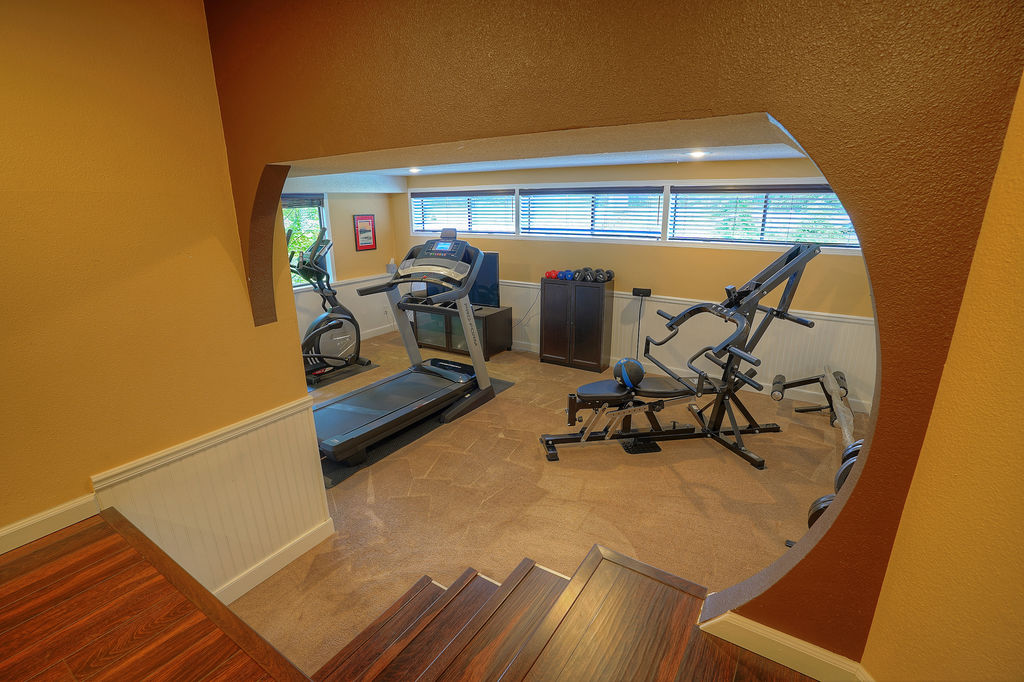 When it's time for some fresh air, the brand new wrap-around deck is ready for entertaining and outdoor bliss! Whether you're kicked back on a lounge chair sunbathing in peace and quiet or hosting a crowd for a barbecue, you can be sure that you have the ideal setting for it all. Paradise awaits!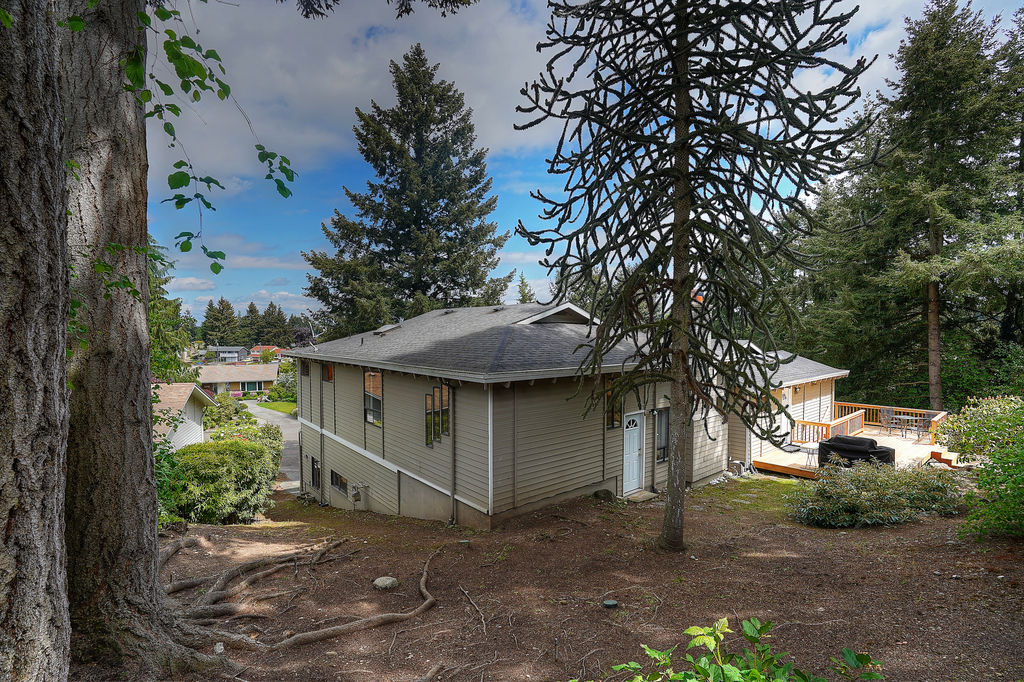 Living in Fircrest
At 1316 Palm Dr Fircrest WA 98466, you're absolutely surrounded by amenities! Bridgeport Way is less than 1 mile from home, and here you'll find places like Trader Joe's, Safeway, Whole Foods, and several restaurants, shops, transit options, and more. Fircrest Golf Club is also less than 1 mile away, and Cirque Bridgeport Park is only a 5-minute drive from home. Those who commute will especially love being just a 6-minute drive to Highway 16 as well.
Interested in learning more? Click here to view the full listing! You can also contact REALTOR® Joyce Shipley online here or give her a call/text at (253) 380-2808.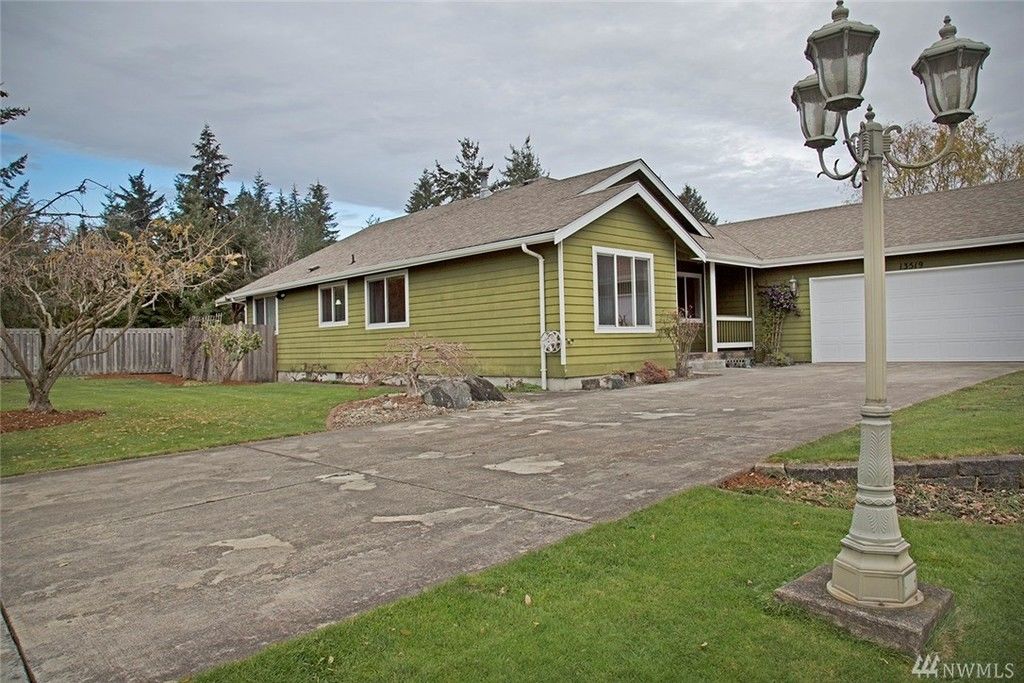 Discover comfort and convenience at every turn in this picturesque Spanaway rambler! Tucked away in a great neighborhood on a generous 0.79 acres, this property has enough space to be a mini farm. The yard boasts beautiful landscaping, 15 fruit trees, and beautiful gardens, while the home itself is a haven of rest and relaxation. Located at 13519 21st Ave S Tacoma, WA 98444, this 2,130-square-foot residence is listed for $349,500.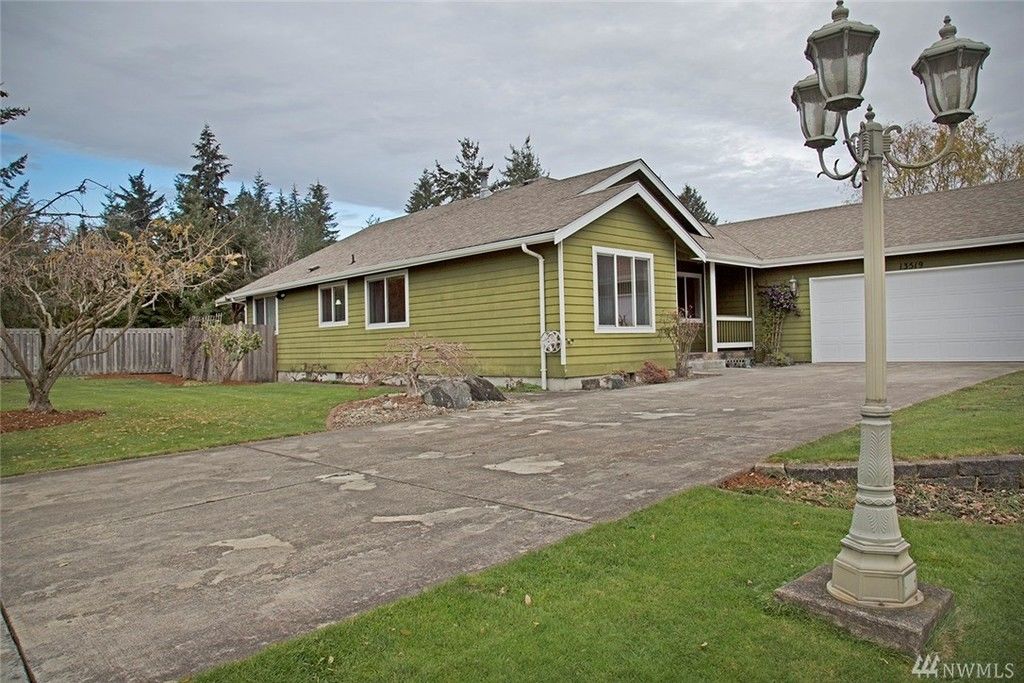 Wonderfully move-in ready, this lovingly maintained home boasts a fresh coat of paint, a 2-car garage, and a large manicured front yard. A charming front porch greets visitors, and just in through the front door, vaulted ceilings, hardwood floors, and wide windows that fill the space with natural light welcome you inside! With plenty of room for a formal living area and a formal dining room, this versatile space is designed for entertaining.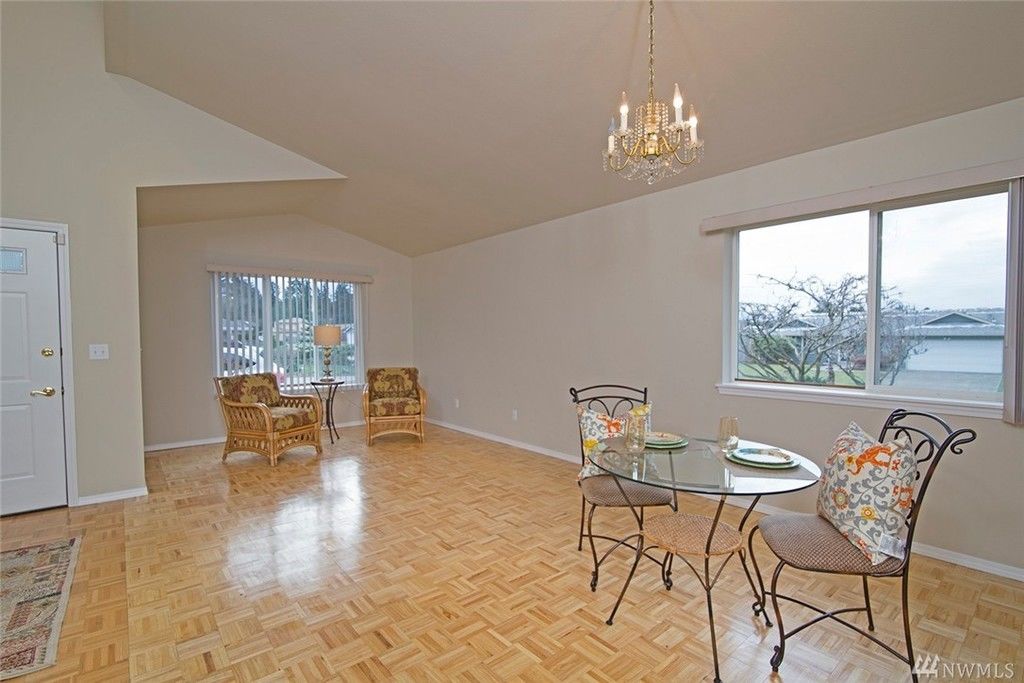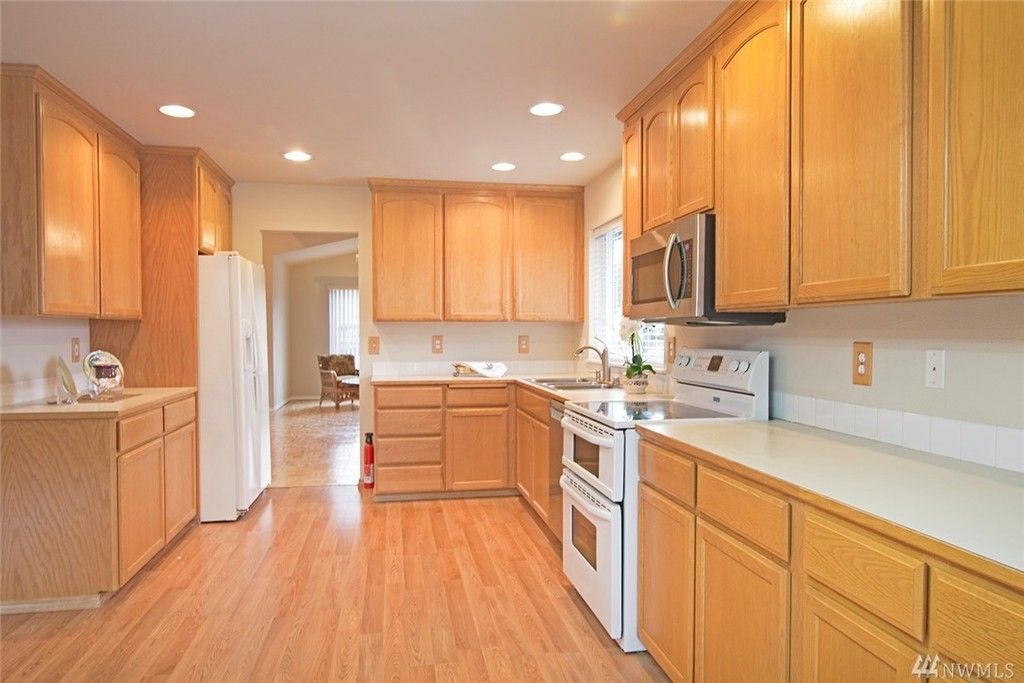 Continue on to find a large country kitchen, a dynamic space with plenty of room for a dining nook. Wall-to-wall cabinetry and ample-sized counters show of tons of storage and meal prep space, ensuring there's plenty of room for appliances and whipping up elaborate meals! The kitchen opens up to a large living space that's ready to be transformed into your dream living room, recreation room, entertainment center—you name it!
When it's time to unwind and rejuvenate in peace and quiet, 3 bedrooms provide loved ones with their own private space. The master suite is especially not to be missed—this sprawling retreat features sleek hardwoods, exquisite vaulted ceilings, and an incredible 5-piece master bath. A soaking tub, double sinks, shower, and an electric bidet seat offer spa-inspired amenities to be used and enjoyed at your convenience!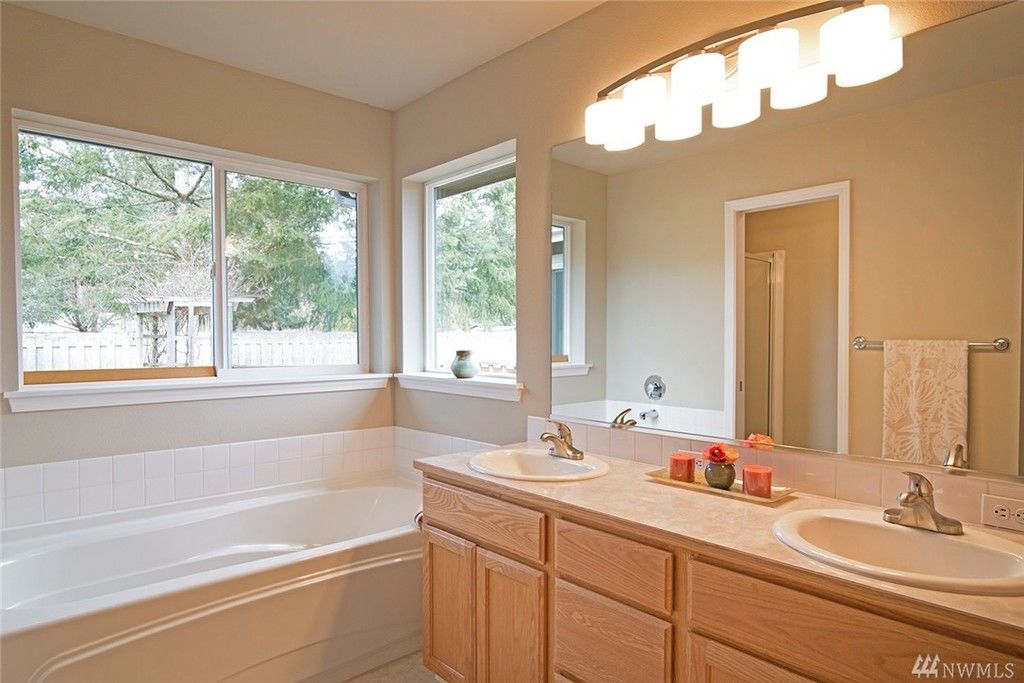 From the master bedroom, sliding glass doors lead to the outdoor deck, the perfect spot for hosting summertime barbecues and laid-back get-togethers! The backyard is an oasis of outdoor enjoyment, and features a covered patio, a firepit area, 15 fruit trees, garden space, and even a storage shed, all framed by tall emerald trees in the distance. Garden beds give you the opportunity to try out your green thumb, and a spacious backyard layout leaves plenty of room for additions and innovations, too!
Living in Spanaway
Located just south of Tacoma, Spanaway is a popular choice for those who appreciate having space and conveniences nearby, and for those who commute to Joint Base Lewis-McChord. At 13519 21st Ave S Tacoma, WA 98444, you're a quick 5-minute drive to JBLM or Pacific Avenue, making it super easy to get around! Pacific Ave offers a hub of convenience, and grocery shopping, shopping, restaurants, services, and more are all within reach. Those who love spending time outdoors are also in luck—Spanaway Lake and Spanaway Lake Park, Holiday Park, Lake Spanaway Golf Course, and the Brookdale Golf Course are all nearby as well!
Interested in learning more about this listing? Contact REALTOR® Joyce Shipley online here or give her a call/text at (253) 380-2808.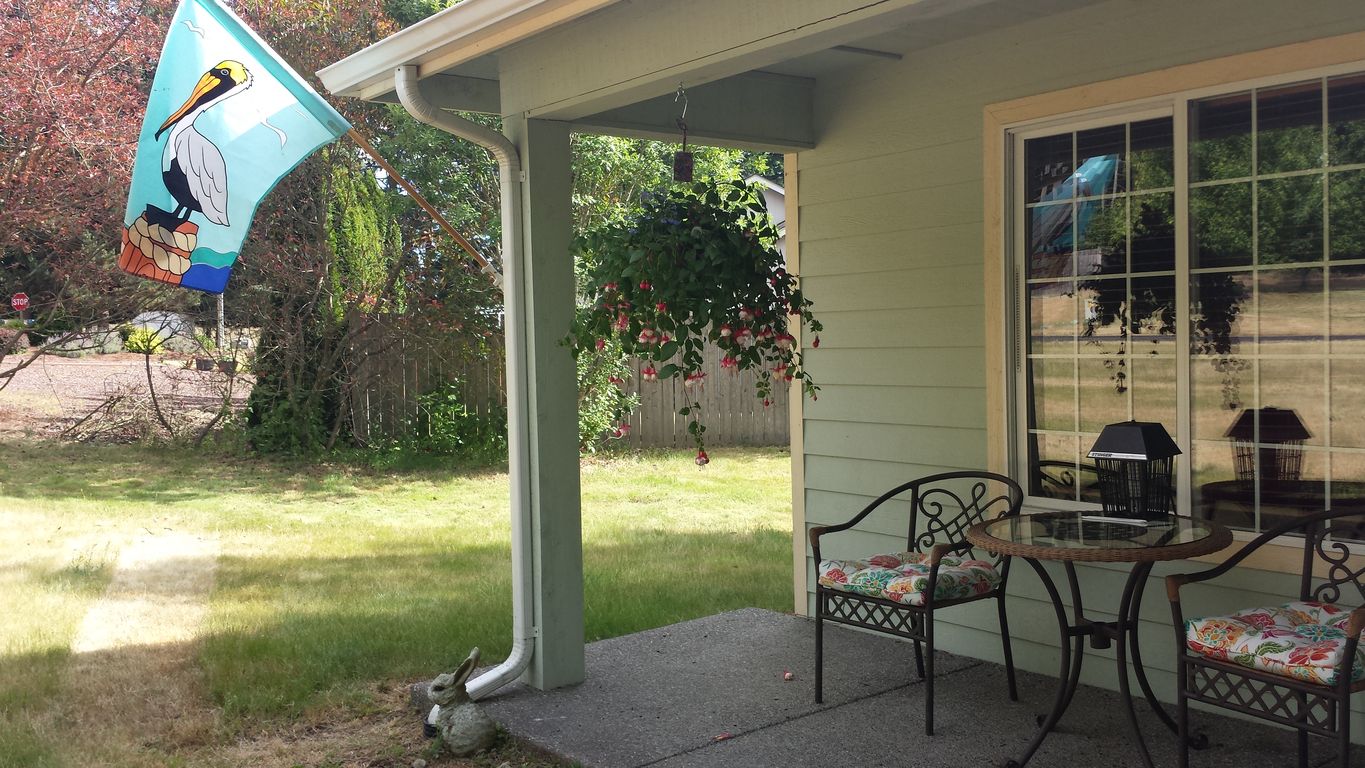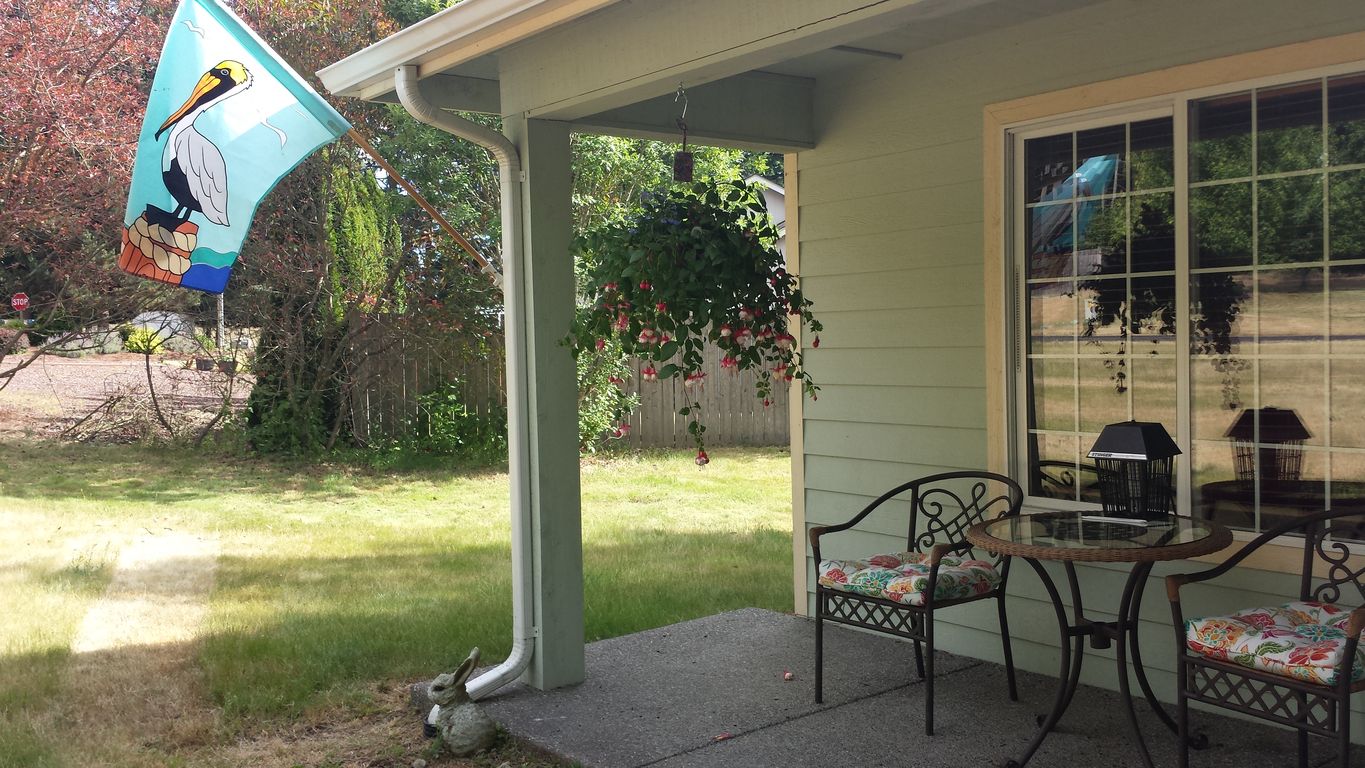 I have been a Realtor for almost 10 years and this is the first home I have purchased since becoming a Realtor… my 8th purchase. Up until I became a Realtor, I totally relied on the agent I hired and I realize how important the choice of an agent is and how important it is for you to participate in your home purchase.
But back to finding a dream home. I always tell my clients to write down their 10 wants in a home. If there is a partnership or marriage, they both write down their list of 10. It is never the same and very important for each person to have their input or they will never come to terms with a home that satisfies both of them. Then they sit down and narrow it down to the top 10 and the secondary 10. It is always good to mark the top 3 things that are most important to you/both of you.
I did this. I made my list.
1. And I started my search knowing that number one was price and that I might not find what I wanted in my price range.
2. 2 car garage
3. Covered front porch
4. Walk in closet
5. One level
6. Fireplace
7. Vaulted ceilings
8. A window over the sink that opens and has a view!
9. Shower in the master
10. 3 bedrooms
I wanted to be in Gig Harbor but I left it off because I was open to other areas.
Every time something came on, I scouted it out. It was challenging because my business has been crazy busy this year and I really believe if you write it down, the universe will supply. I am disabled and needed a bath with a shower and not many steps. One day I looked at a VA foreclosure that I saw online and had passed over because it was so vanilla… and I was looking for something that said dream home. It was over my price range but had been on the market for 60 days. I looked at it, took friends to look at it and finally realized that it was not my dream home as it was, but if I could get it at a price I wanted…I could make it my dream home eventually. It had two full baths which meant that I was looking at a remodel job down the road to get my shower in the master. But… it had every other thing on my list. I forgot to mention that the VA installed new carpets and vinyl in the baths before they put it on the market, not my choice but clean and inhabitable. Later I will put in wood floors.
With patience and faith, I made my offer and it took me almost 4 weeks and several price reductions as agents kept showing it and no one made offers. But eventually with counters back and forth, we came to an acceptable number I could handle. And it was a VA foreclosure so I knew from the beginning that I was going to pay their closing costs, pump and repair the septic if there were problems, which there were (A pump had to be replaced). My inspection showed that the heating system was in need of a major repair and that would have to be fixed before closing thanks to the appraisal… but the rest of the house was pretty good. I chose to replace it as it was close to the end of it's life. It appraised quite a bit over what I paid so the VA was not going to paythe costs to fix it, but they did fix it before closing and took it out of the 3 percent closing costs they had offered me.
Today I have painted the whole interior, bought new appliances, put up new lighting fixtures and made it my own. It is looking pretty cute and my front porch is covered and perfect. It is the first time in over 3 years I have had an oven and a dishwasher. But the best thing is the wonderful neighborhood and great neighbors which I am thoroughly enjoying.
It's not always the granite or the perfectly manicured yard that makes a home. It is your personal touches and the heart that you put into it.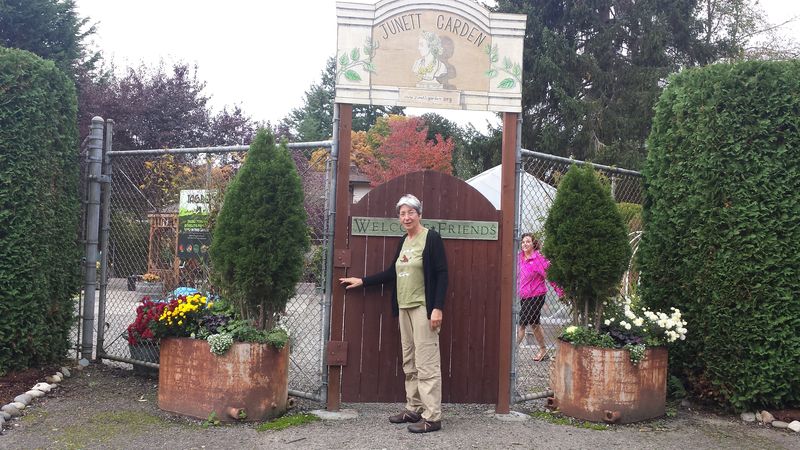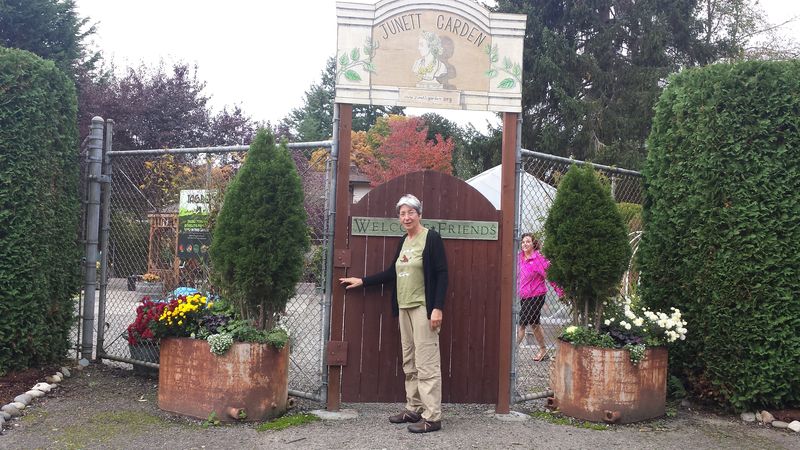 How an unsightly neighborhood patch of brush and weeds with junk cars turned into a wonderful Tacoma North End Neighborhood garden and park:
Barbara and Peter Temple Thurston have lived in this neighborhood for 24 years. About twelve years ago Barbara began working with the City of Tacoma to gain access to an unsightly dump area at the head of Buckley gulch, They designated the area as a public park that folks could use as a pleasant walk through from the east side of N. 16th to the west side of N.16th. Then Barbara and Peter, with the help of the city and a friend or two, set about cleaning up the waste lot. They hauled away junked car parts, and built soil, created a path, and planted trees and plants to establish a peaceful and beautiful space. Thanks to a neighborhood grant that Barbara secured they were able to buy some plants and hire a fellow to build the path.
Adjacent to the park was a defunct substation. Around five years ago when the park was doing well, Barbara and a couple of neighbors pursued gaining access to the fenced empty substation to establish a community garden. Again, this took countless meetings with TPI who owned the property, with the city, and with representatives of the city and neighborhood councils. Big thanks go to the North End neighborhood council for their assistance and support.
A couple of years of pressure and at last they got the green light! Barbara and Peter called a meeting of interested neighbors and formed a solid committee to plan and build the now flourishing garden. Again, Barbara accessed a grant which funded the building of raised beds and the purchase of a delightful little gazebo which adds charm and beauty to the garden. Peter, an artist, designed the front gates and sign, while others built the shed and everyone came together to build the boxes. The fence and the surrounding shrubbery was already there thanks to TPU's stewardship, so after the garden boxes were filled and the gazebo built, neighbors donated a table and chairs. Neighbors quickly signed up for a garden bed and today they enjoy both the peace of this beautiful setting and the delicious harvest of their organic produce! Everyone has made friends with their neighbors.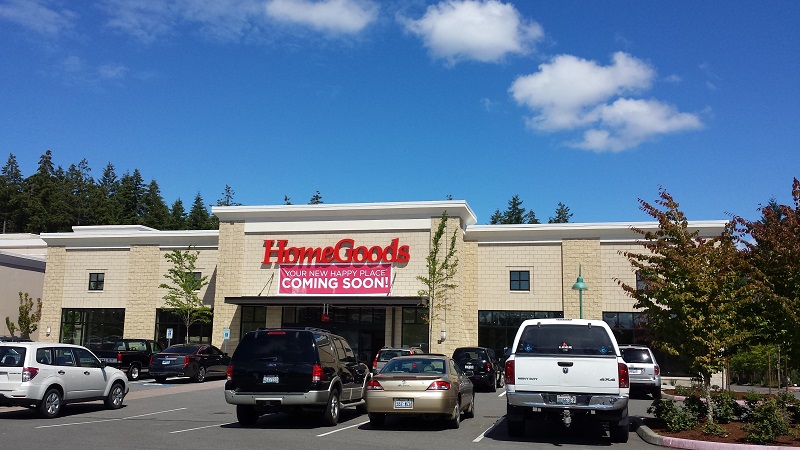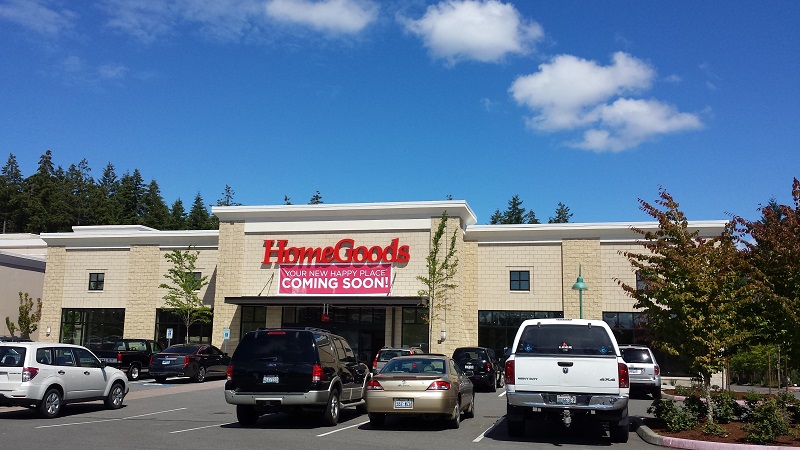 In Gig Harbor we have a great shopping area called UPTOWN!. It has a wide variety of stores including Marshall's, Chico's, JJill, and our newest addition is Home Goods…opening soon to name a few! There is a 12 screen Century Theatre complex and a wide variety of restaurants including Vietnamese/Thai (LeLe's), Pizza (Fondi's), Cupcakes (Melissa's), Mexican Food (Blue Agave), Ice Cream (Ben and Jerry's) and great hamburgers (Blazing Onion). On Thursday during the summer there is an outdoor area and live music with room to dance.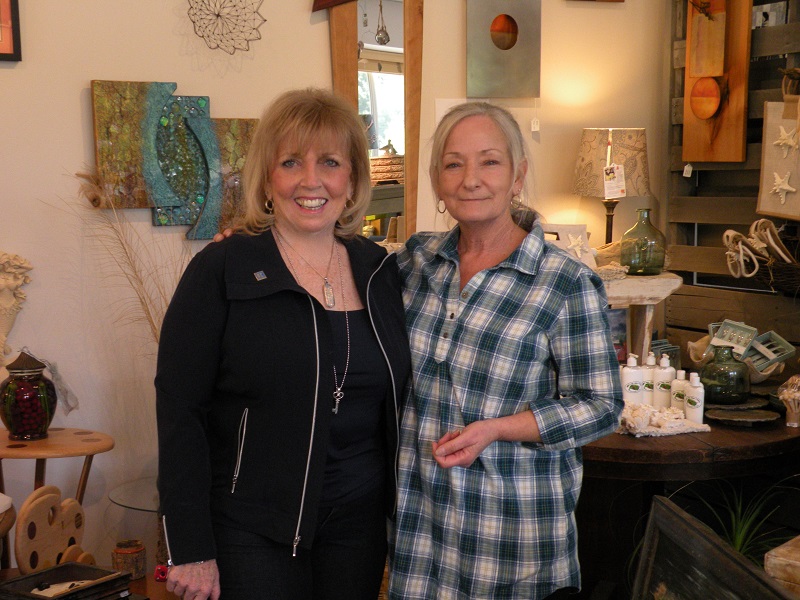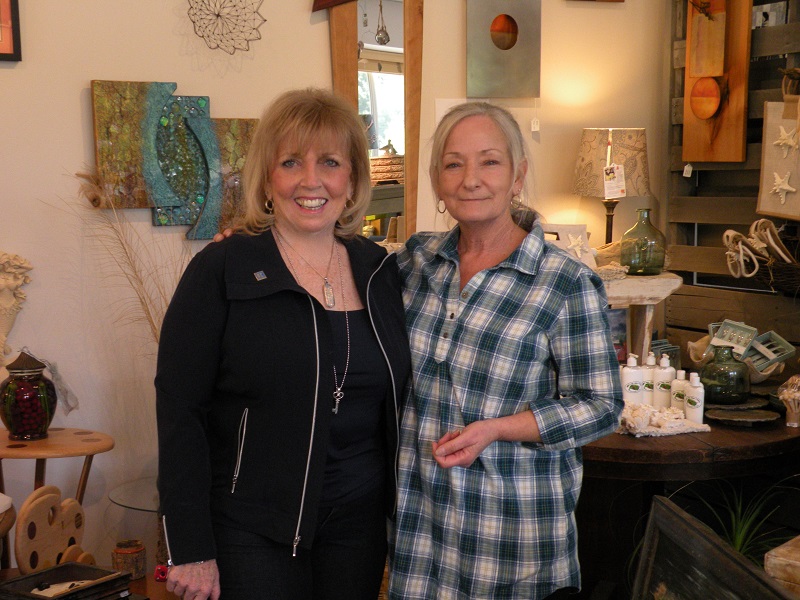 My friend Denese and I were out strolling in Gig Harbor down on Harborview St. and saw this adorable shop called Sea Hags! When we went in…guess who I ran into? Melissa Moller is the owner and operator and Melissa used to own a store in Alaska and wanted to open one here. It has been open since August and has really great ocean- inspired items for the home. One of the items is a water fountain made out of used propellers. She has gorgeous clocks, jewelry, housewares items of all prices ranges beautifully handcrafted by local artisans. Please stop in and see Melissa and tell her Joyce said hello.
Sea Hags – 8805 North Harborview Drive, Suite 201 Gig Harbor, Washington 98332 – Near Anthony's on the water.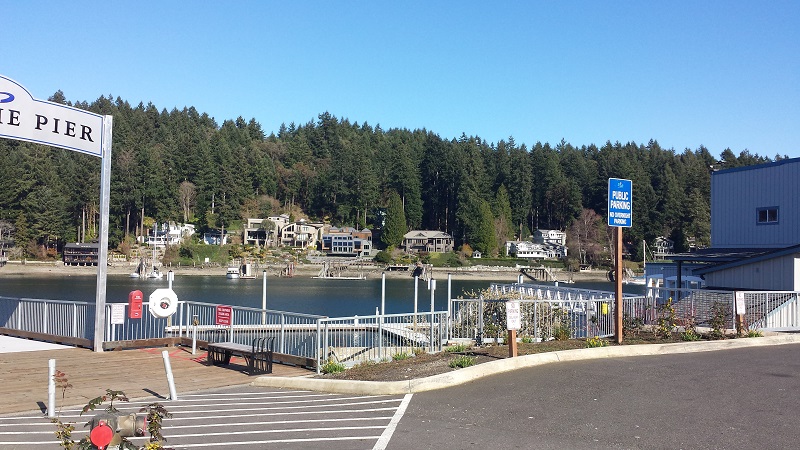 Yesterday was a gorgeous day and on days like that in Gig Harbor, we want to be on the water. And what better place to go than The Tides! When it is warm you can sit on the deck and enjoy the sunshine. For now, it is great to be inside and surrounded by friends and the water view. I meet friends there or take my clients. They have wonderful Halibut Fish and Chips, Clam Chowder, great salads, a wide variety of hamburgers and sandwiches as well as specials. Beer, Wine and an open bar. Big TV's for the games. Just a fun place to go! Service is great and now they have an expanded parking lot! You can tie up your boat there or do like the Gig Harbor folks do…come by kayak and have lunch! If you have time, check out all the pictures on the wall of patrons all over the world in their Tides Tavern apparel. I sent a shirt to one of my friends in Iraq to get his photo up there.
It always seems that something drives to me write about issues that come up! And here is another one that happened to two of my clients. We looked at 10 – 12 homes, choose one that they fell in love with and all the while, thought they were prequalified…and they weren't. Lender rules have changed dramatically in the past several years and Realtors and Lenders are under stricter guidelines. When Realtors ask you for a prequalification letter from your chosen lender, we are not doing this to make you feel bad. We are protecting your time and investment in looking for a home. There is nothing more frustrating than to spend time looking, running numbers, making decisions, dreaming and then finding out you can't buy.
If you are putting a large down-payment down or paying cash, be prepared to provide documentation that your down-payment is accessible. Cross out account numbers and provide it to your Realtor. Your Realtor Is often required to send it in with the offer and any preapproval letter you have provided. If you have cash under your mattress, you have to document where it came from. Ie: One of my clients sold a Streamline Trailer and put the cash in his bank account. It held up closing while we waited for him to find the buyer and get a receipt to prove where it came from at the last minute.
Lender rules are tougher and Realtors have to abide by them.
Your Realtor and your Lender are your team and are here to help you in any way possible. If you need a Realtor, call me. I would love to be your dream guide.
Joyce Shipley
253-280-2808