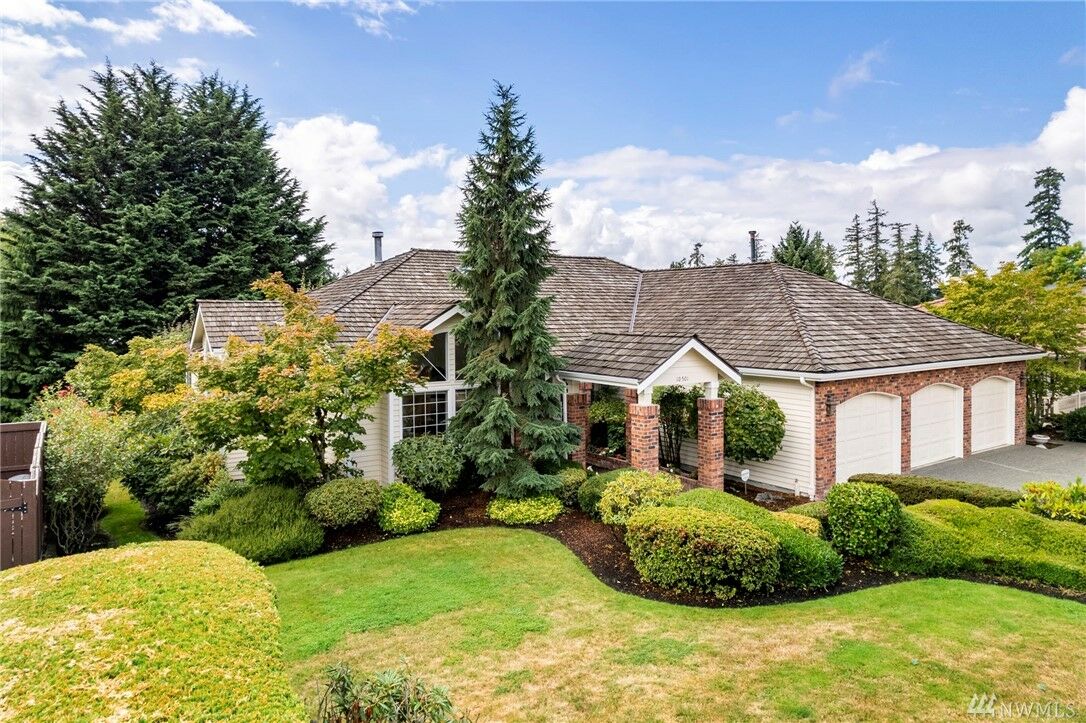 Showcasing timeless design and elegant style throughout, this 2,470-square-foot home has been lovingly maintained by original owners! A one-level floor plan provides the potential for multi-generational living, and incredible versatility ensures that this residence is ready to evolve with your changing wants and needs. Just a few of this home's top highlights include the well-appointed kitchen, stunning formal spaces, the sumptuous master suite, and the oversized 3-car garage. And just wait until you see this home's outdoor setting—not only is it on the largest parcel in the community with 2 combined lots, but it's been professionally landscaped as well. Located at 10501 SE 302nd St Auburn, WA 98092 in the warm and friendly community of Cobble Creek in Auburn and surrounded by conveniences, this 4-bedroom, 2-bath home is listed for $795,000.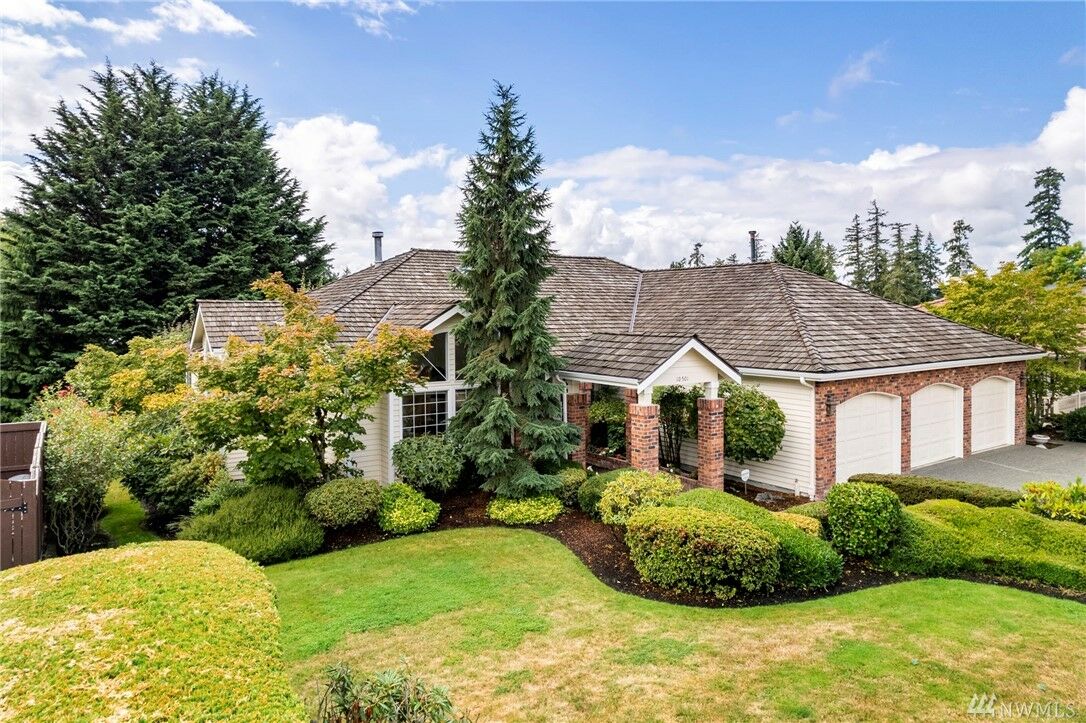 Take a moment to learn more about a few of this home's top highlights: 
1. Carefully maintained and thoughtfully updated; move right in without worrying about a thing! 
From the moment you pull in the driveway, this home makes a lasting first impression, and the grand exterior hints at the love and care that has been put into maintaining and updating this beauty. For example, the furnace and heat pump were serviced in August 2021 (records available upon request). The roof was replaced 10 years ago, and the walkways and stairs have been re-leveled with a transferable  "forever warranty" from Matvey foundations.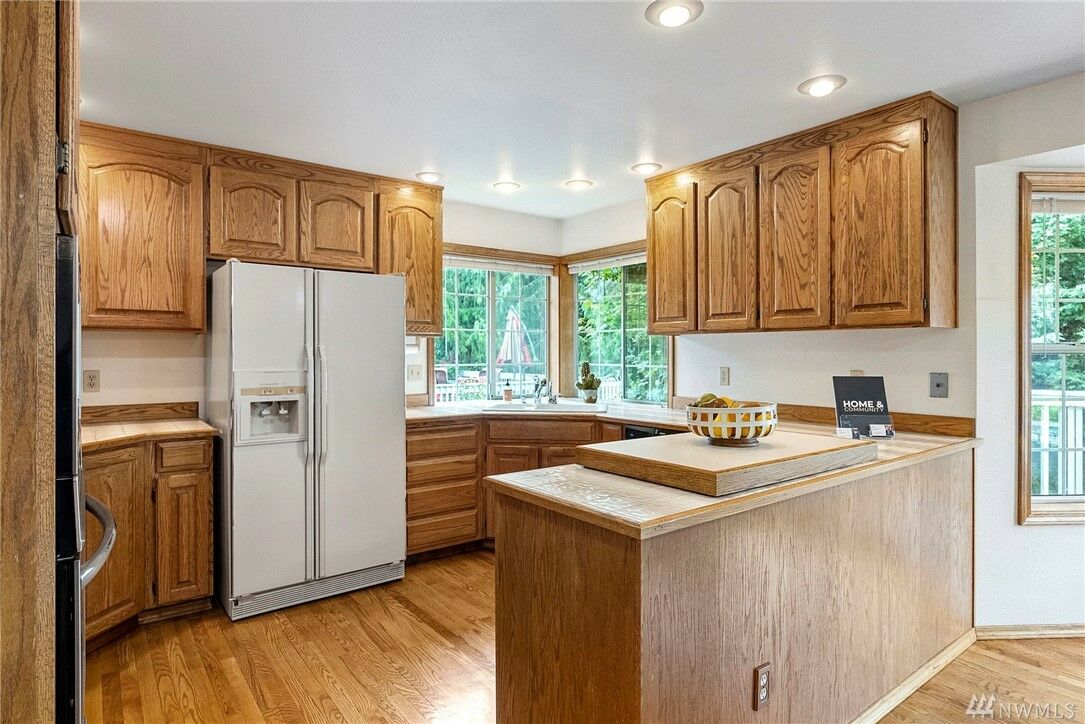 2. The well-appointed kitchen is ready to help you tackle meal prep, baking marathons, and daily tasks with ease. 
In the large entertainer's kitchen, you'll find ample storage in handsome cabinetry, built-in Lazy Susan corner cabinets, large pull-out shelves, a custom-made stove cover, a natural gas downdraft stove and griddle, and more. Plus, all appliances stay! The kitchen seamlessly opens up into a dining area and a large living room, and this inviting great room is sure to become the heart of the home.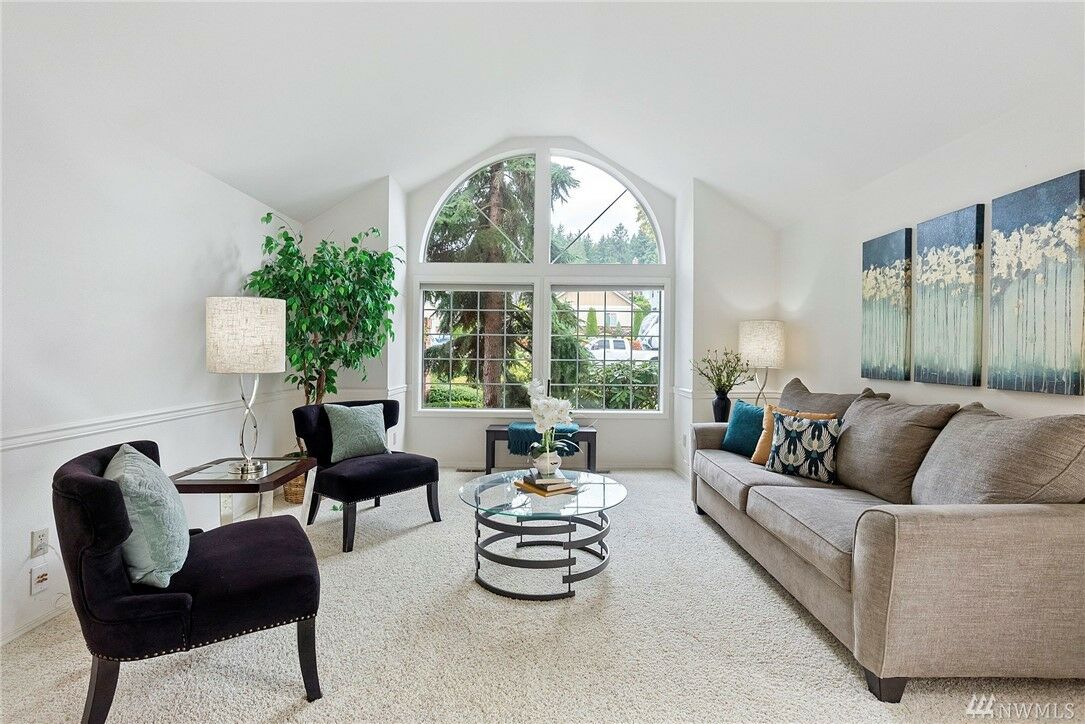 3. Impeccable formal spaces are a host's dream. 
This home was designed with entertaining in mind, and both a formal living room and formal dining room show off simple sophistication. In the formal living room, stunning vaulted ceilings and impressive shimmering windows let the space feel large and airy, and you'll find the same captivating window design in the formal dining room. In the dining room, stylish wainscoting delights the eye, and you can have fun curating your own aesthetic here once you move in!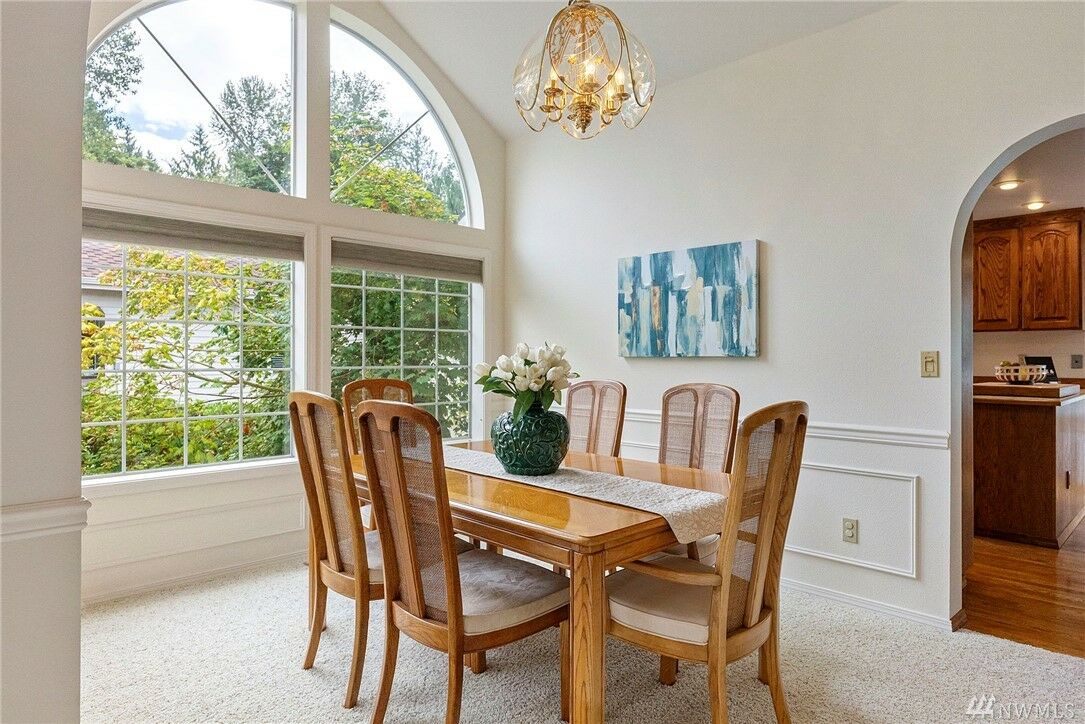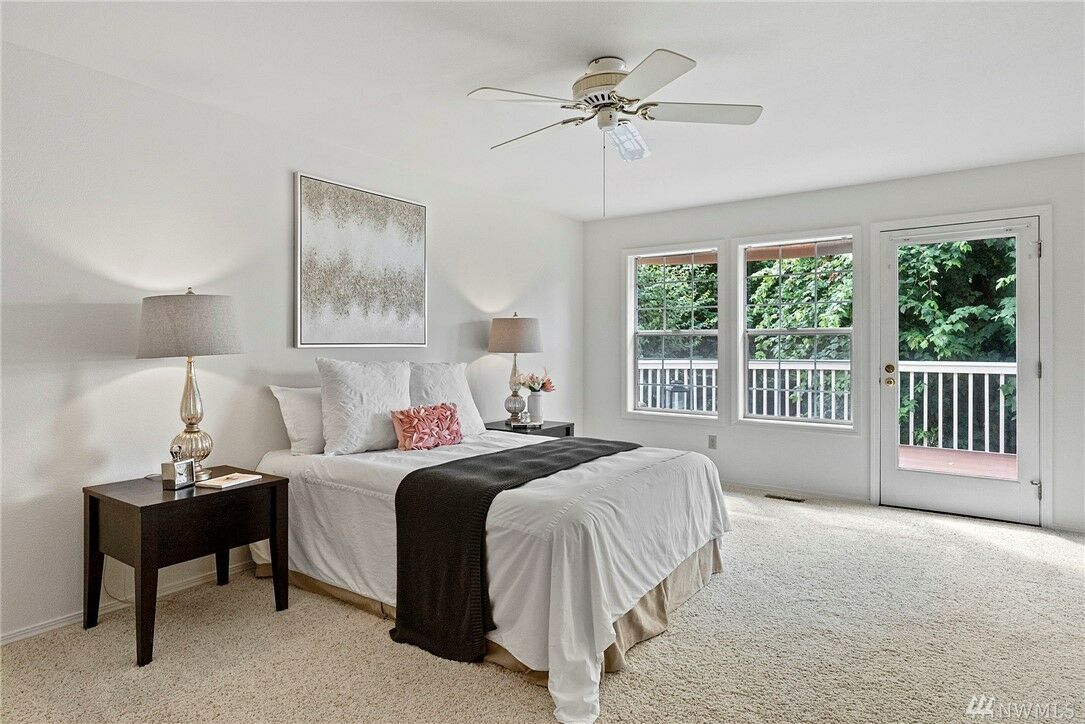 4. Sumptuous master suite offers the ideal setting for rest and relaxation. 
The master suite shows off an extra-large bedroom layout, and your living space here expands even more thanks to private deck access; pop outside just before bed to take in the fresh air, or enjoy your coffee on the deck before starting your day. A huge walk-in closet features cubbies, drawers, and shelving, and the 5-piece ensuite bath boasts a spa-like setting with its dual sinks, separate shower, and jetted tub. The master bath is also drenched in sunlight—a skylight and porthole-style windows above the tub are all in the mix! 
5. Lots of versatile space for you to transform as your needs change over time.
One of this home's major perks awaits with its flexible square footage. Of course, you'll find endless possibilities if you have an extra bedroom (or 2 or 3!), and the 4th bedroom has a custom built-in executive desk with a bookshelf, tons of storage, and file drawers. It's ready to become the ultimate home office! 
Even more space can be found in the oversized 3-car garage, which is deep and wide enough for 3 full-sized King Cab trucks and includes a large workbench. In addition to using the garage for storage, you'll also find plenty of storage throughout the house and in the lighted and fully waterproofed walk-in/stand-up crawlspace under the house. Never worry about where to store your outdoor furniture, holiday decor, bikes, or kayaks again!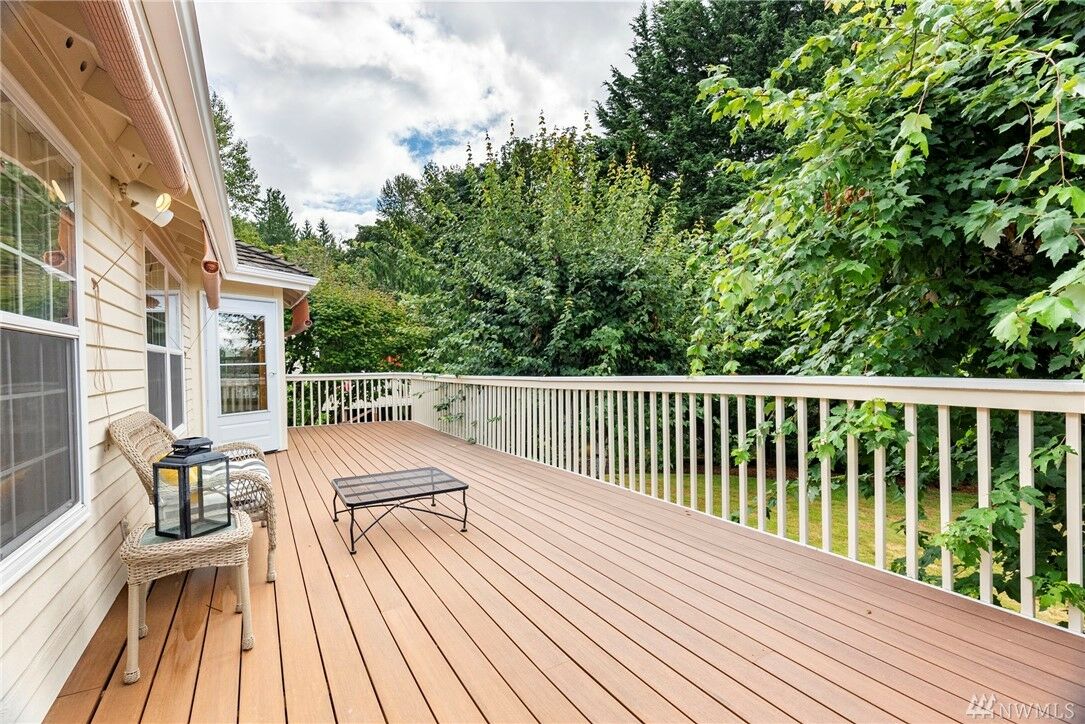 6. Park-like, landscaped outdoor spaces let you enjoy nature without having to leave the comfort of home. 
Situated on 0.42 acres, this parcel is the largest in the neighborhood. The property was originally 2 lots which were combined for tax purposes; the current parcel could be subdivided (buyer to verify). Established landscaping throughout is professionally maintained (landscaper referral available on request!), and the mature greenery offers both privacy and an idyllic view. Kick back and relax on the expansive composite deck, and grill up dinner whenever the mood strikes (there's even natural gas hookups for a grill). Your very own Pacific Northwest oasis awaits! 
7. Location, location, location! This home is surrounded by top local amenities. 
At 10501 SE 302nd St Auburn, WA 98092, you have a long list of excellent conveniences merely minutes from home. For starters, you're just 3 minutes to the Auburn Golf Course. And when you need to run errands, you don't have to go far—Fred Meyer is 5 minutes from home, and you're less than 10 minutes to places like Target and Trader Joe's.
Those who commute for work are also sure to appreciate this location; you're just 7 minutes to Auburn Station and 10 minutes to Kent Station. Park at either station and enjoy a car-free commute on the Sounder Train straight to Tacoma or Seattle; it's only 35 min from Kent Station to Tacoma Dome Amtrak and Light Rail, and it's only 27 minutes from Kent Station to Downtown Seattle on the Sounder Train. Need to get to the airport or JBLM? SeaTac International Airport is only a 25-minute drive away, and Joint Base Lewis-McChord is just 36 minutes via I-5 South. 
Interested in learning more about this home? Click here to view the full listing! 
You can contact REALTOR® Joyce Shipley online here or give her a call/text at (253) 380-2808. You can also contact REALTOR® Jason Helton online here or give him a call/text at (253) 861-2673!
As I walked out of our offices on 19th St in Tacoma on Wednesday, I knew it would never be the same and I was overwhelmed with Sadness.  15 year ago, I arrived on Jan 6, 2005, fresh from Real Estate School, embracing change in a place I had lived 6 mos. And believing in my abilities to adapt and grow.  I walked into these offices and LOVED the space and the uniqueness of our offices. Our clients loved them and commented on them a lot.  I found a place to call my own by the window and surrounded by successful agents…Brent Tornquist on my right.  Jim Tutton in front of me and Matt and Tom Hume on my left.  Jeff Jensen had the corner office and his door was open.   So I listened and learned the lingo and had great mentors to ask questions of.  I kept a list of phone numbers…Kevin Mullin, Michael Robinson, Tom Hume and when I was writing an offer at 10pm at night, I knew where to get my questions answered and I wasn't afraid to ask any ol' dumb question.  I knew I had a home and a great support team.  Over the years, Jeff moved on to another company, Tom and Matt joined with David Gala and moved downstairs, Jim Tutton went on to a moving company which we all refer business to and Me and Brent held down the fort through all the many changes…but they left me in my space with the sun on my back and overhead light that was always on even when all the lights were out.  I could quietly work at night.
2020 has been full of change for me.  My son Scott, my right hand, passed on in February. He loved to go with me and did open houses with me and put out my signs, turned on and off lights and generally was my partner without his license.  And my loved MIL Jean passed on in December. I will miss her quiet and constant support.  I will go to CA occasionally but am looking forward to a vacation that doesn't include driving to CA.    My friends and my son Brian and his spouse Charline have kept me going and I love them so much.  They have held my hand and grieved with me and allowed me to talk about it.   Very important.
2021 brought more change for the positive in my new partnership with Jason Helton from my office.  He has been working with me for almost 3 years and now we have made it official.  Jason is so warm and cuddly, but sharp as a tack.  And together we are off to a great start for 2021.
Change can be scary, and it can be invigorating.  We all must embrace it.  Writing my gratitude's helps me greatly to realize all I must be grateful for even through the losses.  So when we come back to the new office in a few weeks, I will be sharing a desk.  And that means I have to keep it all tidy.  Hmmm.  I always know where everything is but it will be a challenge.  And I will be working from home in a space I have created that is all my own.  I will embrace the changes and the growth and look forward to a great year.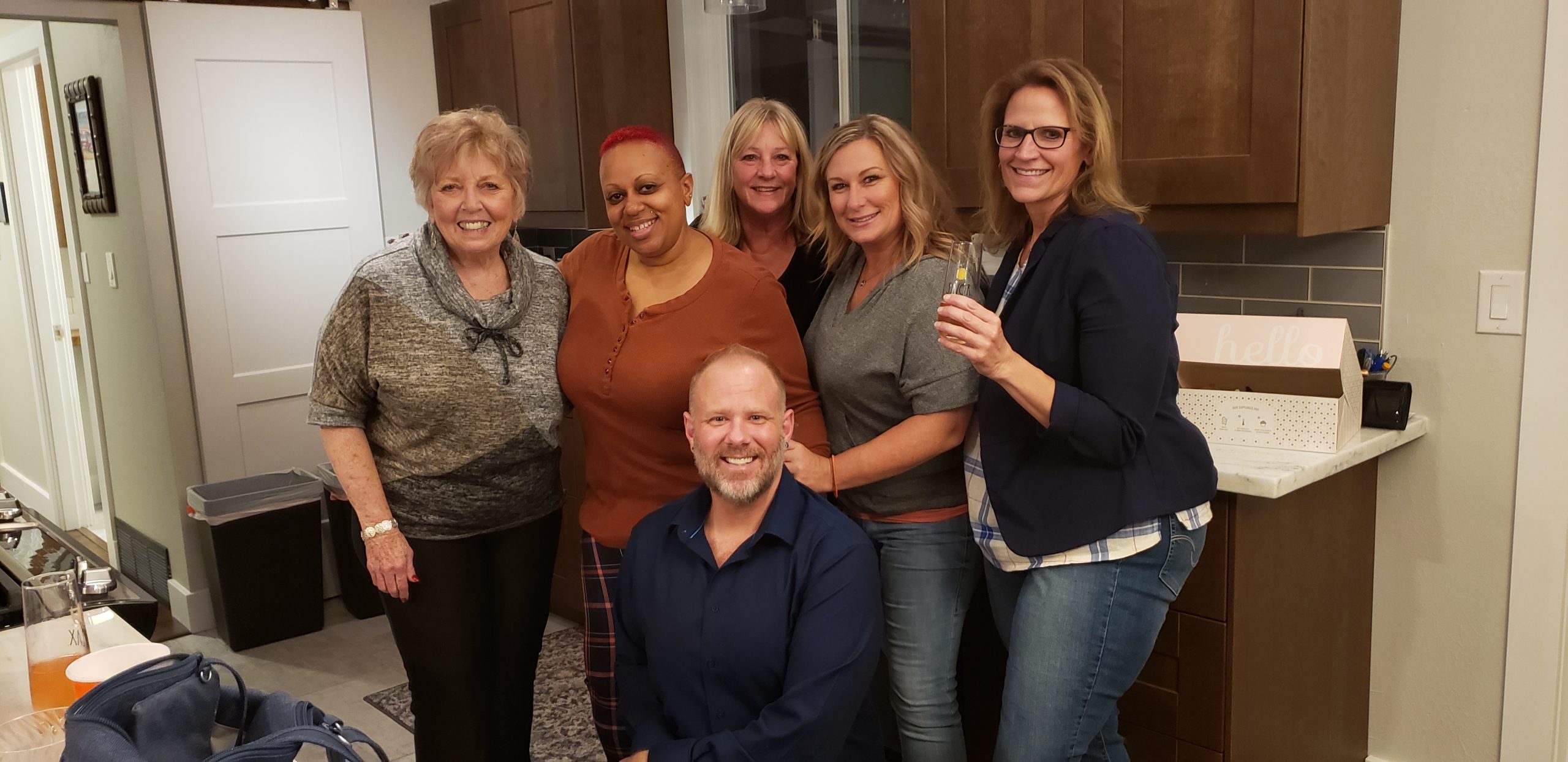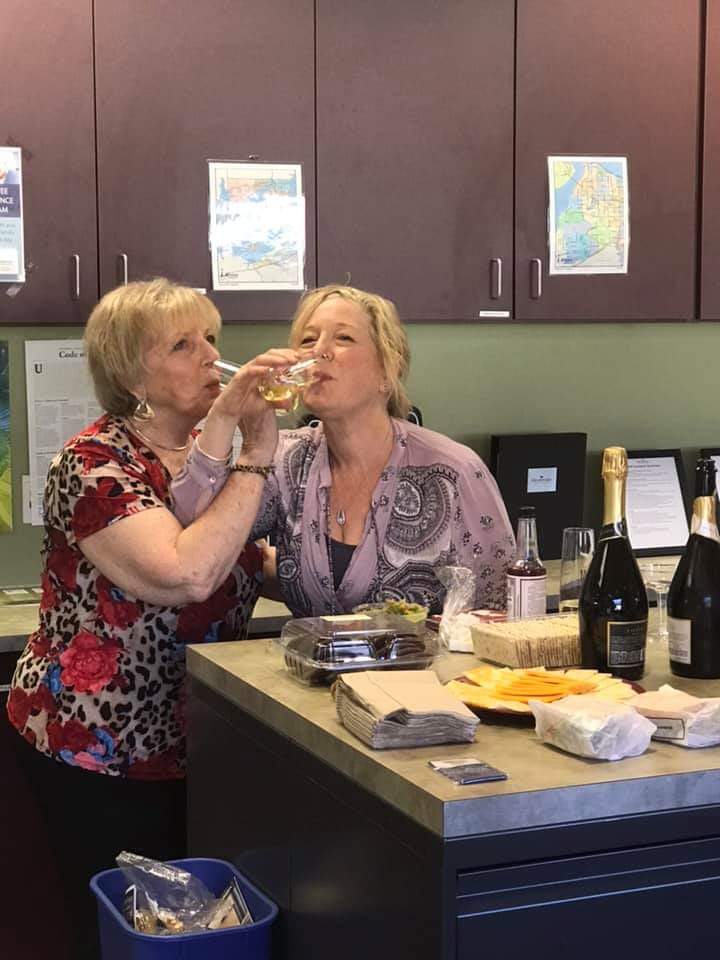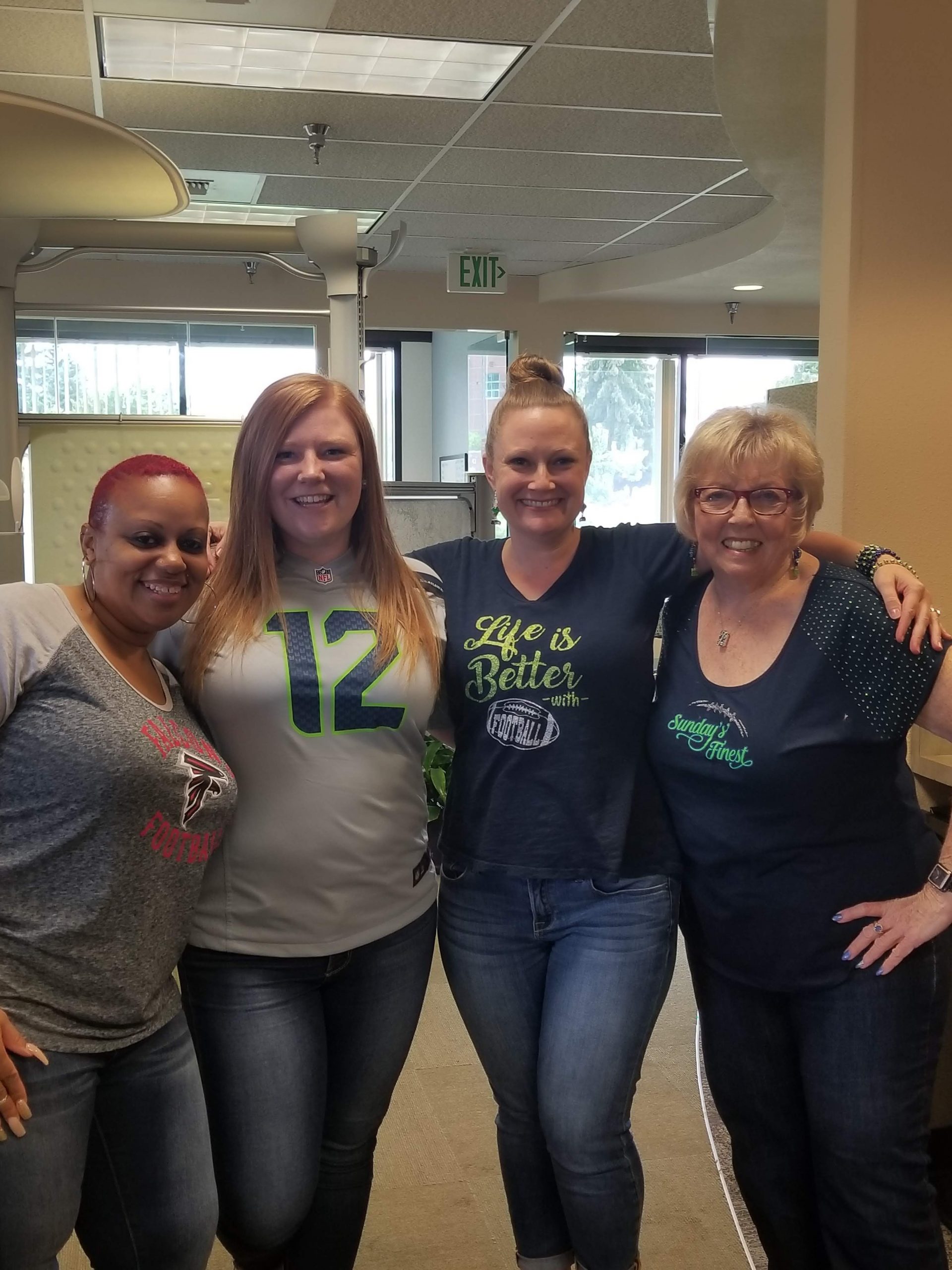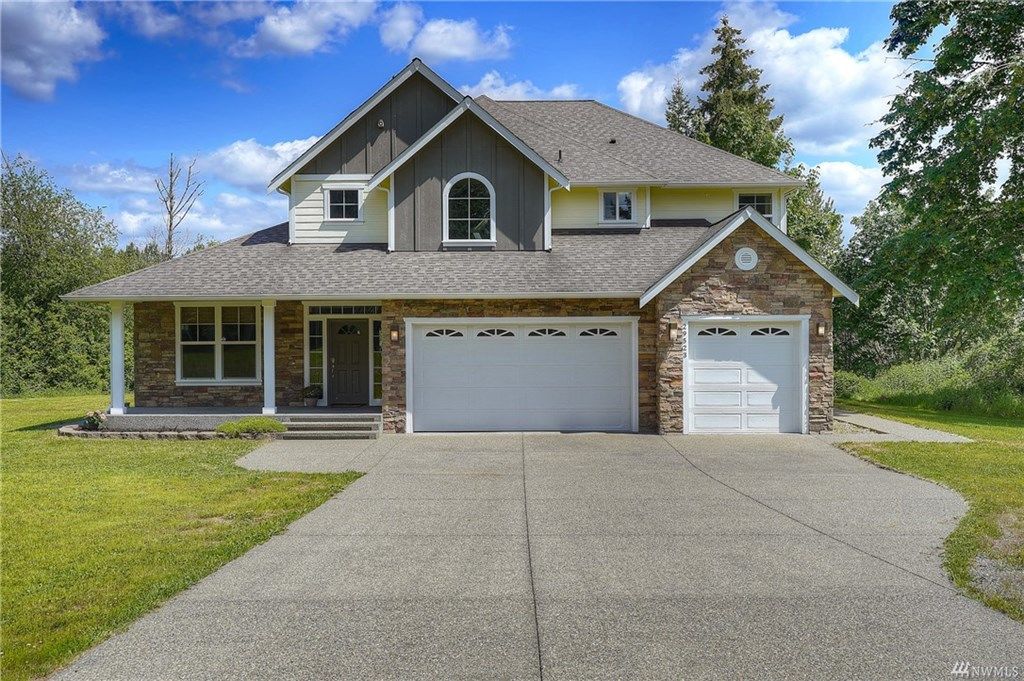 Nestled in the scenic Roy countryside and sited on 10+ private acres, this custom 3,874-square-foot home-sweet-home is an absolute masterpiece! In addition to this immaculately maintained 2011-built home that shines like new, you also have a huge detached garage, 2 garden sheds, and sprawling acreage to cultivate. Located at 29523 14th Ave S Roy, WA 98580 and close to Joint Base Lewis-McChord, this one-of-a-kind 4-bedroom, 3-bath residence is listed for $749,500.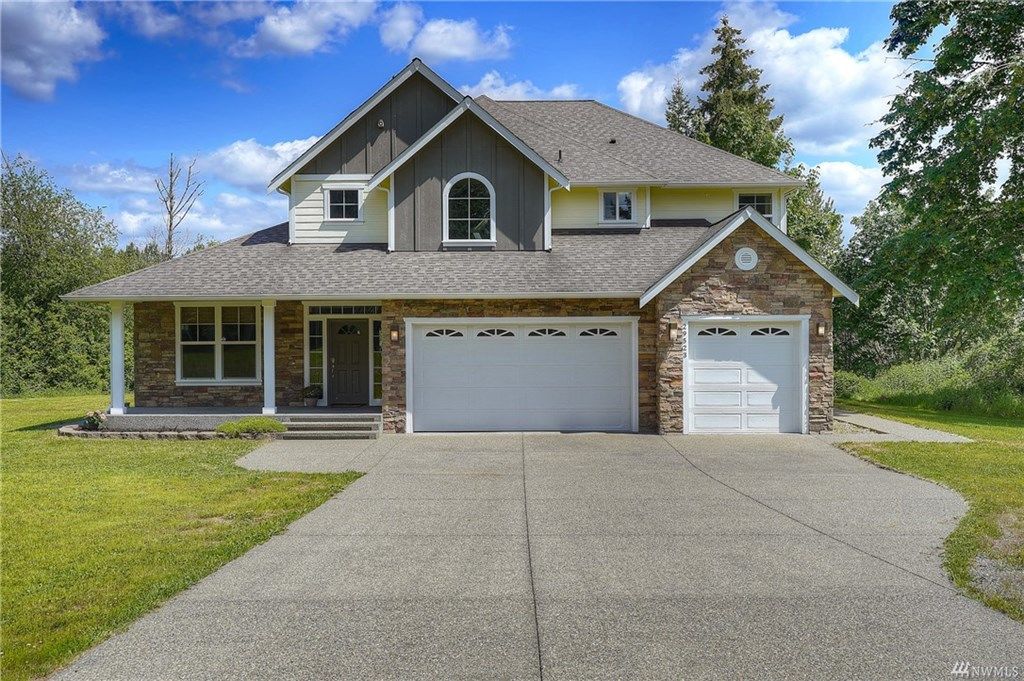 Surrounded by the Pacific Northwest's natural beauty, this property promises an idyllic getaway to enjoy the lifestyle you've always dreamed about! Captivating curb appeal greets you from the moment you pull in the long driveway, and this home's stone accented, crisp trim, and welcoming front porch offer a preview of the curated details that await inside. The impressive entryway welcomes you with soaring ceilings, newly refinished hardwood floors, and recessed wall elements. The entryway guides you past the home office and into the formal dining room where those who love to entertain are sure to adore hosting everything from elaborate holiday feasts to special occasions!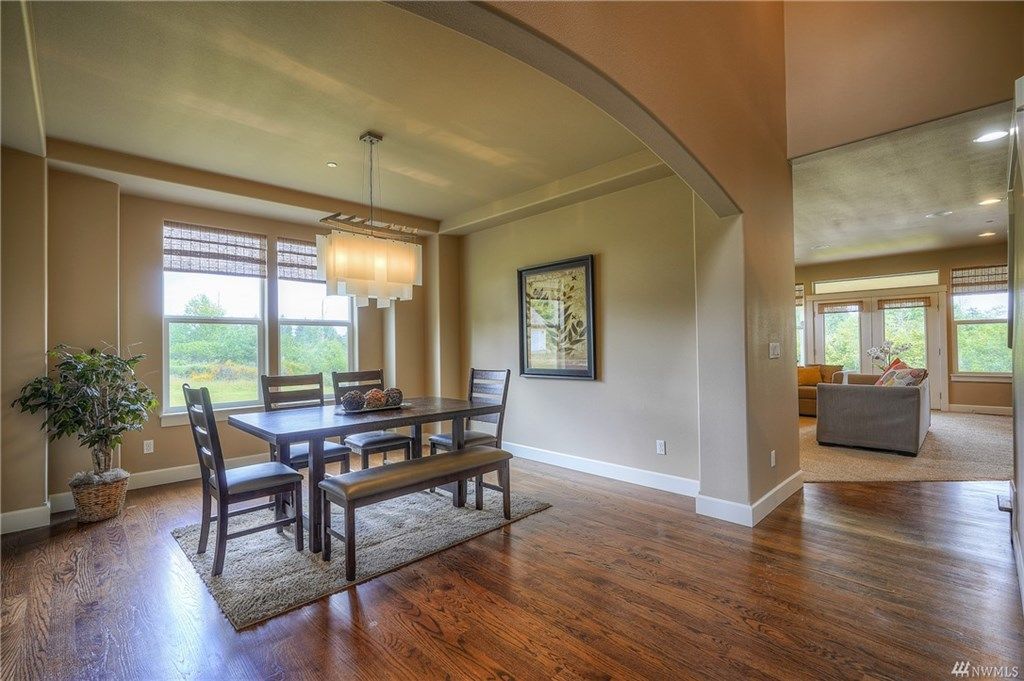 From here the layout seamlessly flows into the great room, a haven replete with elegance and a blend of classic and contemporary styles that's sure to stand the test of time. A gorgeous stone-accented gas fireplace anchors the main living area, and just imagine snuggling up on the couch on a chilly winter's evening visiting with loved ones while a fire roars in the background! New carpet and a warm, neutral color palette adds even more coziness into the mix.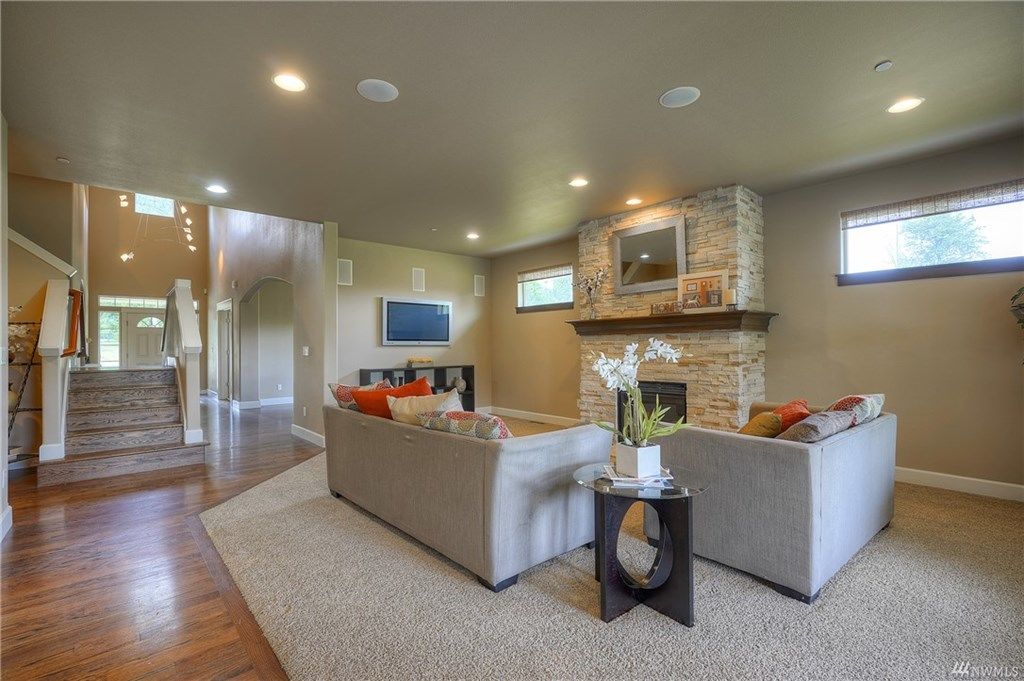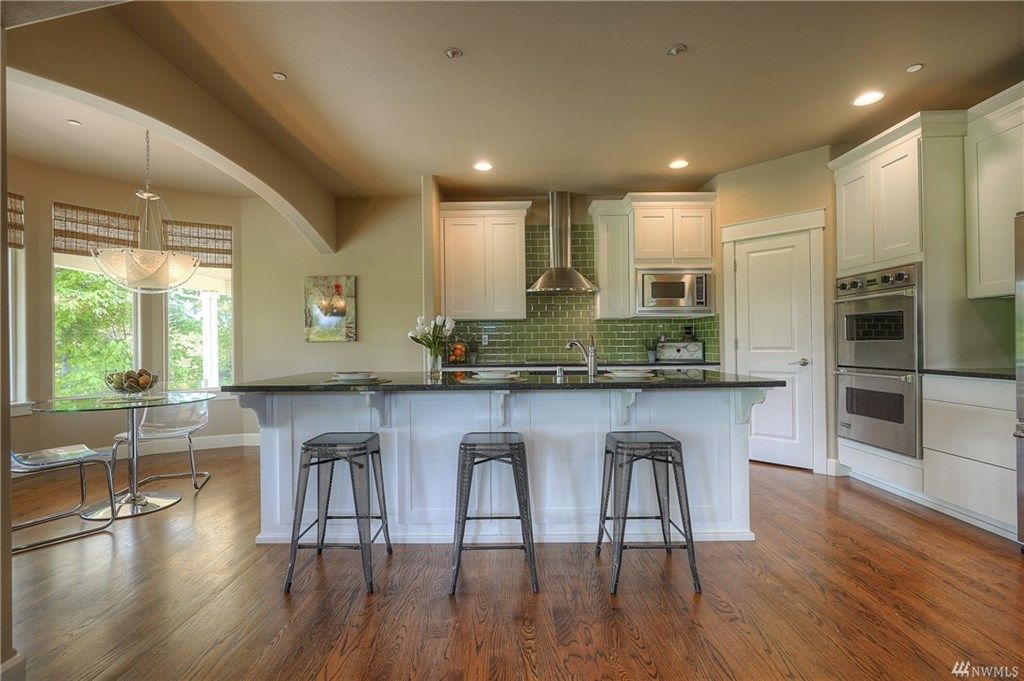 From here, the layout unfolds into the chef's kitchen, an expertly curated space with top-notch function and dialed in fashion. Pristine white cabinetry offers contrast with shimmering granite counters and the gleaming backsplash, and high-end stainless steel appliances are at the ready. A sunny dining area and bar-style counter seating ensure you have room for everyone, and hosting guests for get-togethers both large and small is an absolute joy!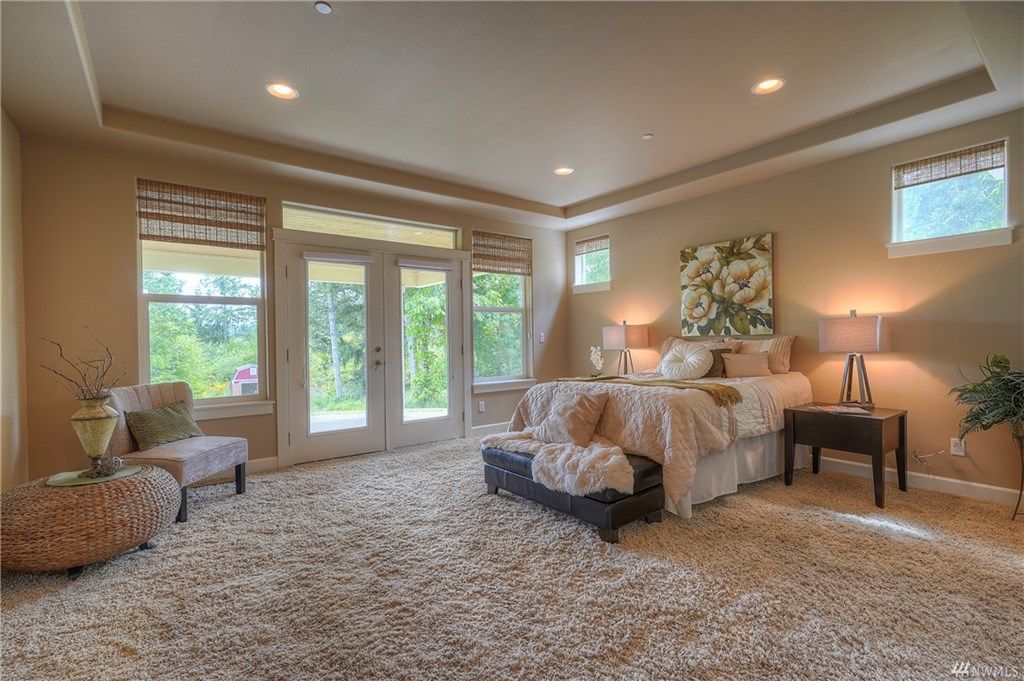 The main level also includes the primary suite, a resort-worthy oasis that boasts fabulous amenities. Plush carpets, recessed ceiling details, rejuvenating natural light, and direct outdoor access characterize the main bedroom, and a walk-in closet and 5-piece bath are yours to indulge in as well. The soaking sub is a standout highlight here—surrounded by sophisticated finishes that create a wonderfully sumptuous feel, you can relax in luxurious bubble baths and enjoy wellness routines all without having to leave the wonderful comfort of home! On the upper level you'll find 2 more bedrooms, a bath, a bonus room, and a flex room for your convenience as well.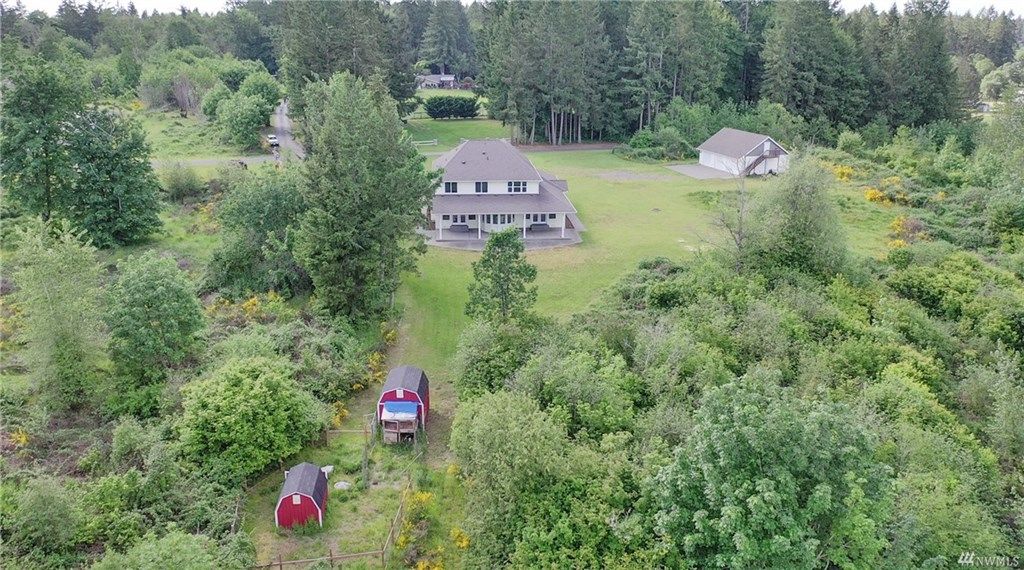 Outdoor bliss is yours with this 10.14-acre property, and you can take in views of it all from the expansive back covered patio. Not only does this property feature an attached garage, but the incredible detached garage is yours to take advantage of as well. You can park your boat or additional vehicles here, use the space for hobbies, and so much more! There are also 2 garden sheds, and the large yard is absolutely brimming with possibility. You might choose to expand your entertaining area and build a deck, you could design a garden to grow your own delicious fruits and veggies, you might decide to raise chickens (imagine fresh eggs everyday!)… there's room for all of this and more! 
Living in Roy
At 29523 14th Ave S Roy, WA 98580 you're in a secluded area and just about a 10-minute drive into the heart of Roy. When you need to access more amenities, neighboring cities like Yelm, Graham, and Spanaway are just 10-20 minutes away, giving you more variety when you'd like to do more shopping, enjoy restaurants, and access local services. You're also wonderfully close to outdoor adventure—discover horseback riding trails, hiking, fishing, camping, and much more all incredibly close to home. You can easily head out for a weekend of outdoor exploration, or even just for an afternoon—the wilderness is at your fingertips! 
Interested in learning more? Click here to view the full listing!
You can contact REALTOR® Joyce Shipley online here or give her a call/text at (253) 380-2808 for more information.
You can also contact REALTOR® & Area Expert in Roy Linda Solheim online here or give her a call/text at (253) 279-7665 to schedule your private tour.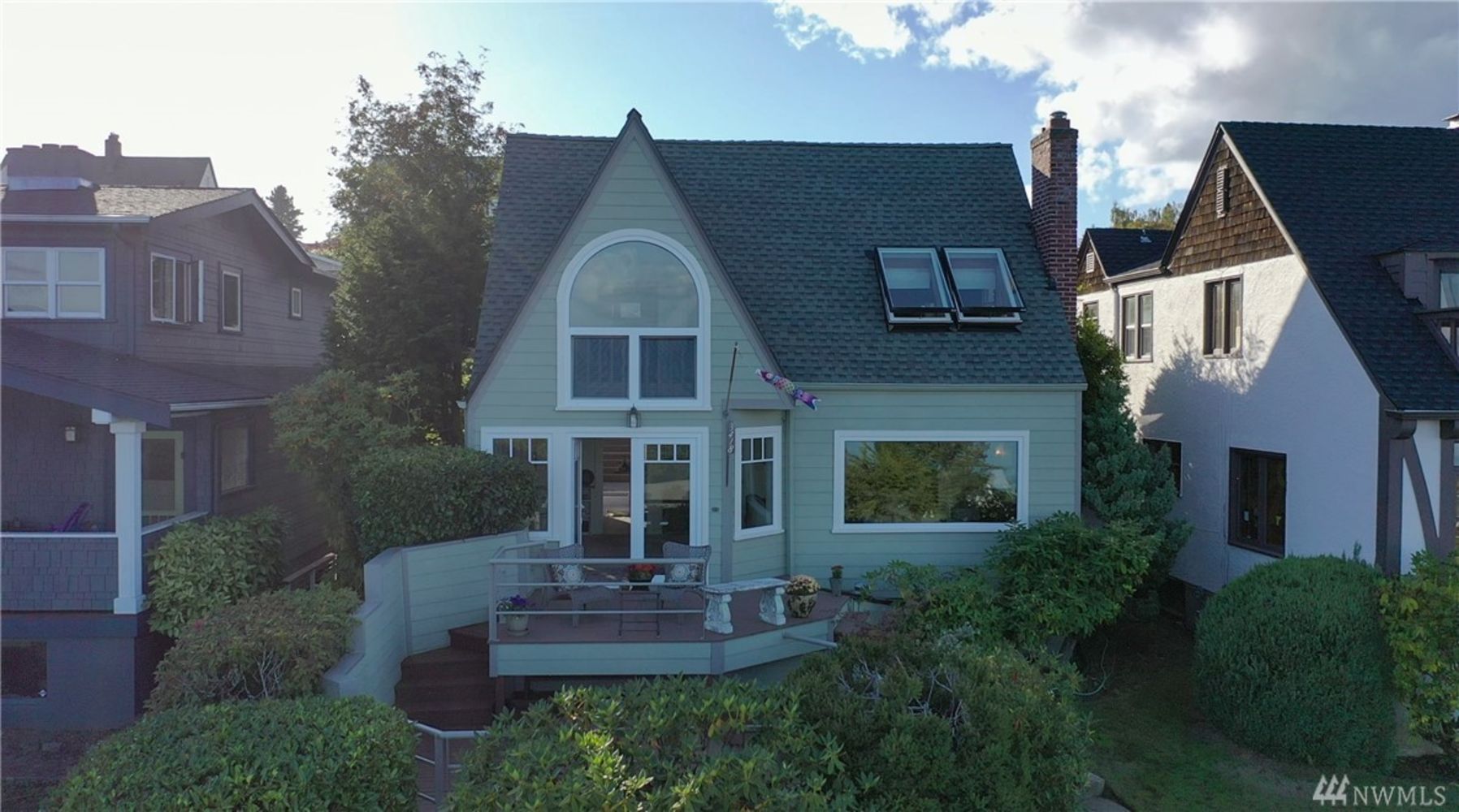 A one-of-a-kind opportunity presents itself with this captivating Victorian residence that's nestled in a prime North Tacoma neighborhood. Built in 1927 and showcasing vintage charm at every turn, this 2,043-square-foot gem features 4 bedrooms, 2 baths, and delightful living spaces designed with entertaining in mind. Gorgeous outdoor space is in the mix as well, and sweeping, unobstructed views of Commencement Bay, Mt. Rainier, and beyond are all yours! Located at 3418 N Union Ave Tacoma, WA 98407 and just blocks to both the heart of the Proctor District and the waterfront, this home is listed for $650,000.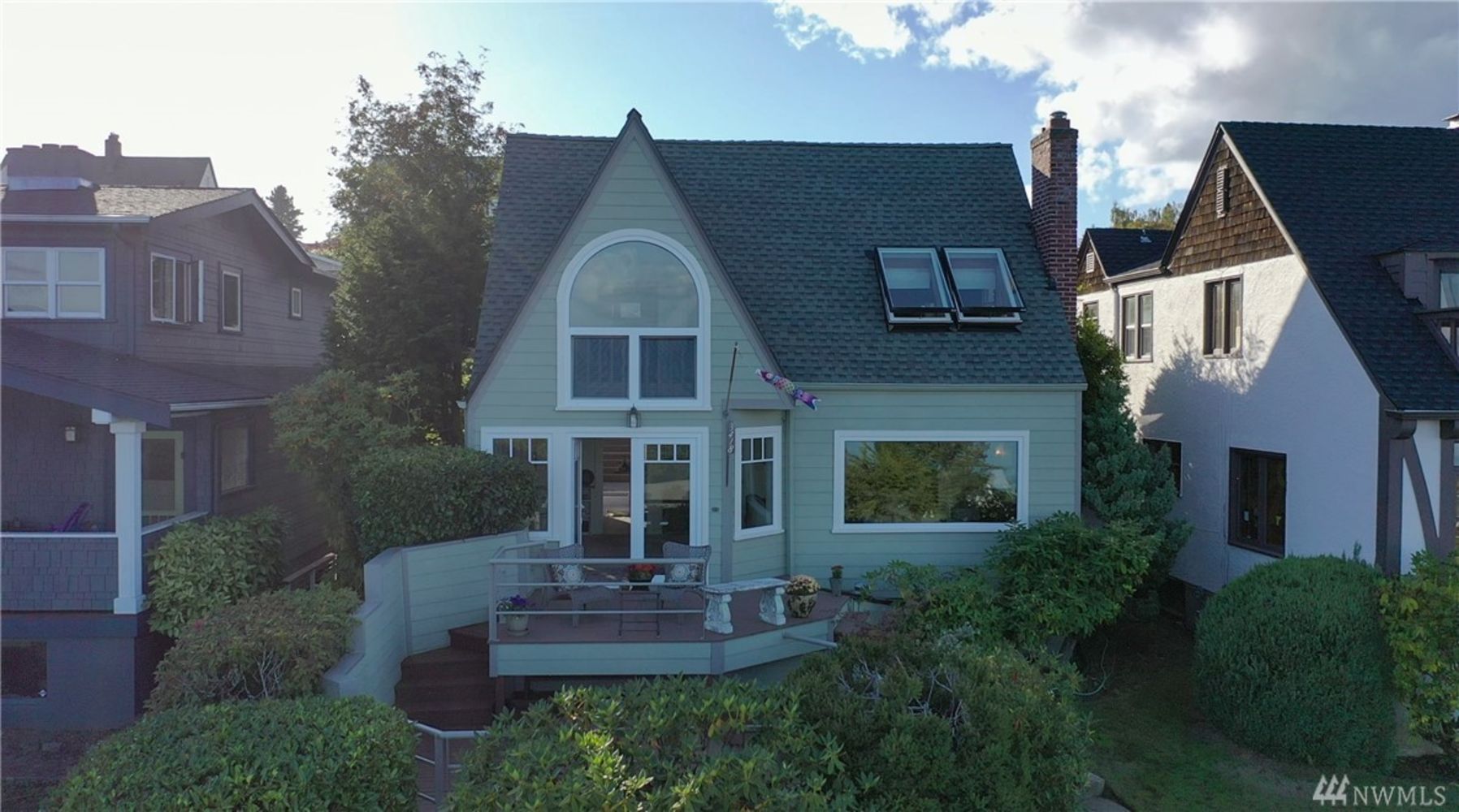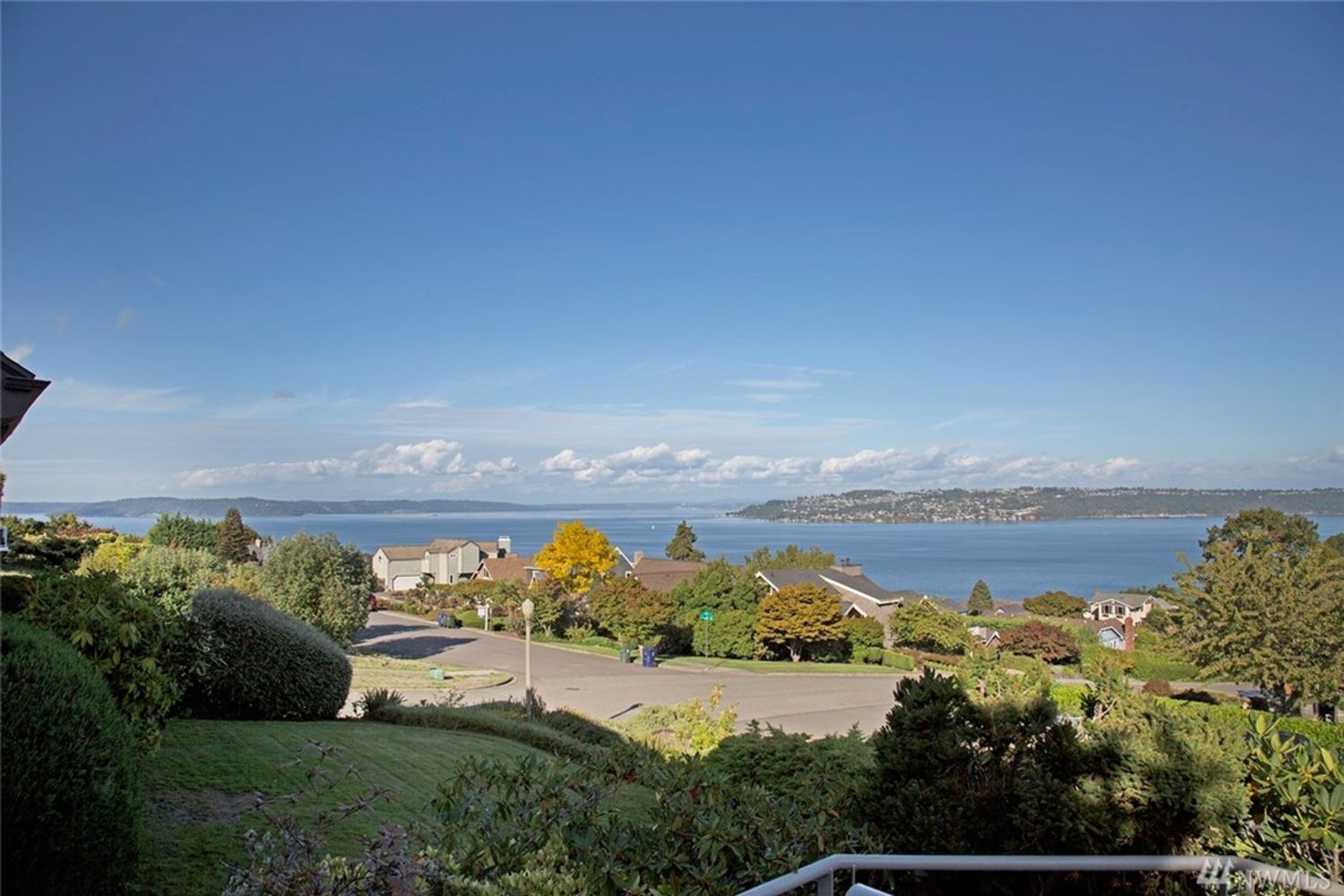 While this lovingly cared for home boasts much of its original aesthetic, newer updates (which include the roof, windows, skylights, electrical, and heating) all provide new owners with peace of mind. In the formal living room, a grand wood burning fireplace anchors the space, while huge picture windows offer idyllic views that stretch on into the scenic distance. Entertain guests in style or just enjoy quiet evenings snuggled up on the couch while a cozy fire roars—home-sweet-home just doesn't get better than this!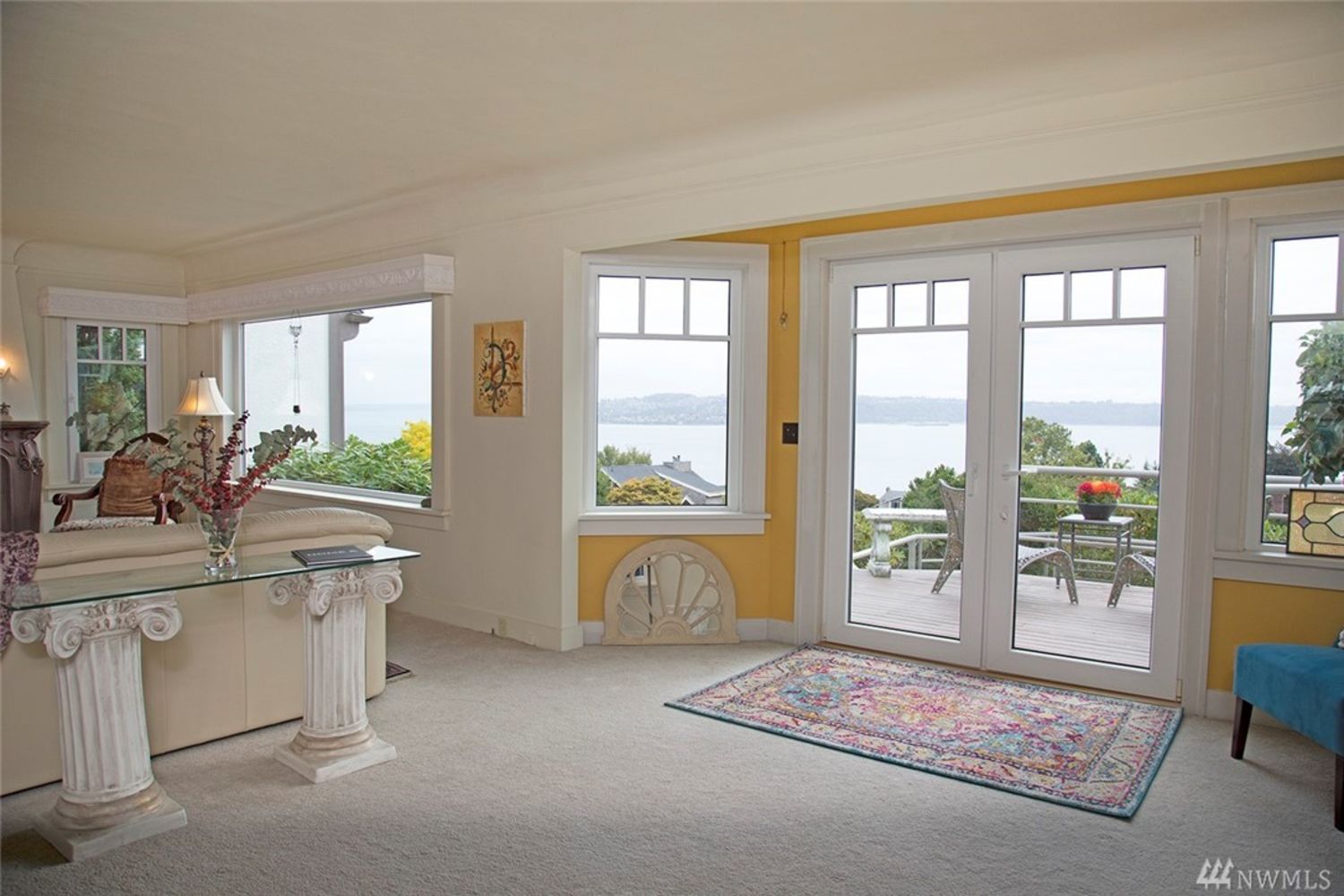 The layout flows right into the dining room, and those who love to host are sure to appreciate having a spacious setting for holiday gatherings and dinner parties. In the expansive kitchen, you'll find a smart layout that's brimming with storage options and space to really spread out in. Stainless steel appliances promise efficiency, large counters offer ample space for meal prep, and there's even room for a potential dining nook. A built-in desk offers the perfect "home office," and even more cabinetry here ensures you have no shortage of storage options.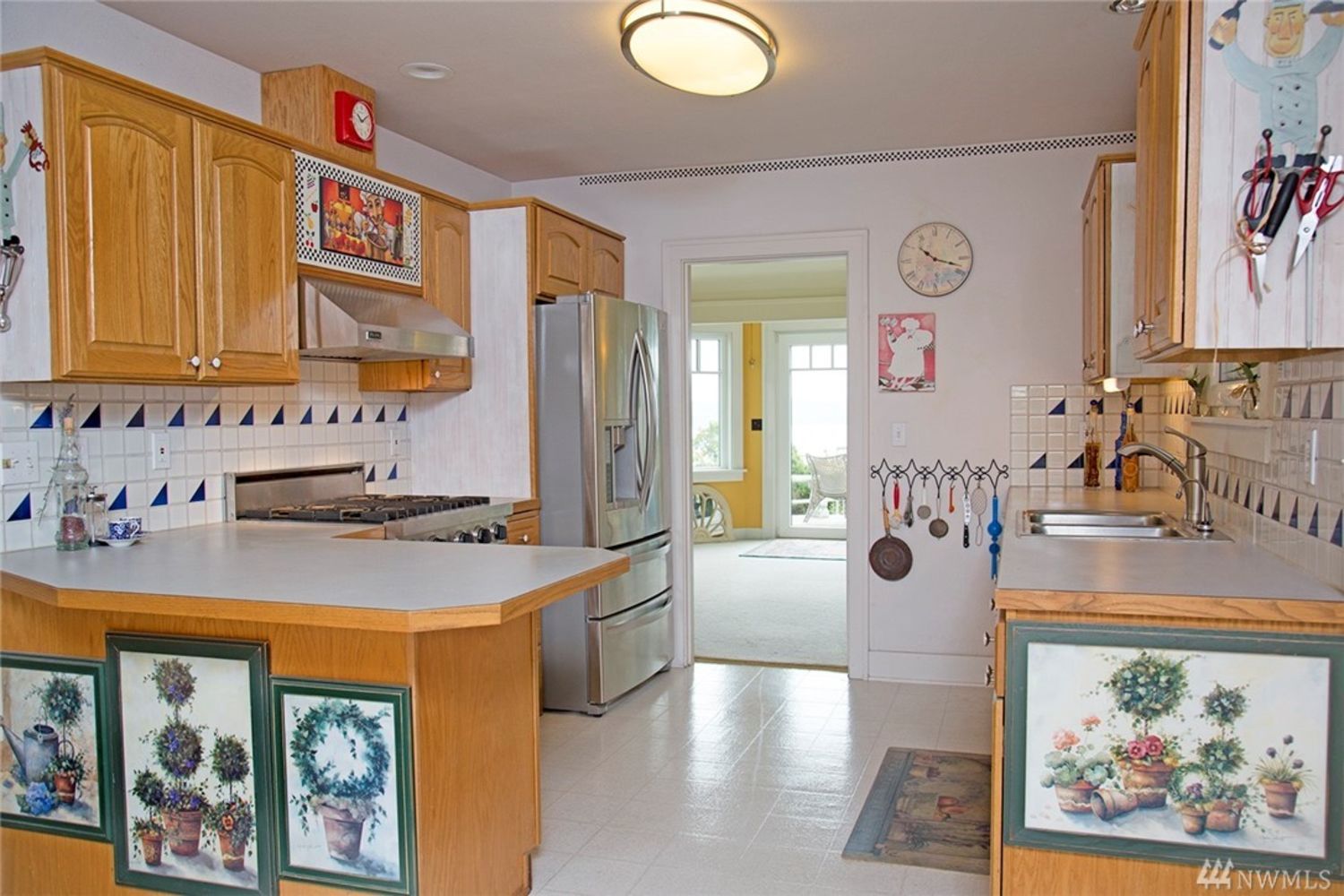 The main level also includes a large bedroom and a full bath, and upstairs you'll find 3 more bedrooms and another full bath. Each bedroom retreat offers something a bit different—vaulted ceilings, wood paneling elements, and stunning bay views all await. Even more flexible space can be found in the basement—there's a work bench that's perfect for hobbies, and plenty of storage space as well.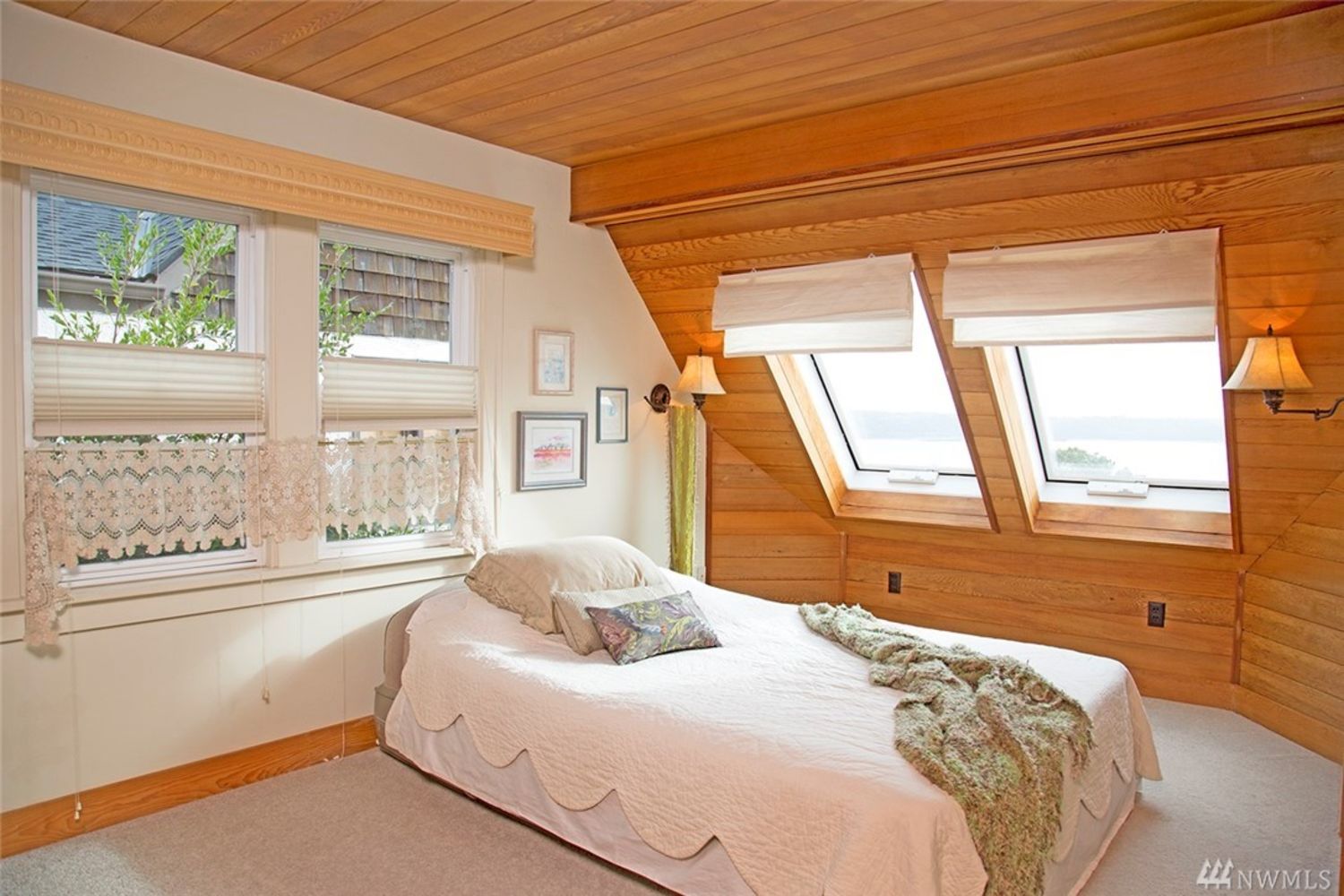 One of this home's stand-out highlights is its incredible outdoor setting. At the front of the home, mature landscaping shows off a storybook scene, and perched above it all is a deck that offers one of the best views around. Imagine relaxing on a lounge chair on a warm summer day, or having friends over for al fresco dining—either way, breathtaking views of Commencement Bay provide the perfect backdrop! In the backyard you have even more lovely outdoor space to enjoy, and here, a large deck provides a private setting.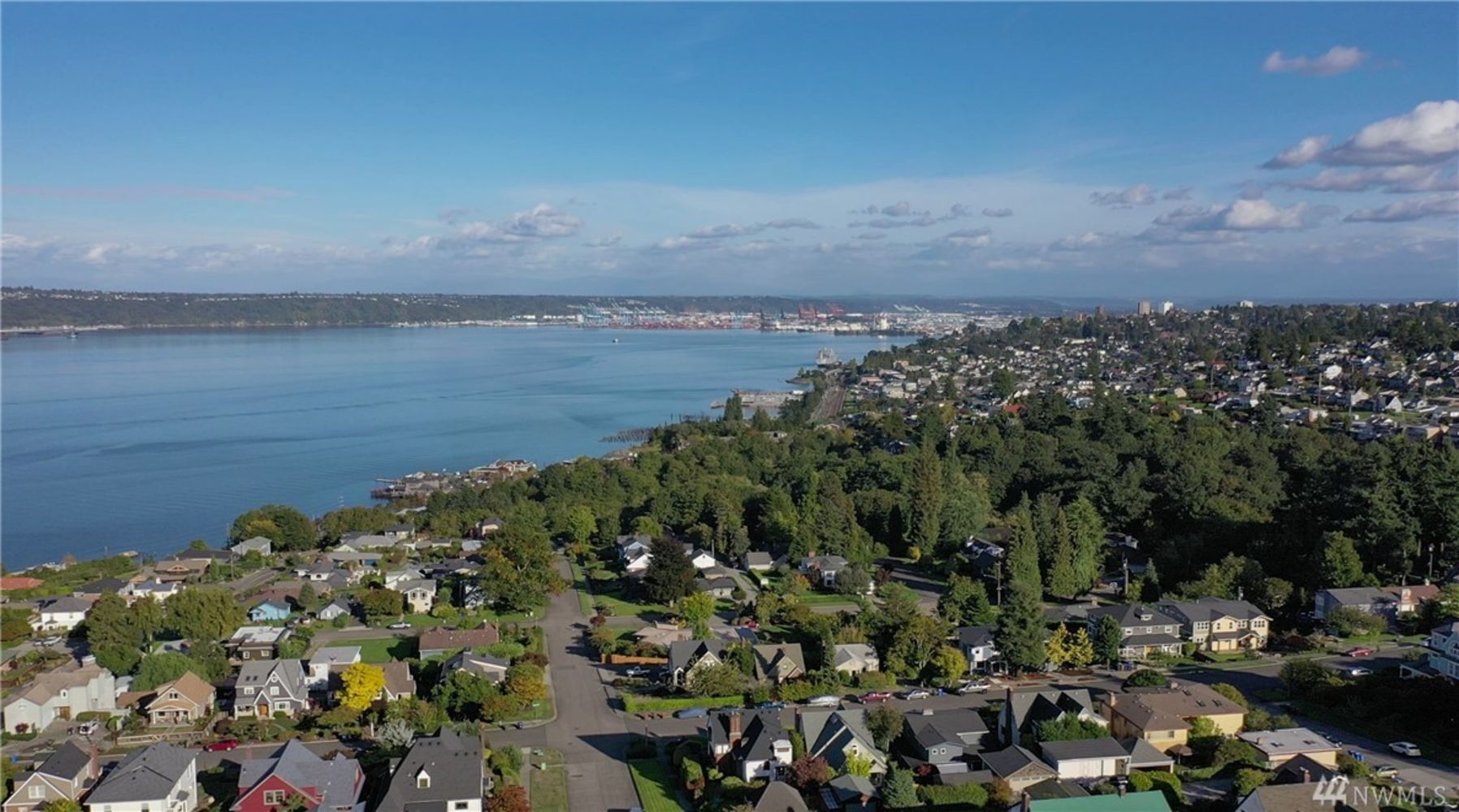 Living in North Tacoma
At 3418 N Union Ave Tacoma, WA 98407, you're in North Tacoma's popular Proctor neighborhood and surrounded by some of Tacoma's best amenities! The heart of Proctor is just blocks away, and here you'll find tons of shopping, restaurants, entertainment, and services. Pick up groceries at Metropolitan Market, Safeway, or the Proctor Farmers' Market; enjoy dining out at places like Europa Bistro, Cactus Proctor, Viva Tacoma, Knapp's, and Pomodoro Restaurant; shop at places like The Pacific Northwest Shop, Teaching Toys & Books, Compass Rose Tacoma; and head to Blue Mouse Theatre or Chalet Bowl for an evening of entertainment. You're also just half a mile to Ruston Way, and here you'll find a lovely trail that runs right along the waterfront, in addition to restaurants and parks. Additionally, Point Ruston with all of its restaurants, shopping, and fun activities is just a 5-minute drive away. 
Interested in learning more? Click here to view the full listing! You can also contact REALTOR® Joyce Shipley online here or give her a call/text at (253) 380-2808.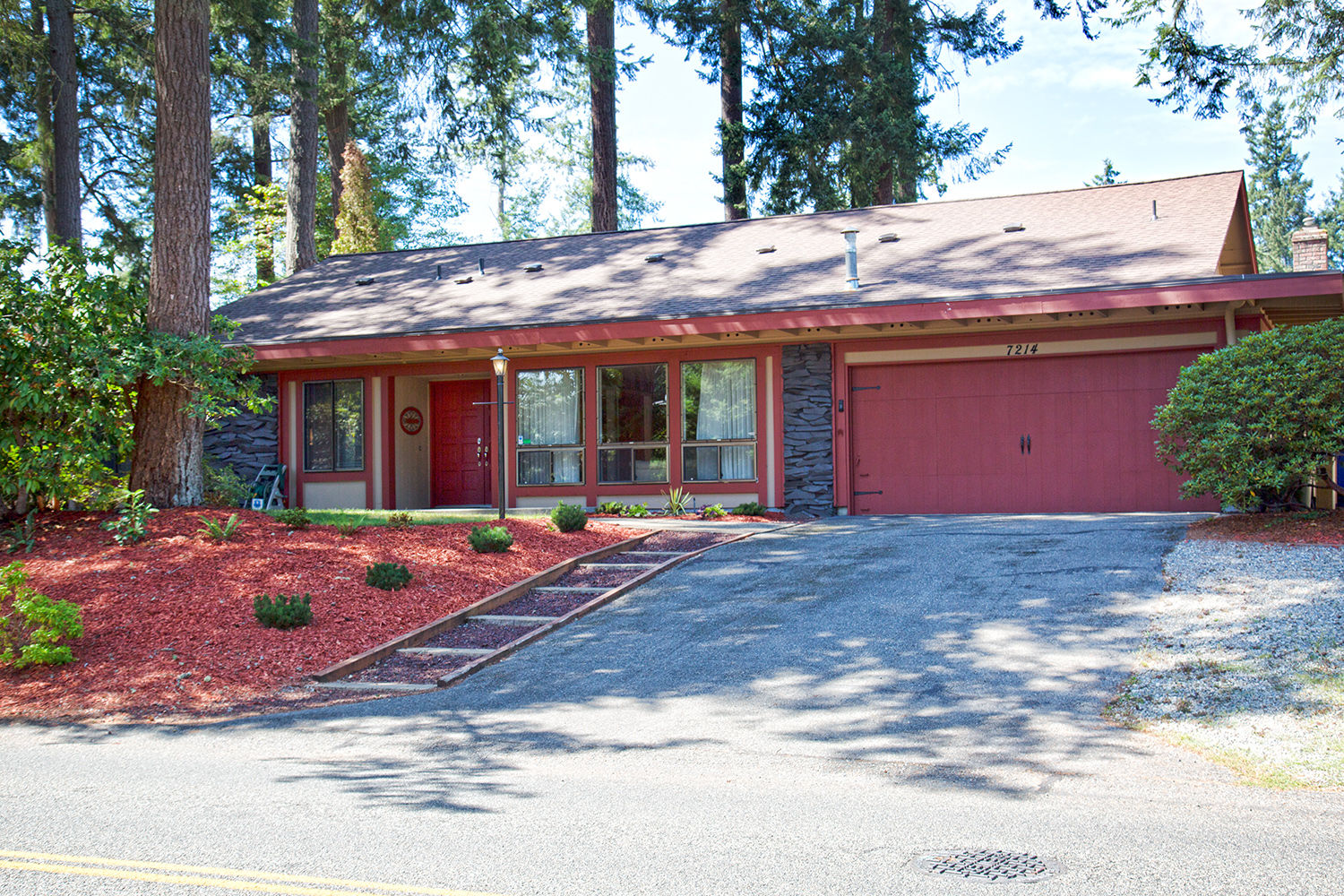 The opportunity of a lifetime awaits with this wonderfully spacious and updated 3,370-square-foot Oakbrook residence! Featuring 4 bedrooms (the master suite is on the main level), 3 baths, light-filled living spaces, and a pristine, well-appointed kitchen, this home is brimming with elegant comfort and flexibility. Plus, several smart updates ensure you don't have to worry about a thing—a newer roof and new paint inside and out are all in the mix! Located at 7214 Onyx Dr SW Lakewood, WA 98498 and nestled right along the immaculate green of the Oakbrook Golf Club, this Lakewood gem is listed for $518,000.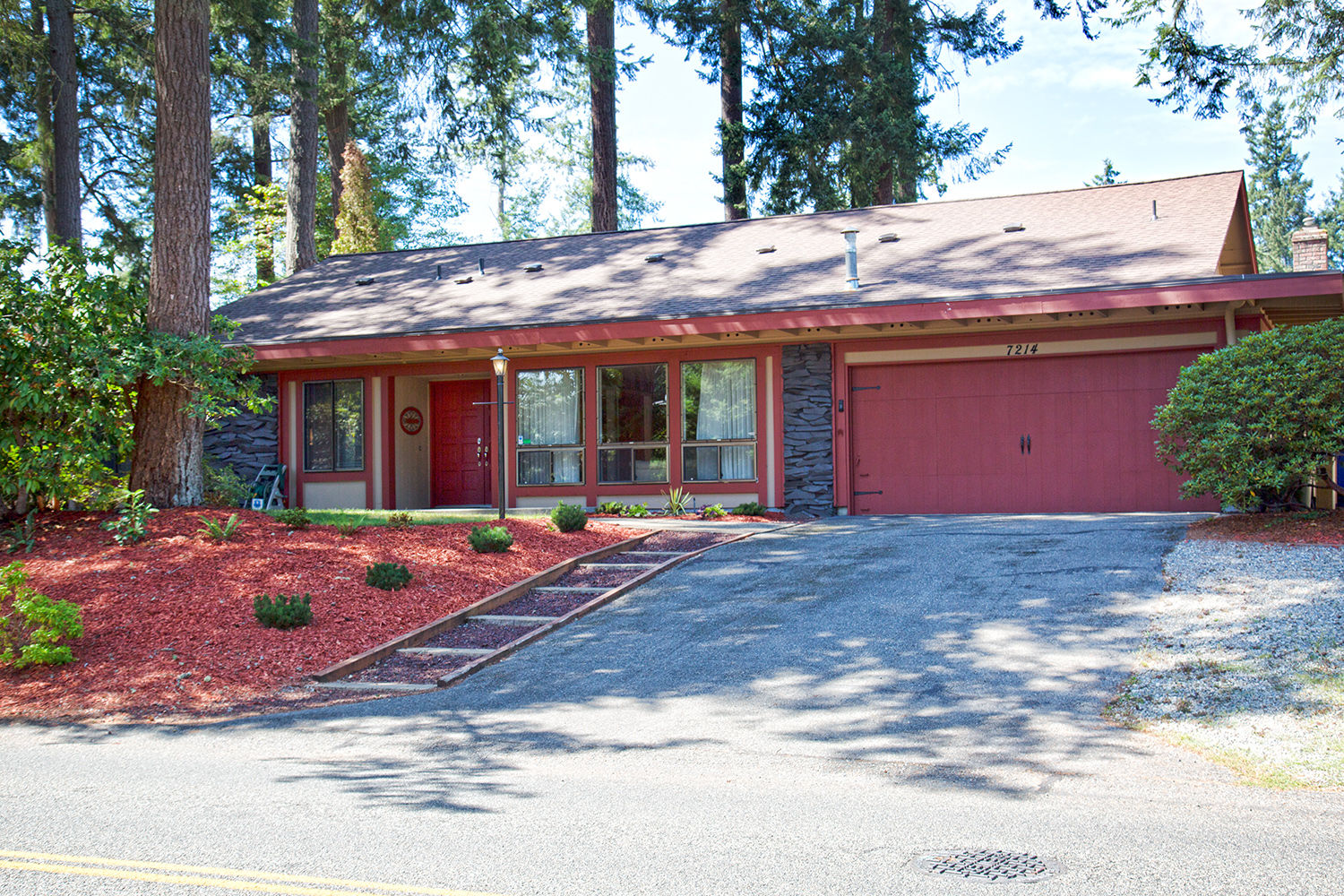 Surrounded by tall evergreens that offer shade and immaculate landscaping, this eye-catching home-sweet-home shows off top-notch curb appeal that's sure to inspire pride in ownership everytime you pull in the driveway. When you step in through the front door, the entryway invites you in, and the welcoming living room is perfect for relaxation and visiting with guests. A dining room makes it easy to host holiday gatherings and dinner party get-togethers, and both of these versatile spaces feature a calm, neutral color palette. You can easily move right in and begin infusing each beautifully maintained space with your own signature style!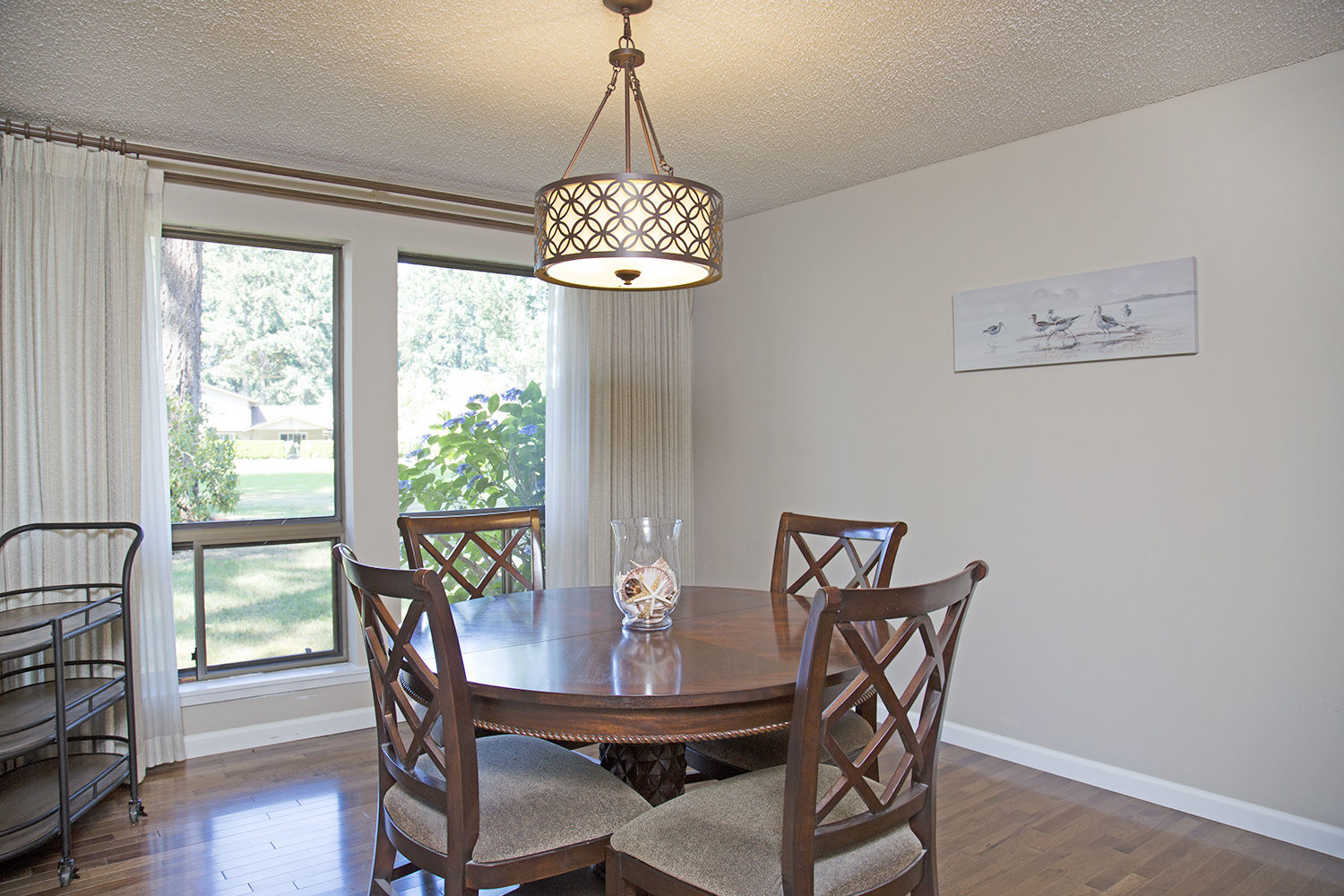 At the back of the home, you'll find easy open-concept living. Gorgeous hardwood floors and a fireplace create a warm and cozy atmosphere, and whether you're snuggled up on the couch for a laid-back evening of catching up on your favorite TV shows or you're enjoying a game night with loved ones, this living space is a joy to spend time in. The layout flows right into the kitchen, a haven of fashion-forward style and top-notch efficiency. Boasting details like shimmering granite counters, stainless steel appliances, generous cabinetry, and abundant natural light, the kitchen is a definite highlight of the home! The center island not only offers more storage and counter space, but it also provides bar-style seating and a fun, laid-back spot for guests to gather around and visit with each other.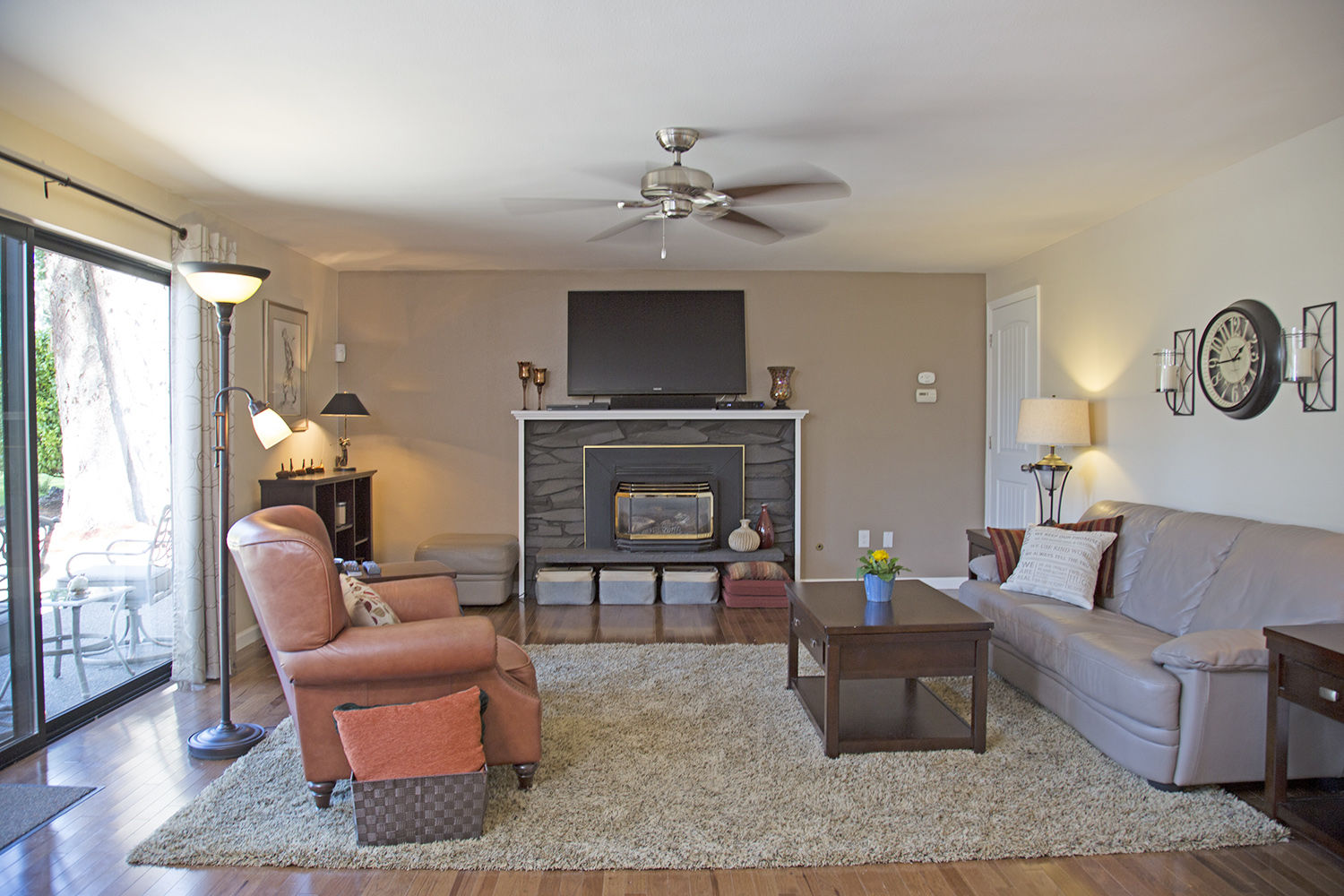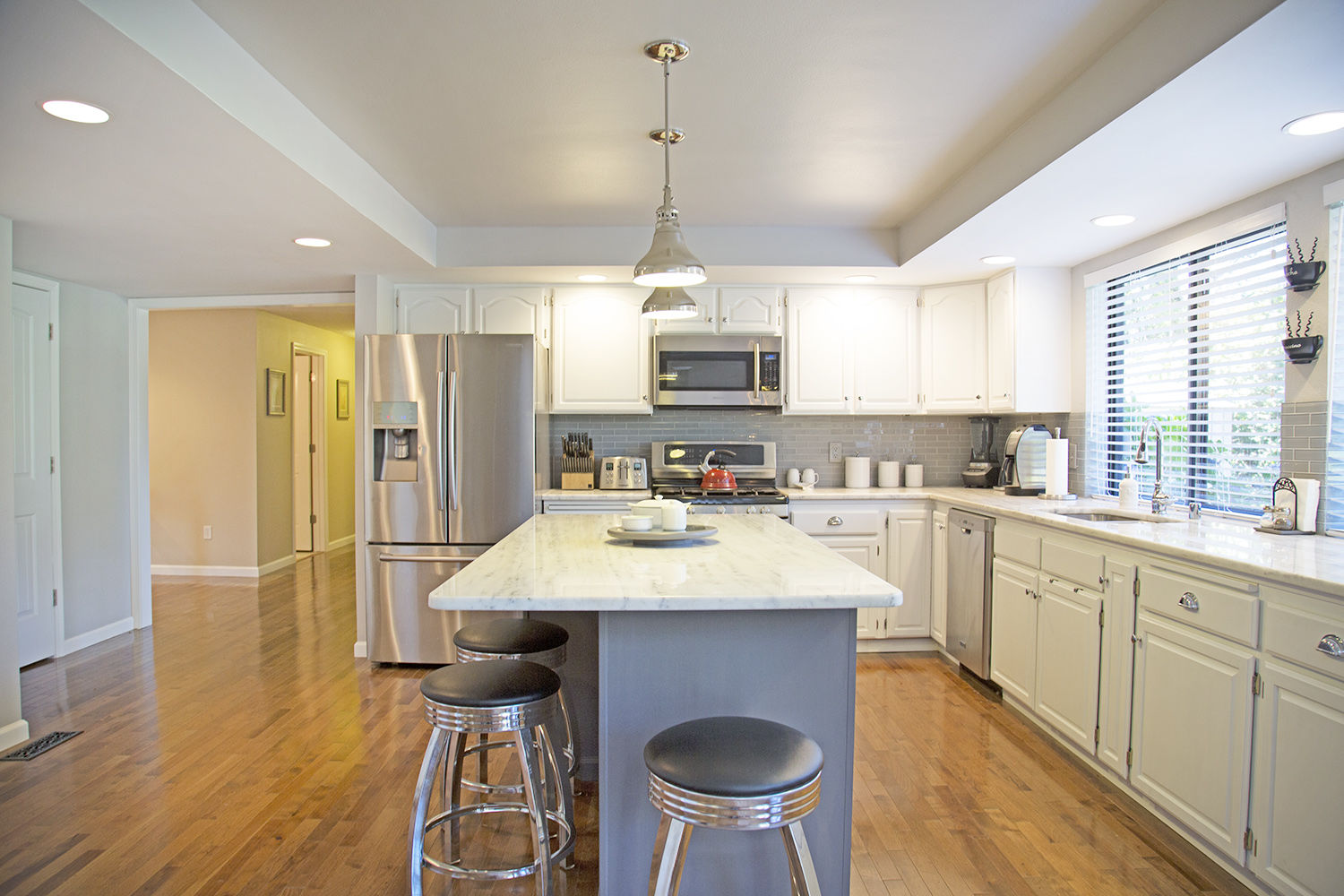 The main level features 3 bedrooms, which conveniently includes the master suite. In addition to the large bedroom layout, an ensuite bath with spa-inspired finishes is all yours as well! Journey upstairs to find another bedroom, a bath, and a large bonus room, giving you flexibility in use and the potential for a guest suite.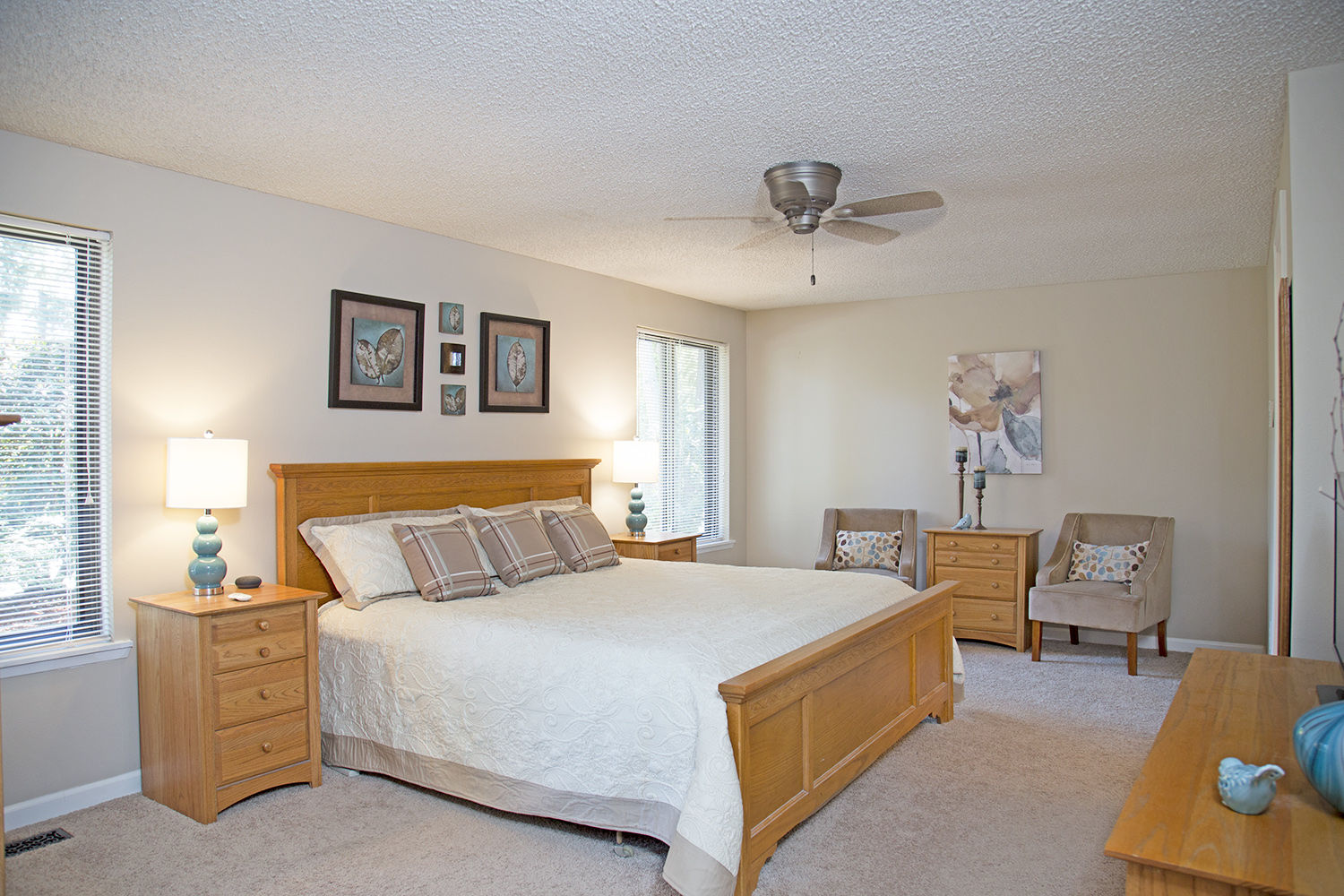 In the park-like backyard, picturesque outdoor bliss awaits! A huge patio is an entertainer's dream, and you have more than enough room for comfy outdoor dining sets, lounge chairs, a barbecue, and whatever else you might dream up. Lush green grass meets mature trees and greenery, giving you a rejuvenating view whenever you want to spend time out in the fresh air. And of course, a round of golf is always waiting to be enjoyed—golf enthusiasts are truly in for a treat!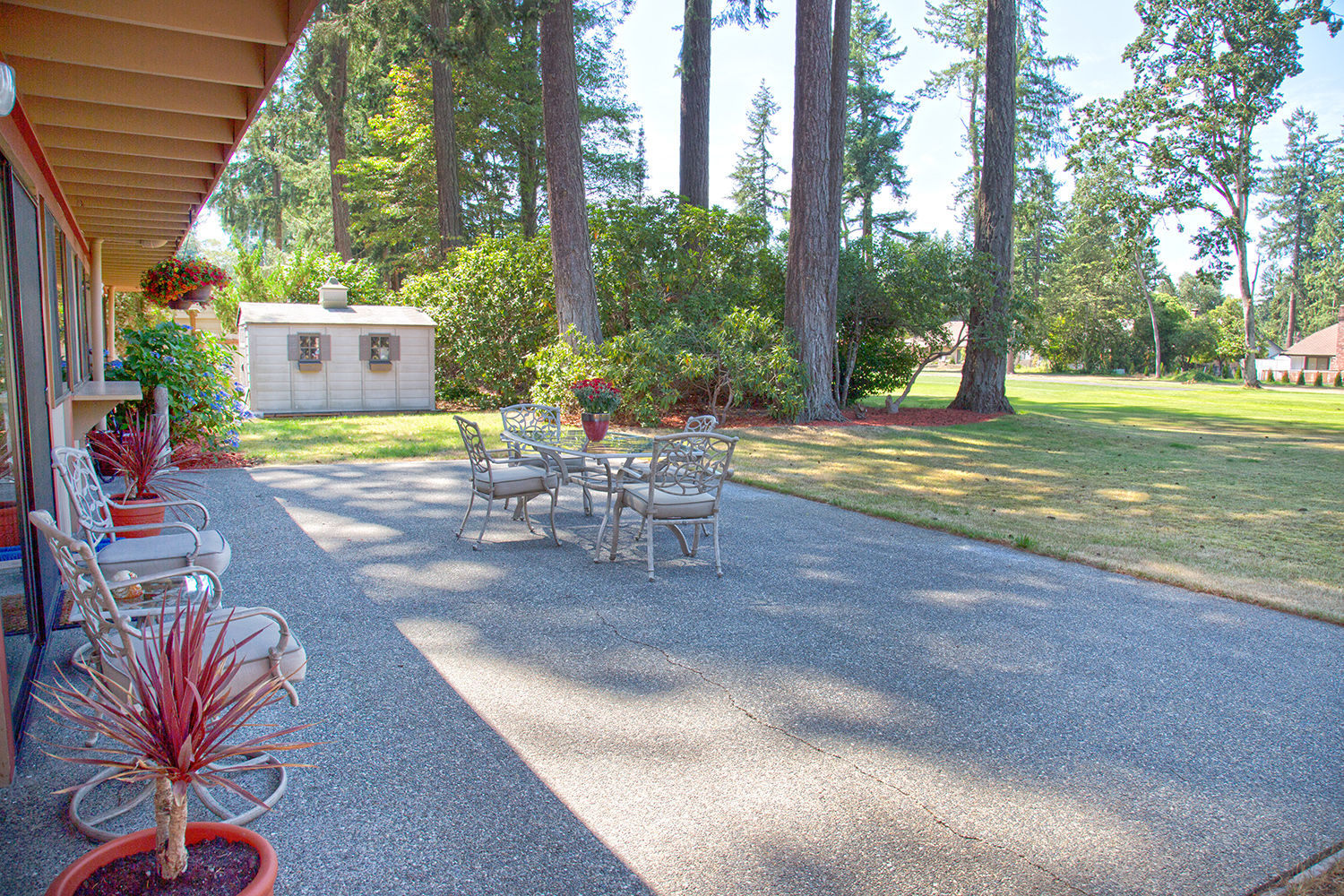 Living on the Golf Course at Oakbrook in Lakewood 
At 7214 Onyx Dr SW Lakewood, WA 98498, you're in Lakewood's Oakbrook community and right on the Oakbrook Golf Course. You're also surrounded by Lakewood's many outdoor opportunities—places like Steilacoom Lake, Gravelly Lake, American Lake, Chambers Bay Park, Fort Steilacoom Park, and more are ~12 minutes or less from home! When you need to run errands, you're only 6 minutes from Lakewood Towne Center, and here you'll find places like AMC theaters, Target, Safeway, Bed Bath & Beyond, Michaels, PetSmart, Office Depot, 24 Hour Fitness, and several other shops, services, and eateries. You're also only a 7-minute drive to Walmart Supercenter along Bridgeport Way, and you only have to drive a few more minutes north up Bridgeport Way to access places like Whole Foods, Trader Joes, and more! 
Interested in learning more? Click here to view the full listing! You can also contact REALTOR® Joyce Shipley online here or give her a call/text at (253) 380-2808.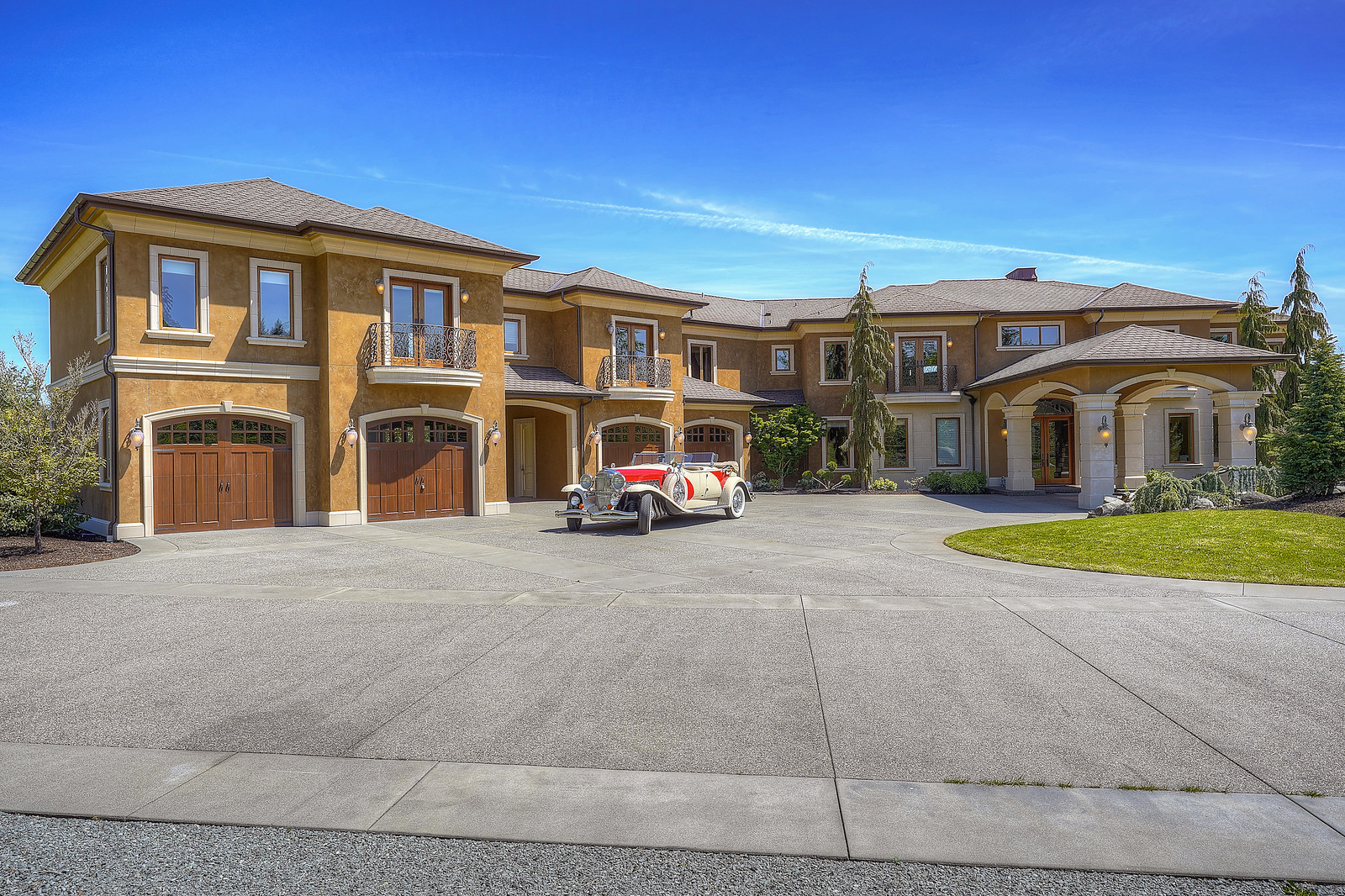 Ultimate Pacific Northwest luxury awaits with this extraordinary 20-acre estate. Nestled on a scenic, secluded property and showcasing prime views of majestic Mt. Rainier, this one-of-a-kind estate features a 10,870-square-foot home. Brimming with high-end amenities and expertly curated details throughout, this 5-bedroom, 8-bath beauty is truly a sight to behold. Plus, SeaTac International Airport is only one hour away.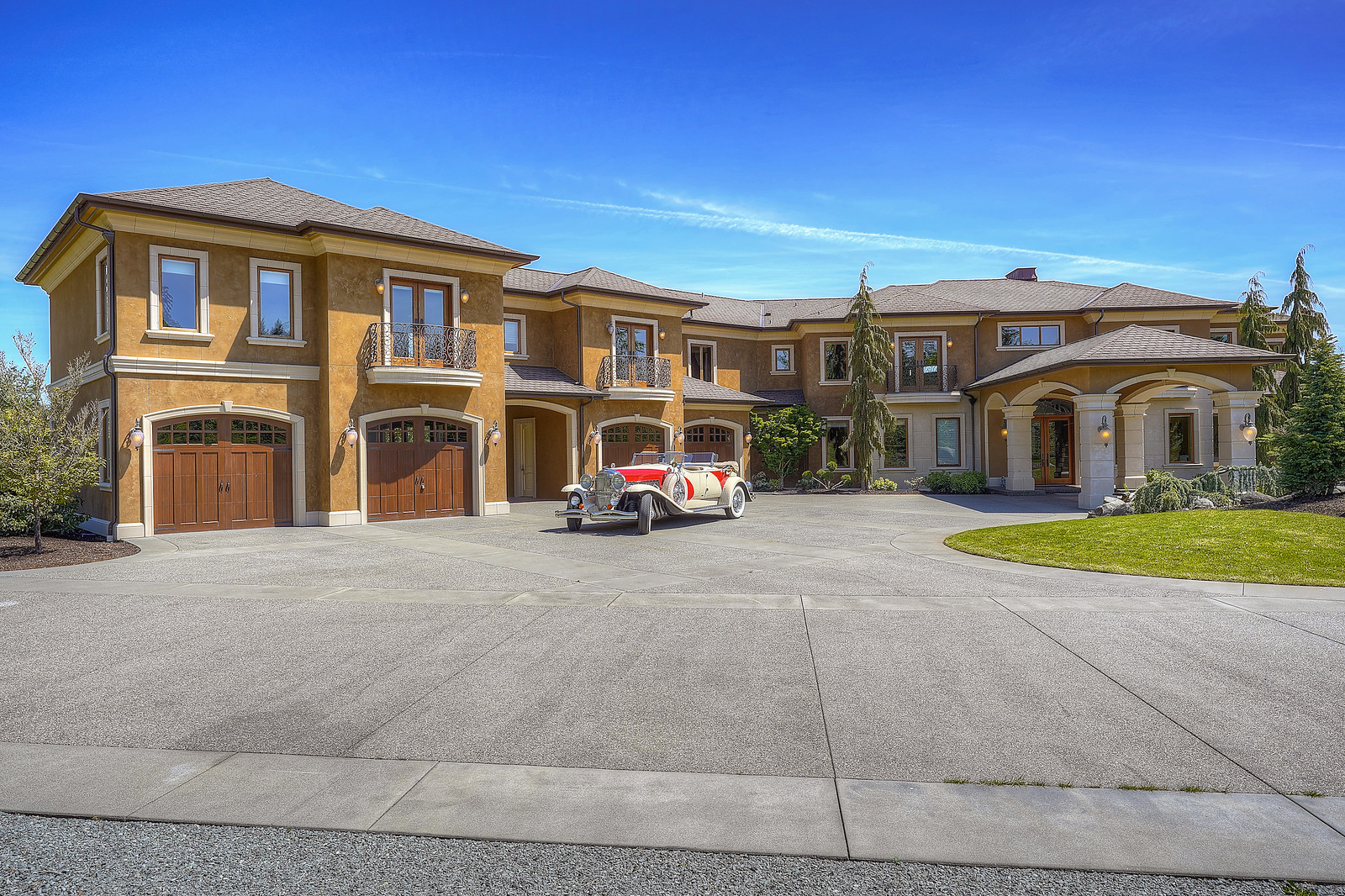 An opportunity like this only comes around once in a lifetime, and there's room for you to make it your own. You might choose to install a pool oasis, a helipad for your convenience, sport courts, equestrian facilities, an archery range—it's all within the realm of possibility.
As for what you'll find with this property's current offerings, here are 8 of the top reasons why you'll want to see this treasure in person!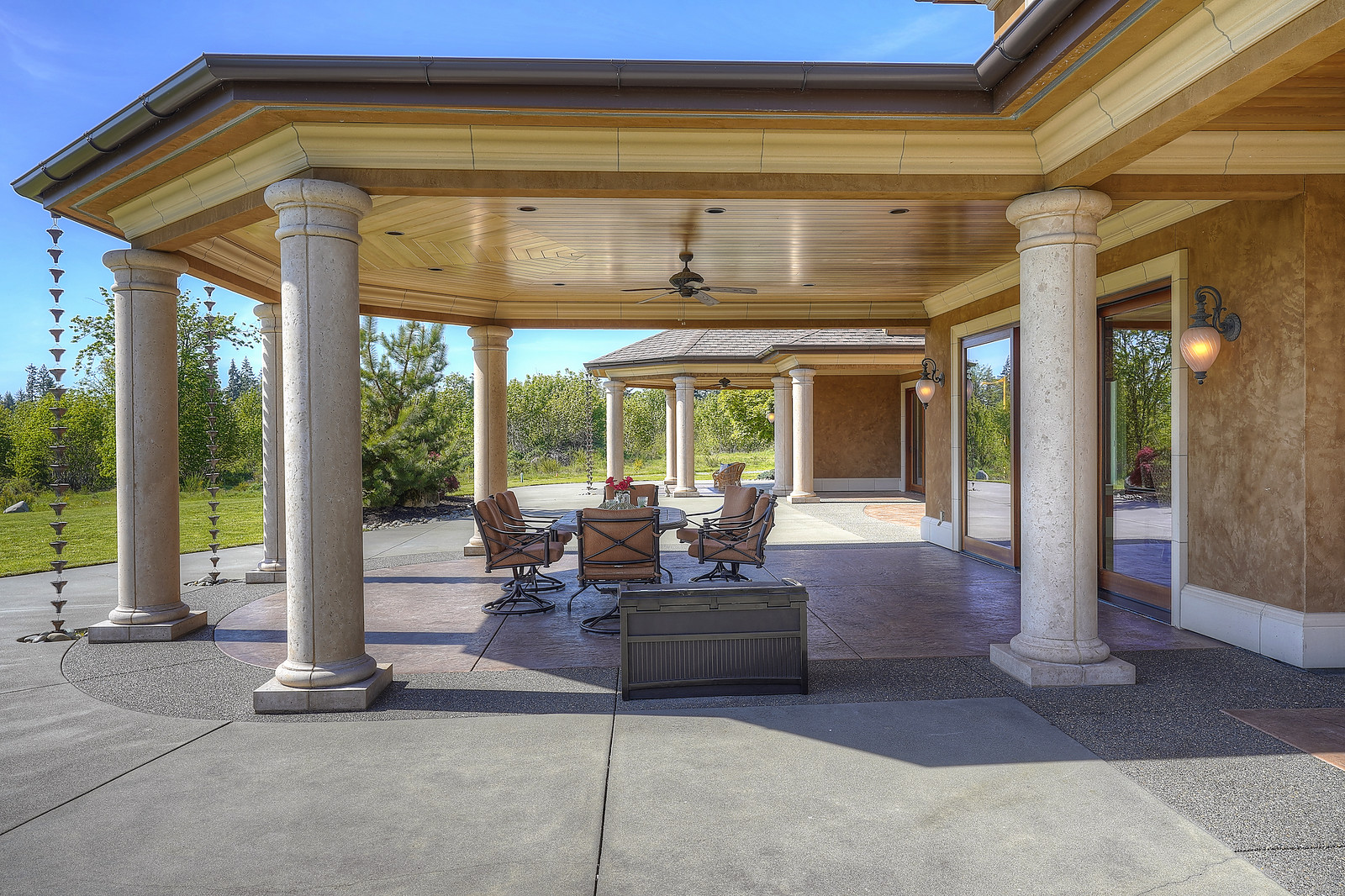 Discover an idyllic outdoor setting that includes stunning views of Mt. Rainier.
Surrounded by picturesque greenery, this 20-acre estate is encapsulated in Northwest beauty. Spend time in the rejuvenating solitude of nature, or entertain guests under the three verandas.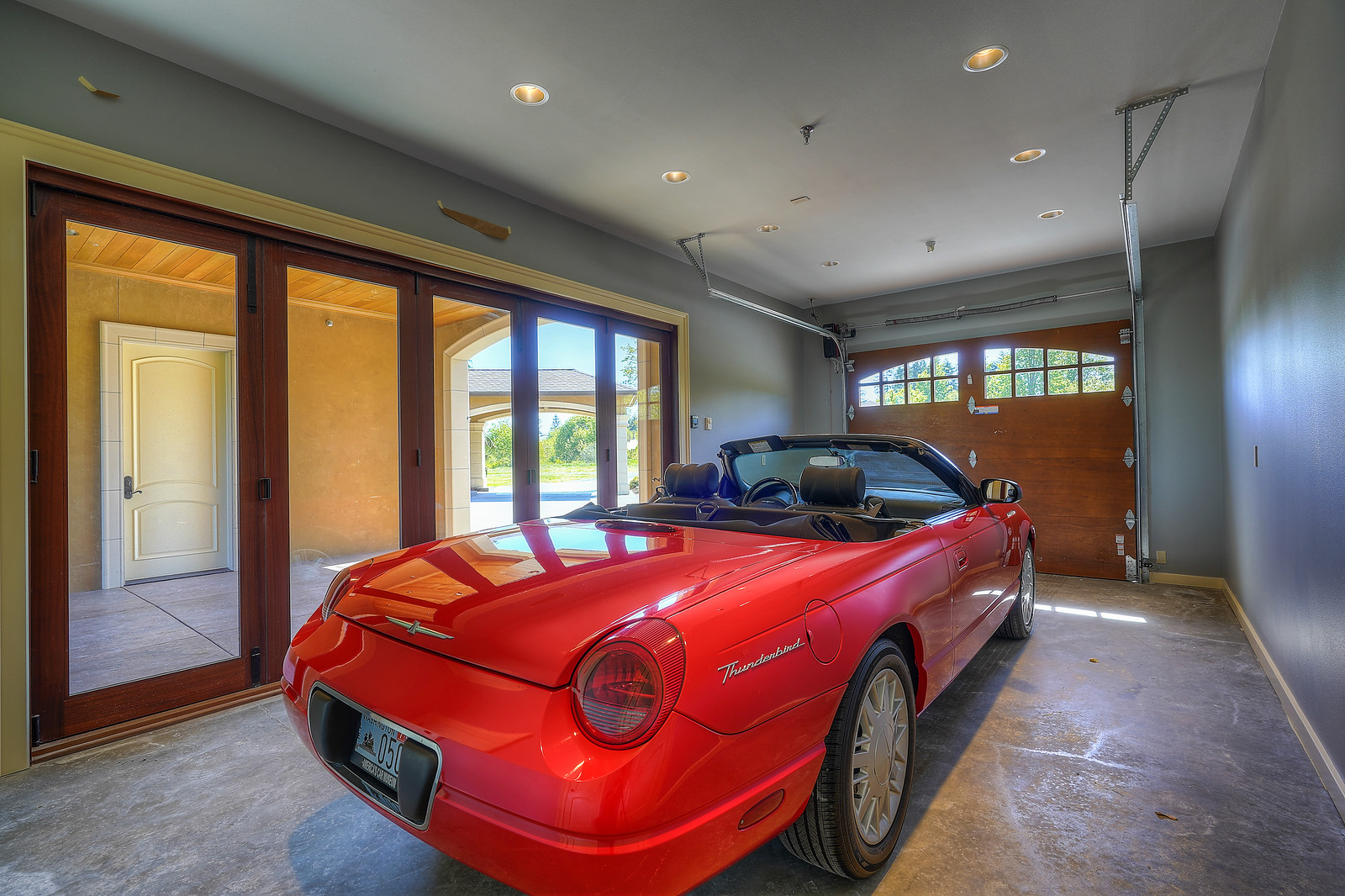 A car enthusiast's dream awaits… with garages for 8 cars and RV space.
The heated showroom garage is ready to showcase your favorite antique car, and could also be used as a music studio or for catering a grand party. You'll find a total of 8 garage parking spaces plus Motor Coach parking, providing you with the space you need to keep all of your treasures safe and out of the weather.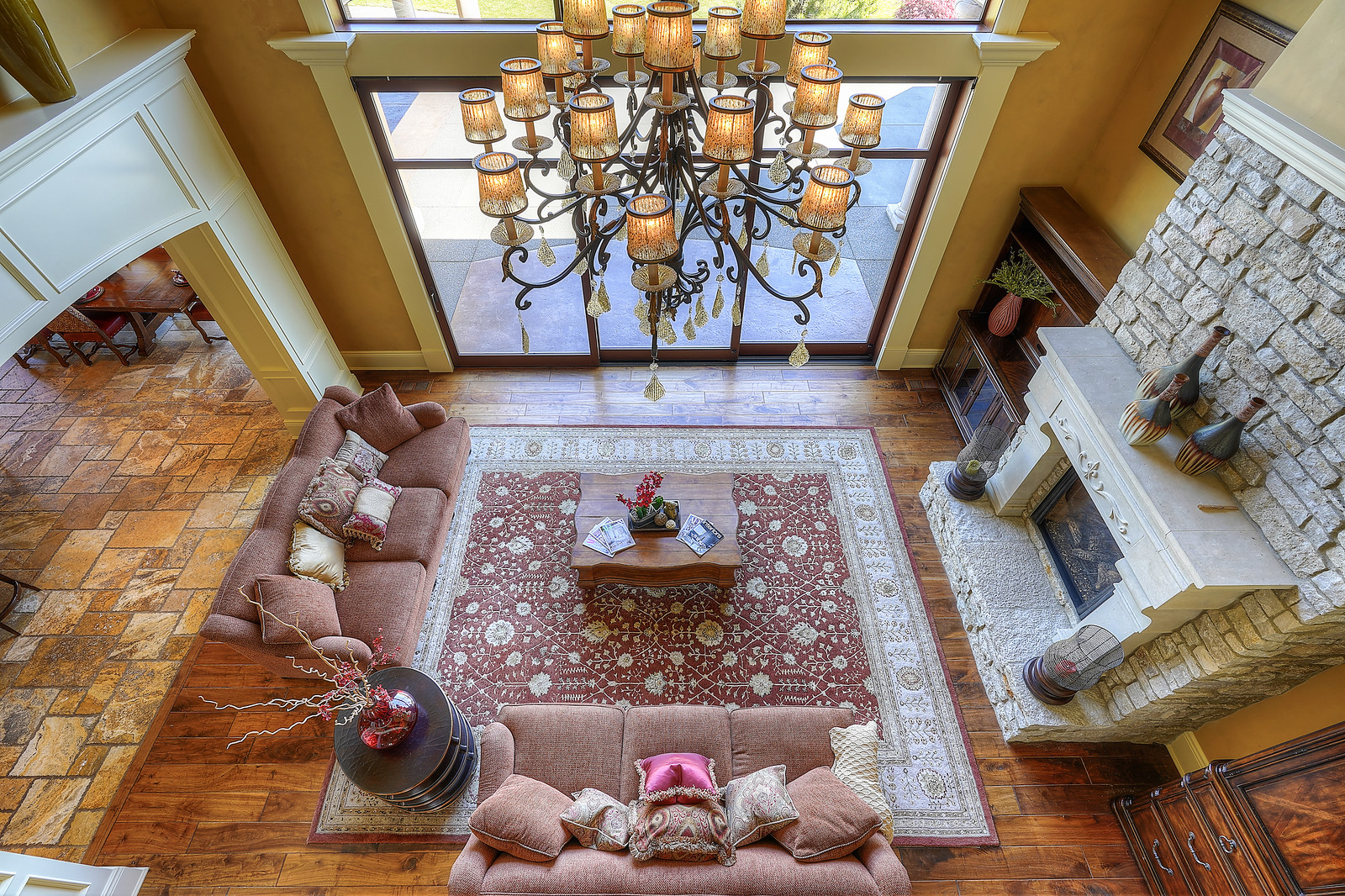 High-quality, artisanal details await at every turn.
This residence is simply unlike any other. Great care and attention to detail was given to each element you'll find in this home where only the finest of finishes can be found. Features like hand hewn walnut floors, imported blown glass doorknobs, stacked stone walls and fireplace, Turkish travertine floors, and more can be found throughout.
You'll also find amenities that make life so much easier—an elevator offers accessibility, the simple push of a button turns on the lights throughout the entire home at once, and twin chandeliers with blown glass can be raised and lowered for ease of maintenance. The entire home has over 16 miles of smart wire, and you'll find an elaborate home audio/lighting/security system, designed and installed by Definitive Audio.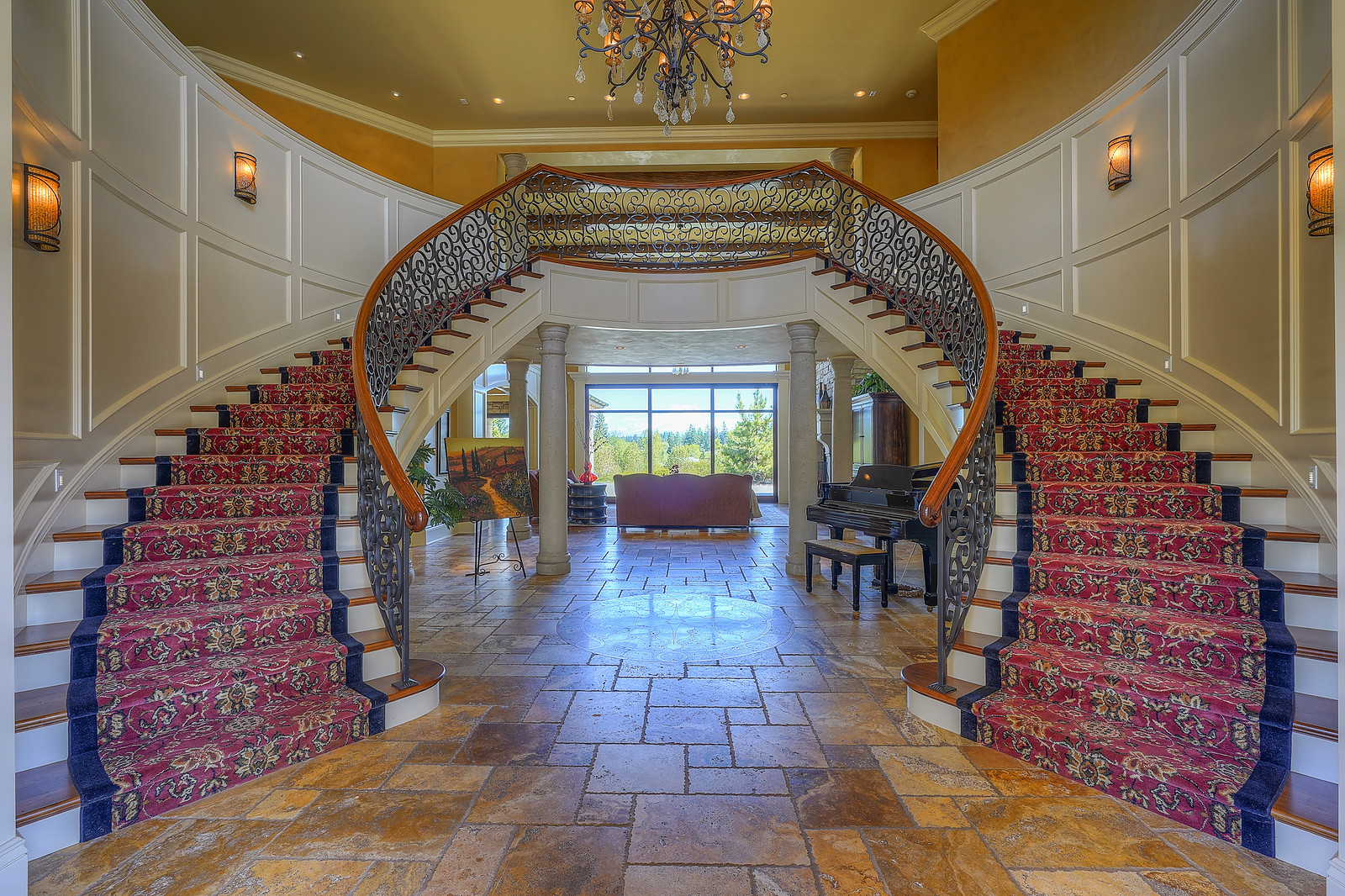 Designed with entertaining in mind, this home is ready to host a crowd in style!
As soon as guests arrive, this home's grand entryway impresses with twin mahogany staircases featuring curved wrought iron railing. Huge windows that stretch toward soaring ceilings beckon from the living room, and sunlight cascades in while framing breathtaking views of Mt. Rainier. Whether you're having an intimate gathering or hosting the party of the year where everyone you know is invited, guests are sure to feel swept away with this home's exquisite elegance!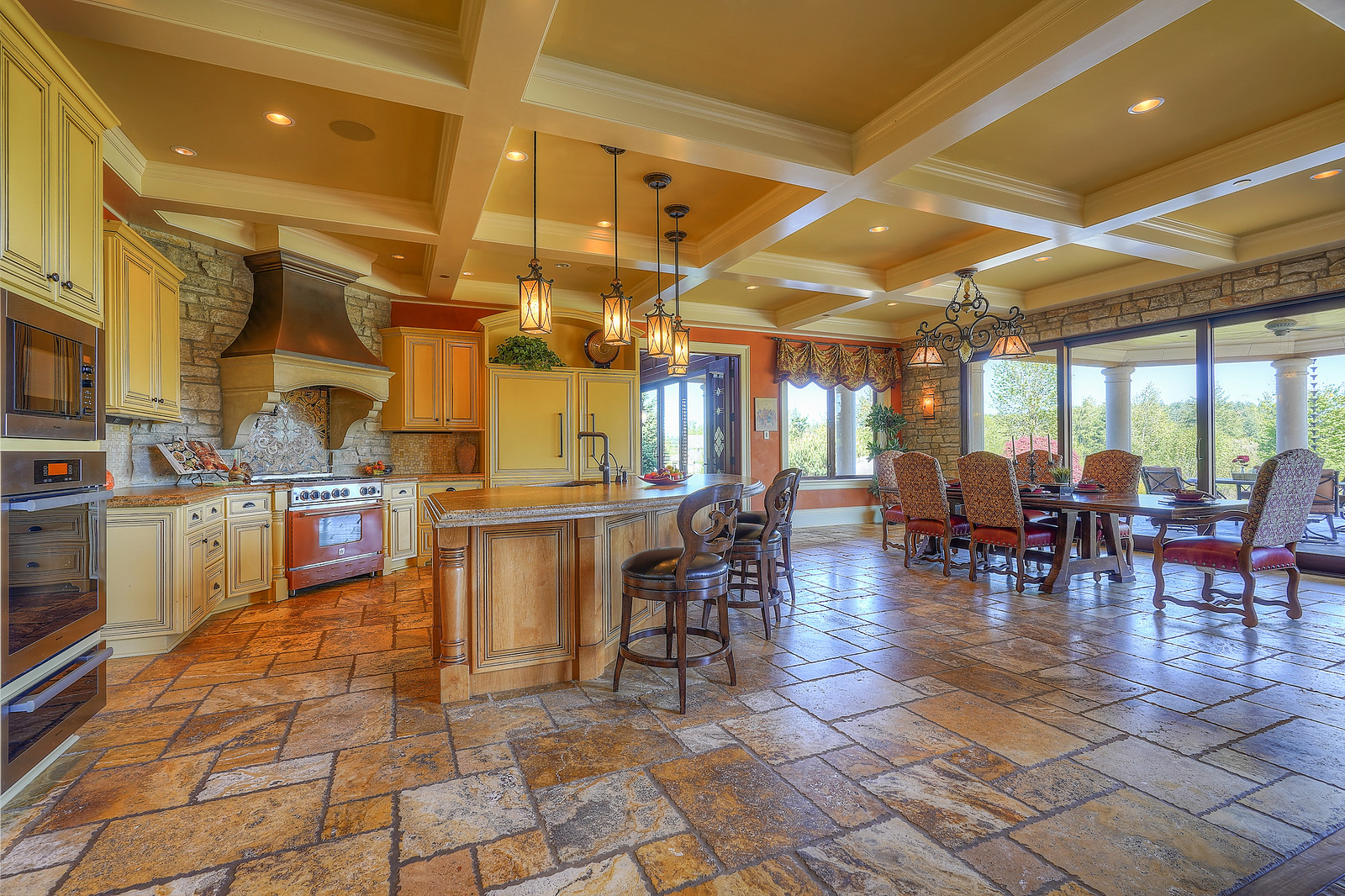 The chef-ready kitchen is an entertainer's dream!
Unleash your culinary skills in the epic chef's kitchen where the very best in function meets fashion. Whipping up elaborate meals is a breeze thanks to high-end appliances and a smart design, and multiple seating areas for entertaining ensures that everyone is comfortable.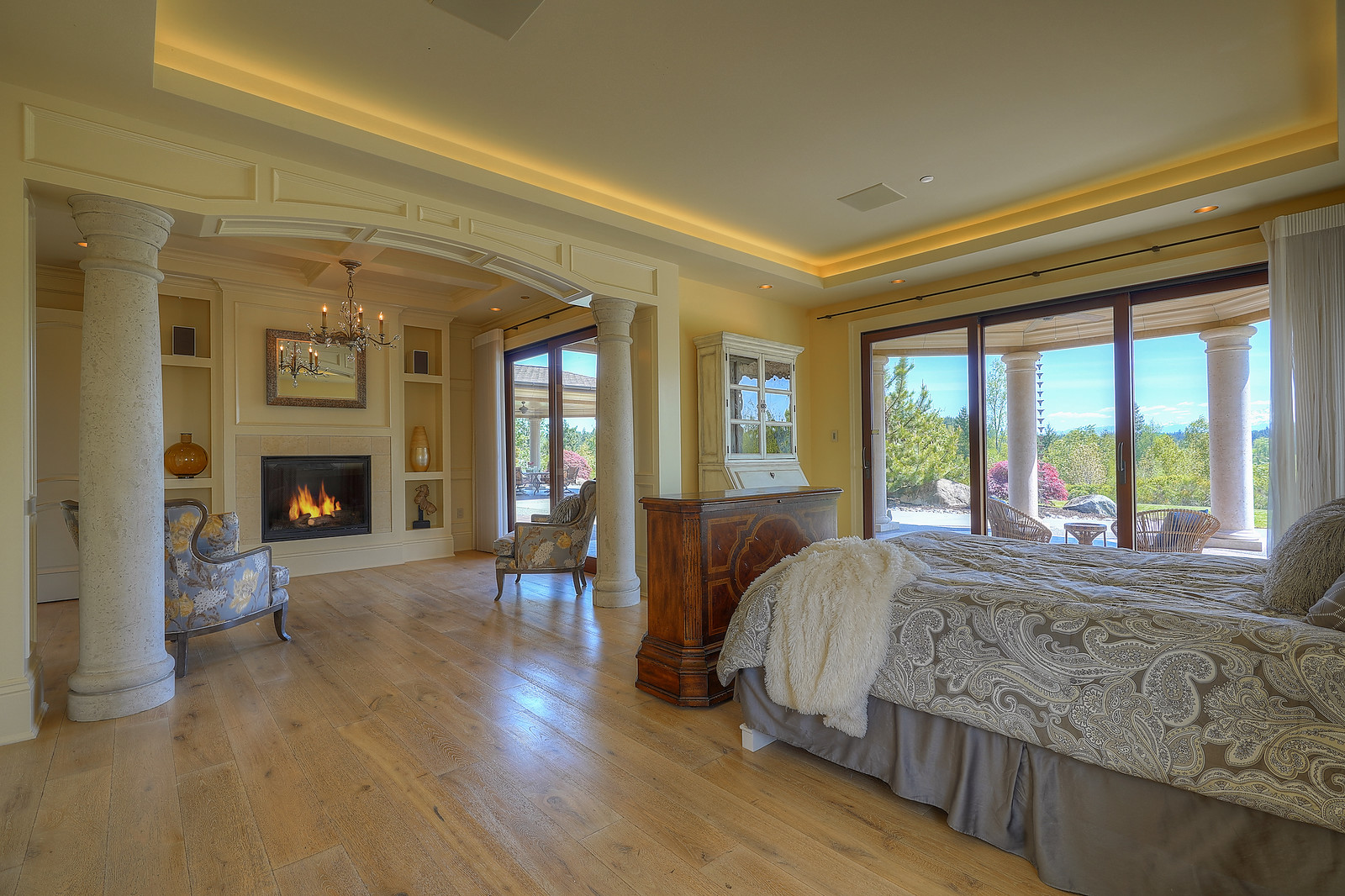 Resort-worthy amenities are all yours in the sumptuous master suite.
On the main level, the master bedroom offers a gorgeous getaway complete with a fireplace, a 6-piece master bath, and a walk-in closet that is the stuff of dreams! Take in views of Mt. Rainier right from the comfort of bed, indulge in relaxing wellness routines in the spa-like bath, and keep clothing for each season perfectly organized in the expansive walk-in closet.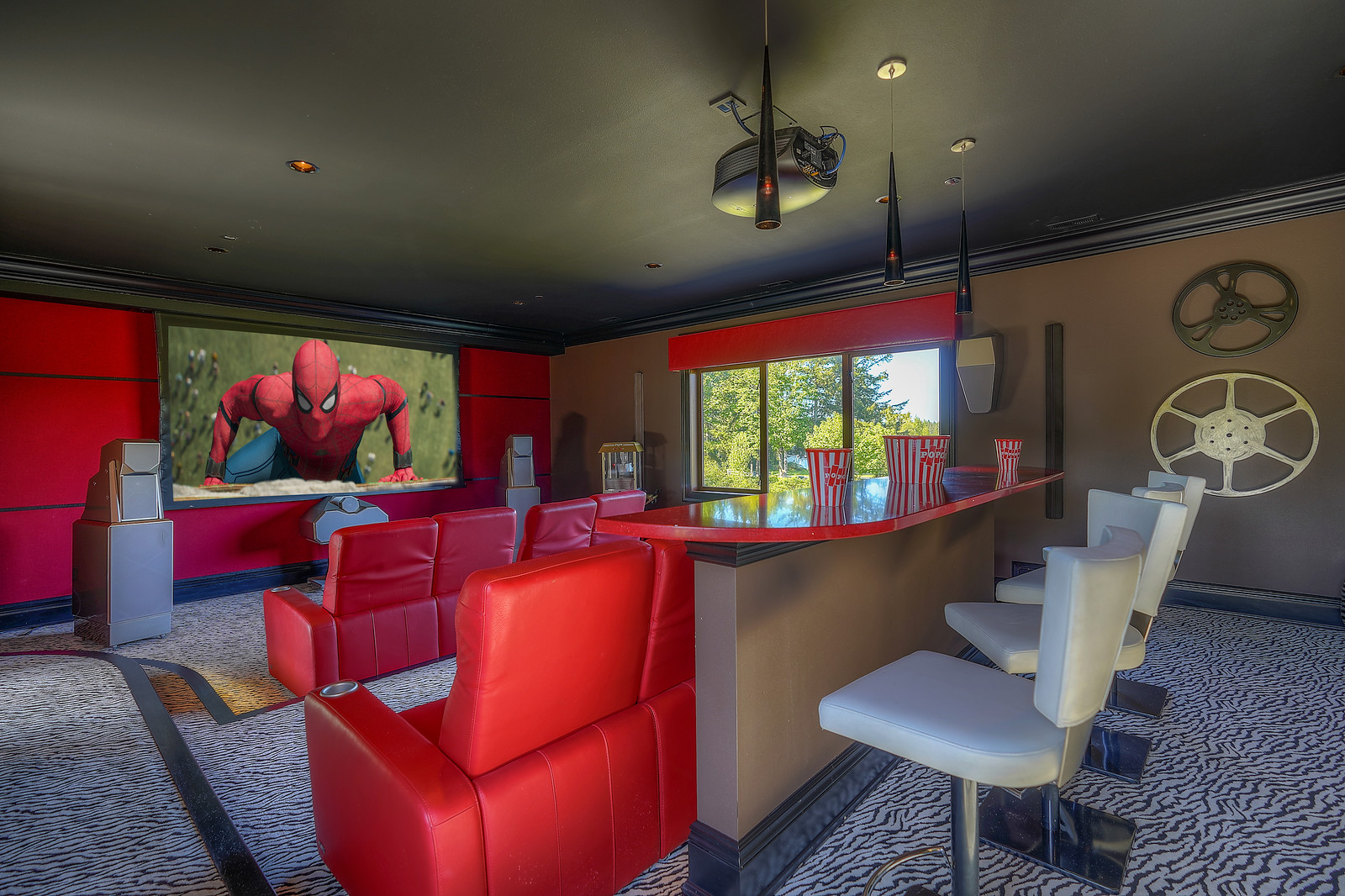 Find the ultimate hangout in the theatre room and kitchenette.
Movie marathons will never be the same after you've kicked back in your private theater room! Grab some popcorn and enjoy a movie on the 10' projector screen or flat screen, relax in Cinema Tech recliner chairs, and drop the blackout blinds to complete the experience. Wilson, Mezzo & McIntosh equipment are sure to impress and complete this epic home theater. A kitchenette makes the experience all the more enjoyable—refills and snacks are easily within reach!
Attached guest quarters with 1 bedroom, den, and full kitchen suitable for caretaker or nanny.
Whether you have a full-time nanny or a caretaker to help you manage the grounds, this estate even includes guest quarters ideal for providing employees with their own private space.
***
This residence is listed for $1,950,000.
Interested in learning more? Click here to view the full listing! You can contact REALTOR® Joyce Shipley online here or give her a call/text at (253) 380-2808. You can also contact REALTOR® Linda Solheim online here or give her a call/text at (253) 279-7665.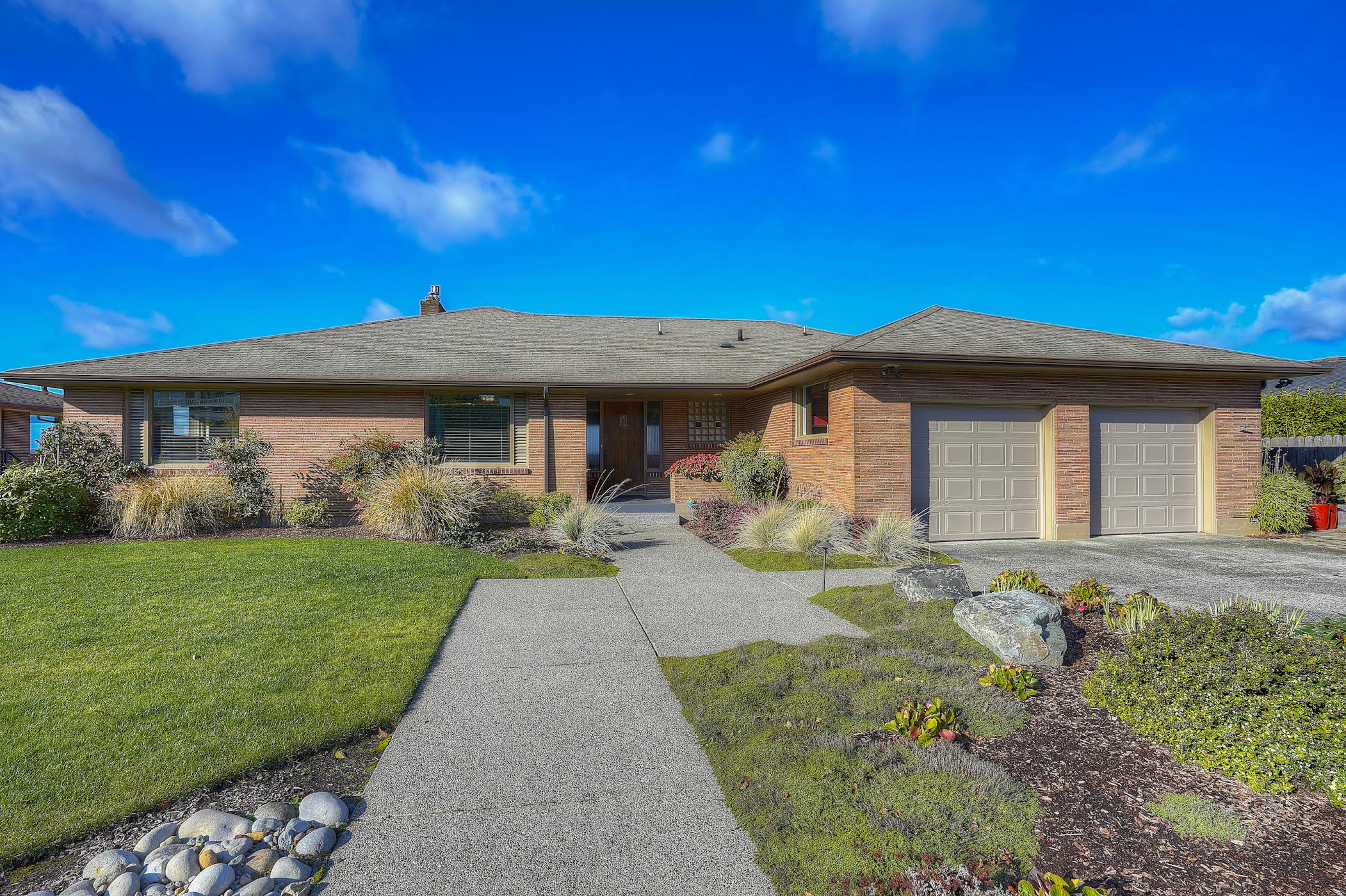 Natural beauty, city convenience, and fabulous mid-century modern style are all wrapped up into one incredible package with this 3,288-square-foot home! Boasting big views of the Puget Sound and the Olympic Mountains, this sprawling 1953-built masterpiece on 0.34 acres presents a rare opportunity. In addition to the 4 bedrooms and 2.5 baths, you also have expansive living spaces that include a sprawling downstairs living area that's perfect for entertaining! Located at 1730 S Fairview Dr Tacoma, WA 98465 and close to Titlow Park and the waterfront, shopping, restaurants, Highway 16 and more, this treasure is listed for $750,000.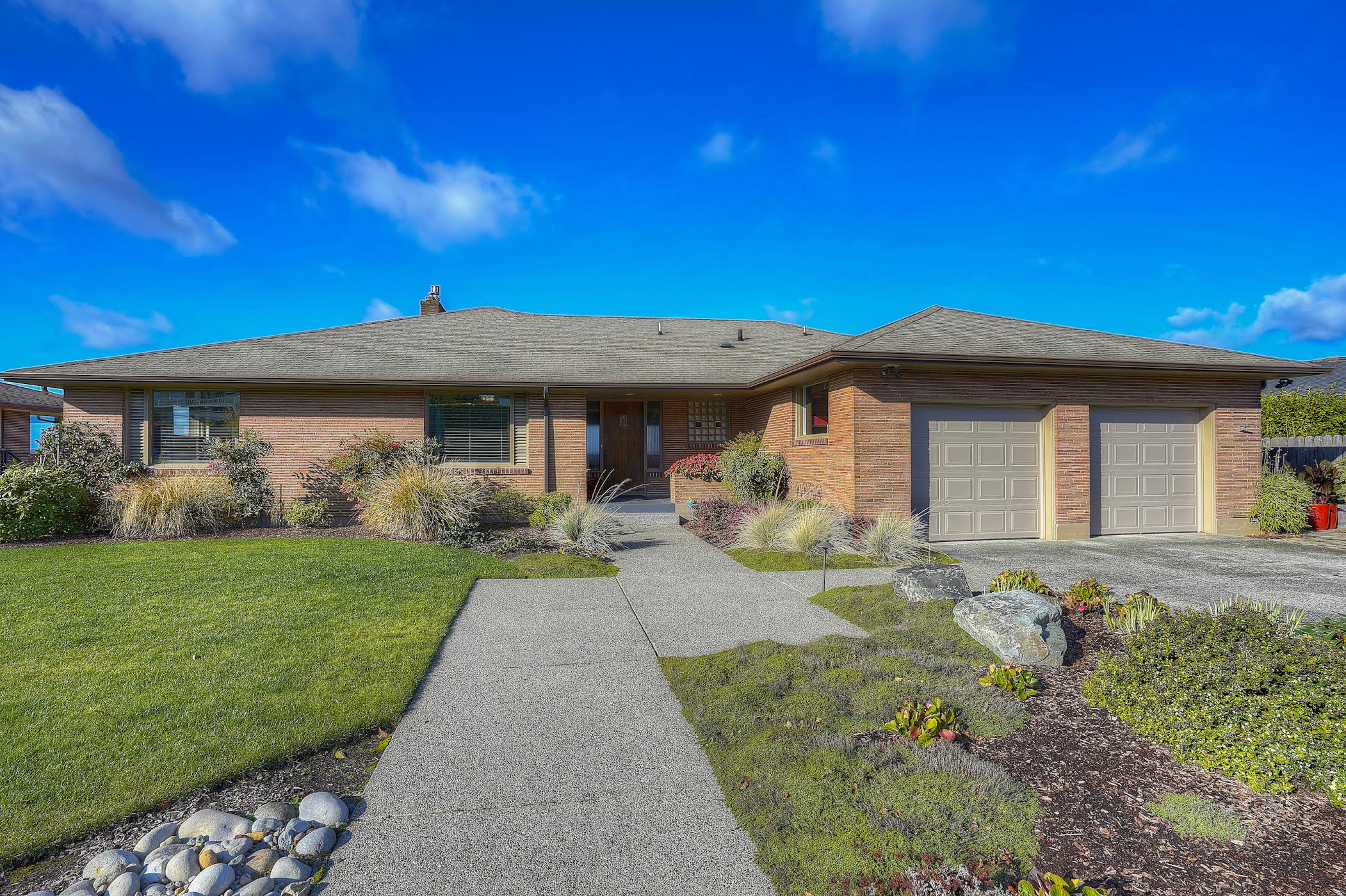 When you arrive home, eye-catching curb appeal offers a preview of the impeccable style that awaits inside. A charming pathway leads you by pristine, artistic landscaping to the front door, and as soon as you step inside, this home's light-filled layout beckons! Gorgeous oak hardwoods invite you into the main living area, and huge windows frame breathtaking views of the Puget Sound and Olympics. A stone-accented fireplace adds a splash of cozy style to the scene, and whether you're hosting guests for pre-dinner cocktails or simply snuggled up on the couch reading a book in peace and quiet, this warm and welcoming space is a delight to spend time in!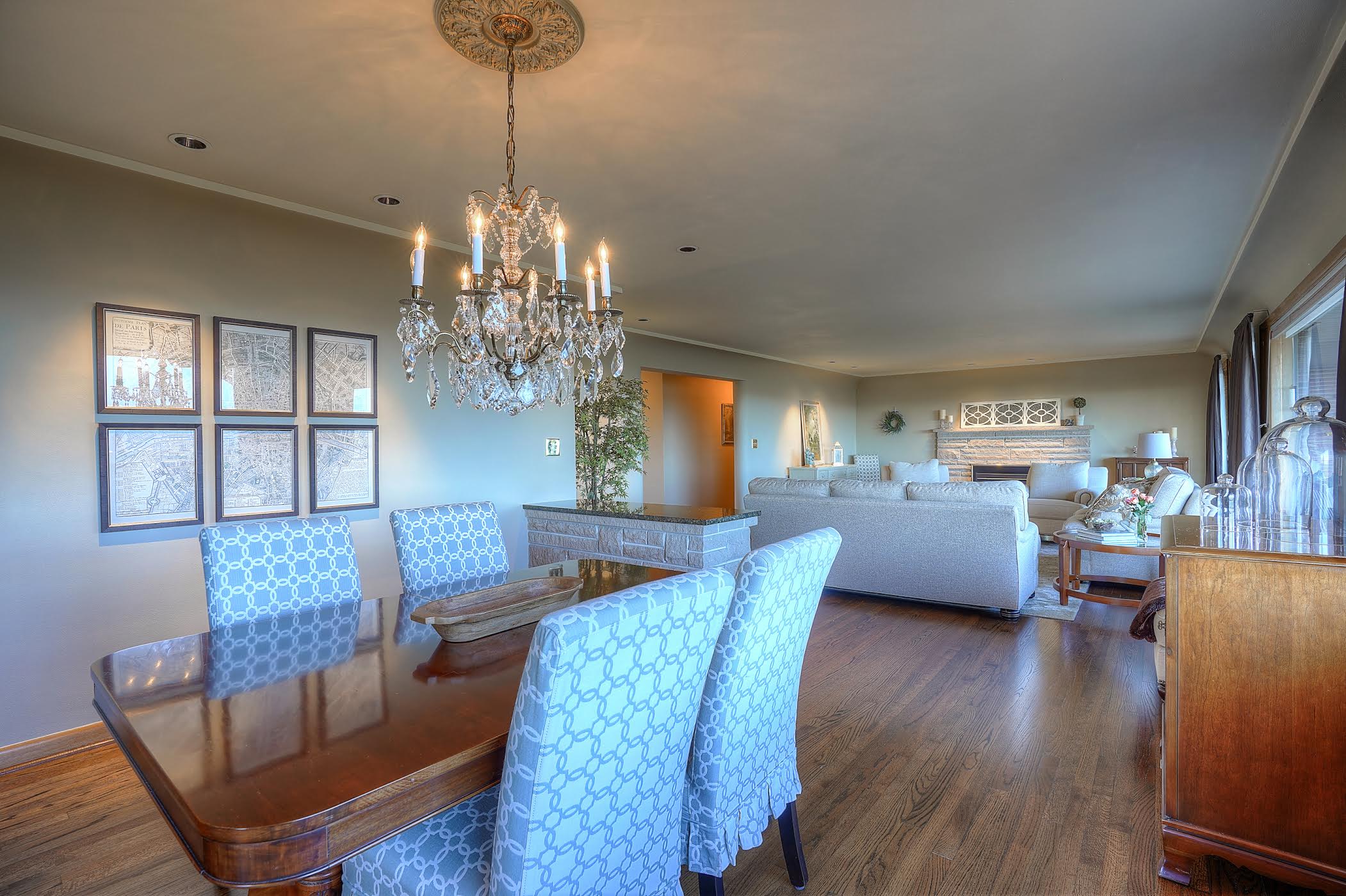 The layout flows right into the dining room, where the jaw-dropping views and rich vintage style just continue. The generous layout makes it easy to serve meals to a crowd, and the space can easily accommodate a full-sized dining table if you need it. Imagine hosting festive holiday get-togethers or special occasions—years and years of good memories are sure to be made right here! The kitchen and dining nook await right around the corner, and this haven of efficiency is a dream for those who love to whip up homemade feasts. Newly updated with quartz counters, this well-appointed space boasts chef-ready amenities in addition to chic style straight from the pages of a home decor magazine.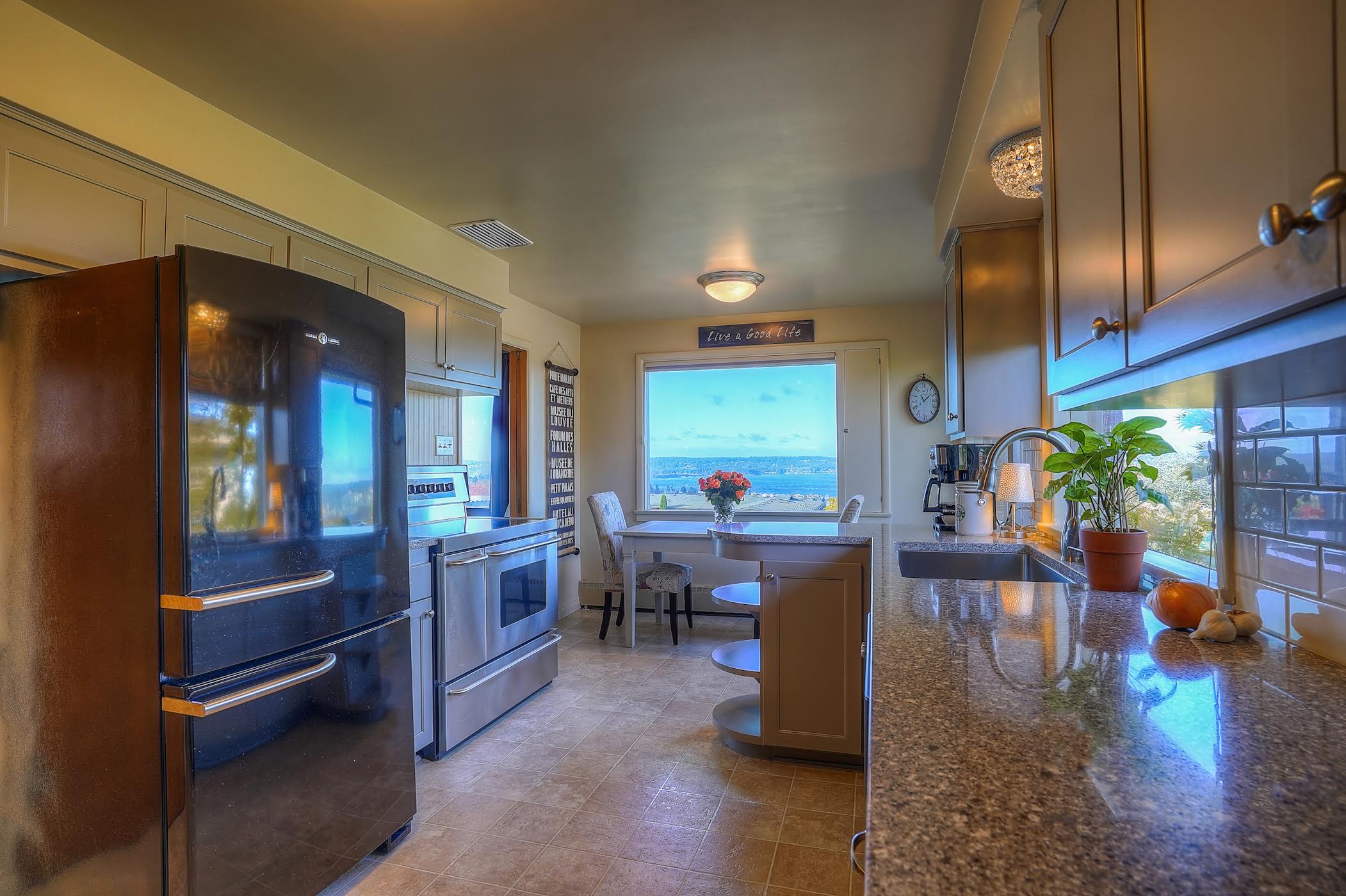 Even more dynamic space for entertaining awaits downstairs. Perfect for hosting game days, movie marathons, parties, and laid-back hangouts alike, here you'll find bar-style seating, a spacious layout, and views outside. Plus, a new pellet stove adds a cozy cabin-inspired element to the scene. In addition to the additional flexible space in the downstairs area (perfect for a hobby space or office!), you'll find tons of potential with this home's comfortable 4 bedrooms. Each private space offers something a little different, and you can rest assured that loved ones will treasure having their own retreat to unwind in each day!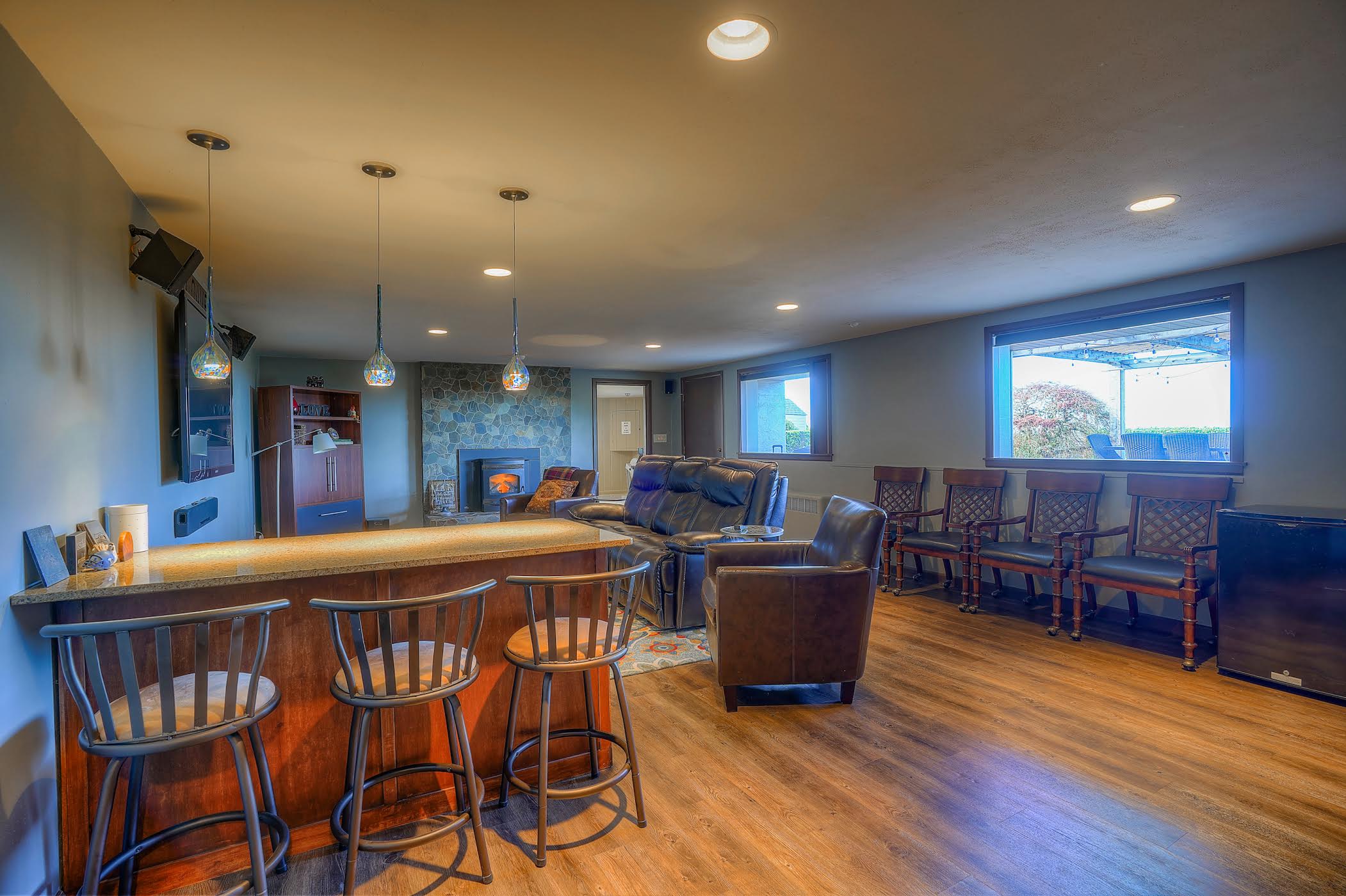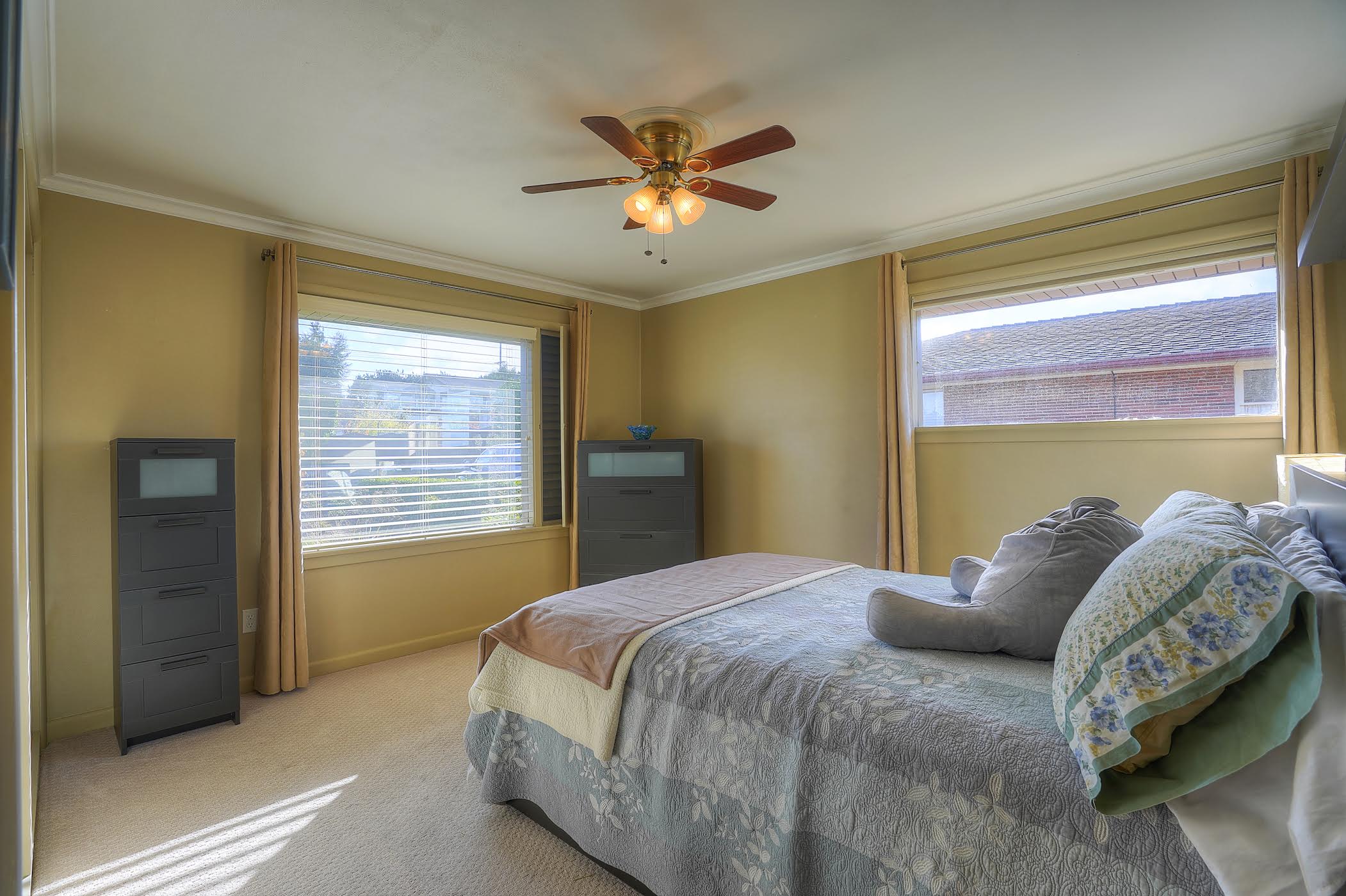 This property's photo-worthy views get even better when you step outside to bask in the beautifully maintained outdoor sanctuary. Take in a view of it all from the covered deck—from the pergola and patio to the lovingly maintained gardens, this backyard oasis is ready for al fresco dining, weekend barbecues, and relaxation!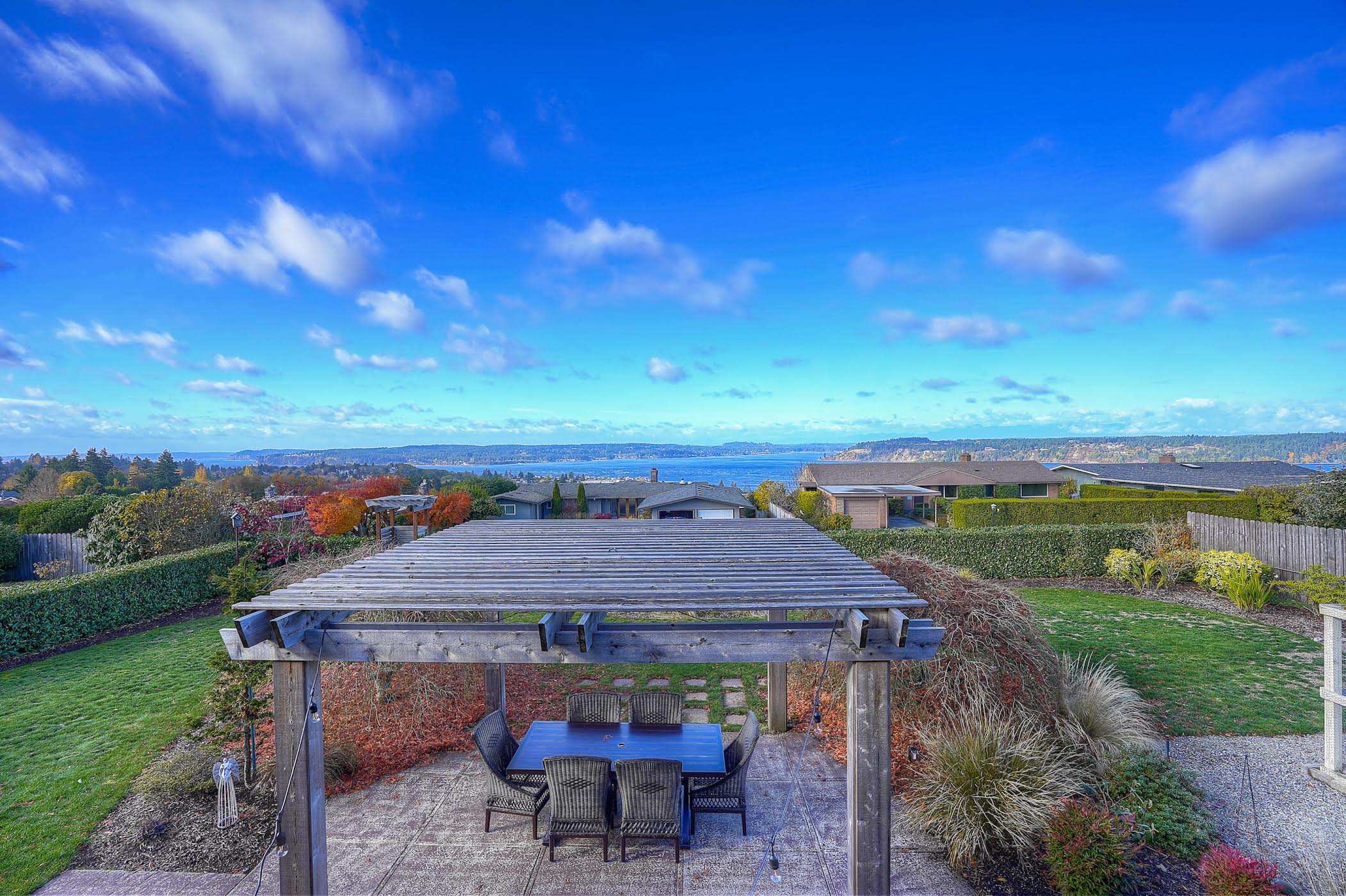 Living in Tacoma
At 1730 S Fairview Dr Tacoma, WA 98465, you're in a prime location that's merely minutes from excellent conveniences. Titlow Park is only a 4-minute drive away, and here you can enjoy the beach, the sprayground, and more, all in addition to the nearby waterfront dining that includes places like Steamer's, Beach Tavern, Boathouse 19, and Narrows Brewing Company. The James Center is only half a mile from home, and here you'll find places like Fred Meyer, Rite Aid, MultiCare, a yoga studio, IHOP, Starbucks, Subway, Ivar's, and too many other shops, eateries, and services to name! You're also only 0.1 mile from bus lines and Highway 16 is only a 3-minute drive away.
Interested in learning more? Click here to view the full listing! You can also contact REALTOR® Joyce Shipley online here or give her a call/text at (253) 380-2808.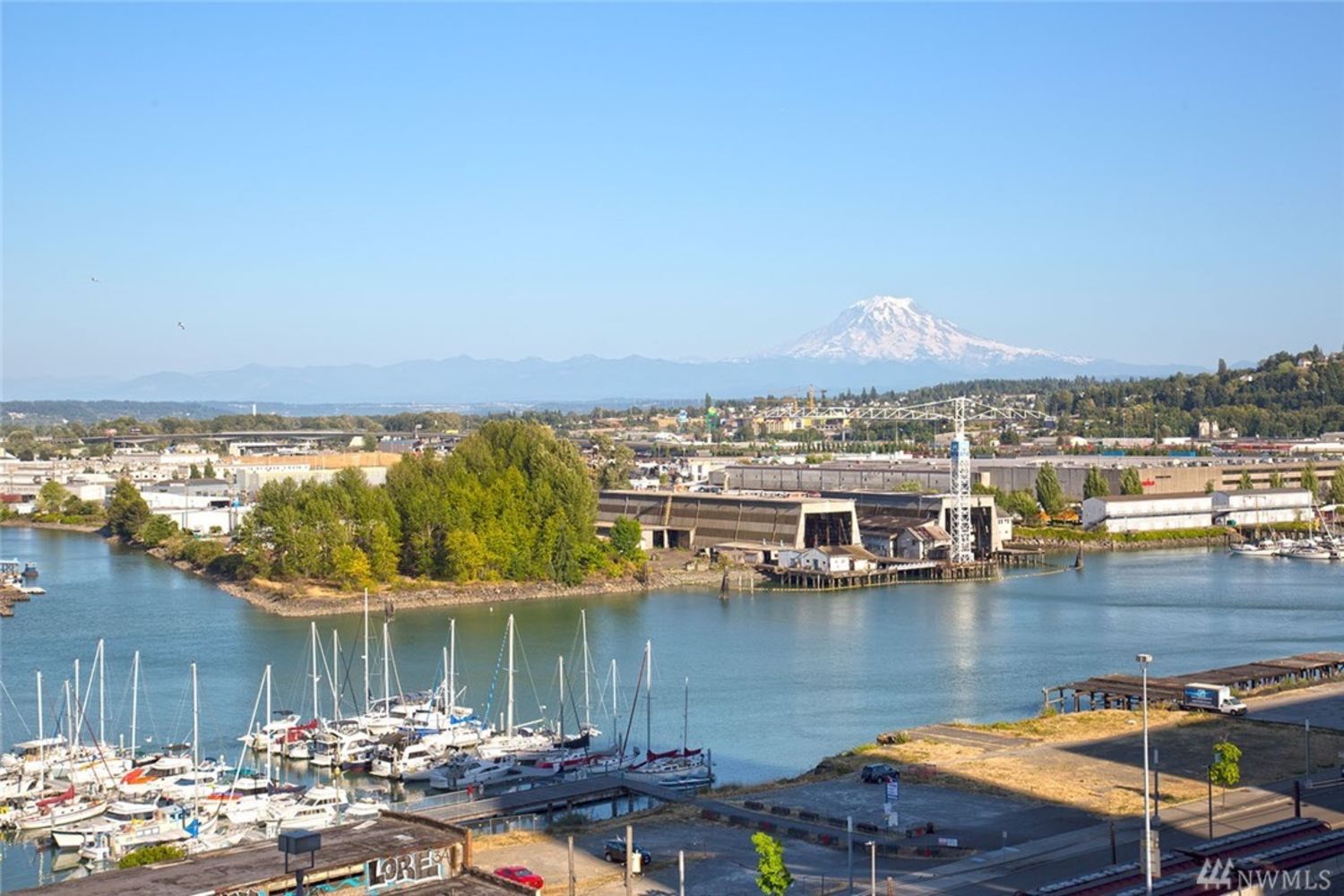 Downtown living doesn't get much better than this! Nestled in the historic district of Downtown Tacoma, this 980-square-foot loft boasts a dreamy blend of vintage and modern style. Built in 1907 and converted into modern lofts, you'll find 12-foot ceilings with open beams and large windows to enjoy, plus sweeping views of the Thea Foss Waterway, the tide flats, the marina, and Mt. Rainier. Located at 1120 Cliff Ave #406 Tacoma WA, 98402, this incredible 1-bedroom, 1-bath unit is listed for $325,000.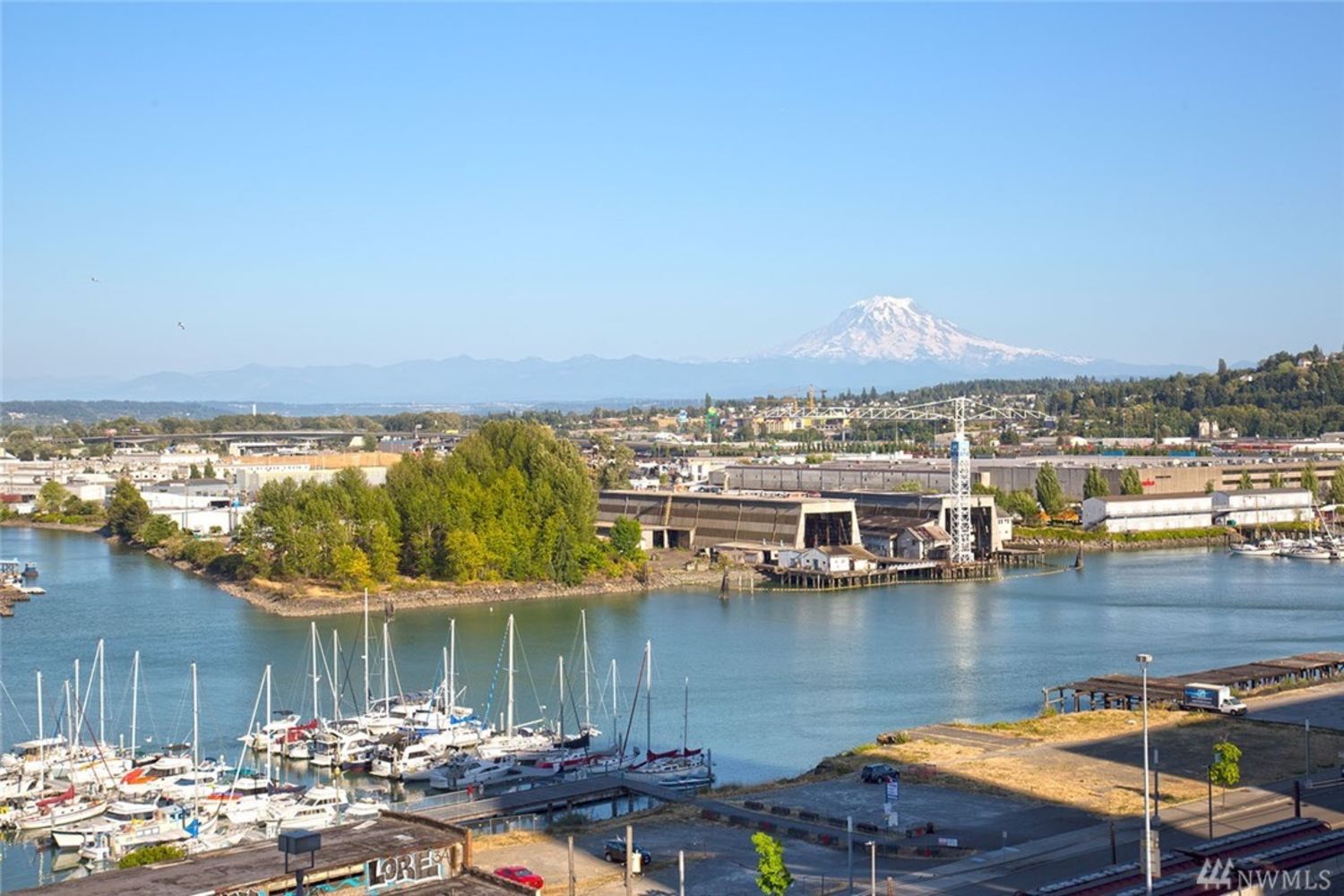 In The Cliff Lofts, not only are you wonderfully surrounded by some of Downtown Tacoma's best offerings, but you also get to take advantage of some fantastic amenities in the building. A rooftop deck, 2 tandem parking spaces in the garage, and secure front and rear entrances sweeten the deal, and you can even purchase this unit furnished or unfurnished!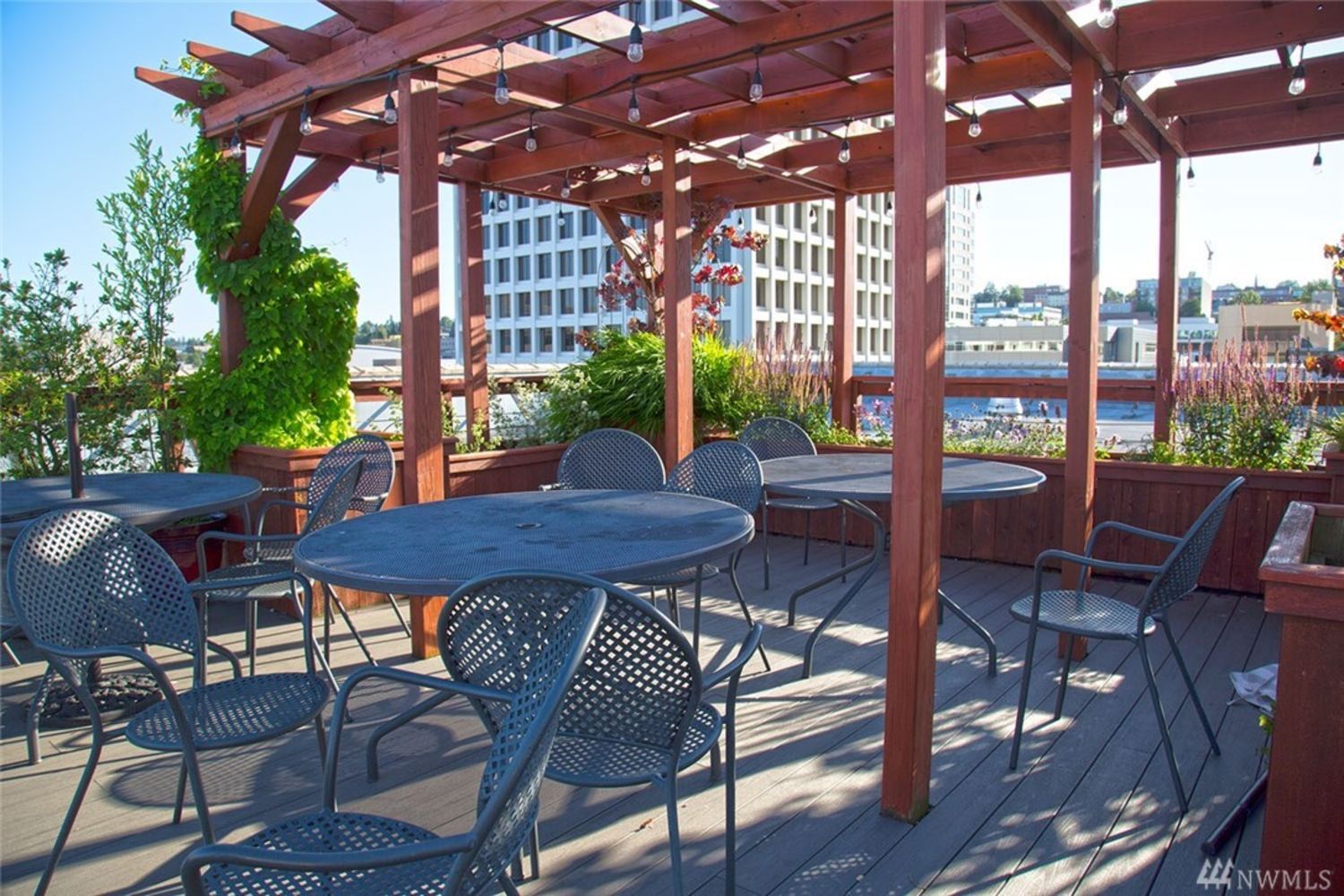 When you step inside your unit, travertine flooring welcomes you in, and the entryway ushers you into the main living space. Here, natural sunlight pours in through large windows, shining the spotlight on exposed brick walls and the eye-catching exposed wood beams that stretch on overhead. No matter how you envision decorating this living space, this residence is ready for you to move right on in and infuse each space with your own unique style!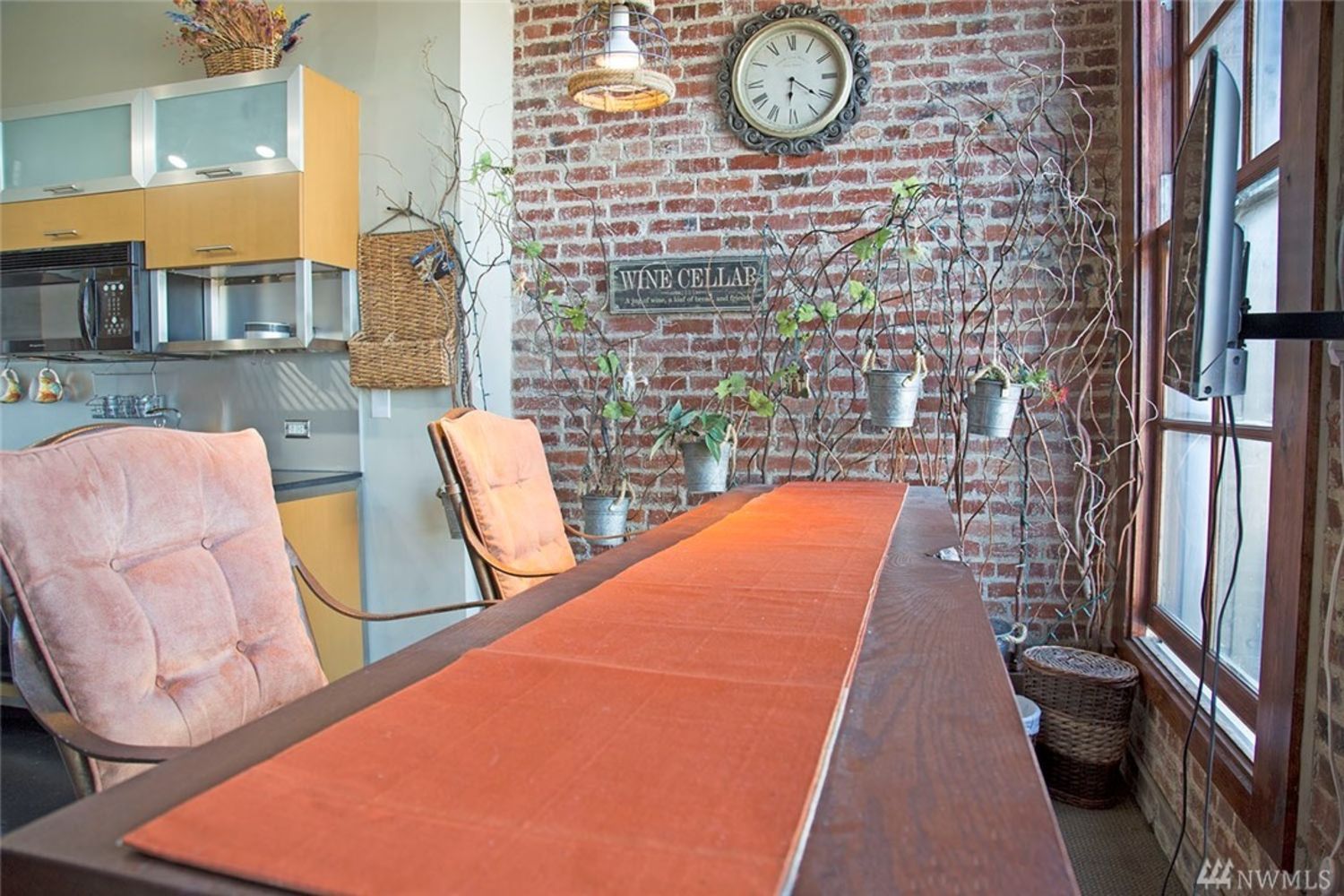 The kitchen is truly a sight to behold, and its smart design does an excellent job of taking advantages of the space. An attractive blend of earthy wood elements and shimmering modern finishes are sure to delight home buyers, but this dynamic kitchen isn't all for show—you'll find this space packed with efficiency, too! Ample space for kitchen essentials are all in the mix, making it as easy as possible to whip up homemade meals.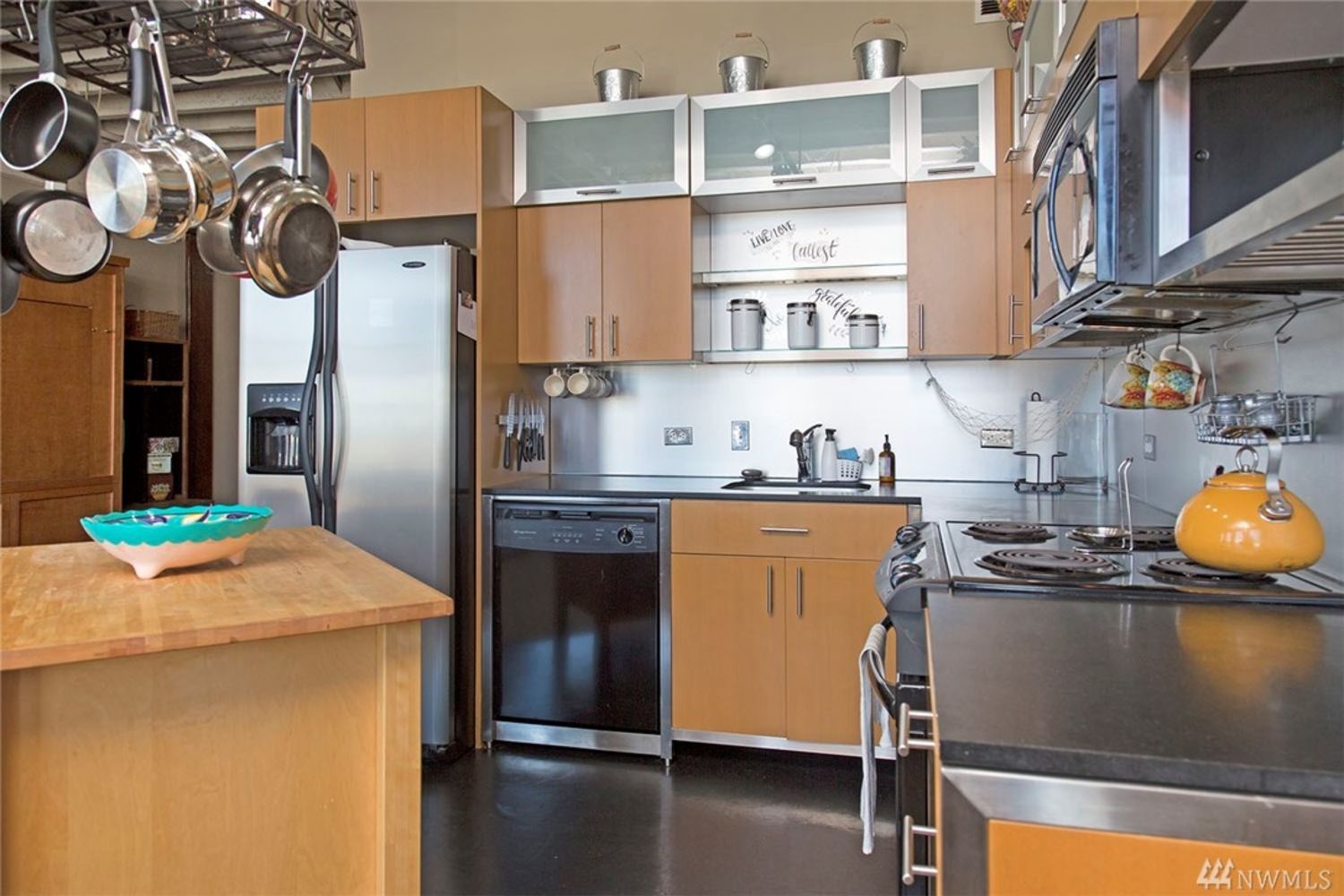 Whether you're entertaining guests in the living area or enjoying a laid-back meal, stunning Tacoma views offer an impressive backdrop. As the sun sets and the lights of the marina and tide flats begin to glow, the view transforms into something truly special. Get your camera ready—years of breathtaking scenes are in your future!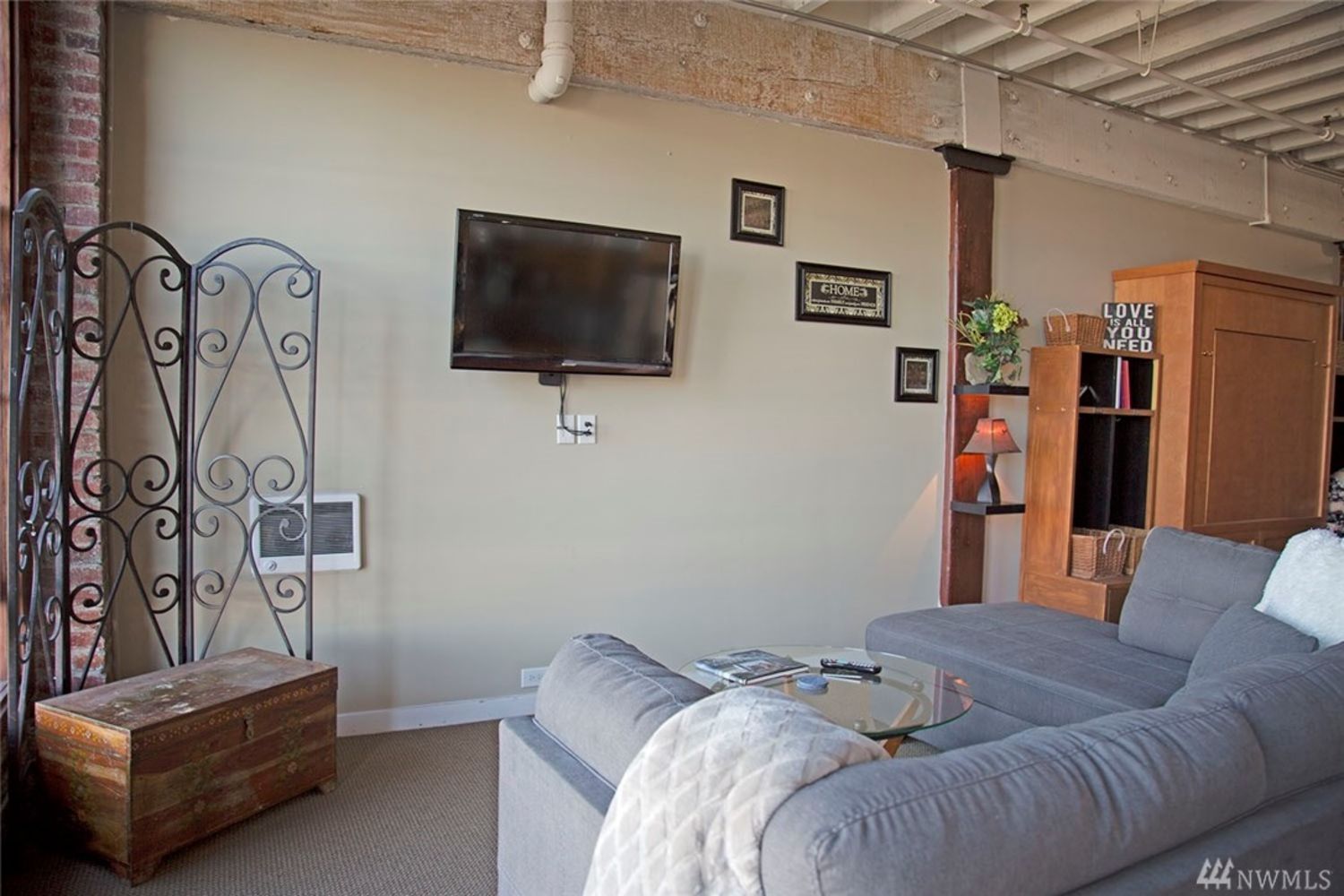 In the bedroom, you'll find a gorgeous wall of exposed brick to build your decor around. In the bath, you'll find modern finishes and travertine flooring. Plus, a separate closet has room for a washer/dryer setup, and tons of built-in shelving makes it easy to stay organized!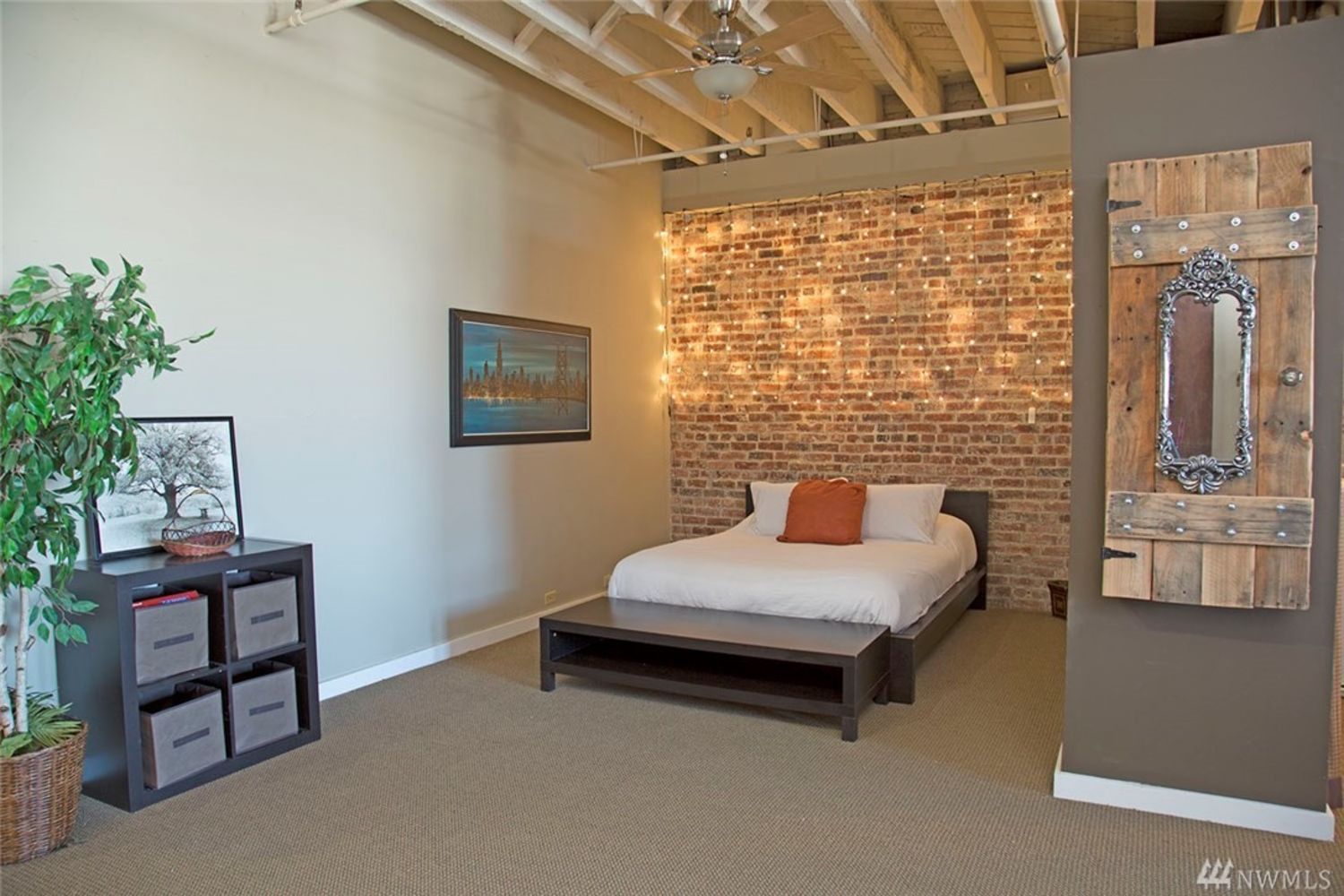 Living in Downtown Tacoma
At 1120 Cliff Ave #406 Tacoma WA, 98402, you're absolutely surrounded by restaurants, nightlife, entertainment, shopping, museums, schools, transit option and more! This historic district of Downtown Tacoma is brimming with character, and each block offers something new to discover, right at your fingertips. You're also wonderfully close to the Thea Foss Waterway where you can grab a bite to eat on the waterfront, or go kayaking or paddle boarding. You're also just minutes from University of Washington-Tacoma, as well as several museums (including the Tacoma Art Museum, the Washington State History Museum, the Museum of Glass, etc.).
Interested in learning more? Click here to view the full listing! You can also contact REALTOR® Joyce Shipley online here or give her a call/text at (253) 380-2808.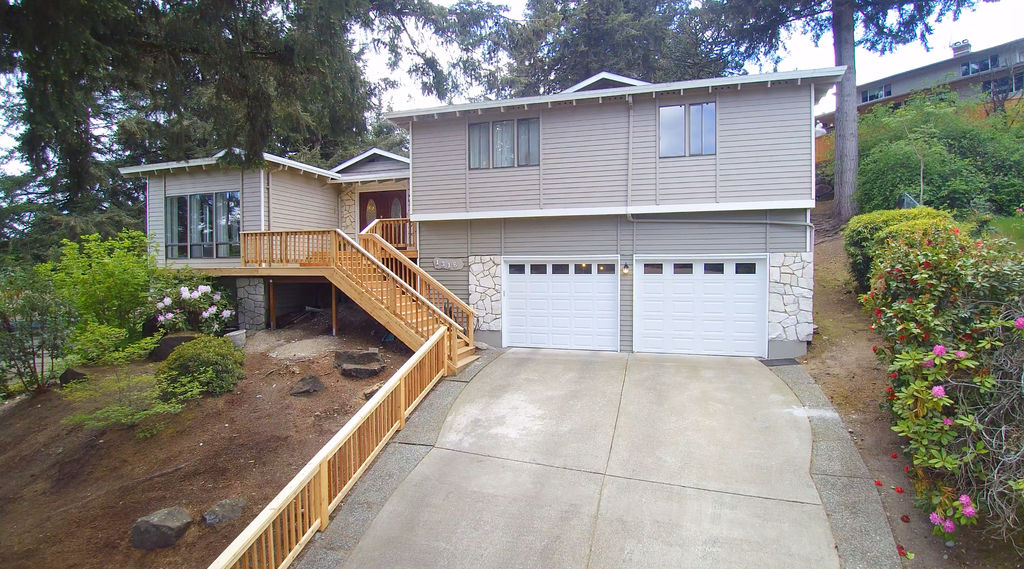 Refined elegance awaits at every turn in this immaculately maintained 5,203-square-foot Fircrest home! Boasting an expansive layout that includes 6 bedrooms, 3.25 baths, an updated kitchen, updated bathrooms, a huge laundry facility with a chute, and so much more, this move-in ready residence is truly a dream to spend time in. Located at 1316 Palm Dr Fircrest WA 98466 and just blocks away from grocery stores, restaurants, shopping, transit options, parks and more, this Fircrest treasure is listed for $635,000.
Nestled on a 0.27-acre lot with easy to maintain landscaping and mature trees, this 1970-built home has been beautifully upgraded over the years. A stunning entrance offers a fabulous first impression, and immediately to the left, the formal living room awaits. Walls replete with huge windows fill the space with natural light, and vaulted ceilings just add to the grand feel of it all.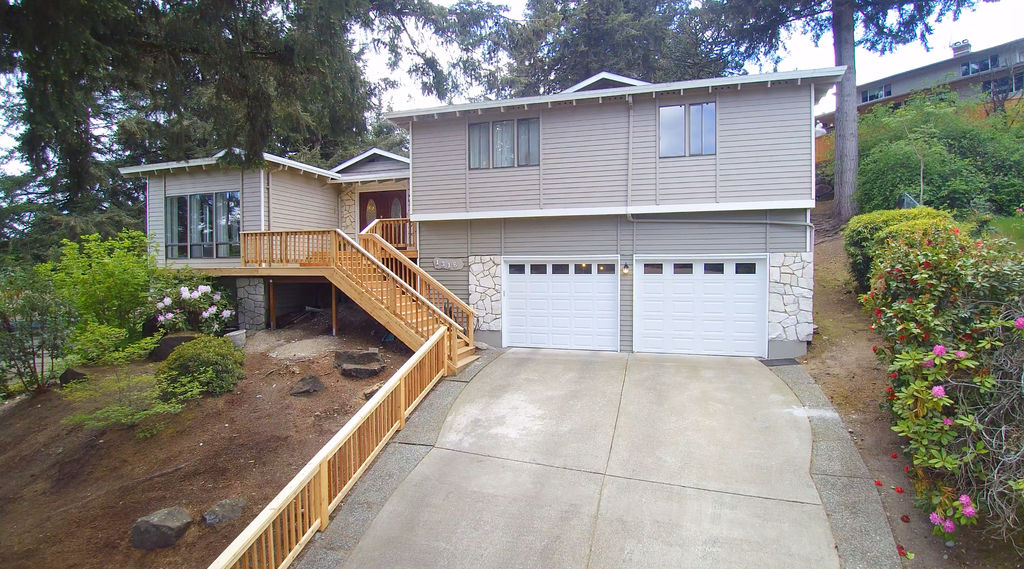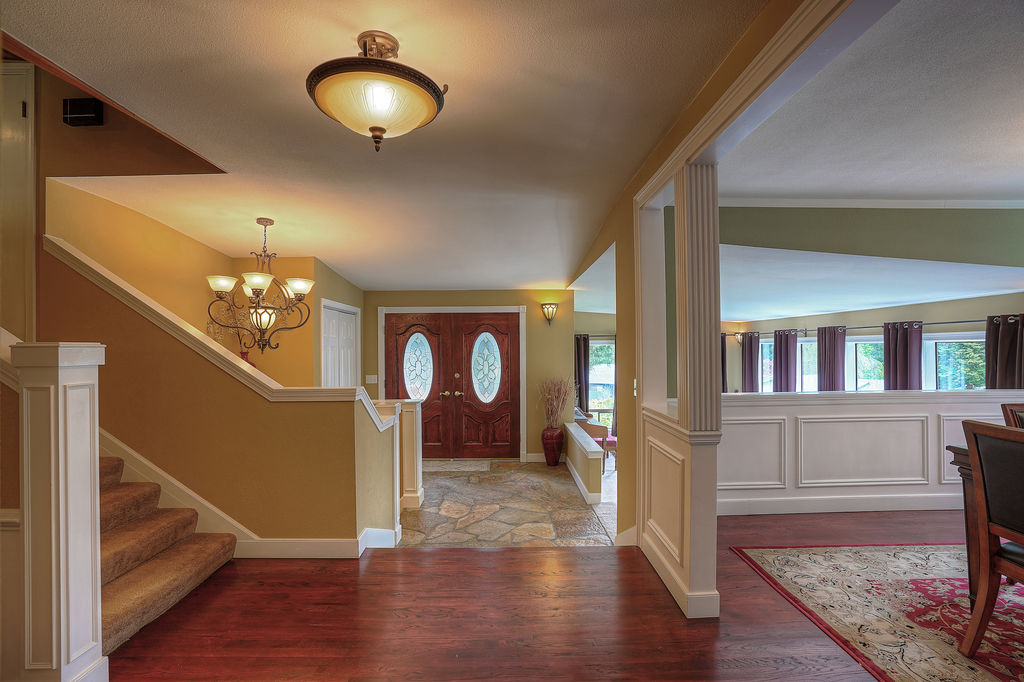 The formal dining room rests alongside the living room, and eye-catching wainscotting and stately columns elevate the atmosphere. Perfect for hosting dinner parties, special occasions, and holiday get-togethers, this large space has room for everyone! The layout seamlessly flows into the kitchen, an expertly designed space straight from the glossy pages of a home decor magazine. Sunlight pours in through skylights, illuminating the sleek appliances, shimmering counters, and ample cabinetry. No expense has been spared in this updated haven of efficiency, and whether you're enjoying a laid-back glass of wine with a friend at the counter or whipping up elaborate homemade meals, you'll find a place for it all!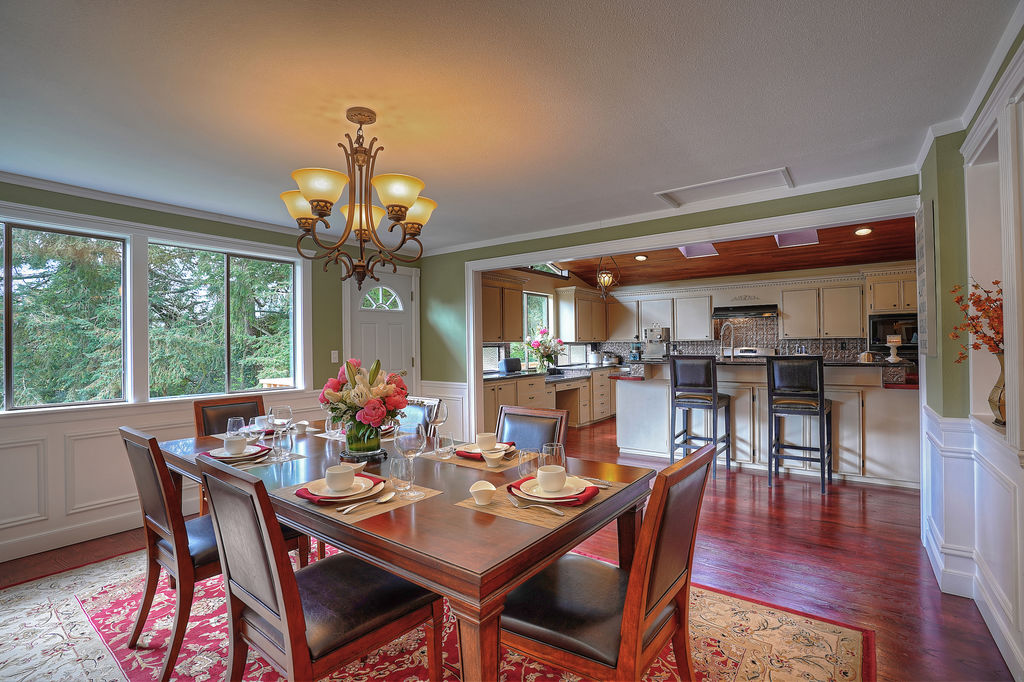 Even more inviting living space awaits just beyond, where you'll find the perfect hangout. Anchored by a fireplace framed by floor-to-ceiling stone accents and the same impeccable wainscoting, trim, and column elements found throughout the rest of the home, this living space takes relaxation to a whole new level of elegance!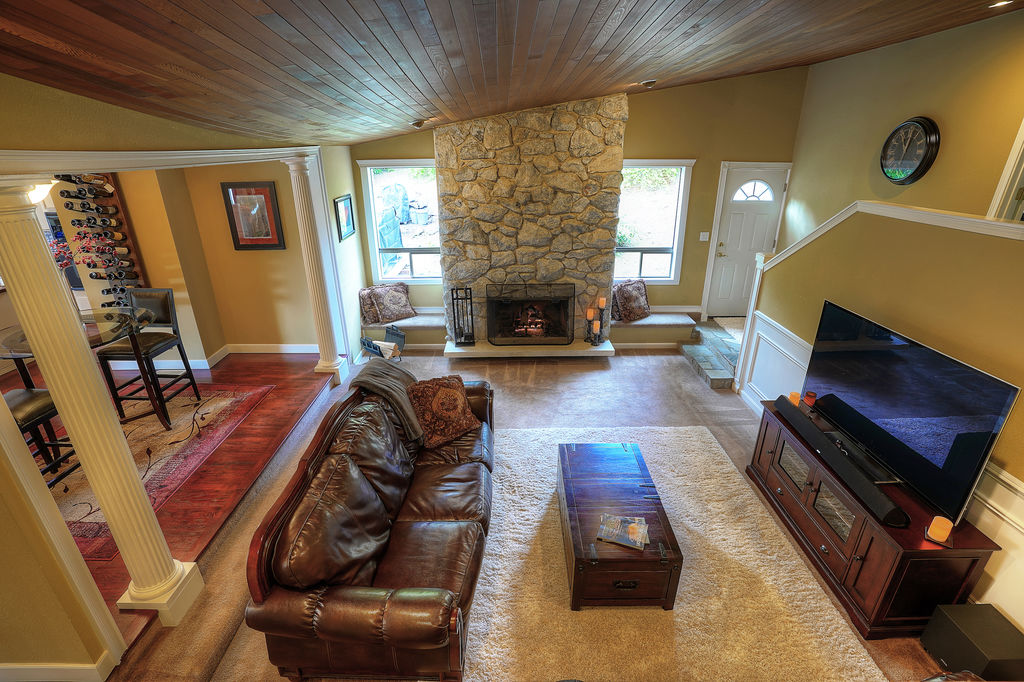 This home's generous 5,203-square-foot layout also features 6 bedrooms, and the master bedroom is especially noteworthy. Not only does this retreat feature a large layout, but its walk-in closet and spa-inspired ensuite bath make for a thoroughly sumptuous experience. The rest of the bedrooms offer versatility, and you'll also find several other custom rooms, plus a laundry room complete with a convenient laundry chute. The tandem garage promises ample storage as well—the garage holds 3 cars and even includes a shop area with a 24 KWP sub panel with dual 220 panels.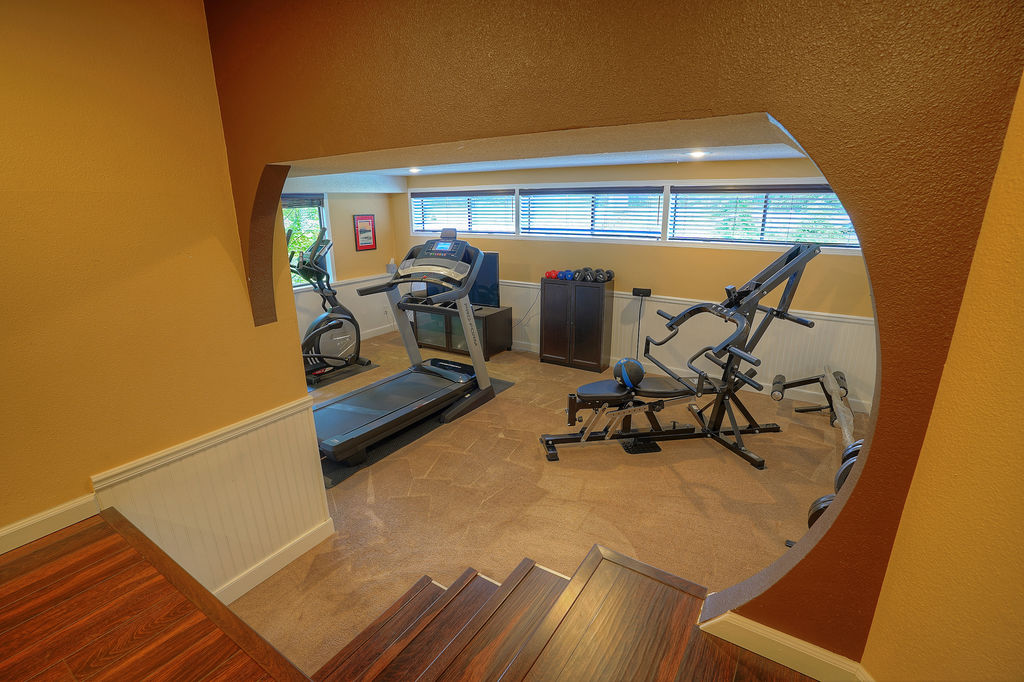 When it's time for some fresh air, the brand new wrap-around deck is ready for entertaining and outdoor bliss! Whether you're kicked back on a lounge chair sunbathing in peace and quiet or hosting a crowd for a barbecue, you can be sure that you have the ideal setting for it all. Paradise awaits!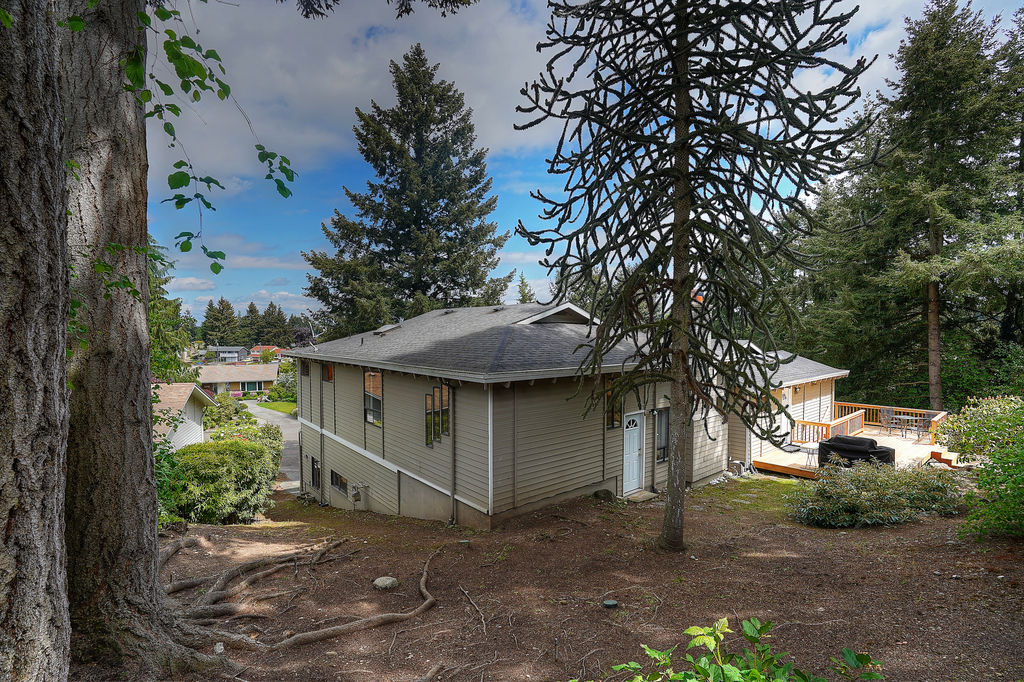 Living in Fircrest
At 1316 Palm Dr Fircrest WA 98466, you're absolutely surrounded by amenities! Bridgeport Way is less than 1 mile from home, and here you'll find places like Trader Joe's, Safeway, Whole Foods, and several restaurants, shops, transit options, and more. Fircrest Golf Club is also less than 1 mile away, and Cirque Bridgeport Park is only a 5-minute drive from home. Those who commute will especially love being just a 6-minute drive to Highway 16 as well.
Interested in learning more? Click here to view the full listing! You can also contact REALTOR® Joyce Shipley online here or give her a call/text at (253) 380-2808.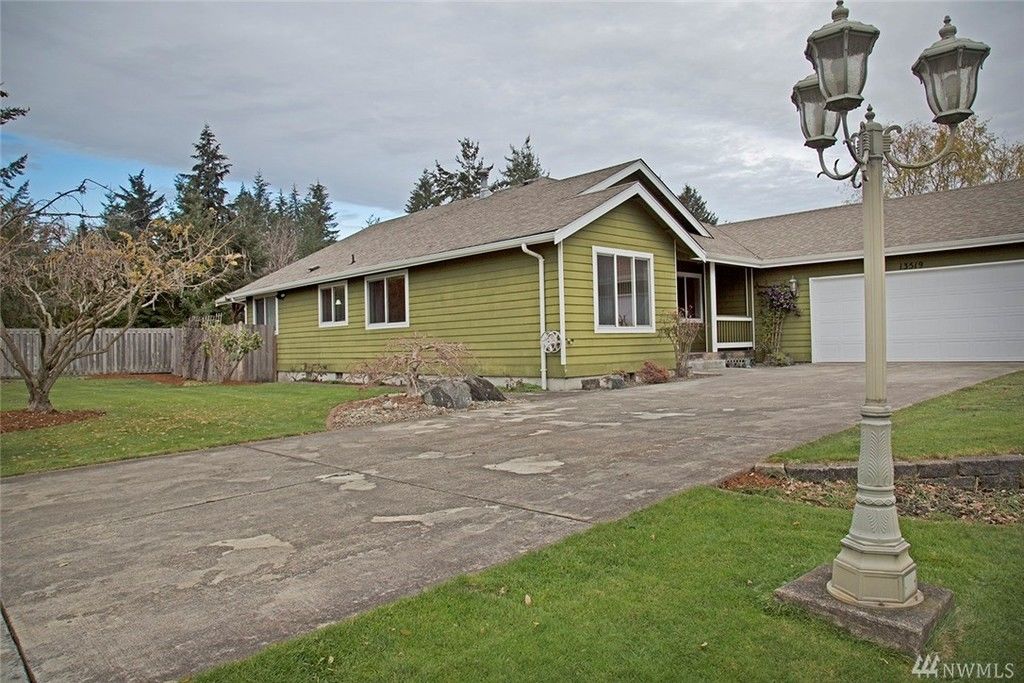 Discover comfort and convenience at every turn in this picturesque Spanaway rambler! Tucked away in a great neighborhood on a generous 0.79 acres, this property has enough space to be a mini farm. The yard boasts beautiful landscaping, 15 fruit trees, and beautiful gardens, while the home itself is a haven of rest and relaxation. Located at 13519 21st Ave S Tacoma, WA 98444, this 2,130-square-foot residence is listed for $349,500.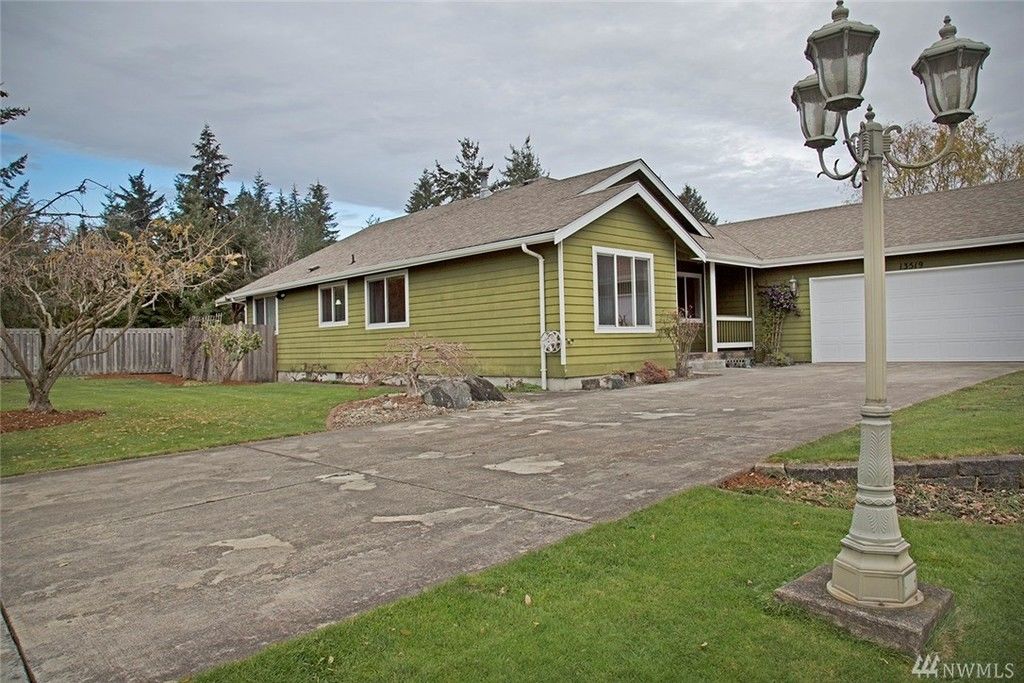 Wonderfully move-in ready, this lovingly maintained home boasts a fresh coat of paint, a 2-car garage, and a large manicured front yard. A charming front porch greets visitors, and just in through the front door, vaulted ceilings, hardwood floors, and wide windows that fill the space with natural light welcome you inside! With plenty of room for a formal living area and a formal dining room, this versatile space is designed for entertaining.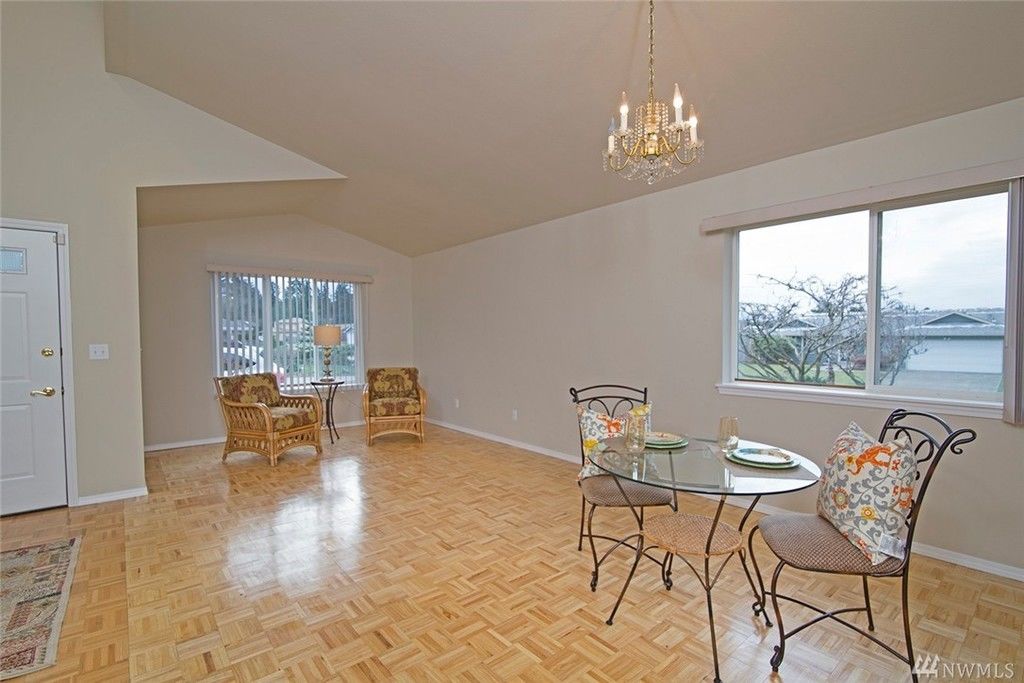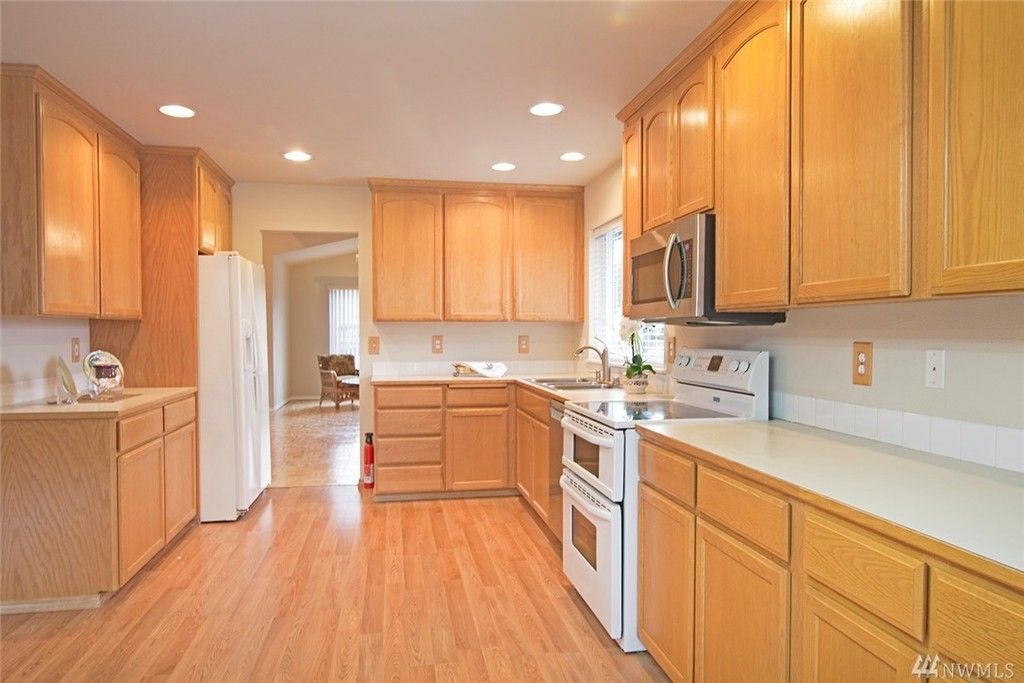 Continue on to find a large country kitchen, a dynamic space with plenty of room for a dining nook. Wall-to-wall cabinetry and ample-sized counters show of tons of storage and meal prep space, ensuring there's plenty of room for appliances and whipping up elaborate meals! The kitchen opens up to a large living space that's ready to be transformed into your dream living room, recreation room, entertainment center—you name it!
When it's time to unwind and rejuvenate in peace and quiet, 3 bedrooms provide loved ones with their own private space. The master suite is especially not to be missed—this sprawling retreat features sleek hardwoods, exquisite vaulted ceilings, and an incredible 5-piece master bath. A soaking tub, double sinks, shower, and an electric bidet seat offer spa-inspired amenities to be used and enjoyed at your convenience!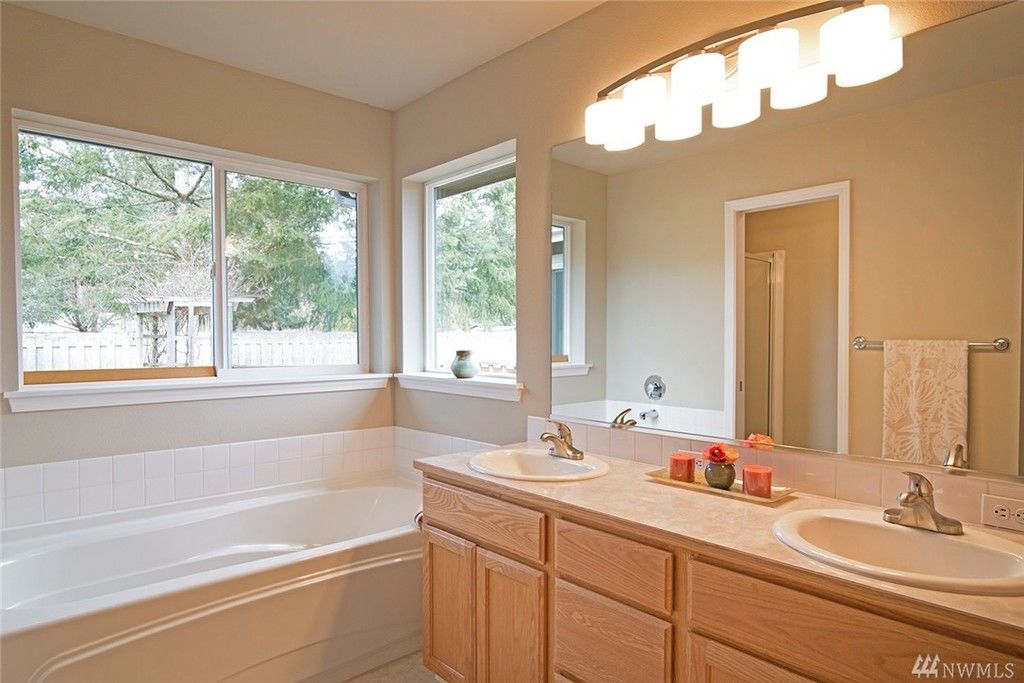 From the master bedroom, sliding glass doors lead to the outdoor deck, the perfect spot for hosting summertime barbecues and laid-back get-togethers! The backyard is an oasis of outdoor enjoyment, and features a covered patio, a firepit area, 15 fruit trees, garden space, and even a storage shed, all framed by tall emerald trees in the distance. Garden beds give you the opportunity to try out your green thumb, and a spacious backyard layout leaves plenty of room for additions and innovations, too!
Living in Spanaway
Located just south of Tacoma, Spanaway is a popular choice for those who appreciate having space and conveniences nearby, and for those who commute to Joint Base Lewis-McChord. At 13519 21st Ave S Tacoma, WA 98444, you're a quick 5-minute drive to JBLM or Pacific Avenue, making it super easy to get around! Pacific Ave offers a hub of convenience, and grocery shopping, shopping, restaurants, services, and more are all within reach. Those who love spending time outdoors are also in luck—Spanaway Lake and Spanaway Lake Park, Holiday Park, Lake Spanaway Golf Course, and the Brookdale Golf Course are all nearby as well!
Interested in learning more about this listing? Contact REALTOR® Joyce Shipley online here or give her a call/text at (253) 380-2808.